Field Trip Mars: Live Watch Party main content.
Field Trip Mars: Live Watch Party
Friday, May 8, 2020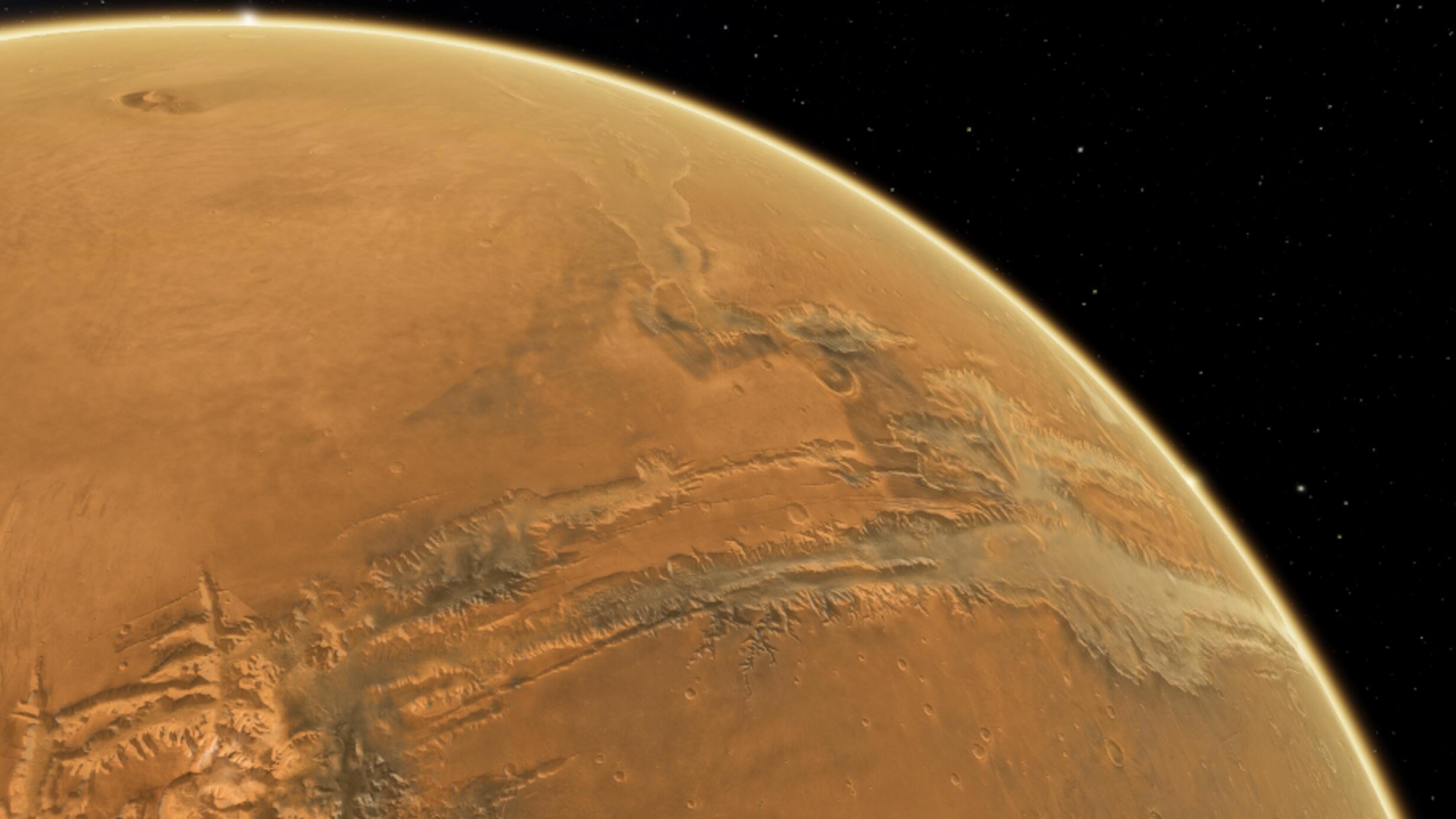 Join the watch party on Friday, 5/8 at 1:30 pm EDT.
Are volcanoes still active on Mars? What does Mars smell like? Where did the water that was once on Mars go? Get answers to these questions—and ask your own!
Join the Museum's Director of Astrovisualization Carter Emmart and astrophysicist Jackie Faherty during a real-time flyover across the Martian landscape on the Museum's YouTube Channel. Fly over canyons, hover past impact craters, and trace the trackways of the exploration rover, Opportunity.
Meet the Presenters
Carter Emmart, the Museum's director of astrovisualization, has been involved in all five of the Museum's Space Shows, four of which are now playing in planetariums all over the world. Emmart was one of the original Museum team members on the NASA-funded Digital Galaxy Project that helped redefine how a planetarium theater can present science to the public through immersive data visualization.
Emmart directs the in-house Space Show production at the Museum and has collaborated with visualization teams at the National Center for Supercomputing Applications and the San Diego Supercomputer Center. Emmart, who previously worked at NASA Ames Research Center and the National Center for Atmospheric Research, received his B.A. in geophysics from the University of Colorado, where he was an organizer of the Case for Mars Conference series. In May 2006, Emmart received an honorary Ph.D. from Linköping University in Sweden, in part for advising a graduate intern program hosted at the Museum that developed the means for planetariums and classrooms worldwide to simultaneously interact within the Museum's Digital Universe 3D Atlas.
Jackie Faherty is a senior scientist and senior education manager in the American Museum of Natural History's Department of Astrophysics and the Department of Education—a unique position that lets her pursue scientific research while mentoring and advising education programs for students and the general public.
She is working at the forefront of brown dwarf and exoplanet studies with over 80 peer reviewed papers on the topic and numerous top awards and grants won. She co-runs the dynamic research group called Brown Dwarfs in New York City, the extremely popular citizen science project called Backyard Worlds and is a leading expert in visualizing Gaia data in the form you are about to see.