Guided Exploration: Galaxy Zone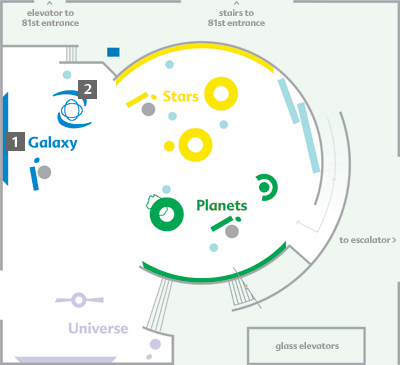 Overview: Galaxies contain dark matter, gas, dust, and billions of stars, held together by gravity. This matter orbits a common center of mass, and that orbital motion prevents the galaxy from collapsing under gravity's pull. The shape of a galaxy (spiral, elliptical, or irregular) depends on how it formed. This zone explores galactic formation and evolution, and what happens when galaxies collide.
1. Galaxy Wall
Examine the photos and animations to compare and contrast the different types of galaxies. What do the three main types have in common? How are they different?
Exhibit Object
Galaxies are titanic swarms of tens of millions to trillions of stars, orbiting around their common center of gravity.
Exhibit Object
Everything in a galaxy orbits around the galaxy's center.
Exhibit Object
Spiral galaxies have three visible parts: a thin disk composed of stars, gas, and dust; a central bulge of older stars; and a spherical halo of the oldest stars and massive star clusters.
Exhibit Object
Elliptical galaxies have smooth, rounded shapes because the orbits of their stars are oriented in all directions.
Exhibit Object
Irregular galaxies have a chaotic appearance, and are usually small.
Exhibit Object
The classification of galaxies by shape relies upon images made with visible light. But galaxies observed in other wavelengths, or with longer exposure times, or at earlier cosmic epochs, show the need for additional categories.
2. Interacting Galaxy Cluster
Watch the video in the center to see how gravity causes galaxies to merge and collide. What happens when they collide?
Exhibit Object
Galaxies are grand yet fragile structures. When they pass close to each other or collide, their mutual gravity pulls them apart, twisting and distorting their shapes.