Museum Curator Helps Science Teachers Bring Paleontology to the Classroom
by AMNH on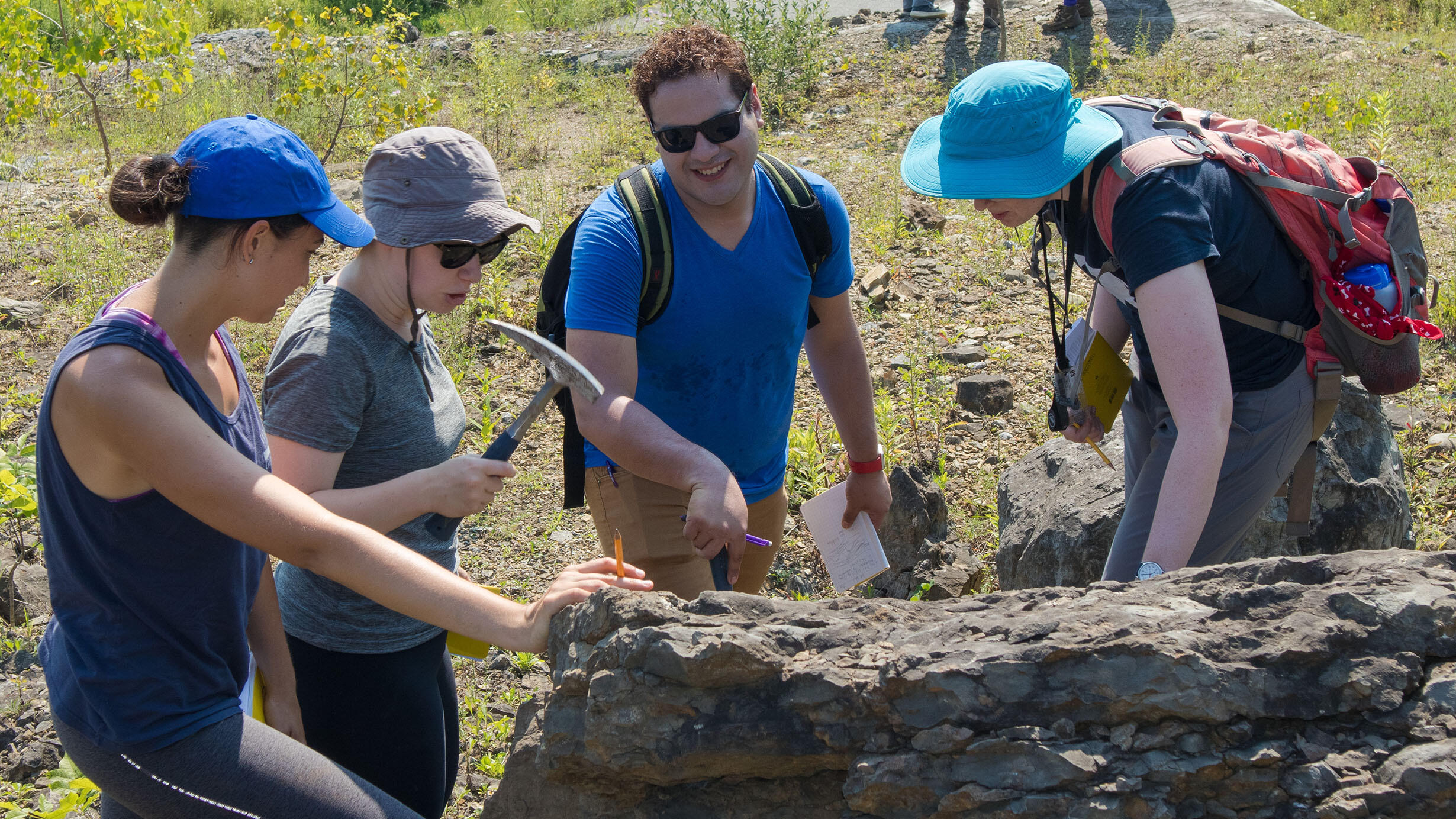 MAT alumni (L to R) Kristina Gustovitch, Darby Young, Alejandro Mundo, and Lynsey Spaeth look for fossils during a summer excursion.
M. Shanley/© AMNH
In a rocky outcrop on the side of a rural road in the New Jersey Highlands sits a unique geological phenomenon—if you know where to look.
Large slabs of dark metamorphic rock jut upwards from the ground. Then, suddenly, the rock changes into crumbling limestone. This type of formation, known as the Great Unconformity, represents "a huge chunk of missing time," explains Melanie Hopkins, an associate curator in the Division of Paleontology, as she points it out to a group of New York middle and high school Earth science teachers who have gathered here on a hot morning in July. "An estimated 700 million years is missing here," she says, pointing to a thin diagonal fissure. This boundary separates two distinct eras, and geologists can glimpse the change in sediment and the dramatic evolution of marine organisms in the rocks.
The teachers, all graduates of the Museum's Master of Arts (MAT) in Teaching program—the first urban teacher residency program offered by a museum—are here to learn how to incorporate paleontology into their curricula. Soon, they're swinging hammers to break rock in search of Cambrian-era fossils.
July's field trip was just the first of many that Hopkins will be leading over the next five years. A trilobite specialist, Hopkins was awarded a CAREER grant from the National Science Foundation (NSF), part of which will support a new program for teachers, the Earth-science Reciprocal Learning Year (EaRLY), built around trips to local fossil dig sites to collect teaching specimens and fossil lab workshops at the Museum. "The goals are to provide teachers with resources and experiences that they can use to help deepen their students' understanding of Earth science as well as the work of scientists in general," says Hopkins.
The science teachers say they are excited to be in the field—and to bring their knowledge back to their schools.
"I teach 100 students, and it can be difficult to translate geology fieldwork into meaningful experiences," says MAT alumna Jessica Sharoff, who teaches at Manhattan's Washington Heights Expeditionary Learning School. "This is the kind of stuff my students would love."
With deepest appreciation, the Museum acknowledges Kathryn W. Davis for her generous founding support of the Master of Arts in Science Teaching (MAT) Program. Leadership support for the MAT program is provided by The Shelby Cullom Davis Charitable Fund.
The MAT program is supported in part by the National Science Foundation under Grant Number DUE- 1852787 and the U.S. Department of Education under Grant Number U336S140026
A version of this story appeared in the Fall 2019 issue of the Member magazine, Rotunda.