Podcast—New Science, New Solutions: How Policy Can Help Us Fight Climate Change
by AMNH on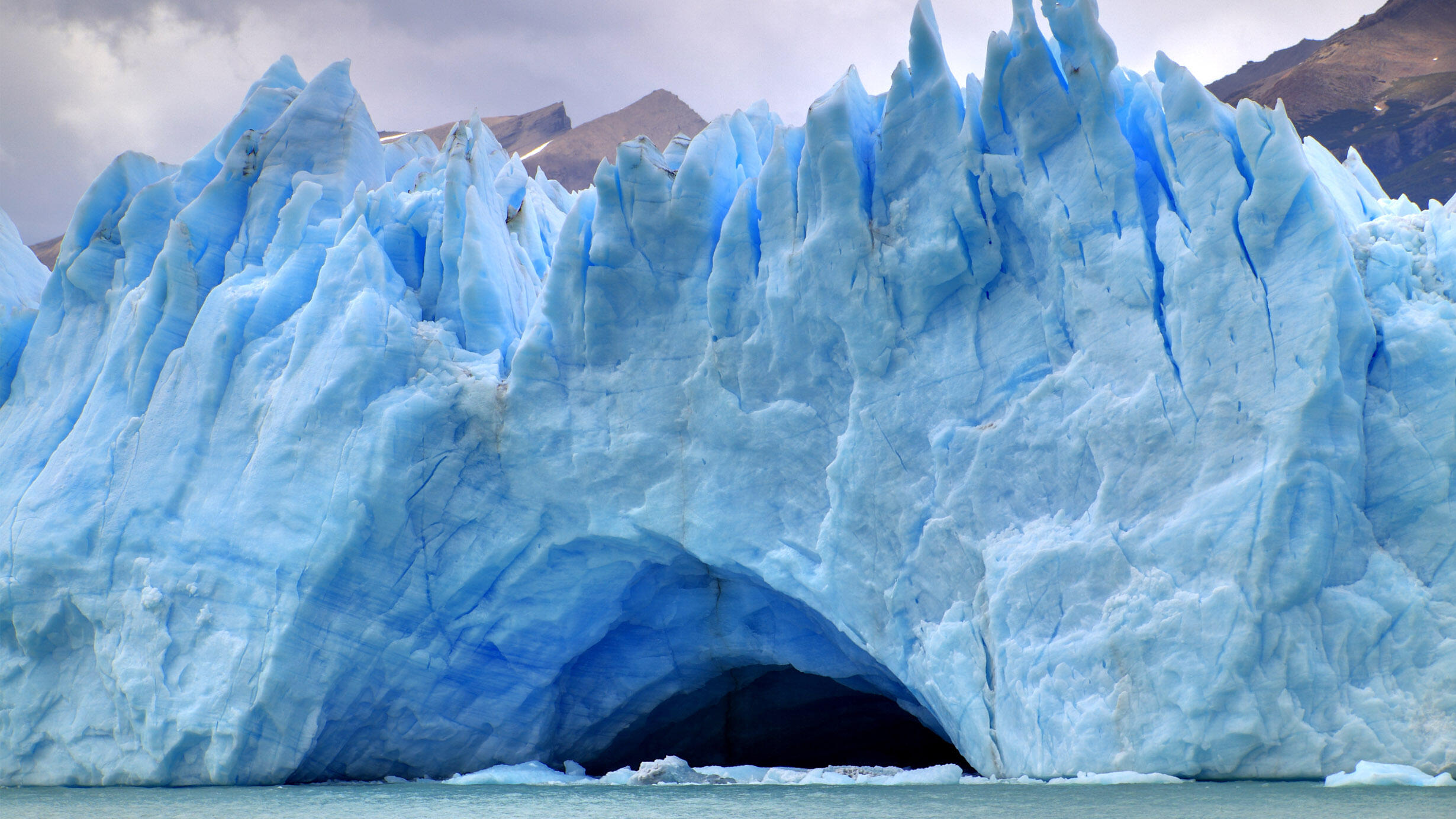 A glacier cave on Perito Moreno Glacier, in Los Glaciares National Park, southern Argentina (Patagonia).
Martin St-Amant / Wikipedia
Climate change may be affecting populations around the world in different ways, but the sobering state of our shared environment should worry everyone. How can we as a global community make changes to our economic, leadership, and policy models? A panel of experts discusses the complex realities of climate change and the importance of considering cultural and political differences to address the environmental and human costs of our changing ecosystems.
Podcast: Download | RSS | iTunes (01:40:50, 97.2 MB)
SPEAKER: And now, without further ado, I would like to introduce our host for the evening and the moderator. She is the Director of the Center of Biodiversity and Conservation here at the museum. Please welcome to the stage Dr. Ana Porzecanski.
ANA PORZECANSKI (DIRECTOR, CENTER OF BIODIVERSITY AND CONSERVATION): Good evening, everyone. Thank you for joining us. I'd like to start by acknowledging the traditional stewards and First Peoples of these lands, the Lenni-Lenape people, both past and present.
My name is Ana Porzecanski. I direct the Museum Center for Biodiversity and Conservation, and at the Center we lead a diverse array of programs and activities with the aim of transforming knowledge into conservation action. We lead research. We develop capacity globally for conservation. And we bring people together to explore ways forward, because we believe that without biodiversity, we cannot have a healthy, equitable, truly prosperous and peaceful future.
Now tonight we're all here because we share a great concern, climate change, and the crisis around it. And I will say a few words about it before I describe to you how the evening will go and introduce our panelists eventually.
So we're all concerned, and I think with great reason. Last year the Intergovernmental Panel on Climate Change, a large group of scientists convened by the United Nations to guide policy makers and decision makers, published some alarming findings.
If greenhouse gas emissions continue at the current rate, we can expect the atmosphere to warm up by as much as 2.7 degrees Fahrenheit and 1.5 Centigrade by 2040, coastlines to be inundated, droughts and storms to intensify, poverty to increase. We can expect massive human migration and widespread ecosystem transformation, including a lot of biodiversity loss, and potentially, mass coral die-offs. So to put it in financial terms, overall damages in the order of $54 trillion is what's estimated.
So it doesn't look good at all. Nobody has put it more succinctly, I think, than a climate change scientist, Katharine Hayhoe. She's a climate scientist who summed it up. She summed up kind of like our current knowledge of climate change in just 10 words or so, which I thought was kind of useful. She said, "It's real. It's us. It's here. It's bad. It's getting worse." That kind of sums it up.
And I'll add to that, it's worst of all for the most vulnerable; those who suffer the most but have contributed the least to the situation. So low income communities, communities of color, indigenous communities, the young, the elderly, small island states. And sadly, recent headlines demonstrate this clearly with the tragedy in Mozambique.
So it's important to remember that while some of us are worried because we're trying to build a future we can look forward to, for many it's about survival. Climate change has been called a threat multiplier and an unfolding tragedy, and both of those are true.
And engaging with this topic has real emotional and ethical difficulties that I don't want to diminish during this conversation. However, we can't dedicate a whole program to them. We're here to explore the implications and possible ways forward for our work, our lives and our communities. And that's why we designed this program.
After all, Katharine Hayhoe didn't end her summary with, it's getting worse. She actually added, but our choices and actions do make a difference. We need to act now. And there's many proposals that capture what we need to do, but basically, we need to reduce greenhouse gas emissions faster than has ever been done before. Do it everywhere for 50 years; every year in every country for half a century or faster.
In a recent opinion piece this was described as, solving climate change is going to be harder and more improbable than winning World War II, achieving civil rights, defeating bacterial infection and sending a person to the moon altogether.
And yet, the authors of the editorial, Chandler and Jones, argued the point of it was to argue, we're perfect for the job. They said, humans specialize on taking on the impossible. We could do it, they said, if we make it the compass for how we live our lives.
But individuals cannot have the same impact as what politics and policy can achieve; what collective action can achieve. Our daily choices are intimately linked to what's surrounding us, those prevailing modes of production, of resource extraction, energy use, which in turn are a result of our economic and governance models.
Here's a perfect example of how all these things kind of come together. There's a recent proposal to build a 23-mile gas pipeline that will connect Pennsylvania's fracking fields with Long Island energy customers through the bottom of New York Bay. You can imagine, there's a lot of discussion about this. Some argue it will create jobs and will help customers transition from coal to natural gas, which some argue is a positive thing. And others argue that building this kind of infrastructure will commit us to planet-warming greenhouse gas emissions for decades to come, and it's short-sighted.
And so the question really is, how do our aspirations to avoid the warming that we know we're on track for, and all the lofty commitments that we're making internationally, and even New York State, factor into how New York politicians, New York agencies and New Yorkers will make this decision this year, because it's probably going to be made this year.
Ultimately, our decisions are based on our beliefs, for example, about what prosperity is. And they translate into the models that we use to shape economies, leadership, and governance. And that thinking, and how to explore other ways of thinking, how to evolve our thinking, is the subject of our event today.
We have invited two speakers to participate as kind of stage-setters. And so one of them will be in video form, and we will introduce them during the panel. The other one will be in person, so we will first hear from them. And then a panel of experts will join me on stage for a discussion. And then we'll close with a Q&A with all of you at the end, and we'll have plenty of time.
So without further ado, I'd like to introduce our first kind of stage setter. It's my great pleasure to introduce 19-year-old activist Vic Barrett, who is fighting hard for a future for all of us. Vic witnessed climate change first-hand during Hurricane Sandy in 2012, which left his family and school without power. He became involved in activism in high school and is now among 21 youth activists between the ages of 10 and 21 who are suing the U.S. federal government to take action on climate change, through the case, Juliana v. United States.
Most recently, Vic attended the conference of the parties of the U.N. convention on climate change in Poland, and he's currently studying political science and environmental studies with a full ride at the University of Wisconsin, Madison. So please welcome Vic to the stage with a warm welcome.
VIC BARRETT: Resilience, the capacity to recover quickly from difficulties, toughness; a word used to positively characterize someone or something; a word used to inspire the change makers, the organizers, and the leaders. We often forget, though, in our world dominated by social constructs and hierarchies that resilience is not always a goal worth shooting towards, it is necessary.
Some of us are blessed with the ability to withstand the unthinkable in our blood, in our brains, in our ancestry, and in our history. My mother migrated from Trujillo, Honduras to Brooklyn, New York, overcoming language barriers, racism, sexism and xenophobia at the age of 16. Her mother made this journey before her, leaving behind a family, crossing an unknown land, only to be subjected to a society that couldn't even see her as equal.
They sacrificed to provide me with a life that could allow me mobility to be happy, to be successful. They understood giving up their own comforts to protect a life not even introduced to them yet. This is what youth have been asking those in positions of leadership to do for years in regards to the ways in which we protect our lands and protect our communities. They're meant to represent us, to build a framework the world will inherit, and the concept of considering posterity is so foreign to people in power that they still act in ways that could cause irreparable damage to generations to come.
We stand here in the shadow of a government that shows general lack of care for people or posterity, a government that's consistently abandoned its most vulnerable, abandoned the future and the present. We live in a country that watched its coast burn for days while someone in power was inevitably planning the next fossil fuel infrastructure project.
We live in a country that saw black people washed away from their homes on the Gulf Coast, while we fought a war to profit off of fossil fuels. We live in a country where native people are tortured for trying to protect their own water, and where people of color inhale more pollutants than white people, while producing far, far less.
Climate change encompasses issues of justice. Young people were born into a world that was literally incapable of sustaining us. Three hundred and seventy parts per million, that was the amount of carbon in the atmosphere in the year I was born in 1999. The general consensus among scientists is that we need to be at less than 350 parts per million for a sustainable future.
Youth today have literally been born into a world that was past the point of being able to support us. There's a lot of importance in being young. Youth is when you develop your own individuality based on your experiences. It's when you learn to have fun and not take life for granted. Every day is a day to seize and make the most out of.
It's when we learn that some of the fantasies that we build in our mind can come true, like dreams of a world that work better than the one you were born into. It's when we learn how to express our thoughts and imaginations into words, movements and actions. It's when we begin to value relationships and interact with the world around us, so that our brains can soak everything in.
In order to facilitate this growth and this learning, we need a stable environment. Our spontaneity, the ability to go out in the world and explore, is what develops future leaders. It's what creates empathy, and it's what ensures lessons from real experiences.
Not only does climate change disproportionately affect youth, but we see that on a global scale nations in the midst of their development are being devastated by climate change and the effects of carbon emissions. These countries are also countries with some of the least emissions.
These are things that maybe I don't need to tell the people here, because we are here in a position of privilege. We know what's happening and what we need to do to stop it, but a lot of people in the nations with the most imminent danger don't possess the same access to this information. Countries like ours are the ones perpetuating the climate related issues that they face every day.
Every single decision that I make as an activist is not only about the 43,000 students that are on my campus, and it's not about the 20 million people that live in my home state, and it's not even about the 350 million people living in this country. Every decision I make as an activist is for the world. It's for the Maldives and Bangladesh, countries that face evacuation due to sea level rise. It's for my country of Honduras, where I see sea level rise happening literally steps away from my family home.
We need a planet that we can breathe on, a planet we can grow on, a world we can steer in the direction of progress and not purely profit. We need a stable climate to be something we can rely on. While we navigate a world that doesn't allow us to trust too much, we should at least be able to trust in our ability to care for the one home we have. And we live in a world where you can't trust the people you've let represent you to actually do the most fundamental part of their job.
I've been worried at times that the amount of love and care necessary to fight these issues doesn't exist. But it does. It exists in the pressure that young people feel in our hearts. It exists in the urgency of our motivation. My generation knows what we want. We want a planet we can live one. We want to prevent further climate catastrophe motivated by the selfish intentions of a few.
We want those who come after us to be born into a world more ready for them. We want generations before us to not have to be activists, not have to do work outside the work of just growing up and being young, in order to literally save the planet we live on.
Young people aren't here for business as usual or the status quo. We've seen where that's gotten us. In today's world, where you can protect yourself most by sitting on the sidelines and not shaking up the discourse, we're being revolutionary. It's been our only choice from day one. We are a generation of renegades. We're leaving behind the flawed principles of the world we were born into.
Young people don't care about what color your skin is or who you love or what you believe, because we understand that these social divisions which we abide by are constructs. What we care about is if you have good ideas. We care if you can innovate. We care if you have compassion. We care that our home is burning and that our future is on fire.
The ideals this forward-thinking disposition we maintain, despite what we're living in, is why I truly believe that we'll be okay. We're ready to rule, and I think that one day people will be shocked by the difference in what past generations expected us to be and who we actually are.
We are not giving up. And we haven't given up. We're only becoming stronger. We see the seas rising around us, and we are determined that in order to save the world that we hold dear, we can only rise with them.
I challenge you all to stand with those who are collapsing under the weight of a system that doesn't see us, and stand with those who are willing to take to the streets to be seen. Stand with people whose experiences you can't relate to. Stand with those most vulnerable.
I truly believe that we all, every single one of us in this room, has the ability to change minds. And as a result, we have the capability to change the world. It's time for radical change and it's time for radical love. What sets us apart is also what sets us up for a difference. Our future is all of our choices. Thank you.
PORZECANSKI: Wow, that's hard to follow. For all of us it's going to be tough to follow. Thank you, Vic, for your important words. I would now like to ask the panelists for tonight to please join me in coming up to the stage? As they come up I'll introduce them.
So joining me tonight are Afua Bruce. Afua Bruce is the Director of Engineering for New America, and their public interest technology program. Afua has spent several years working in the federal government as the Executive Director of the National Science and Technology Council at the White House during the Obama Administration. Welcome.
Next to Afua is Erle Ellis, who is professor of geography and environmental systems at the University of Maryland, Baltimore County. His research investigates the ecology of human landscapes at local to global scales to inform sustainable stewardship of the biosphere in the Anthropocene. We'll talk about that term in a minute.
Next to Erle is Spencer Glendon, who is a senior fellow at the Woods Hole Research Center. He grew up in Michigan, obsessed with the decline and trauma of nearby Detroit, and has spent the last 30 years trying to understand why some systems work poorly and others work well in the context of finance, and more recently, by exploring the implications of client science. And his work right now works on how to use it to help people and markets understand the probably futures that climate change will bring.
And finally, next to me is Larry McDermott. He is Algonquin, from Shabot Obaadjiwan First Nation, and is the Executive Director of Plenty Canada. He has been involved in governance at all scales. He is a three time mayor and long-time council member of Lanark Highlands, and at the same time, is active on a number of national and international organizations, including Ontario Human Rights Commission, where he was commissioner, and the International Indigenous Forum for Biodiversity as well as UNESCO.
So Afua, Erle, Spence and Larry, thank you so much for joining us to today. So I'm really curious to hear your thoughts on all these models we've been talking about, governance and all that. But before that, I actually wanted for Erle, set the stage a little bit more about what we mean when we say under climate change and in the era of anthropogenic or human-induced climate change. And is it an era?
ERLE ELLIS: Okay, so I'm a member of a group called the Anthropocene Working Group of the International Commission on Stratigraphy, which is responsible for maintaining the geologic timescale. So you've heard of the Pleistocene, the current time period or epoch, actually, is called the Holocene, officially. And scientists are now convinced pretty by and large that humans have now changed the planet so much that Earth has now entered a new epoch of geologic time, the Anthropocene.
So basically, climate is just one of many of these global changes. It is perhaps the one that is going to become the largest change that will be seen in the historical record of the Earth in rocks, basically, over the long term. So the concept of living under climate change, we live in a period of climate change that's more rapid than at any time since the dinosaurs. And it's, of course, a result of human activities.
PORZECANSKI: That's great. And the Anthropocene, this concept, is it just about geology, or is it also something that people are using in other ways? I mean, I've heard some critiques of it. That's why I'm curious. You just published a book about it, right?
ELLIS: I wrote a whole book on it, yes.
PORZECANSKI: Tell us the name of the book.
ELLIS: The book is called Anthropocene; A Very Short Introduction. And it's blissfully very short. But it's a very complex story because it is a story about what makes us human. It's a story about what our role is on the planet, what our role is in relation to nature writ large. And so it gets interpreted in many different ways. And it has every kind of connotation you could imagine.
It's not just geology at all. In fact, perhaps it's greatest uptake in discussion is in the humanities. When you start talking about anything about, what does it mean to be human, the humanities are, of course, very interested in those kind of narratives.
And there's lots of ways of telling that narrative.
PORZECANSKI: Some critiques I've heard are that, well, it's geologic epoch, and so it's just the way things are. And there's not a lot of discussion about how we got here and how decisions were made and by whom to get us to this point, where we're modifying the climate and the biosphere to such an extent. I'm curious if others have encountered this term in your fields, and do you have any reactions to it? Anybody?
SPENCER GLENDON: So I think it can be a good way to articulate a framework for thinking about the world, which is that we are—one of the things I find most interesting about life is that we all feel small, and that collectively, we're very large. And this idea that—and one of the most difficult conversations, parts of this conversation, is the personal pronoun is we. This idea that we know lots of things, which means somebody in the human species knows things. But we may not all actually understand them. We depend on each other.
But in this case, the idea of the Anthropocene is the idea that we now have nature at our mercy in some sense. So we evolved to defend ourselves from nature, or thrive in the confines that nature gave us, and yet now the pathway forward that the planet takes is dependent on us. And one of our main skills isn't responsibility, as a species.
And you want to talk about models, but we've been told as Americans to be self-interested, which is not one of the better frameworks for being responsible for others. And so I think that in this sense, the notion that humans have power in aggregate, is a helpful way to understand or to frame almost any decision.
PORZECANSKI: Great. Yeah, it's absolutely true. I mean, it should be mentioned, and I work in biodiversity so I'll also mention that the degree to which we're altering the biological systems around us and the ecosystems around us is massive. And as oceans warm, for example, we know that bleaching is on the rise. All kinds of species are moving in dramatic ways around the planet, and we can expect a very transformed kind of layer of life on this planet.
And speaking of models, one of the models we have is when we look at the world, we're used to seeing these maps of where species are, and what those biomes look like. And Erle, some of the work you've done has to do with kind of revising that perception, and instead of looking at biomes, looking at anthromes. Will you tell us a little bit about that?
ELLIS: Sure. So basically I think even, and I noticed this with my children when they went to kindergarten, is that at that point already, you are taught about the patterns of life on Earth. What are the patterns of life on Earth? And you have the biomes already in kindergarten. And they're these natural patterns shaped by climate. The tropical rain forest where it's warm and wet, and where it's hot and dry you have deserts, and tundra in the cold and places.
So it basically is this view of life on Earth as if humans haven't reshaped it. But if you actually look out of any airplane or satellite or do a global analysis like we did, it's pretty clear that about three quarters of the terrestrial biosphere—and I don't have a good model for the marine biosphere—but the terrestrial biosphere, about three quarters has been transformed by human use of land for agriculture and settlements. And that involves around 40 percent of the land is directly in use. It actually is farms. It is settlements or cities. And the other part is embedded inside. It's kind of trapped in our infrastructure.
And so under a changing climate, the threat to biodiversity is even higher. Because even though we've already eliminated a lot of habitat for other species, now those species have to move. They have to move to the poles to keep up with changing climate. It's warming. The places where they're adapted to live are moving, and they have to move through our infrastructure. They have to move through our farms and cities to survive. And so it's kind of a double whammy.
PORZECANSKI: Yeah, so that's interesting because it affects the way we see our power, our collective power, what you were talking about, Spencer, to some degree. I think we have this image in our heads of the world we live in, and in reality, I think the image of going up on an airplane is a very good one, because that really does change your perspective.
So one of the models that I think we need to get used to is how much we, I would say, are now responsible, and have the capacity to change the planet around us. And so let's get to those models and those kind of underlying beliefs that we have that have gotten us to this point, I think, in the sense that they inform how we live our lives, how we work, what we think needs to be happening.
So Larry, would you like to tell us a little bit about how you see some of these models perhaps being inadequate now, or maybe for a long time?
LARRY MCDERMOTT: Yeah, well, sometimes what is old is as relevant as ever. And I think if I wanted to comment, a good friend of mine was head of the Anthropocene group associated with the Smithsonian Museum of the American Indian in Washington. So there was an understanding that Western science and traditional knowledge need to work together.
In my legal system, which we refer to as [indiscernible 26:13], roughly means everything is connected, but it's understood mentally, physically, emotionally and spiritually. And so there's actually ceremonies to better understand what you see out that airplane window, although I don't know about lighting up a smudge at 30,000 feet.
PORZECANSKI: Have you tried it?
MCDERMOTT: No, I haven't tried it. I better do it in advance. But in Canada, one of the initiatives under the Convention of Biological Diversity, which is expanding protected areas, was done bringing both of those systems together. So we had an oral indigenous governance, and we had a Western business model. The smudge and the gavel were equivalent. The seven grandfather teachings and Roberts Rules of Order were equivalent.
So there was an understanding that we would bring in the best of our knowledge systems from both world views. So I think that it's important. Certainly in Canada, two reports were tabled not so long ago. The government just responded I think three weeks ago, and I think the title of it is One Earth. And in One Earth it was acknowledged that a new vision for conservation in Canada is reconciliation between those knowledge systems, those peoples, and the land.
Under everything being connected, back in 1764 with the Treaty of Niagara, which influenced both the U.S. and Canada's governance ultimately, what was put on the table by those 2,500 to 3,000 indigenous representatives was that we need to care for the land. That's our first responsibility. And that we are no more important than any other species.
And so that's a world view that was predominant at the time. And what was negotiated was British common law in indigenous—
PORZECANSKI: How do you feel that that relates or clashes or perhaps just relates, let's say, with the current kind of approaches, or more predominant approaches to governance right now that have gotten us to this point? Do you see a way to influence them through these processes of reconciliation?
MCDERMOTT: Absolutely, although we're just beginning the journey. We've been talking about it for a long time. At the Earth Summit in 1992 that I attended, it was discussed a great deal, and there was a lot of fanfare, and I thought, here we go. But the ability to work cross-culturally, and I would also say to jump outside of the patriarchy that—
PORZECANSKI: And inter-generationally, right?
MCDERMOTT: Oh, I loved what Vic had to say.
PORZECANSKI: Absolutely. So if we had more inter-generational governance perhaps that could be going in new directions.
MCDERMOTT: Absolutely. Yeah. Our governance needs to bring voices in. Those seven laws are about respect, about truth. The first one is love represented by, in my language, the eagle. And I can just imagine some people's eyes are rolling, but those were laws that sustained us for thousands of years. And sometimes simple is dynamic and effective. And so that ethic, applied in a process of making recommendations around conservation in Canada, work remarkably well.
PORZECANSKI: That's very interesting. Afua, if we can go to you, I wonder. You've been working inside one of the—you know, you've worked quite a bit inside the American government and administration, and so how do you see these models playing into this political decision making, or just the structures that allow the decision making to happen? Or what are your thoughts?
AFUA BRUCE: Yeah, I really liked what Vic said when he spoke to kick us off. It was something along the lines of young people are not here for the status quo. And I think we really can take that to heart as we think about, how do we train the next generation of policy makers, and of scientists, even.
I think oftentimes there's this myth or this thought that science and policy making can be separated from emotion, can be separated from ethics. That science or policy making can be done first, and we can throw in ethics on the side. And maybe a little bit of emotion at the end to stir up some debates and make for great tweets and the like.
But I think we really need to take a look at, how do people bring their whole selves into this policy making process and into the scientific process, and to some of what Larry was mentioning, those different ways of knowledge. How do we make that more mainstream when we talk about developing policy? Because then I think we can move from some of the individualistic, all about ourselves way of thinking as Spencer mentioned, to more, let's really define who our broader community is that we are making these changes for, that we're making these policy changes for.
And also, as we study the science and as we communicate the science, let's remember that science is important. I believe that wholeheartedly, but it really doesn't matter if we're not thinking about how it effects people and how it effects our lives and our ability to support each other and to assisting ourselves.
PORZECANSKI: Absolutely. Spencer, what about some assumptions or mental models we have about the future that you feel climate science is deeply challenging, and that relate, then, to some of these economic models that we live with all the time? We've been talking a little bit about this before.
GLENDON: Sure. So for perspective, I'm a person who is really interested in how did we wind up here, and what might happen next? But I didn't start thinking about climate change actually until five or six years ago, and one of the most remarkable discoveries for me was that actual climate science is mankind's first good forecast. It's the first time that human beings have actually said, here's what's going to happen over the next 40 years. It's actually very different than what happened before.
One of the most important things about climate science is that when the first Congressional testimony was given in the United States, there were clear predictions made that had no trend in them before. Which is a bunch of things like, rainfall hadn't changed yet, and they said, here's what's about to start happening. And all of those things happened.
I worked for quite a long time in finance. In finance, if you're slightly better than random you get really rich. I mean, New York is full of that phenomenon, okay? And so in general, humans have been really bad at predicting their future. And so you say, well, if they were so bad at predicting the future, how did we wind up with civilization? Well, the answer has been revealed actually by paleoclimatology, which is that human beings inherited, about 12,000 years ago, accidentally, a stable climate.
So for the last 12,000 years temperatures basically have been stable. Before that time, temperature was unstable. In an unstable climate what would you do? Well, you wouldn't put down roots. As Erle suggested, you'd be like the species that were ready to move. And humans were nomads until 12,000 years ago, and they lived in an environment where the climate was unstable. And then 12,000 years ago the climate stabilized, and humans stayed put. They invested in communities. They specialized. The developed what we call civilization.
That entire civilization is built on climate stability. And if you want to understand a simple way that's true, here in Manhattan, all over the United States, people have mortgages that are 30 years long. Those mortgages will be in default if the owner cannot get insurance. But the insurance is only offered for one year at a time. And so the assumption by everyone involved is the insurance will keep being available every one of those 30 year.
Well, the idea is, this is the way it is here, so insurance should be the same price over time. The risks don't change. We now know that the risks are changing. So there are a bunch of people who have made 30 year investments or more who will not be able to get insurance over the course of those mortgages, over the course of those loans.
And that's a simple thing, but if you start to think about the ways in which the U.S. is built on a 30 year mortgage, you start to realize there's a fair amount of vulnerability that's actually built around the assumption of a stable climate.
And I'll give you a second one. If we were meeting in London, 97 percent of the buildings in the U.K. have no air conditioning, and it's getting warmer. In fact, if they have three or four days over 90 degrees, the tube stops running. Now I know the subway here is miserable, but an un-air conditioned subway in London when it's 90 degrees is unworkable. The city shuts down.
There are all of these edges that society is starting to break that were based on the idea that nothing would change. And we will violently find them as we stumble over them in all different aspects of our lives. That basic assumption that nothing will change is built into every piece of infrastructure in the developed world.
And so it's profound, and finding those points where they will break or where we cross them is the work that I'm doing.
PORZECANSKI: Does anybody want to respond or ask Spencer any questions? I would like to ask you to give us a specific example. I know that you've been looking at Florida for example, and so can you give us an example of what would happen? I mean, one thing on my mind right now is the terrible cyclone in Mozambique which hit a city, among others, that is the size of Orlando. And now 90 percent of that city is destroyed. I know it doesn't look exactly the same, it doesn't have the same infrastructure, but it has the same number of people.
So overnight, imagine a city of that size being, suddenly there's an inland sea in there, like you were saying, Erle, earlier, right? Suddenly it's all under water. Could that happen in Florida? What would happen to the economic mechanisms that we use in a place like that?
GLENDON: I'll do it quickly and three ways. We'll start with Orlando. I hadn't planned on this, but Orlando is the home of—there are children in the audience who are fearful for their future and want to go to Disney World. And Disney World is a very interesting place, because it's already very hot. And the fact of the matter is that there are likely to be long stretches of the summer when Disney World in the 2030s and 2040s will have to be closed because it will be unsafe for small children.
The heat is actually a menace that will show up in all kinds of places in Florida that people don't think about. And heat alone is actually a reason to be worried about a lot of Florida. People will want to go there for shorter and shorter time horizons.
So my parents are old. They live in Michigan. So they go to Florida. That's what happens. It's like migratory birds. But do you know when they go now? They go in January, and they stay a shorter period of time. Because actually, December in Michigan isn't so bad anymore. Florida's economics are falling apart in all these little ways.
So then I'll tell you what the former governor of Florida told me personally, which is it happens to be the case that all of the toilets in Florida flush into the ocean. And as the ocean goes up, it gets heavier. And as it gets heavier, it gets less welcoming of the things we try to put into it. And so eventually, people are going to find that they can't flush their toilets, which will be a very local political problem.
The second thing is that Florida is built on porous limestone, and porous limestone, as the ocean gets higher it gets heavier, and it pushes on the limestone, and it gets into the aquifers. And so the water supply becomes salty. So you have two problems in the bathroom. You have salt water where you don't want it, and you have dirty water that won't go away.
Those problems are very simple. It doesn't mean they're easy and it doesn't mean there's a solution. But too much heat and an ocean that's too heavy, because when Miami floods, it's not from the beach, it's from the sewers. It's pretty gross.
So the last thing I'll say is in Pensacola, Florida, it rained a couple of years ago 24 inches in 24 hours. And as in Houston, the problem isn't just that it rained a lot, it's that the Pensacolans have paved a lot of the city. So Houston is roughly 25 percent parking lot. That's part of the reason the rainstorm was so bad. The water has nowhere to go.
And so we make all these little decisions that make the place less resilient, to use the term that Vic used, that make all of these places much more fragile. And the problem is, we've planned on them for a long time to be an integral part of our lives. And when we take away each one of those assumptions I think we'll find they're tied to a bunch of other assumptions, like the 30 year mortgage, or the fact that most of our old people live in warm places where their main form of wealth is their home.
And so we'll have a lot of poor old people, because the home they own will go down in value. And that's how you wind up, if you think it through, to various forms of social dynamics that seem like they come from the simple fact that the ocean got heavier, and wind up being quite profound.
PORZECANSKI: I think this is a really great example of how these models that influence our economic decisions and even how societies govern themselves, end up creating these situations. One of the ways in which we're trying to start to inch a little closer to the second part of the panel, which is where should we go from here, but not to get there yet.
One of the ways in which we're trying to address this is through these kind of large scale international efforts, and you know, large conventions and treaties and global agreements. So I was curious to hear from all of you whether you think those are working. Are they helping? And in which ways do you feel that they're not really structured in a way that would be helpful going forward? Do you have some thoughts on that?
BRUCE: So I think it's important to have these large scale international/national committees, councils, working groups, commissions, etc., etc., etc. Because I think there is merit to having conversations on a large scale basis that include all different types of people. And try to include the largest swath if not all of societies, and accounting for marginalize populations and countries that may have fewer resources than others but are still very much affected by the problems of climate change.
So I think there is definite merit to having those, and having those discussions. I think, though, that a lot of attention needs to be paid to how solutions are developed at the local level, because very often people are most motivated by what they can see, and it's important that we have policies that reflect our communities, so that things can be implemented and can actually be a success.
So what Florid is facing, for example, may not be what Indiana is facing, and so the types of policies that you implement, or the types of groups or focus that you have may change between Florida and Indiana. But it's important for both of those communities to be working really hard to think about, how do we sustain our society? How do we sustain our resources? And how do we continue them?
At the same time, the big picture orienting I think is also important. Can we maintain? But even as someone who has worked for years at the federal level, I think we have to invest more in our local solutions in making sure that average people—you, me, your neighbors—can be a part of that process and really move the needle for what you can see around you.
PORZECANSKI: Yeah. I mean, I get a sense that also there seems to be a bit of a mismatch in timeline or speed, so to speak, right? I mean, we're making some progress at the international level like with the Paris agreement. But my impression is it's not going to come in time to reorient things in Florida, or lead to a drastic kind of perhaps adaptation to what's coming in Florida. Is that your sense as well in terms of timeframe?
GLENDON: Yeah. I think that one way to characterize the international effort is a clumsy bureaucratic, and yet without other alternative way to have a global awareness. That if we all identified globally, these problems would be easier. But we don't. You've already been addressed just while here as New Yorkers, as Americans, as people who like Harry Potter. You're groups. And the effort to have a sort of one global identity or awareness is extremely aspirational.
PORZECANSKI: We also talked about being humans, and being part of humanity.
GLENDON: Exactly. So that's my point. There aren't many efforts. So you could see this as a difficult and clumsy but otherwise probably meritorious effort to have a global conversation. And in that respect, would you expect that conversation to be super effective? No. Is it worth having? Almost certainly. But the thing I'd say about your second part of your question is, is it happening fast enough? It is the case that we now live in a world where we have to start preparing for big changes.
It is no longer the case when these conversations started, as Larry suggested, if big actions had been taken a long time ago, we'd be talking about preserving the world we inherited. But we're not. Vic didn't get that good deal. So we're talking about a world that's already going to change a lot, and so adapting to that world is also part of what it means to have policy and have an awareness.
And so that's a much more local effort, the adaptation is. And so there are ways in which now, because it's everywhere and because this change is real, not just the preventing of the change, there are now both global and local scale attributes that wouldn't make sense to negotiate in Poland or Chile or anywhere else.
PORZECANSKI: Larry, you had something you wanted to add.
MCDERMOTT: Yeah. My experience with the Earth Summit, the conventions that flowed from it, and then in 2010 in Nagoya, Japan, when the Aichi targets were created, Aichi target number one is essentially, everybody has got to get onboard.
But back to '92, there was Agenda 21, and Canada, even though it signed on, ignored Agenda 21. But Scandinavian countries brought it into schools, brought to the local level, tied it to municipalities. There's also a municipal organization that tied it to cities. And those activities have been going on, and there's some good things happening. We just don't see them so much in North America because we didn't buy in.
PORZECANSKI: I know you had some thoughts as well, Erle, about the kinds of targets that these big agreements are pursuing. Do you want to comment on that? That they're kind of avoiding these limits and they're kind of on the negative. You've got to stop doing this.
ELLIS: There's two elements to that, I think. The one is the kind of illusion of global governance is one of the ways of devolving your responsibility. I'm not somebody who is going to say it's all about what you do today. That's the most important thing. Because this is a really huge social problem that will be only be solved socially. But the global negotiations, as we've seen, have not really accomplished anything more than agreements that are not actually implemented. I think that's mostly what we've seen.
And for that reason, there's really no effect on the current state of affairs with climate. I think basically you could almost have had nothing going on at the global scale and you'd probably see a similar result. Although the awareness raising element is very positive.
PORZECANSKI: Or what Larry was suggesting, when you take it to the local level it can permeate a lot of local decision making.
ELLIS: Right. But that's, of course, where did that local level come from? It was already there. The global did not create the local. The local was ready for the global. And I think the local capacities, to address issues of these kinds—
PORZECANSKI: That's interesting. So how do we make the local more ready for the global here, right here?
ELLIS: That is probably the million dollar question. And not just the local, the levels above the very local, too, also matter. But the question is whether global—and when we say global, it really is international. At the level of international agreement, does that have the means to solve these problems? It has a very small capacity to do this.
PORZECANSKI: Larry, you wanted to add to that?
MCDERMOTT: This one has a New York part of the story. The first biosphere reserve to be managed by indigenous people is located in the Northwest Territories. The New York Times did an article on it, and part of what they illuminated was, well, they made reference to a three minute video of elders. And the elders said, we have this sacred responsibility to the earth and to the water.
There's a huge lake there, Slave Lake. And they said, our taking care of the water here is part of taking care of the water around the world. So they had this global consciousness anchored in the place they've lived for thousands of years.
PORZECANSKI: It's interesting, I've met representatives from an indigenous group in Colombia in the Santa Marta Mountains, who refer to themselves as the older brothers. And they feel like all of us are their younger brothers. You know when you have a younger brother and they keep messing up? That's how they see it. It's like, the younger brothers, they just don't get it. They're not mature enough. That's one of the ways that they keep referring to it.
So at this point I would like us to take a little break and listen to a video message, or a video thought, so to speak. It's about five minutes long, and it's from somebody who we wanted to invite to the panel. Interestingly, he did not want to fly to New York. He didn't want to get on a plane for climate reasons.
And this is Dr. Paavo Jarvensivu, who is a researcher of economic culture based in Helsinki in Finland. And he works with artists, philosophers, natural and social scientists in order to construct what he calls cultural, economic and political solutions to the global environmental crisis.
And we asked him to comment on the larger topic of the panel, so he sent us a video, which we will play now, and then we'll have a chance to respond to it a little bit. So if you could please cue up the video. Here we go.
PAAVO JARVENSIVU: My name is Paavo Jarvensivu. I'm a researcher at the multi-disciplinary BIOS Research Unit based in Helsinki, Finland. We study the effects of the environment and resource pressures on society—on the economy, politics and culture. One of our recent works was a scientific background document invited by the U.N. appointed group of scientists who are drafting the U.N. Global Development report, 2019.
In the document, we explored how the dominant economic thinking and tools need to change so that societies can accomplish a rapid transition of carbon neutrality and provide equal opportunities for the good life at the same time.
To understand how predominant models of governance, economics, and indeed, prosperity, are outdated for an era of climate change, let's start from the era of rapid industrialization. The economic models which dominate policy making today were created in times of abundant energy. Year after year, there was more energy to be consumed. Good quality oil in particular was unbelievably easy to dig up where it was found.
It was not only science, technology and the market that built today's industrialized societies. The social and technical machinery relied on cheap energy. The wheels would not turn without a constant fuel of oil, coal and gas.
What else did the huge load of fossil fuels give us? It gave us the modern experience of being separate from nature, of not being able to know the material conditions that support our everyday lives. In practice, this illusion of separation is manifested in highly specialized jobs in which it is easy to lose sight of the whole, and in the maddening attempt to choose ethically among the set of available products and services, whose actual requirements and effects remain unknown to everyone, even the employees producing them.
Climate change is another dimension of this illusion. We act so surprised when we burn 100 million barrels of oil each day, and hey, there are consequences. The oil did not just disappear.
Finally, we have modern economics totally disinterested in actually existing flows and stocks of energy and materials. Modern economics thinks only through abstractions that center on self-interest that's human individuals, and one of market transactions between them. It is clearly time for some rethinking.
Given today's urgent needs to radically reduce greenhouse gas emissions and to prepare for the worsening effects of climate change, it is essential that we create and adopt economic and political tools that enable societies to aim at advanced social goals, while respecting the material boundaries set by planetary ecosystems.
It is impossible, however, to create economic models or indicators that would account for all of the relevant social and material dynamics. Instead, I argue it is better to reboot our political imagination by starting not from economic models, but from the concrete tasks that we need to accomplish.
These tasks include rebuilding our infrastructure and practices so that we can first heat and cool our homes and produce electricity without burning coal or anything else. Second, transport people and things without burning oil or anything else. And third, produce food in ways that regenerate the soil rather than erode it. All this needs to happen within the next decade or two for us to have any chance at staying well below two Celsius global warming.
The next question is how to reorient our economies to accomplish these tasks. Carbon pricing alone will not be enough, because it lacks the crucial element of coordinating the rebuilding efforts between different economic actors. For example, in 15 years most cars still on the streets should be electric, and they should be powered by zero carbon electricity.
These two industries, energy and cars, need to work closely together, and at the same time, bypass the power of the oil industry. There's no way the transition will be possible without heavy regulation. History teaches us that we need governments to coordinate and ultimately finance the rebuilding of our societies to the post-fossil fuel era. The government is the only actor with the legitimacy and the financial means to do so.
Seen from this perspective, the recent discussions on the Green New Deal are very promising. A central part of the debate is modern monetary theory which depicts how monetary institutions work in real life. It draws the conclusion that ultimately, it is not money or public debt that limits what the economies can accomplish, but real resources such as skills, technologies and natural resources.
This is an important political lesson and is backed by historical as well as environments of studies. We need to bring back the social and material reality into our economies and political thinking.
GLENDON: We were privy to that presentation earlier, during our meal before this. It was a little bit like this. We had had most of the meal, and this was like a delightful Nordic palate cleanser. So clean palate now as we move ahead. I was asked to repeat the joke, and I think I would have said it anyway. It was the lively Nordic.
PORZECANSKI: But very provocative. He raises a lot of points that I thought it would be interesting to react to. So he mentions the current realities of economies, perpetuating this illusion that we are separate from the ecosystems that sustain us. And I know some of you have something to say about that.
Let's start with that idea, and then we'll switch to some of his other ideas. Reactions to that? Do you feel that if we had a different kind of sense of connection, that it would change the way we make decisions? Can you give us an example? Larry?
MCDERMOTT: Absolutely. That's fundamental in my world view. I can remember one time with an elder and a cross-culture with a group of, I'll just say quite a diverse group; some real hard-nosed local people that I knew quite well. And Henry Lickers was this elder's name. He's still alive. He still does great work. And he said, we're going to share our ceremonies with you because you guys need to get reconnected. You've lost your ways.
So yeah, absolutely. Part of being connected is that we're making decisions with what I call the mental and physical intelligence, but we're not using the emotional or empathic or spiritual intelligence. And when you care for something, you get away from commodifying the sacred. And you develop a relationship. You care for it. You care about its continuance. You understand its relationship with you.
PORZECANSKI: You feel responsible for it?
MCDERMOTT: Absolutely, in a deep way. In a way you can't be otherwise.
PORZECANSKI: Yeah, I feel like some of the models that we're based on are all about rights-based approaches to how we govern, instead of responsibility-based approaches. Because I think people do go to nature and get connected. But maybe what's missing is that deep sense of responsibility.
MCDERMOTT: Responsibility comes from empathy, and knowing our connection. Understanding at a deeper level the interconnectedness of all life. Which more and more, and my elder said this would happen, more and more science would confirm. And is.
PORZECANSKI: It is. And what about his idea that we should reboot our political imagination, and his excitement with the Green New Deal? Would you guys like to comment on that? Are we capable of rebooting our political imagination? What are some ways in which we're doing it? What about the Green New Deal? Who would like to tackle that first?
ELLIS: I'll say something about it, especially because I'm not a politician and I know little about politics. I'll get in deep trouble very quickly here. But one of my biggest concerns about dealing with climate change is that it's become a completely partisan issue. And I think there's no bigger barrier to solving the problem in the United States than overcoming that.
I mean, could you choose two more party-branded labels for policy than green and new deal? I mean, those are owned by the Democrats, simply put. So I don't see how that strategy is—
PORZECANSKI: Well, the other day I heard, though, from a group of ocean scientists who are like, wait, you are forgetting the blue. It should be the blue and green new deal.
ELLIS: Yeah, you've still got blue is owned, too. It's also a brand. But there are some things that—I mean, basically, a large part of this, it's not all about energy but it's the central feature of—the change that we need to see in the world is the energy system has to stop producing so much carbon.
And so an energy for jobs or energy transition type of a brand, everybody likes energy in some way. It's not branded. I think if there was more of an effort to look at strategies politically that are not branded so much by parties might be a better step forward. That's just my perspective on that.
PORZECANSKI: What do you think, Afua? You were inside that kind of bipartisan government world.
BRUCE: I'm all for sustainable change wherever those ideas come from. But I think, Erle, to your point, no party has the solution all by themselves. And no single idea to address climate change can be owned by one party or another for this to happen. These solutions that we're talking about, these ways of adjusting that we're talking about, need to affect all people, and so we need to make sure that they're presented in a way that people will find them palatable.
Some of it Larry was talking about in response to the video, though, made me think about how we often just focus on the end product that's in front of us, as opposed to tracing what we enjoy back to where it comes from, the Earth especially. And in the video he talked about food, which is one of my favorite topics, so I just want to go back to that for a second.
I love food. A lot of people do. Got to take that perfect picture for Instagram, of course, and talk about the food that you're eating. But we often stop there and don't think, how is this food produced? How did it affect the climate? How did it affect the Earth? And how can we do things like that in more sustainable ways that can actually affect how the Earth is kept and how our food is grown and how we are sustained.
And so I think for a lot of the activities that we enjoy, whether it's how we consume energy, whether it's how we eat, really taking the time to trace our enjoyment back to the source and thinking, are we doing these in ways that are sustainable? And are we doing these in ways that will ensure that not just the next generation, but the generation after the next generation after the next generation, can also enjoy that. It's important.
PORZECANSKI: I think part of the challenge is that it feels like our political system is a little bit gridlocked, and captured, perhaps, as well by special interests. It's very hard. When he says we need to reboot our political imaginations, the thing about the Green New Deal that has stirred a lot of excitement is its ambition, its scale, its scope, the sense that we need to do something big and radical.
Just today in the paper there was an opinion piece in the Times that it's not the right kind of deal, though. What we really need to do is a carbon tax. And so I'm wondering if you have thoughts on that? For example, Spencer.
GLENDON: Sure. So I'm delighted that the Green New Deal exists, because it does two things. One of which you just talked about, is the idea that it gives a sense of scope, which is that it's a big deal. We're going to need to change a lot.
So we may not need a big deal, but a lot of things are going to change. And so getting the popular imagination around the idea that life is going to change a lot is necessary. So I think that's the one real virtue of it.
The second is that it introduces the idea of the government takeover large parts of society. And what I say to people is—so I have access to people who are in high finance, who are CEOs. What I say to them is, if you like capitalism, you should be for a lot of regulation now. Because the longer you wait and the more catastrophic things get, the less laisse-faire will work. The less that diverse decision makers will be allowed to make decisions, and the more authoritarian outcomes will be.
There's a very good argument to be made that actually climate change will become very attractive to extraordinarily conservative totalitarian or even fascist politics because it provides clarity. We live in a world where the way I would describe the media is that it's like a wheel of fortune thing, and every morning I wake up and there's a new issue that's the most important issue. And there's not this sense of ordinal importance.
But if we wait long enough, climate change will be the everyday issue, and all the other issues will be subordinate. And so we have an opportunity still to live in a world that has lots of different ideas, and we should start entertaining them. But with the understanding that we need to go a long way towards doing it.
PORZECANSKI: So how do you think it's going to work out if, for example, corporations are designing and proposing regulation?
GLENDON: So I think there are two things to bear in mind. One is the fact that I don't people link to this. So Vic spoke with tremendous clarity, and we could just have an hour and a half where we just repeated what Vic said and it would be salutary.
And we have prospectively an election between two men who are 80 years old running for president. And that's really remarkable. It would be easier just to hand over more institutions to young people, and you'd get better outcomes. It's not rocket science. The beauty of it is literally, it's not rocket science. Environmental science is quite intuitive. There's not a single policy that doesn't make sense that an eighth grader would say, yeah, that looks like a better idea than the other idea.
And so one of the things I encourage people to do is think like a pretty well educated eighth grader and you get much more intuitive outcomes. But I think that the thing that the New Deal and the editorial—the editorial is worse because it says economists have made models that tell us this will be okay, which is a terrible message.
We have a much easier message, which is that even the metaphor of the greenhouse effect is a good metaphor. And so we can understand this on an intuitive level and make a lot of good decisions if we don't obfuscate it with jargon and models, and if we let young people make more decisions. And whether that's in corporations or in business, I think it's a simple thing, but we've somehow gotten worse at it.
PORZECANSKI: I think part of the issue here is also that I think people have a hard time imagining the scale of what needs to happen, right? Because we can't imagine the scale of the changes that need to happen.
I know that, for example, you feel also we have a big failure of the imagination. Do you want to tell us a little bit more about that idea, because that's why it's hard to reboot.
GLENDON: Sure. Erle and I—everybody gets a chance to say something controversial. So I think a bunch of the people who are the opposition or the enemies of environmentalists, who are supporters of fossil fuels, mostly lack imagination. Which is that they honestly don't believe that there will be large scale south to north migration. They honestly don't believe Florida will be destroyed. They think that it's not likely to be true.
But I think part of it is, it's literally hard for them to imagine. They've lived in the United States for 70 years where nothing bad happened to them. And if you have a conversation with people in China, who have been through revolution after revolution and unstable era after unstable era, they will say very practically, oh, we can afford three degrees C.
I'll have to move. Hundreds of millions of people will move. There will be catastrophe, but on balance it will be okay. We'll have to have a big military to keep the people from the south out. I've had conversations with people in the Chinese government who say, we'll have to bolster our southern military so people don't come in.
It's pragmatic, but it's a view that, yes, society will be very hard in the future. In the United States there's this terrible failure to imagine what's coming, and what the likely consequences are.
And so I think that we need to populate that imagination. So my one message to you is, start thinking about what the future is likely to be like in concrete terms. Imagine Vic's future. Kids in the front row, think about their lives. If you think it through, you think about things like, they won't have fun outdoors in the summertime. So in New York it will be over 95 degrees like 70 days or 80 days, and then eventually 90 days a year in the middle of this century.
PORZECANSKI: And in other places in the world, like India, is going to be a lot worse.
GLENDON: Yes, that's right.
PORZECANSKI: If we do nothing, I've heard you say at a talk you gave recently, it could be 230 days out of the year, or 250 days out of the year.
GLENDON: That's right. There are parts of India where it will be almost 300 days a year above where it's safe to be outside on a regular basis.
PORZECANSKI: In 30 years, if we do nothing.
GLENDON: Yeah. Thinking about that clarifies the mind. And it's not obfuscated by a policy or a party. So I think encouraging that kind of imagination can make things easier to consider in terms of both consequences, but also in terms of approach.
PORZECANSKI: So we have only a few more minutes left before we break it out for questions, and one idea I wanted to perhaps talk about is, how do we train the policy makers of the future? This was something that, Afua, you brought up in an earlier conversation we had.
So what are your thoughts about that? How would you go about that? What do you think is exciting? What are some new models that these folks have to carry with them?
I've been thinking about leadership because I'm very interested in building capacity for conservation. And there are many different ways to approach leadership. One of them is an idea that leaders have to be adaptive. That adaptive leadership is the most important thing, more than if you are transformational or if you are a service leader. Your role is to be adaptive. To be scanning the horizon and be immediately thinking about those possible futures with a broad mind. And be nimble to change and reorganize, and catalyze changes for that future that's coming.
So how do we do that? Do you have some thoughts? Anybody?
BRUCE: I can start, since I talked about it a little earlier. So I think it's absolutely important that leadership and being adaptive, these are skills that our leaders of the future, our policy makers, our scientists even of the future will need to have. I think also the level of awareness of data and how to make truly data informed decisions is really important for people in general.
We have a lot of information coming to us. We are also tracked in all sorts of ways that we haven't been in the past. And so we have all of this information about how people truly behave. Not just how they think they behave or how they might like to behave, or how they tell others they behave, but how they actually behave.
So what can we do with that? How can we use that to make decisions on how to make change happen, and to move society in a way that it stays on a sustainable course, I think if really important.
I think also training people on how to have ethics as part of their decision making process. You can talk to Facebook and other tech companies as to how it works when you focus on technology or science first, and throw in ethics at the end, and what that might mean for some of the implications of what you develop.
And then the final two things that I would mention are the ability to really work across disciplines. The solutions that we've been talking about and the models that we've been talking about aren't just science-focused, aren't just technology-focused, aren't just policy-focused, but it has brought political science and sociology and these other implications. So how do we take information from different spaces and combine them into something that makes sense?
And the final piece is really again accounting for people's entire selves. Few people have no emotion, no ethics, no priorities and the like. And so really making space to think about how the decisions we make impact people's lives and enjoyment of life and sense of safety I think is really important.
PORZECANSKI: Other thoughts?
ELLIS: I think you covered the waterfront pretty well, especially the interdisciplinary nature of solving environmental problems. It's one thing to understand them from kind of a natural science point of view, but the real challenge to all the solutions is interdisciplinary.
But the one thing I would add that has got us into a lot of the hot water, I don't think it's just a matter of—it's a certain type of ignorance, a certain type of inability to visualize that has got us to this place, is the inability to understand just being a force of nature.
As individuals you can do lots of things and it doesn't really matter. And there's a lot of things that when you do them at small scale—you know, Willie Nelson driving his bus around full of biodiesel, it's all good. He's using French fry oil. It's a little local phenomena and it's all good.
But when you start trying to change the diesel economy of Europe to use biodiesel, you end up deforesting Indonesia to produce palm oil. That's the kind of problems that you get when you don't think about the scale.
PORZECANSKI: So systems thinking as well; being able to see the connections in our connected world.
ELLIS: Solutions need to scale. Things can be very good at a local scale and become a real problem when they become global scale.
PORZECANSKI: Anybody want to add anything to that question?
GLENDON: Yeah, I think that Erle's point is a really important issue. Erle and I actually have both coincidentally had the benefit of spending a lot of time in China, and I think it's really hard for Americans to conceive of 1.3 billion people growing, changing their landscape as dramatically as they are. You can get the sense that the Upper West Side has kind of been the same for a really long time, and—
PORZECANSKI: Not quite.
GLENDON: Well, in contrast, comparatively, it's unchanged. I live in Boston. I live in a building that was built in 1849. That's unbelievable in China. People live in 30 story buildings, of which there are thousands in most cities now. And that way of living—I just want to share with you, a dear friend of mine spent a bunch of time in China and came back, and his reaction was, I'm telling my children not to have children.
And I'm not telling you to do that. I'm not telling you have a view about that. What I'm telling you is, having seen it in person, the scale of this, his reaction was that violent. We have this idea that there's a small number of people around us, or that we're not that big. There are so many people on this planet that are all doing things. So when you look at the deli counter or the fish counter and there's the sustainable aquaculture, if everybody started eating that fish tomorrow, it would no longer be on the list the next day.
And so we have this problem of enormity. And I happen to think it's a philosophically delicious problem. It's amazing. We're so interesting. We should be interested in this. The science is wondrous and beautiful. It's actually pretty intuitive. We've been delivered to this point with the knowledge that it's workable and we can understand it.
I think a lot about how lucky we are that climate is changing because of carbon dioxide and methane. Those are the two things we can control. If it was clouds we'd be screwed. If it was like anything else, we'd be screwed. It's just two things that we do, and we can understand.
So on the one hand there's this overwhelming issue of our scale and our scope. But on the other hand, we have the skills, and as Afua said, the data to understand ourselves. And the models to try things, and the intuition that we can all share.
And so I think it's an amazing human problem that we should be, at the very least, interested in.
PORZECANSKI: Let's give Larry a chance to add to this discussion if you'd like, and then we'll go to Q&A.
MCDERMOTT: Well, I'm sitting here thinking about, I'm looking at this panel, this audience, and thinking there's a lot of talent. There's a lot of interest. There's a lot of concern. So what's our problem?
For me what came out of our Pathways One process in Canada, this co-governance model, was that we haven't found good ways to communicate. And so back on the governance discussion that we had, I actually feel, speaking of controversy, I feel I spent 30 years in politics. I had elders who said you should do this, and I thought, oh, you're kidding. They weren't.
And it was sometimes traumatic because it's adversarial. Our judiciary is winner takes all. That doesn't work. We need to actually find ways it gets back to that four sources of intelligence. We need to then, those seven laws that were part of, ethical spaces was part of this whole governance model in Canada and I have not time to explain it.
But the bottom line was, we listened to each other. We create a space where no matter how you identify, you feel safe to share your truth, and then the rest listen. And so in our opening ceremony, a ceremony where all provinces, territories, the federal government, indigenous circle of experts, national aboriginal people, mining, agriculture, etc., all two times, at the beginning and at the end of this process, we created conditions where people felt free to share their truth. And share their truth for the good of the whole circle, for the good of all of life.
So I feel in Canada there was talk about representational governance, but political parties, are they serving the people or are they serving the partisan objective of remaining as a winning party? To me, politics has long ago quit serving the people. And European models have adapted more to representing different voices.
I remember there was a time when the NDP and the liberals in Canada were going to form a coalition government. And Canadians—there was a lot of hubris about, oh, how could we ever do that? The Swiss professor got on the CBC and said, we've been doing it since 1812. We have one of the most rightwing parties, one of the most leftwing parties, and everybody knows that once consensus is achieved, you better not criticize it because you'll lose your proportional share of governance.
PORZECANSKI: So more, going back to the original question, I think more skills and more experiences that allow you to work together across the multiple values that people have, the multiple goals the people have. And some of the solutions that have come up here—well, I wouldn't call them solutions. I would call them, some of the areas we have spotlighted, so to speak, of ways in which we can go forward, I think are very useful.
So linking the local and the global, and thinking about how if we scale down to local solutions, and really looking deep into the assumptions we're making with our financial mechanisms, and how we see the world. And understanding our power as a collective, both for changing the planet and maybe for working together.
So those are some of the things I'm going to take away, a quick summary. But I'll come back to you for a final thought after we've had a chance to hear from our audience. So at this time, I would love to open it up for some questions. And I'm going to ask Vic to join us for the Q&A, so we can include Vic as well in the conversation.
AUDIENCE QUESTION: So I know that some of you were talking earlier about climate change needing to become more palatable and more accessible to a wider audience. And I was wondering, how can we present climate change to our peers and in our generation, to our peers in a way that's more universally palatable and maybe more understandable in a bipartisan sense? And also, like reaching audiences of people who maybe don't believe in climate change or science, or deny its existence?
So yeah, basically, how can we present it in a way that's accessible to everyone?
GLENDON: Can I answer that? So first of all, I worked really hard to not grow up, and to be consistently naïve. And one of the things that happened to me when I started studying climate change closely about a half dozen years ago is the discovery that it's really interested and quite beautiful and quite intuitive.
So I'll give you a couple of examples that I find captivating and terrifying. So Antarctica has five miles of ice, deep. That depth of ice, so it's four times as high as the Rockies. It's so big that Antarctica has a mass that attracts the ocean to it. It's like a planet.
So the ocean is deeper near Antarctica than it is everywhere else. And so as Antarctica loses ice, there's more ice in the water, which raises the sea level. But also, Antarctica loses its mass, and so it pulls less. So more of the ocean redistributes elsewhere in the world. And there are lots of things like that that are cool, that make the world way more interesting, and that wind up providing a lot of intuitive insight.
So on the other side of the world is the Arctic. You've maybe heard about Arctic sea ice. So as the Artic sea ice shrinks, more of the ocean is exposed. Well, that ocean is dark. It absorbs 90 percent of the light in the way that dark clothing does, the way New Yorkers dress. What it removes is the reflective ice, which reflects almost all of the light. So the Earth is changing color as that ice shrinks in a way that makes it warm up.
That's not an argument about politics. It's about something that is, A, intuitive; B, we all know; and C, we now can observe in a way that has wonder to it. They all also have implications for whether or not Houston floods.
But I think that starting with the sense that we're really lucky to understand this, and that it's beautiful and interesting and engaging, has not been tried very hard. And is quite contagious, and can be talked about at the dinner table or anywhere else in a way that—this is what I'm working on, but I think you can do, too.
BARRETT: I would also add, I know like being on a college campus, being around a lot of other students, getting them engaged in things can sometimes be like insanely difficult because everyone is busy and everyone is doing things. And I think that what young people thought we found as an answer to that was a lot of engagement and activism through social media.
I think that the problem we found with that is then it glorifies certain activists and makes it seem inaccessible to just be doing your own thing in your own community. And if you don't have the most signatures on your change.org petition or the biggest video, you can't be a youth activist. And I think that's kind of an unhealthy attitude that we've created by trying to create community online.
And I think that what got me really interested in activism and my peers and what I found works the best is the physical spaces of getting people to come together, and not just see a tragic article on their Facebook timeline, but just get to hang out and maybe eat pizza or whatever. Everybody loves pizza. And you know, just have a conversation, like a meeting, and hang out.
And the reason I went back to Global Kids and the Alliance for Climate Education and all these nonprofit organizations every week is because my friends were there. And we laughed and we had fun, but also talked about tangible things we could do to change the world around us.
AUDIENCE QUESTION: My question kind of rolls off of that awesome question over there, talking about that palatability. You guys spoke a little bit about how it's such a partisan issue and how we really need to find a solution that can be accepted by both parties.
And I think that's true on a political scale, but also kind of in the world, how can we find solutions? I feel like often people are either like really strongly environmentally dedicated or they just don't care at all.
How do we find solutions that can be acceptable to both parties, but that are radical enough to accept the scale of the problem, and to allow us to adapt right now, as you were saying? Because it really does have to start happening now, but that can be digestible to both sides. And do you guys have any specific areas in which, not just on a conceptual level, but specific policies that maybe you think can provide some insight into that?
BRUCE: I will give sort of a general response. It goes a little bit to what you were saying, also to what you were asking. Which is, I think sometimes the answers to how do we have solutions that are palatable to a wide audience isn't necessarily as complicated as we may be searching for. I think we've all mentioned some aspect of communication and interdisciplinary work throughout the night.
And I think that's what it starts with, is having conversations with people just about the science. That's fascinating, as Spencer pointed out. With people who are probably outside of your typical bubble, and figuring out how you communicate to a friend or just a peer who is outside of your bubble as to what matters and what are some of the changes?
And then through these basic conversations, you have figured out ways to communicate, hopefully in a civil, respectful, engaging manner that you can then start to translate into something bigger and take that and make that bigger. But I don't think there's any substitute for basic communication and seeking out people who think differently than you, to really have true conversations to sharpen your ideas. But also learn where you have commonalities and where actual differences are.
PORZECANSKI: I'll just add one other thing. The climate scientist I mentioned, Katharine Hayhoe, she has a wonderful website blog and Twitter feed, and she's an amazing communicator. And she's married to a pastor. And so she talks a lot about religious communities and faith-based efforts and how to bring all that together. She's amazing at going across the aisle, so to speak, to other kind of groups.
GLENDON: A friend of mine ran a survey, a scientist ran a survey at a business conference. And the survey asked all the participants, do you think that climate change is an important issue that should be discussed at a conference like this? And nine out of 10 people said yes.
And the second question they were asked is, what percentage of the people around you think this is a conversation that should be had? And the answer was they thought that 30 percent of the people around them wanted to talk about it.
So 90 percent of the people wanted to talk about it, but they were really sure that only 30 percent of the other people wanted to talk about it. And so almost nobody actually talks about it. I mean, really, almost nobody talks about it. We're here. We're a panel. But on the subway, wherever, have conversations about it. It's not happening. So let's do that.
PORZECANSKI: Absolutely. And Katharine has a blog about that.
AUDIENCE QUESTION: I want to begin the question by pointing out that anyone here who wants to be informed about the ways in which we can solve the climate crisis, the book by Paul Hawken called Drawdown is by far the most important book of solutions thus far. Only Reinventing Fire by Amory Lovins and the writings of Mark Jacobson in any way rival Drawdown.
But what I'm wondering is why we are still having these conversations and not genuinely talking about the solutions? Because the solutions are, we have to stop talking about it as if it's a matter of the grid, as if it's a matter of wind and solar. Because it's a matter of buildings. It's a matter of industry. It's a matter of transportation, forestry, land use, farming, human population.
So what I'm wondering is why we are still having the crisis conversation, because those who are still talking about the crisis at this point are part of the problem.
PORZECANSKI: For example, Drawdown, if you go to their website, it is really very much worth looking at. And if we had had more time I would have brought it up. They identify the top 10 things we could do that would get us closer to mitigating and perhaps even reversing climate change, which is something they consider. And some of the top ones are things like refrigeration and the technology we use for refrigerants. And education of women and girls, all these things, they've calculated it, and they have great impact.
So the challenge is how to get that into policy, how to get that into collective action in some way. And I think that I don't think we can answer that in the little short time we have. How about you come talk to us when it's over, talk to everybody else. I want to listen to a few other questions. Thank you for raising that wonderful resource.
ELLIS: I think I can address this question. Why are we talking about this? Because actually, this is not a technological problem at all, it's a social problem that we are not addressing. And until there is a conversation that's broader and more engaging, we're not going to have any solutions. There's a lot of people who don't think there is a problem, or they think the problem is not worth addressing.
PORZECANSKI: So one of the ways in which we could have a conversation that could address that is if it becomes a major topic during the presidential election, for example, although that is a little far away. But those are the ways. So we can all get involved, I think, to make sure that those voices are represented in those conversations. That's one way to begin to have a social—that just came to my mind, but I'm sure there are many others.
ELLIS: It's not going to just be one conversation.
PORZECANSKI: No, no, absolutely.
AUDIENCE QUESTION: I have a question that kind of more direct to Spencer, just because you worked in the finance industry. So we all know that 70 percent of global carbon emissions are caused by the top few companies in the world, and that is the true perpetuator of climate change. Even though we can blame many other things, but this is the biggest issue.
So how can capitalism and sustainability work side by side to bring solutions to climate change? And if investing in clean energy is indeed more economically beneficial than investing in fossil fuels, as of right now, given that climate change is projected to wipe out 10 percent of U.S. GDP by the year 2100, then why isn't the U.S. changing its energy system now, if it can earn us more money in the future?
What influences this capitalist system? How do we tackle this capitalist system from within? Because even if the Green New Deal is technologically possible, we need to finance it. And with the capitalist society of the U.S., how do we get the richest one percent on our side?
GLENDON: So I think first of all, thank you. Take a deep breath. You took a deep breath and had a long question. I'm going to do the same for the answer. So there are a couple of things I'd say about what you said.
The first is, I think the idea that the companies, the 100 companies that produce the fossil fuels that we all consume, that putting the agency on them is tricky. They are not civic institutions. They are not forms of government. They are not representative. They are delivering a service that people want.
So the one thing I'll take on first is, first of all, how does finance respond to all of this? The first thing I would say about that is, finance is heavily regulated, and those regulations matter a ton. And so in the case of fossil fuels, there are a lots of subsidies to fossil fuels that we could get rid of quickly. That would make a really big difference.
But the second thing I want to take on, and the main point I want to make is, your statistic is not accurate, which is that by 2100 it might cost us 10 percent of GDP. No, but 2100 it might cost us 80 percent of GDP. It might cost us say more.
One of the problem with the models that are commonly used in government is that they're probabilistic. They have one forecast. That forecast is actually built on a history that had nothing happen in it.
So if you build economic models that are based on data from World War II to now, they have no bad things happen in them. So the forecast you generate from them also have no bad things in them. And so one of the things about this is the way we should be thinking about the economic models is more of a risk-based model than a maximization based model.
We should be very worried that future GDP is zero. And that framework is very clarifying. It allows you to say, what are the tradeoffs not involved of how much less might I have than my richest potential? But how might the future be relative to a very bad outcome that I make more probable every day?
And I think one of the biggest problems in American politics, and actually in all of these carbon negotiations, is they are mostly relative to a very optimistic future, and they are not considering the probabilistic risk of a very bad future. And so you have a regulatory reform that is terribly worried about opportunity cost, because what if our children aren't as rich as they might be? And not at all worried about, what if our children live in a place that's much worse than we live in now? And that probability doesn't need to be more than 10 percent.
PORZECANSKI: How do you change that? How do you make that pivot?
GLENDON: I think part of it is by illustrating the kinds of things that could happen. So I actually think one of the biggest things that's missing in this country is reasonable forms of fiction that portray probable life ahead of us. And we have apocalypse fiction and we have nothing changes fiction. And in between there are lots of probable futures that haven't been illustrated in the popular imagination.
PORZECANSKI: And Harry Potter.
GLENDON: And we have Harry Potter. Actually, what's interesting is that science fiction, it's very relevant. Science fiction in the United States and in general stopped being about the future and started being about a fantasy other reality. One of the biggest changes in literature is actually that people stopped considering actively 30 years from now in the future, and that's true in movies, it's true in novels, it's true elsewhere.
But my point is, we should think more about, the models should be more based on the possibility of extreme loss. Even if the probability of that is low, in the same way that you ensure your house, in the same way you buy other forms of insurance, we should think about industrial policy as having a fat-tailed risk.
PORZECANSKI: And yet, those non-civic entities you were talking about who were delivering a service are also trying to make a profit for as long as they want.
ELLIS: You have to add one thing to this catastrophic future vision. You don't steer away. You have to steer towards something. You have to have a better future that's possible and achievable that people can be part of. And that needs to be part of the discussion.
GLENDON: I totally agree.
ELLIS: Because honestly, the dystopian fiction is all around us. But I can't go out right now somewhere and see a dystopian movie about the future of climate change. I mean, I'd be surprised.
PORZECANSKI: Who would go watch that movie?
ELLIS: A lot of people would.
GLENDON: A lot of people.
ANA PORZECANSKI: So unfortunately, we only have time for one or two questions.
CHILD AUDIENCE QUESTION: Back to that political side to this, how would it roll out for all these laws and everything? Because if there's people who can't imagine it, then how would it help somebody imagine, or anything like that? And what would you do to help people imagine it?
PORZECANSKI: Well, some of the answers, I think. How do we imagine this future? So on the one hand we have to imagine those worst possible outcomes. On the other hand we have to imagine the future we want.
So I think that's really important. And visualize it, and drive towards it. I think that's extremely important. Does anybody else want to add anything to his question at this point? I am very mindful that folks are getting tired. It's time to go. We are happy to linger.
I think on that note, I will end the Q&A session. I'm sorry. But what I will do is I will ask my fellow panelists to leave us with one thought, one sentence. And I will start so they have a moment to think about it. And if I could leave you all with one thought, one takeaway, it's going to be a quote by Wendell Barry, and it says, "It may be that when we no longer know which way to go, that we have come to our real journey."
BRUCE: Really quickly for me, then, we all have the ability to make sure the ethical, responsible policies happen at our local level.
ELLIS: I have kind of a paradox, like a Zen koan. The future of this planet is up to us, but there is no us.
GLENDON: I would say think and talk about the future all the time to everybody.
MCDERMOTT: I'd say, practice gratitude and reciprocity and the veil will lift, and our responsibility to the next seven generations will become clear.
PORZECANSKI: Vic, you got the first word and you get the last word.
BARRETT: I would say, thinking back to what my fellow panelists said, I would remember that we're a force. Each one of us is a force. We each have our own energy that we give off and we put out and that impacts us, that impacts our environment, and we should really consider how it impacts other people when we're making choices about how we coexist.
PORZECANSKI: Thank you, everybody.
This panel is moderated by Ana Luz Porzecanski, director of the Center for Biodiversity and Conservation at the American Museum of Natural History. Panelists include student and activist Vic Barrett; Erle Ellis, professor of geography and environmental systems at the University of Maryland; Afua Bruce, director of engineering for New America's Public Interest Technology program; Spencer Glendon, senior fellow at the Woods Hole Research Center ; Larry McDermott, executive director of Plenty Canada and Algonquin from Shabot Obaadjiwan First Nation; and Paavo Järvensivu, researcher of economic culture at the BIOS Research Unit in Helsinki, Finland.
This lecture, New Science, New Solutions: Leadership, Economics, and Governance Under Climate Change, was generously supported by the Abel Shafer Public Program Fund, a fund created by the Arlene B. Coffey Trust to honor the memory of Abel Shafer.
This program was presented in collaboration with the Museum's Center for Biodiversity and Conservation.