Resources For Educators: The Butterfly Conservatory main content.
Resources For Educators: The Butterfly Conservatory
The Butterfly Conservatory is made up of a vivarium and a long hallway with information, photos, and butterfly specimens. This comprehensive guide will help you explore the exhibition with your students.
Tropical Butterflies Alive in New York
Tropical Butterflies Alive in New York
[Beat of a musical instrument. Two fluttering orange-and-black butterflies near the same leaf, one sitting, one flying. A yellow butterfly lands amid foliage.]
Voice of Hazel Davies: Come visit the tropics at the American Museum of Natural History's Butterfly Conservatory,
[Close-up on one butterfly, focus change, another butterfly in the foreground appears.]
where you can walk through lush green foliage
[A striped butterfly sits on a different leaf.]
and blooming tropical flowers,
[Close-up of chrysalises hanging in a row, first a row of brown, then a row of green.]
all while learning about the butterfly life cycle, how butterflies live, and
[Several different butterflies flutter around leaves of a plant.]
why they're important in the environment.
[Close-up of a yellow-and-black butterfly hanging on a plant.]
There are over 500 individual butterflies at any time in the Conservatory,
[Wide shot of conservatory, with fluttering butterflies amid greenery.]
representing over 100 species, from countries as far-flung as Thailand, Brazil,
[Several butterflies fluttering around, landing on, or sitting in the feeding discs.]
Kenya, Australia, and beyond.
[Slow-motion of a sitting butterfly flapping its wings. Another butterfly flutters in the green. A third butterfly lands on the edge of a feeding disk. Another sits on a leaf. A pair of other butterflies flutter around a plant, others are shown sitting on leaves, showing variety of species referred to in voiceover.]
Meet species like the cruiser, longwing, julia, paperkite, and owl butterfly.
[A large butterfly shown sitting on an outstretched arm.]
One may even land on you. Find your favorite butterfly out of hundreds.
[Butterfly sitting on a feeding disk takes off. A close-up on a sitting butterfly.]
at the American Museum of Natural History's Butterfly Conservatory.
[Text on screen: Plan your visit to the Butterfly Conservatory today. www.amnh.org/butterflies]
Educators Guide and Materials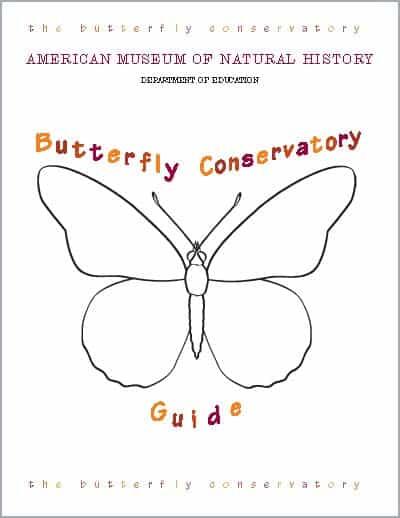 The Butterfly Conservatory Educator's Guide
Get an advance look at the exhibition's major themes and what your class will encounter. This nine-page guide for K-12 educators includes a Map of the Exhibition, Essential Questions (important background content), Teaching in the Exhibition (self-guided explorations), Come Prepared Checklist, Correlation to Standards, and Glossary.
More Resources
Use these free online resources before or after your visit to further explore themes presented in the Butterfly Conservatory exhibition.