Field Trip Mars: Live Watch Party main content.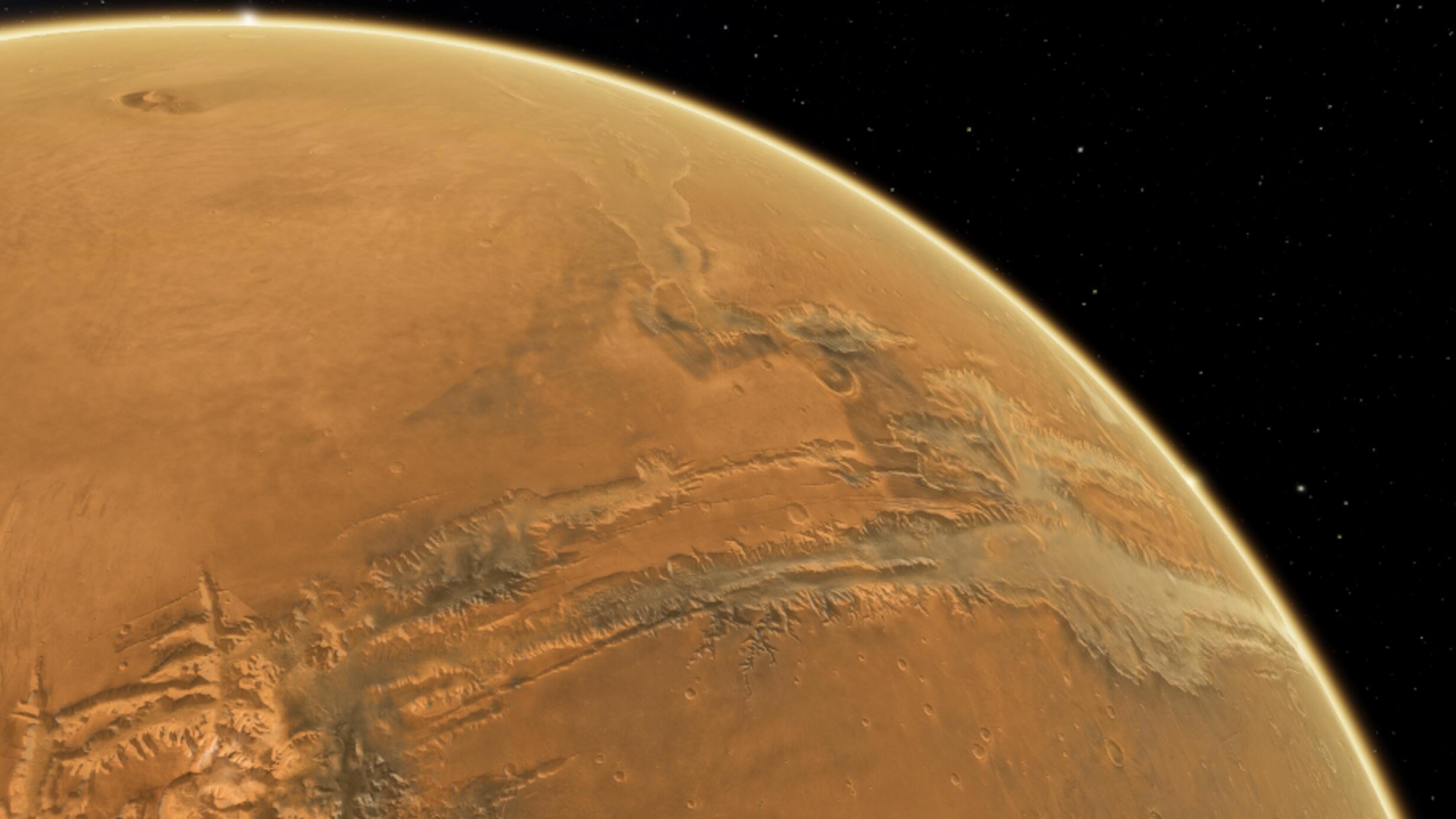 Are volcanoes still active on Mars? What does Mars smell like? Where did the water that was once on Mars go? Get answers to these questions—and ask your own!
Join the Museum's Director of Astrovisualization Carter Emmart and astrophysicist Jackie Faherty during a real-time flyover across the Martian landscape on the Museum's YouTube Channel. Fly over canyons, hover past impact craters, and trace the trackways of the exploration rover, Opportunity.
Watch a recording of the livestream below, first aired on May 8, 2020. Or check out the complete playlist of Astronomy Online events.
CARTER EMMART (Director of Astrovisualization): Good afternoon. This is Carter Emmart. I'm Carter Emmart and I'm the Director of Astrovisualization for the American Museum of Natural History. And it's wonderful to have you all join us again here in this time where we're all at home. And hopefully, we can take you through an exciting day. We're going to start off here at our blue planet earth. We investigated this last week using our software OpenSpace, which is freely available.
But we're going to go to Mars. Today, we're going to go to the red planet, which is half the size of earth. And joining me today is my friend and colleague Jackie Faherty. Jackie, would you like to say hello please.
JACKIE FAHERTY (Senior Scientist, Department of Astrophysics): Hi, everybody. I'm Jackie Faherty. As Carter said, I'm an astronomer at the museum. And I'm going to be monitoring the chat, which I can see is already very active. And trying to grab your questions to give me shout outs throughout this live presentation and giving them to Carter. So give me your best ones, and I'll try and get all of them answered as we go along.
EMMART: Great. Well, Micah is joining us as well. He's our pilot today. And as we moved away from the Earth, we saw the orbit of the moon around the Earth. And just as the moon goes around us, we go around the sun along with the inner planets of the solar system. So first it's mercury. Next out is Venus. We're number three with the blue orbit. And then, number four is Mars.
And so Mars is a very exciting destination because it's excited our imagination even before telescopes. When we could look at Mars up in the sky we saw a red star. It seemed to be moving. The planets were called the wandering stars because they moved against the background stars.
So as we approach Mars, Micah is driving us. Thanks, Micah. We could slow up a little bit here. We're going to see that just as with Earth having the moon. And we just saw a trail of where the moon is. And of course, it was a full moon last night. It's exciting. Is that here, we see that Mars has two moons. Deimos, the outer moon, and the larger inner moon, Phobos.
But from right here, we can see how Mars is this-- it's this reddish brown color. And so this color, which, of course, just reduced this to like what we see of Mars in the night sky of being red. The Chinese called it the fire star. That this redness comes from the fact that it's brown. It's reddish brown.
And what we understand of this is that Mars is covered with iron oxide. Think of rust on a nail, a rusty nail. And so this rust color is what makes Mars this-- what it looks like here. Even through the best telescopes on earth, we could see images that were about like what you see here. That's why I wanted Micah to stop just around here.
And Micah has a picture. Micah, could we bring up a picture of the comparison with a dust storm. Because Mars has seasons like Earth. In the southern summer on Mars, we tend to get global dust storms. And so the image on the left we can see features. And in fact, the darkest feature there that we see just to the right of center is called Syrtis Major. And we see the polar cap, the southern polar cap there.
But by comparison, the same part of Mars that we're looking at, if you look on the right, you see during a global dust storm. And so Mars is sometimes obliterated. It's always been-- this is the best kind of view we ever had from Earth. And this was taken by my friend Damian Peach, who does a beautiful job as an amateur astronomer taking these pictures.
So Micah, let's show the next picture. I'd like to show the Hubble picture of Earth. Of Earth, of Mars, sorry. We're going to-- here's from Earth, from orbiting Earth, this is the best view that we can get from the Hubble Space Telescope. And what we see is actually that dark feature I was pointing to. And the last picture is over on the right. And we can see there are white clouds. That's because that dark feature stands up high. And in fact, where it's high, it tends to make the flow of the atmosphere over it tends to make clouds. And so we see those clouds.
And so Mars does have clouds. It has dust storms. But we're going to show you now images from satellites that have mapped Mars. So let's just go back to our open space please, Micah. And here, we have Mars. We're coming in.
And so it wasn't until we went there in the 1960s with our first spacecraft that started to get close to Mars. And they would just fly by and they would take a few pictures. We could see that Mars had craters like the moon. And so we're going to come in and look at that first.
In the darker lower portion here, we're going to get closer. We actually see the Valles Marineris Canyon up and toward the left there on Mars. We're going to talk about that later and take an exciting fly through. But down just a lower center upstream, we see these-- we see a large round impact. And then, these are circular craters that are caused by asteroid impacts.
So the largest craters we actually called basins because they are regional and huge. Whereas, then these large craters-- and then we have craters going down to very, very small. But these craters are, literally, like about-- almost in the largest ones here, about 100 miles across.
So we're coming in and what we can see is-- Michah, can you actually pan down a little bit. I want to just stop here for a second and just--
FAHERTY: Carter, we've got a question
EMMART: And I want to take a question. Micha, yeah, just roll back a little bit. Micah is actually doing this is as I ask him to. So we can see a dried riverbed. That's it. We can see that. And that's called Nirgal Vallis, it flows into another thing called Uzbol that flows into that crater. Thanks, Micah. Because this shows-- unlike the moon, this showed that there was something happening on Mars related to the atmosphere that must have had flowing water in the past.
Jackie, there was a question. Thanks, sorry.
FAHERTY: We're flowing with however we can get the best views here. We had Eva Heineman was asking about are these real images or not. But a good sub question in here she also has is, can you say what days these images were taken?
EMMART: Well, actually, it's hard to say what days these images are taken. But the answer is yes. Every one of these pictures, they're put together sort of like a big puzzle of pictures. And we know exactly where the spacecraft is, and they take the pictures. And they have it right down to the second when the pictures are taken.
And what open space is doing is taking various products that NASA has put together, like these large global maps. Our friend Jay Dixon at the California Institute of Technology put together this global map at five meter resolution. Five meters is about the size of a garage for your car. It's not as big as a house. It's bigger than a car, but it's smaller than a house.
But then, we have really detailed pictures that get down to about the size of a soccer ball. And that's what we're looking at here. These very high detailed closeups show a river delta. So what we're seeing here-- you see this fan shape that comes in from the left, and it fans out and it meanders around.
What we're looking at is the result of this crater called Eberswalde was flooded. And so this used to be a lake. And we have the evidence in the rocks that we see. So see all those meandering forms. And Micah, could we come into the top one up there. It's sort of-- let's proceed forward if we could please.
And what we'll look down on basically-- these stream meanders come in and they turn around just as we see in rivers on Earth. And in fact, sometimes they cut off and they form a little lake called an oxbow lake. Well, instead of this being a valley, this is actually-- these stand up in relief. Actually, they stand up above the terrain around them. Micah, could we look down at this. That might help us in just looking at the general overall pattern.
And we could see it branches out. So what we're seeing is this evidence of water. Now, when this flooded, it brought down a lot of cobbles-- cobblestones and bigger stones. But also a lot of sand. What happened is-- and the reason that this is standing up above the surrounding area is the wind on Mars eventually blew away all the fine sand and silt, and left, basically, the streams that were defined by the heavier material that came flowing in and fanned out into this delta of Eberswalde crater.
So what we see on Mars are craters like the moon. And then, we see rivers like on Earth. So Mars, in a way, is caught between the earth, which of course is the water planet. We're 3/4 covered with oceans. And the moon, which is very dry, doesn't have an atmosphere.
FAHERTY: Carter, question on this too from Pat Fenan. And the question is on why there are so many meteors hitting Mars. If that's a bigger number than Earth and the moon, can you do that compare and contrast?
EMMART: Yeah, that's actually a really important question, and thanks for asking that. As we move out here, we're going to come across to a landing site of Opportunity Rover. But cratering we see all over the moon. The smooth areas on the moon, the darker features that we see a sort of old man's face in the moon or a rabbit in the moon, those are smoother as where the moon was hit so hard with a big enough asteroid that the lava flowed up from underneath and created new surface that was smooth.
Well, we see the same sorts of things on Mars that we'll see in a bit. But cratering we know-- we have less craters on Earth now because of weathering and erosion. So with rain and so forth it basically erodes away. It softens out the craters. And even coming in here, we're coming into an area called Meridiani.
And this was chosen as a landing site because of how these craters are degraded. And we thought from a chemical signature that we could see above from previous satellite missions that there was a signature of hematite, which is a mineral that we know on Earth formed in lakes, and after lakes evaporate and go away.
And so we thought, perhaps, this is a spot where water may have been. Well, we now know because of the Opportunity Rover that this was a lake. It would flood and then it would dry out. But we see the evidence for that. Micah is bringing us into one of these really detailed images. And Micah, could you bring us up to where Opportunity landed.
We're going to come up to a crater that we saw Victoria at the bottom of the screen. The names were given to these craters. And we also now see Endurance crater, which was the first sizeable crater. It's about a football field and a half in diameter, this thing that's coming up toward us.
But there's a smaller crater. It's about 25 yards wide, and we call it Eagle. So if you're a golfer, you know that if you hit a hole in one that's called an eagle. Well, what happened is this rover wasn't programmed to land in that crater. It came down and had a parachute. And then they released it. It had crash bags and it rolled across the surface and it rolled into Eagle crater.
Do you see that bull's eye in the crater? Micah, if we could come a little closer that'd be great OK, and also notice how these round holes. It's lighter material. That's because the dust has blown away the bedrock that is exposed by the cratering process. So a meteor comes in, hits, makes a hole, and then it fills with dark dust. And so as we see.
So inside the crater is basically the cocoon, the structure around the rover that came in had the crash bags. It opened up like a flower and Opportunity drove off and explored. So I want Micah to take us over to the parachute which is over in the lower left. We can actually see where the parachute landed.
FAHERTY: Carter, as we go over to the parachute, Emma wants to know, you've named the rovers, but who actually got to name the rovers?
EMMART: Well, students get to name the rovers. And so NASA has put a call out. And typically, elementary school students get to do name the rovers. And so it's interesting. The first rover we had was Sojourner, named after Sojourner Truth. And so that was in 1997 with the Pathfinder mission.
And that was solar powered. And it was small. It was about the size of maybe a coffee table with wheels. And Spirit and Opportunity are much bigger, solar powered. And so Opportunity and its sister rover called Spirit were both designed to last 90 days, just three months. Well, Opportunity lasted a lot longer. There's no place else like NASA to get better mileage.
Opportunity lasted until 2018. So it landed in 2004. It was active for over 14 years of investigation. Well, let's see where it went. So first it went to Endeavor. So let's fly over there to Endeavor crater a little bit, and then we'll fly to Victoria. So Micah is lining us up so we can do that.
And so if you want to-- OK, there you go. We're going to line up. I'll just mentioned again, the winds on Mars, unlike the moon. The moon doesn't have an atmosphere. It's too small. The moon is half the size of Mars. Mars is half the size of Earth. Mars has a thin atmosphere now. And it's very cold. But what we see with that water like we saw in the delta that we saw in Eberswalde is that Mars used to be a water world like Earth.
Of course, we're the water world now. So the big question is, where did the water come from and where did it go? And Opportunity was landed here because we saw the evidence that this was, in the past, a lake. I'll get to the question of where the water comes from next. But we're going to first fly over to Victoria crater. And--
FAHERTY: Carter, as we go to another related question on this. You mentioned Sojourner, Spirit, Opportunity. How many rovers-- this one comes from Sylvia in Pennsylvania. How many rovers are currently on Mars? And you can answer operational or not operational.
EMMART: Oh no, that's-- I started to say it and I get carried away. So my apologies. And Micah is actually flying over some sand dunes right now. So you can see that they had to drive-through that.
So the first Rover was Sojourner, and it was tiny. But it proved what we could do with a solar powered rover. So we built Spirit and Opportunity. And now, unfortunately, all three of those rovers are no longer phoning home. Even though just almost two years ago now we lost touch with Opportunity.
But we have Curiosity, which is the size of a Mini Cooper. It's big. And it's actually powered by a plutonium battery. So we can actually weather through global dust storms. We saw that global dust storm in the beginning. If you're solar power and you have a global dust storm it gets dark. And so that's not so good.
Micah is going to bring us in. Can we come in even closer, Micah. This is the edge of a half mile wide crater called Victoria. And if we get in close enough, we'll actually see-- I'm going to lean in here to see it. I see them. If we come in even closer, we might see some of the tracks. That's good. I see it on my screen, so I think you can see.
Just toward us from the edge of the crater we can see kind of a V shape. It's very subtle. These very thin lines. And then a line that goes through it. So it's sort of like an upside down A. And then, it exits off to the right. And so Micah, I guess we can move out in that direction. But those are the tracks that Opportunity made. Oh, Micah is brightening it up. That's great. I can see them quite well now.
So those tracks of Opportunity. And notice those sand dunes. Beautiful sand dunes down there in the bottom of Victoria crater. And again, the dark sand of Mars-- this is-- in some areas, it's light because the dust has been blown away. And some areas, if it's light material, and then some-- in this case, the dust that's been blowing around is darker.
We think it's darker because it's iron rich. There's a mineral called olivine, which contributes to the dust in the sand on Mars. And so if you've ever been to the Black Sand Beach in Hawaii, that's made from these sort of-- well, basaltic is the name of it, the mineral. But from the volcanoes in Hawaii.
I'll talk a little bit about that next as well. But now, we're looking at the ultimate destination of Opportunity. This is a crater so wide it's about 13, 14 miles wide. Do you see those hills in the background? There's some more detailed pictures in the middle of the crater. But beyond that, we see a hill. And then, in the right, we also see hills.
So this crater used to be much more defined, but erosion-- possibly these lakes eroded it down. And Micah, right down in the middle at the bottom of the screen is where Opportunity went first. It was called Cape York. And then, they did a lot of investigation there. And then, Opportunity spent a couple of years exploring, basically, this edge of a crater.
Now, because craters come down and they punch a hole in the surface making this big round hole, you can use it as a geologist. And so these rovers were designed to be robot geologists. And so they carried a lot of instruments to look at the minerals and so forth.
We're looking for the conditions that may have supported life. Because we're not only the water planet, we're the life planet on Earth. And yet Mars, seeing evidence of water, at least in the past, that Mars seems to have had water around the time life started on Earth. And so it's a very interesting question if life had started on Mars.
So Micah is going to bring us now down to the final resting place here in what's called Perseverance Valley
FAHERTY: I think it's going to be related to where we're going. We've got a question from Mary from Holland, Pennsylvania, which is, what happens to the rovers when they reach the end of their lives? You were about to say a resting place.
EMMART: Yes. So the rover basically uses its batteries. And then it's charged up by its power source. In the case of Curiosity, I mentioned, it has a plutonium battery. Mars is cold. Plutonium, as it decays, is warm. And so if you run a thermocouple in between it generates this battery, essentially.
But with solar power, what you have to do is every day when the sun comes up you charge your battery and then run off of that. And so it was amazing that these rovers designed for three months got this much use.
Now, Micah, bring us over the ridge here please. Just in this little break, this is looking out across Perseverance Valley, or this little part. And Opportunity was hopefully going to explore down-- not at the bottom of the crater, but it was going to run along the bottom part of this hill.
And that you can see what geologists call a bench of rockets. Think of like a bench that you would sit on or a stair step. And you see another little crater down there, and so forth. Micah is actually piloting us down so close in this image, as I mentioned, the smallest thing you can see in these images from the high rise camera on our Mars Reconnaissance Orbiter is something like the size of a soccer ball.
So this will relate now to a picture we have, which is the last panorama of that was created by Opportunity. And so Micah is lining up. This is really nice. And then, we'll ask Micah to turn on the picture. You can see sand dunes in the upper right. There's a little parallel things. Ah, there it is. Notice how this picture is kind of funny. It's made up of many pictures.
And this is nice to show because it shows how we map Mars, even from above with our satellites, is that we take many, many pictures and we put them together. We stitch them together. So that creates this view. And here, we can actually see the view that Opportunity has.
Now, I don't see Opportunity in this picture. So this picture was taken before Opportunity got here. But I'm sure several of you are probably wondering that question. Jackie, I don't know if there are any other questions relating to here.
FAHERTY: Yeah, we actually have two good ones right here. One is more a comment maybe. Little Neato, who's seven years old, is asking should we just rename Mars the sand planet because you've talked so much about sand.
EMMART: Oh yes, well it is a desert world and a former water planet. So I think now we want to ask a question more about this water question. I think the sand planet is a good name for Mars. Because sand is everywhere. So Micah is going to turn us around here.
FAHERTY: One more here too, Carter. Just because we're turning around. Because Gus who's five has a great question. And that is one about how expensive the rovers are. And if schools can help somehow in making them.
EMMART: Wow, well, that's actually-- the answer to that is yes. I went to the University of Colorado in Boulder, and we were one of the first universities for students to actually make a satellite. And students contribute to space missions. On the New Horizons mission to Pluto, there was a dust collector that was developed by students. I think at the University of Colorado as well.
But they are expensive. Maybe upwards to about a billion dollars on a bigger mission. But as I say, NASA's been investigating. In this case, these are cheaper. These were not a billion dollars. I think maybe even less than half of that, Opportunity and Spirit.
However, we didn't just get 90 days of investigation. We got 14 years in the case of Opportunity. Spirit didn't last that long. And Curiosity is operating over in Gale Crater right now. And that is-- that landed in 2012.
So we're rising up above Mars. Now, Micah, can we go up over-- we're going to go over Aires Vallis, which is to the upper left. Yeah, we're going to turn. We're going to see more of these dried riverbeds. And so think about what's going on here. You have all these craters come in. Boom, boom, boom. And they pulverized the surface. There are big craters and small craters.
And so what it does is it-- it pulverizes the surface. The scientists call it a regolith. It's basically a pulverized surface. And then, Mars had rain. We see these flows. So what happened? Well, Mars is colder than Earth. It's farther from the sun. So it's farther from the camp fire, if you want to think of it that way.
And so the water would have percolated. It would have gone into the ground and frozen into ice aquifers. But upwellings or other craters coming in just disturbing the surface actually could create a disturbance to that ice. And in this case, we see evidence of giant outflows on Mars. And we believe that this happened after the big cratering episodes, and after the rain.
So let's fly over this, Micah. This is nice. And just off to the right is where Pathfinder had landed back in 1997. And dead ahead is where the Viking 1 Lander landed in Chryse Planitia. But this is Ares Vallis. And we can really see how the water scoured this area. And there's a river-- there's another channel coming in from the left.
And they're all running down hill. And in this case, down hill is to the upper right and flows into the Chryse basin. And remember, I said basin is like a really big impact. So we're going to look at-- we've seen the evidence of the water, but where does water come from?
So Micah, let's fly now off to-- oh actually, just before we do, I want to show the evidence that we can see ice underneath the surface. Micah has another picture. I'd love to bring that up, if we could please. And Jackie, I don't know if-- I'm sure there are tons of questions.
FAHERTY: Tons of questions. And I think we have to give some shout outs to some students that are putting in here. Our Lady of Peace Lynnbrook class of 2020 is here. So welcome in watching about Mars. There's a lot of questions about the ages of things. And maybe you could comment on the last time water was probably flowing on Mars.
EMMART: And I'd like to comment on that. But before I do, I just want to show this interesting image of a crater that happened while the Mars Reconnaissance Orbiter has been orbiting since like 2006, I believe. And so what we're seeing here is that white area in the middle is actually ice that's been exposed by this crater.
So we actually see the evidence of ice under the surface in various ways by various missions. But I wanted to show this picture because it actually shows the ice exposed. So Jackie, the last time the water was flowing. That's a really good question. And Micah, I think you can turn off the slide now, I think.
But to answer that question of when the last time water flowed on Mars is that we look at these features, and we judge them by how many craters they have or are they covered with dust and so on. The analysis and the best guesses for ages are based on the cratering record we actually see on the moon. And where the oldest moon rock is 4 and 1/2 billion years old.
We know that the smooth areas on the moon are about 3 billion years old. We can tell that from these comparisons is that Mars-- here we have the canyon over on the left. But Micah is going to fly us past the canyon. We'll fly a little bit to the right, Micah, and also notice how we're getting less craters here.
We're coming up to an area where the volcanoes are. But the best analysis of looking at Mars and comparing it to the moon and the Earth is that the last time water was flowing on Mars was around the time life began on Earth. And we're talking about three billion years ago, or even more about 3, 3 and 1/2 billion years ago.
This area of smooth, less craters, and then we're passing over a small volcano here. But we're also seeing another volcano coming up. It's so high that it's stuck up in the atmosphere. So Micah, if we can climb up a little bit. We're going to take you to the biggest volcano in the solar system. And of course, that some of you may already know the name. It's called Olympus Mons. And so we're passing over smaller volcanoes here.
But then coming up over the horizon, we're going to start to see Olympus Mons. And it's so tall that it sticks up out of the atmosphere. So we have to proceed forward. We need to go forward, Micah. And also, off to the right. Yeah, that's fine. There we go. We can see it. Understand.
And so what we're now seeing-- it seems dark on the top just because it's sticking up out of the atmosphere. The atmosphere actually lightens up what's around it. This volcano, the largest in the solar system, Olympus Mons, is about the size of New York state. And up on top, typical of volcanoes, well, we'll climb up and we'll look down on it, is what's called a caldera. And so a caldera looks like a crater.
Craters that we've been seeing all over Mars are caused by asteroid impact. And so the moon we see all these holes on the moon. We see all these holes on Mars. And for the most part, they are craters by-- impact craters falling in asteroids. But here, what we see on top of volcanoes is a collapse basically because the lava comes out and then it stops and then it collapses up at the top.
That caldera is about 50 miles wide. You could take all of New York, the five burrows, you could add in a little bit of Connecticut and New Jersey, and it would all stick right there in that called caldera. You also take the size of Beijing or Shanghai or Melbourne, Australia, or any big city, Berlin. They're all about-- they're all roughly the same size. London, Paris, Cape Town.
So what we're seeing is what's called a shield volcano. And it's very much like the volcanoes in Hawaii, which actually have this lava that comes out. Some volcanoes are more spiky, and would be more exciting to climb. This volcano is very big, but the slope is very shallow. And similar to the volcanoes in Hawaii. They're called shield volcanoes because they kind of look like a big shield you might hold up, or a Greek warrior held up shields.
So it looks like a shield, it's the size of New York state. Yes, Jackie.
FAHERTY: We have a very, very curious audience on the senses of what might happen around a volcano. I'm seeing a lot of questions about smells. Elaina, for instance, is asking if there are any smells on Mars. If there were, what kinds would you smell around a volcano?
EMMART: Well, that's a good question. So what comes out of volcanoes is, of course, they erupt. And they erupt gases. They erupt water. They erupt sulfur. And if you've ever been around sulfur dioxide, that's a smell of rotten eggs. So volcanoes are smelly. So this is where we think the water came from on Mars. And then, that created clouds and rain.
We see clouds now on Mars. They are ice clouds. Micah, we want to now go before we lose any more time, I want to go to the canyon on Mars. And I want to talk-- we will back out to see, not only this volcano, but a few volcanoes of this part of Mars. This part of Mars is called Tharsis.
Now, the name comes from names of gods and warriors. As a god-- Mars is considered a planet associated with war because of its red color. But Tharsis here is a region that we could see and name from our telescopes. But when we got there, we saw these volcanoes.
And so you can see the smooth planes, less craters. And so Mars bulged out. Had a lot of volcanoes on this side. But when it bulged out, it actually-- because of this bulge, and we don't exactly know why, but it created a vast series of cracks or fractures, and created this giant canyon.
We're coming in over Noctis Labyrinthus, which is the western portion. This is where the canyon breaks up into a series of labyrinth canyons. So it's called the labyrinth of night. And it breaks up and forms this giant crack we call Valles Marineris. And the giant canyon on Mars.
And so it formed from, again, Mars bulging up. It's kind of like when you cook bread or a cookie in the oven. It rises, but it also in it's rising, it gets crispy on top. And then, it stretches and breaks apart while it's still gooey on the inside.
Well, we'll talk a little bit about that here. Micah is going to come in a little closer on the canyon. And so what's happening here in the canyon, we actually call it a rift valley because it's spreading. So it's rifting. It's moving apart. And if you've ever been to the Grand Canyon in Arizona or seen pictures of it, these two little tributary valleys-- and Micah will bring us down a little closer to it, I think. They're the size of the Grand Canyon in Arizona.
But this canyon is about five times deeper. These canyon walls are about 20,000 to 30,000 feet. In fact, the deepest part of this canyon is higher than our biggest mountain on Earth, which is Mt. Everest. I forgot to tell you that the Olympus Mons volcano is three times the height of Mt. Everest. And so we're really talking about here on Mars, once again, it's half the size of Earth, but has geology that makes Earth just look small by comparison.
FAHERTY: Carter, quick question in here from Luciana from Chile. And it's a question about where-- she's trying to get scale here in terms of how far away we are from those rover sites, and whether you'd ever want to send a rover into this area.
EMMART: Well, that's a really good question. We're about to come into some very spectacular scenery. And this is where you just want to send a rover. And in fact, Micah's just added in even more detail here. We're going to come up and see some real beautiful detailed images. And so these series of cracks make up the canyon. And then, the canyon widens out through faulting of these-- so it's still growing. We think this canyon is actually still growing.
But as we saw with where Opportunity landed, to be safe, we want to land in a really flat area. So there's a tension between, hey, I want to go to where it's really exciting. And where it's safer to land a rover. Our new rover that hopefully will be launched on the Mars 2020 mission is called Perseverance. And notice it's Perseverance Valley where Opportunity finally has its final resting place. That rover has been named for, in part, by the final resting place of Opportunity in Perseverance Valley.
As we come down into the canyon, the canyon opened up. And then, layers-- we see evidence of layers. And Micah's coming down into some very beautiful terrain, but finely layered. Now, in the beginning, I showed you where there was dried riverbeds. So we saw basically rock-- craters have been made. And then they were modified by water flow.
In this case, what we see are these channels. We see we see all sorts of interesting stuff. But as Micah gets close, we're going to see these layers. It almost looks like wood grain. And these layers-- and they say, well, wait a minute, OK, the canyon formed, but where did these layers come from? They're lighter toned, and we can also tell from spectroscopy from orbit that they are made of sulfates.
Now, the sulfur from the volcano, we believe, combined in the chemistry in the atmosphere and created sulfates. And that the clouds of sulfates going up, and also the seasonality of Mars may have laid these down annually year after year. We actually see layered deposits up at the poles now, where we have frozen water and frozen carbon dioxide.
But these layers were laid down after the canyon opened. But then they were sculpted by the wind. And so as evidence of that, we see the wind has blown away and as over billions of years now have carved these features. You might wonder how big these hills are. These hills are about the size of a tall building in a city. Whereas, that background, the edge of the canyon-- Micah, can we tip up just a little bit to see it? Is that that's about 20,000 feet.
And also Micah has brought us down to some sand dunes that are right down in the lower center of view right now. And so what we see is the sand that's been blown around in the wind carving these features. Well, where has that sand gone? It's gone into little sand dunes. And so that's what we see those sand dunes down there.
So now, we see this fantastic area. It's called Western Candor Chasma. So Candor is one of the canyons that makes up Valles Marineris. So we're inside the Valles Marineris inside one of its canyons, and of tremendous scale. And so if we actually look from above, we can see how these knobs or these little hills are somewhat organized almost like weathervanes because the prevailing wind directions.
And those winds are coming off the tops of the canyon. So the wind goes up and it cools, and then it sinks. And so it's coming down in this area. Probably had very high winds to carve these features. And you can kind of see-- these hills are called yardangs. It's a geologist's term for these long hills carved by wind.
And when they're are a bunch of yardangs together, they call them fleets, just like fleets of a ship. It's like the bottom of a boat turned upside down. So that's what they look like. They're carved.
FAHERTY: Carter, we're short on time now. But we've got a very young audience in the chat, I can tell. And they're curious on one thing about you, and if you would go to Mars. Because so many of them have never seen Mars like this, and now feel like they might want to go.
EMMART: Oh, I love that question. I was eight years old when Neil Armstrong and Buzz Aldrin landed on the moon. I later got to know Buzz Aldrin quite well. I'm an artist, so I drew a lot of pictures for him. I wanted to go to Mars. And we held a conference at the University of Colorado when I was a student.
I would love to go to Mars. But it's not for me, I'm too old. It's for your generation. And your generation will probably go because Mars now is much more in reach than it has been in the past. And so I think it's exciting for your generation.
But this visualization with OpenSpace software. You can download this. Our team whose on the chat, if you're interested, you can go to openspaceproject.com, that's our website. And you can download the software, and you can do this at home. At the Hayden Planetarium, when it's operational, we do this. And this is the closest to being on Mars that I'll ever get, and that probably many of us will get.
But the data that is sent back and turning it into pictures, all of this is real. We have not exaggerated any scale. These are maps. This is what NASA does. It sends these pictures back. And our job at the museum is to take all that stuff and put it into something that we can share with you and give to you as a tool so that you can explore. And hopefully, this will inspire some of you to actually go to Mars in the future.
And that's, I think, that's a pretty big deal. So I really want to thank you all for joining us today.
FAHERTY: We'll just take one last question on this. Because I also think that I agree, that
EMMART: Oh there's the polar cap. We can see it down there, Jackie. I just want to point it out.
FAHERTY: I don't blame you. When we get-- when I see things in OpenSpace like this, it actually made me feel at peace with the idea that I wouldn't be going to Mars. And that I didn't really want to go anymore because I could see it so well. So the last question from Rayna, which is, how long would it actually take a human to get from the Earth to Mars?
EMMART: Well, so there are different types of missions. But the basic mission is that you spend about six to eight months getting to Mars on what's called a home and transfer orbit. You come up and you lead Mars and you meet up with it. And that's how we send all our robots there.
But then, you'd probably stay on Mars for a year. And then, you return. And then return-- you say, OK, now I've been in space for a year and a half. Well, the return after a year, the planets are aligned such that it's a longer return. And it takes about a year and a half to return using a Venus swing by.
So a journey to Mars is about 1,000 days, about three years. So it's a long journey. And that people are going to have to really prepare for that. I have a friend who sailed around the world in three years, and was isolated and completely self-reliant like a true Mars mission.
And so it's going to really take tough individuals that can really be friendly with one another, and explore an entire new world.
FAHERTY: I know we've had so many students in the chat. So this is very inspirational for them to think about, and to keep your dreams moving forward if you want to explore space like this. As a reminder to folks that-- there's actually a quiz you can take at the end of this that is a fun quiz to take. And a survey that we're asking you to fill out if you've been watching so that we can get some feedback on this kind of program. We'd like to bring you more of them.
So thank you for watching. Carter, I'm sure you can have the last word on our goodbyes.
EMMART: Well, I just want to thank you all. Because you all, who are young, and this is your project. This is a project of a lifetime. It's a project of an entire species of our planet, really. It's from space it's obvious, there are no national boundaries. And this is a project for all of us, hopefully, to go together to Mars. Thanks a lot. Thanks for joining us.
Meet the Presenters
Carter Emmart, the Museum's director of astrovisualization, has been involved in all five of the Museum's Space Shows, four of which are now playing in planetariums all over the world. Emmart was one of the original Museum team members on the NASA-funded Digital Galaxy Project that helped redefine how a planetarium theater can present science to the public through immersive data visualization.
Emmart directs the in-house Space Show production at the Museum and has collaborated with visualization teams at the National Center for Supercomputing Applications and the San Diego Supercomputer Center. Emmart, who previously worked at NASA Ames Research Center and the National Center for Atmospheric Research, received his B.A. in geophysics from the University of Colorado, where he was an organizer of the Case for Mars Conference series. In May 2006, Emmart received an honorary Ph.D. from Linköping University in Sweden, in part for advising a graduate intern program hosted at the Museum that developed the means for planetariums and classrooms worldwide to simultaneously interact within the Museum's Digital Universe 3D Atlas.
Jackie Faherty is a senior scientist and senior education manager in the American Museum of Natural History's Department of Astrophysics and the Department of Education—a unique position that lets her pursue scientific research while mentoring and advising education programs for students and the general public.
She is working at the forefront of brown dwarf and exoplanet studies with over 80 peer reviewed papers on the topic and numerous top awards and grants won. She co-runs the dynamic research group called Brown Dwarfs in New York City, the extremely popular citizen science project called Backyard Worlds and is a leading expert in visualizing Gaia data in the form you are about to see.