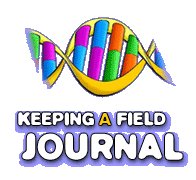 Scientists learn about animals by observing them and from analyzing their DNA. Starting your own field journal is the first step towards understanding the wildlife in your area. Here's how:
Pick a type of animal or pet to watch in your area. Write down the following information:
Date and time
Weather conditions
Exact location
Draw a picture of the animal.
Write down any observations you have about the way the animal looks or behaves.
Write down any questions that you have about the animal. Write DNA next to any questions that you think you could answer if you could go to the lab and analyze the animal's DNA.
CHECK OUT A REAL FIELD JOURNAL
Image Credits:
Illustrations: Animals: Steve Thurston; Journal Page: Carl Mehling