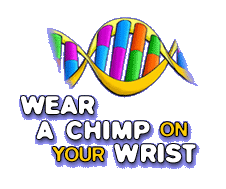 Okay, so you can't really wear a chimp on your wrist. But you can make a bracelet that matches a section of a chimp's DNA code. Just follow these instructions and you can sport DNA code from a bear, a butterfly, a sunflower... and more.

You'll need four different colors of beads. Large beads work best.
Dental floss or fishing line works great for big beads.
Be careful with these.
Choose one from the list below.
Match the beads on your bracelet to a section of DNA code from your favorite plant or animal below.
Monarch butterfly (Danaus plexippus)
gaggctaccaagtttccgatctgtaggagatgcattgaaagatcgtttcg
Grizzly bear (Ursus arctos)
atgaccaacatccgaaaaacccacccattagctaaaatcatcaacaactc
Sunflower (Helianthus annuus)
tgagatgttagaaggtgcaaaatcaataggggccggagctgctacaattg
Chimpanzee (Pan troglodytes)
tgaccccgacacgcaaaattaacccactaataaaattaattaatcactca
Human (Homo sapiens)
tgaccccaatacgcaaaattaaccccctaataaaattaattaaccgctca
African elephant (Loxodonta africana)
atgaccgacattcgaaaatctcatccttcactcaaaatgatgaataaatc
Apple tree (Malus domestica)
gaattcggcacgagaagaaacgaagagagagagagagagcaaaaatggtt
Red flour beetle (Tribolium castaneum)
cacaacctcggggatcgccttcgccatcctctgcctggccgagaatccca
Brown trout (Salmo trutta)
ctttggctcactcttaggcttgtgtctagccacccaaattcttaccggac
GIVE SOMEONE THE SPECIAL KEY TO YOUR HEART
Make a bracelet from this pattern. It's DNA code from a gene , for the human heart!
gttgctggtacaatctcataaaatgggctccagtgtttagagaaggacag
Your bracelet will contain two strands of beads. The two strands will match up in the same way the bases in DNA, do: A always goes with T, and C always goes with G. So every time you put a bead on one strand, you must add its partner bead to the other strand.
The chart on the right will help you keep track. You can do both strands yourself, or you can string one side and have a friend string the other.
(We used green, pink, yellow, and purple beads. But you can use any four colors. And if beads aren't your style, try gumdrops.)
Choose one DNA code from the chart on the What You'll Need page. Follow that pattern as you make your bracelet.
(The sample bracelet shown here represents part of a chimp's real DNA code.)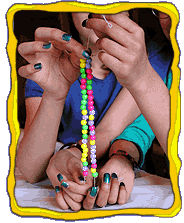 Cut two pieces of string, each about 12 inches long. (Remember, your bracelet will contain two strands, just like real DNA.)
Tie at least one knot about two inches from one end of each string. You may need to tie more than one knot so that the beads don't slip off.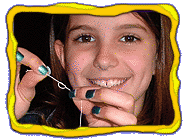 Thread a bead onto String 1. Then thread the bead for the matching base onto String 2. For example, if you use a "C" on String 1, then you must put a "G" on String 2.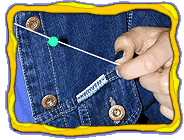 Keep threading beads until your bracelet is long enough to slip your hand through. (You do not have to use all the letters in the DNA code.)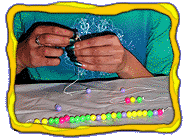 Tie a knot around the last bead of each string. Then tie the ends of the strings together to complete your bracelet.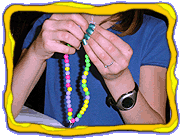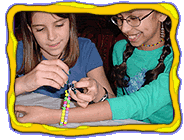 DNA is two strands twisted together in a double helix. Twist your two strands together so that the correct beads match up. If you want them to stay twisted, wrap a thread around the two strands.
Image Credits:
Photos: Monarch Butterfly, courtesy of AMNH Department of Library Services K14898; Grizzly Bear: courtesy of NPS; Sunflower: courtesy of Bruce Fritz, ARS; Chimpanzee: courtesy of AMNH Department of Library Services K12658; African Elephant: courtesy of Miriam Westervelt, U.S. Fish and Wildlife Service; Apple tree: courtesy of Doug Wilson, USDA; Red flour beetle: courtesy of Cereal Research Centre, AAFC; Brown trout: courtesy of Duane River, U.S. Fish and Wildlife Service; Supplies: AMNH; What to Do: (All photos): AMNH; DNA Model, Lady beetle: courtesy of Scott Bauer, ARS Fish, Daisy: AMNH; What You Need illustrations: Stephen Blue