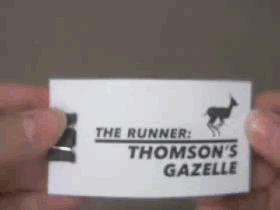 Explore mammals locomotion with these flipbooks. With more than 5,400 species, mammals move in all kinds of ways. They burrow, walk, hop, gallop, or swing from trees. They swim, dive, glide, or even fly!
Download and print the PDFs.
Cut along dotted lines to create the flipbook pages.
Stack the pages by number with page 1 on top.
Place the cover page on top of the stack.
Make sure all the pages are lined up well especially at the right edge.
Fasten pages with the binder clip on the left side of the stack.
Hold the book with your left hand and flip through the pages with your thumb from the right hand.
Watch how a mammal moves!
Image Credits:
Orange background, ©AMNH; Flipbook title, ©AMNH; flipbook animation, ©AMNH; paper, ©AMNH; scissors, Anniken & Andreas from the Noun Project; printer, ©Liz Vernon/AMNH; binder Clip, Oleksandr Panasovskyi from the Noun Project.