Only the top layer of the ocean gets a lot of sunlight. Many marine animals aren't in the dark, however, because they make their own light. Some animals, like the Bermuda fireworm, use a process called bioluminescence . Chemicals in the bodies mix together to produce "cold light," which doesn't give off any heat. Some bioluminescent animals, like the anglerfish, get their glow from tiny microbes that live inside special light organs in their bodies.
The blue-ringed octopus uses fluorescence, another process that can cause things to glow. When disturbed, blue circular rings flash all over its body. Instead of making their own light, they can absorb and re-emit light from outside their bodies.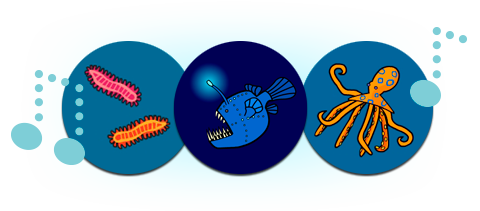 Sing along with out favorite animals that glow: the anglerfish, Bermuda fireworms, and a blue-ringed octopus.

THEY GLOW - GLOWING IN THE OCEAN
[JANGLY BANJO MUSIC]
Title slide: American Museum of Natural History
On-screen text: Glowing in the Ocean
Cartoon of a deep-sea anglerfish, with a bioluminescent appendage on its forehead, swimming around.
[MUSIC CONTINUES WITH PIANO]
FEMALE SINGER:
I live deep within the ocean,
Where it's dark at night.
Thanks to bioluminescence,
I've got a built-in light.
It is filled with tiny microbes.
See how they sparkle like a lure.
When the fishes are attracted,
I'll get lunch for sure!
Three smaller fish swim towards the light on the anglerfish's head. When they're lured close enough, the anglerfish eats two and one escapes into the distance.
FEMALE SINGER:
When they see it glow,
When they see it glow,
Wiggling before my eyes.
When they see it glow,
Little do they know.
They will get a big surprise!
Scene changes to the surface of the ocean at nighttime. Worm-like creatures swim towards the surface as a full moon shines overhead.
MALE SINGER
When it's summer in Bermuda,
And the moon is bright,
We all swim up to the surface.
It's really quite a sight.
When it comes to finding girl worms,
Guy worms can't rely on chance.
We use bioluminescence,
In our mating dance!
Some of the worms are surrounded by a light glow as they swim around the others.
MALE SINGER:
When the girl worms glow,
Swimming to and fro,
It literally turns me on.
The greenish glowing light,
Twinkles in the night, and
Tells me that it's time to spawn!
A cartoon octopus swims around in the water, while the silhouette of a shark lurks below.
FEMALE SINGER:
In Australia, sharks and big fish
Looking for a snack
Might think I'm an easy target,
And get ready to attack.
When I'm feeling calm and mellow,
I look yellow-brown.
But my rings will a bright blue
If I'm hunted down!
When I start to glow,
Predators say, "Whoa!"
They know my glow means,
"Back off, dude!"
The octopus begins to glow as a shark swims toward it. When the shark gets close, it swims away quickly, leaving the octopus alone.
FEMALE SINGER:
Don't ignore my light,
It means I'm gonna bite.
Unless, or death, you're in the mood.
The camera pulls out to show different levels of the ocean. As the full moon shines above, the Bermuda fireworms float near the surface, the blue-ringed octopus swims in the midlevel, and the anglerfish in the deep.
ALL VOICES TOGETHER:
Our song is almost over,
Hope you learned a thing or two.
Bioluminescence we love you!
How about a quick review?
It can help you hunt a meal,
Or attract a mate,
Or warn a foe.
Bioluminescence is brilliant!
All together
Ready
Set
GLOW!!!
All the marine creatures glow as they swim.
On screen credits:
VOCALS – Ruthie Ann Miles, Kevin Doyle, Jennifer Didonato
MUSIC – Jason Pipkin, Kanene Pipkin, Nate Rudolph
SOUND ENGINEERING – Russell Baird, Lee Salevan
LYRICS – Jordan Brown
ANIMATION – Armistead Booker
PRODUCTION – Stephanie Fotiadis, Monica Phillipo, Sharon Simpson, Karen Taber, Matt Tarr
SCIENCE REVIEW – Adriana Aquino, Ian Harrison, Mark Siddall, Melanie Stiassny
On screen text: Download the MP3 and learn more at amnh.org/ology


Lantern fish use bioluminescence to protect themselves from predators. By lighting their bodies, their silhouette is less visible from below.
Flashlight fishes have special pouches of glowing bacteria under their eyes. When they want to turn on their lights, they lower folds of skin below each eye. By using a technique known as "blink and run," they can swim in one direction with their lights on, then quickly turn them off and swim in another direction. Eventually their predator gets disoriented and the flashlight fish escapes.
Image Credits:
Photos: Flashlight fish: California Academy of Sciences/Flickr (CC BY-NC-ND 2.0); Lanternfish: AMNH; Bioluminescence animation: Armistead Booker