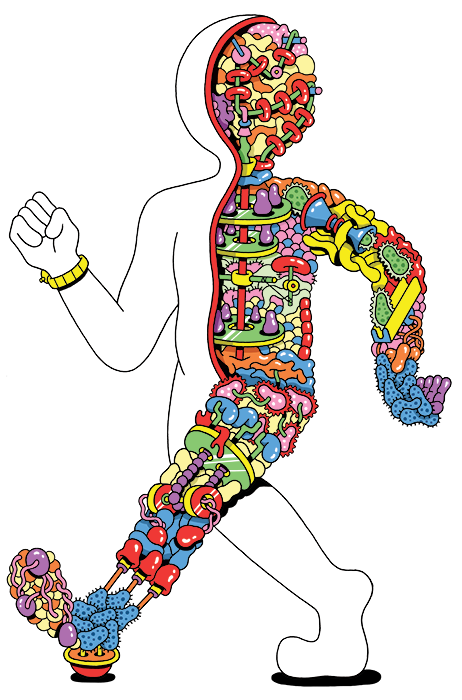 Each of us has a community of microbes that lives in our digestive system. Scientists call this community our gut microbiome. It plays many important roles in our bodies, like helping to digest food, regulating our immune system, preventing diseases, and even affecting our appetites and our emotions.
Many things, like what we eat and drink, who we interact with, and the medicines that we take, influence the kinds of microbes that live in our gut. A diverse microbiome is good for our health!
# OF PLAYERS: 2-4
PLAYING TIME: 15-20 minutes
TO WIN: Be the first to diversity your gut microbiome by collecting 6 microbes. But beware of picking up a pathogen!
Here are eight microbes that you'll meet in the game. Can you master how to pronounce their names? (Try to say each five times fast!)
TENERICUTES
Ten-NAIR-uh-cue-tees
The name Tenericutes comes from the Latin for "soft skin," because they lack cell walls.
VERRUCO-MICROBIA
ver-rue-co-mi-CRO-bee-ah
Verrucomicrobia translates to "warty bacteria" - named because of the bumps on their cell surfaces.
CYANOBACTERIA
sigh-AN-no-BAK-tee-ree-ah
Although most cyanobacteria are photosynthetic and live in aquatic habitats, they make up a small portion of the gut microbiome.
ACTINOBACTERIA
ack-tin-no-BAK-tee-ree-ah
Actinobacteria are very common on your skin, but also make up a small proportion of the gut microbiome.
PROTEOBACTERIA
pro-tee-oh-BAK-tee-ree-ah
Proteobacteria come in a variety of forms. They're named after the Greek god Proteus who could change shape
FIRMICUTES
FIR-mi-cue-tees
Firmicutes is one of the most abundant types of bacteria in the gut microbiome. It becomes more common after eating high-calorie foods.
BACTEROIDETES
BAK-ti-roid-dee-tees
Bacteroidetes are very common in gut microbiomes of humans as well as other animals.
PATHOGEN
path-oh-jen
Pathogens are microorganisms that can cause disease. Sometimes they are transmitted when a person ingests contaminated food or water.
Image Credits:
Illustrations: Microbe man, © AMNH/Kyle Platts; various microbes, © AMNH/Brett Taranda.