From the Cataloger's Desk: New books to ring in the new year
by Iris Lee on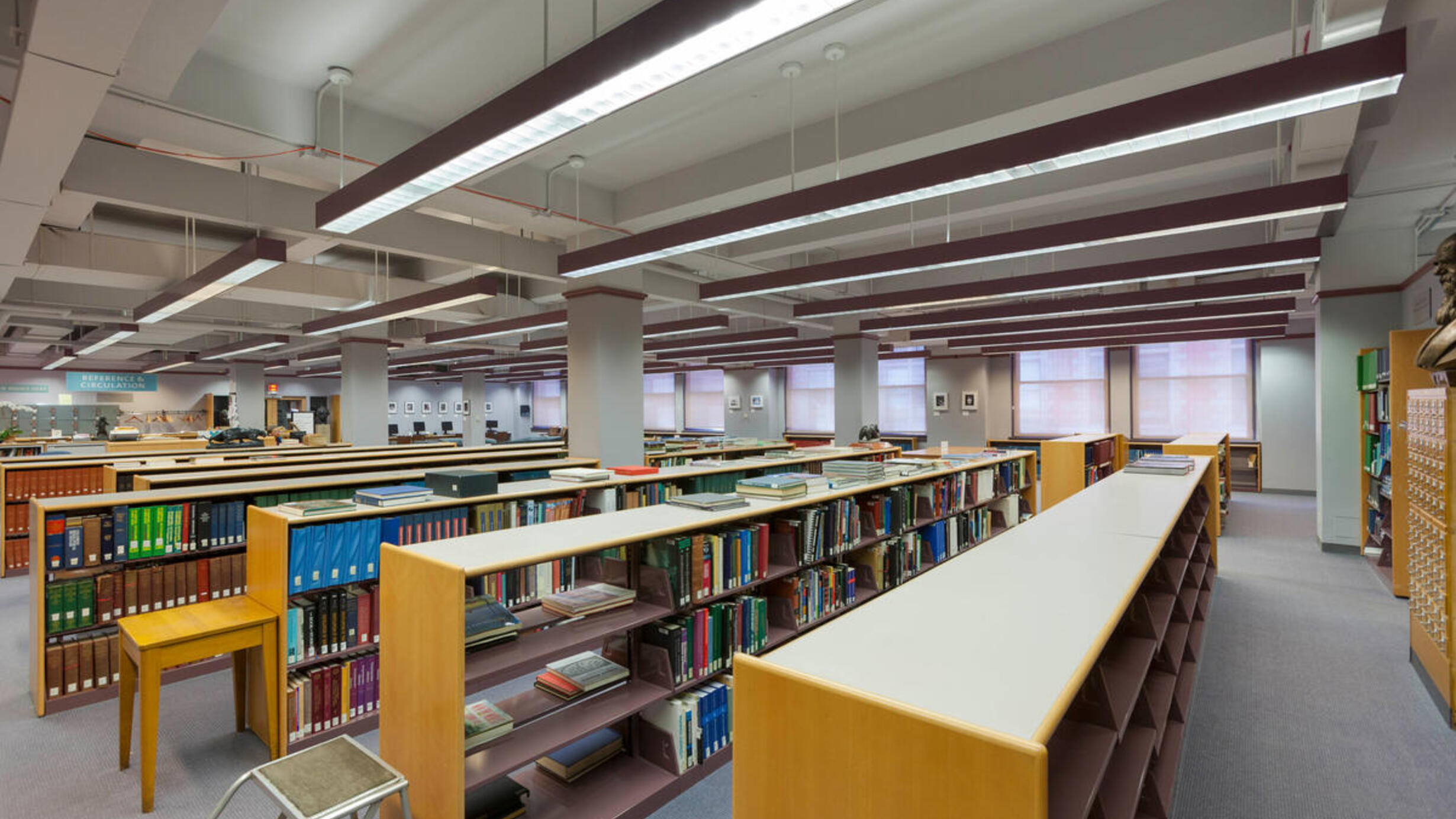 Reading Room, Museum Library, April 11, 2017
M. Shanley /© AMNH
Conservation and ecological biodiversity are common themes in recent publications from the last few years, underlining an urgent need to keep pace with a quickly fluctuating climate. This month's set of titles include a wide variety of subjects from German ethnology to scorpion spermatozoa. The through line I've observed among the books is change. Whether we evolve our understanding of the past, analyze environmental changes affecting the natural order of the planet, or make microscopic observations that uncover new discoveries, the movement of ideas is as constant as the revolution of the earth around the sun. Happy new year everyone!
Animal population ecology : an analytical approach
by T. Royama
2021
Animal population ecology comprises the study of variations, regulation, and interactions of animal populations. This book discusses the fundamental notions and findings of animal populations on which most of the ecological studies are based. In particular, the author selects the logistic law of population growth, the nature of competition, sociality as an antithesis of competition, the mechanism underlying the regulation of populations, predator-prey interaction processes, and interactions among closely related species competing over essential resources. These are the notions that are considered to be well-established facts or principles and are regularly taught at ecology classes or introduced in standard textbooks. However, the author demonstrates that these notions are still inadequately understood, or even misunderstood, creating myths that would misguide ecologists in carrying out their studies. He delves deeply into those notions to reveal their real nature and draws a road map to the future development of ecology.
Bundles of sperm : structural diversity in scorpion sperm packages illuminates evolution of insemination in an ancient lineage (American Museum novitates, no. 3993)
by David E. Vrech, Alfredo V. Peretti, Lorenzo Prendini, and Camilo I. Mattoni
2022
The spermatozoa of scorpions are often bundled together, forming a type of sperm conjugation known as a sperm package. Sperm packages may be found inside the testes and seminal vesicles but vanish in the female atrium, leaving free spermatozoa. Previous studies, based on a limited number of taxa, suggested a diversity of sperm package morphology across the order Scorpiones C.L. Koch, 1850. However, the sperm packages of most scorpion taxa remained unknown. The present study provides the first systematic survey of sperm package morphology across the order, covering 89 exemplar species in 66 genera and 19 families representing all suprafamilial ranks, with a more detailed investigation of the family Bothriuridae Simon, 1880. Whereas all exemplar species of scorpions exhibit sperm packages, Buthida Soleglad and Fet, 2003, including Chaerilidae Pocock, 1893, and most Buthidae C.L. Koch, 1837, present unorganized sperm or loosely organized bundles. Although the details vary, three main types of sperm packages may be recognized in all other families: single folded; straight; and multiple folded. Subtypes may be identified according to general shape and folding patterns, mainly among sperm packages that are folded multiple times. Single-folded sperm packages are the most common type observed in the order. Although most sperm packages lack a covering, a conspicuous secretion sheath may be evident, e.g., in some Chactidae Pocock, 1893. Sperm packages vary in length from 112–354 μm and bent sperm packages are not necessarily longer than straight sperm packages. Four exemplar species of Bothriuridae reveal that variation in sperm count within a single sperm package is consistent with the count derived in spermatogenesis. The diversity of sperm packages suggests a path from free spermatozoa, via bent sperm packages, to other forms. Sperm packages may aid in the transport, cooperation, competition, and survival of spermatozoa. The diverse morphology, function, and evolution of sperm packages merit further investigation.
Dinosaur tracks from Brazil : a lost world of Gondwana
by Giuseppe Leonardi and Ismar de Souza Carvalho
2021
Dinosaur Tracks from Brazil is the first full-length study of dinosaurs in Brazil. Some 500 dinosaur trackways from the Cretaceous period still remain in the Rio do Peixe basins of Brazil, making it one of the largest trackways in the world. Veteran paleontologists Giuseppe Leonardi and Ismar de Souza Carvalho painstakingly document and analyze each track found at 37 individual sites and at approximately 96 stratigraphic levels. Richly illustrated and containing a wealth of data, Leonardi and de Souza Carvalho brilliantly reconstruct the taxonomic groups of the dinosaurs from the area and show how they moved across the alluvial fans, meandering rivers, and shallow lakes of ancient Gondwana.
In Humboldt's shadow : a tragic history of German ethnology
by H. Glenn Penny
2021
The Berlin Ethnological Museum is one of the largest and most important anthropological museums in the world. Housing over 500,000 objects from non-western cultures assembled since the mid-nineteenth century, the museum's collection was assembled by men who were galvanized by the ambitious vision of Alexander von Humboldt (1769-1859). Humboldt saw the multiplicity of human cultures as variations on a common theme and believed that natural science offered a means for understanding the essential unity of all people across space and time. What was needed, he declared, was to gather enough data to fashion a total history of humanity. After his death, Humboldt-inspired explorers, government officials, physicians, scientists, and even the sons of merchants fanned out across the globe to collect as much information as they could about all the peoples of the world. They used observation, discussion, inspection of written records, and, crucially, the collection and analysis of material culture from great monuments and art to simple crafts and everyday tools. Unlike their counterparts in the rest of Europe and in the United States, these early German ethnologists did not collect such objects to confirm or illustrate racist theories of human development. Rather, they began with a rejection of race science and an assumption that there are no inherent mental differences among peoples. They created these collections, and, later, founded their museums, not to support or illustrate politically-useful theories of human difference, but rather to foster the study of human cultures and histories in all their variations. In Humboldt's Shadow tells the stories of these ethnologists and the objects, collections, and knowledge they assembled - and of the tragic turn their museums took when their successors undercut their bracing Humboldtian motives. In this book H. Glenn Penny calls on museums to embrace anew this Humboldtian vision, while deepening their dialogue and engagement with indigenous peoples over the provenance and stewardship of these collections. While supporting repatriation of artifacts where appropriate, Penny argues that greater funding for the research and curation functions of contemporary museums would allow them to properly research the provenance of artifacts in their collections.
The insect crisis : the fall of the tiny empires that run the world
by Oliver Milman
2022
A devastating examination of how collapsing insect populations worldwide threaten everything from wild birds to the food on our plate. From ants scurrying under leaf litter to bees able to fly higher than Mount Kilimanjaro, insects are everywhere. Three out of every four of our planet's known animal species are insects. In The Insect Crisis, acclaimed journalist Oliver Milman dives into the torrent of recent evidence that suggests this kaleidoscopic group of creatures is suffering the greatest existential crisis in its remarkable 400-million-year history. What is causing the collapse of the insect world? Why does this alarming decline pose such a threat to us? And what can be done to stem the loss of the miniature empires that hold aloft life as we know it? With urgency and great clarity, Milman explores this hidden emergency, arguing that its consequences could even rival climate change. He joins the scientists tracking the decline of insect populations across the globe, including the soaring mountains of Mexico that host an epic, yet dwindling, migration of monarch butterflies; the verdant countryside of England that has been emptied of insect life; the gargantuan fields of U.S. agriculture that have proved a killing ground for bees; and an offbeat experiment in Denmark that shows there aren't that many bugs splattering into your car windshield these days. These losses not only further tear at the tapestry of life on our degraded planet; they imperil everything we hold dear, from the food on our supermarket shelves to the medicines in our cabinets to the riot of nature that thrills and enlivens us. Even insects we may dread, including the hated cockroach, or the stinging wasp, play crucial ecological roles, and their decline would profoundly shape our own story. By connecting butterfly and bee, moth and beetle from across the globe, the full scope of loss renders a portrait of a crisis that threatens to upend the workings of our collective history. Part warning, part celebration of the incredible variety of insects, The Insect Crisis is a wake-up call for us all.
Mammalian sexuality : the act of mating and the evolution of reproduction
by Alan F. Dixson
2021
There are more than 6000 species belonging to twenty-seven orders in the Class Mammalia. Comparative studies of this diverse and magnificent array of extant species provide valuable opportunities to formulate and test hypotheses concerning the evolution of reproduction. This is the first book to explore, in depth and breadth, the complex interrelationships that exist between patterns of mating behavior and the evolution of mammalian reproductive anatomy and physiology. It focuses upon the role that copulatory and post-copulatory sexual selection have played during the evolution of the monotremes, marsupials and placental mammals, and examines the effects of sperm competition and cryptic female choice upon coevolution of the genitalia in the two sexes. In addition, due weight is also given to discussions of the modes of life of mammals, and to the roles played by natural selection and phylogeny in determining their reproductive traits.
Obsidian projectile point conveyance patterns in the lower Humboldt Valley, Nevada (Anthropological papers of the American Museum of Natural History, number 105)
by Richard E. Hughes
2022
Despite their ubiquity, surface occurrences of obsidian artifacts at archaeological sites throughout western North America have traditionally been viewed as unworthy of serious attention because of the difficulty in dating them. In the past 40 years, the time sensitivity of certain Great Basin projectile point types has been established, which brings the importance of surface collections more center stage. With the coming of age and refinement of geochemical methods, obsidian artifacts from these surface sites can now be analyzed using nondestructive instrumental methods and matched to their geological eruptive origin on the basis of congruence in trace and rare earth element chemistry. Many of these surface assemblages in the Great Basin contain considerable numbers of obsidian projectile points that, when matched to their chemical source of origin, open up entirely new ways to investigate change and continuity in past land use and social relations. The present study was conducted in the lower Humboldt Valley of western Nevada, where large numbers of obsidian projectile points have been collected by professional archaeologists over the past century and housed in academic institutions and museums. In this study, more than 900 obsidian projectile points and bifaces were analyzed from 24 sites and localities within the lower Humboldt Valley using energy-dispersive X-ray fluorescence (EDXRF) to bring data to bear on the question of whether changes in obsidian source use occurred there over the past 5000 years (as determined by time-sensitive projectile points). Significant changes were identified in the direction and distance-to-source of arrow points vs. dart points, and in the source and direction of Humboldt series points and of Humboldt Basal-notched bifaces, which implicate directional shifts through time in social relations among peoples using—and during some periods living at sites in—the lower Humboldt Valley. These results provide independent data to evaluate current views about land use, artifact conveyance, social relations, and technological change in the western Great Basin and beyond.
Paleontology : an illustrated history
by David Bainbridge
2022
An illustrated look at the art and science of paleontology from its origins to today. Humans have been stumbling upon the petrified remains of ancient animals since prehistoric times, leading to tales of giant dogs, deadly dragons, tree gods, sea serpents, and all manner of strange and marvelous creatures. In this richly illustrated book, David Bainbridge recounts how legends like these gradually gave rise to the modern science of paleontology, and how this pioneering discipline has reshaped our view of the natural world. Bainbridge takes readers from ancient Greece to the eighteenth century, when paleontology began to coalesce into the scientific field we know today, and discusses how contemporary paleontologists use cutting-edge technologies to flesh out the discoveries of past and present. He brings to life the stories and people behind some of the greatest fossil finds of all time, and explains how paleontology has long straddled the spheres of science and art. Bainbridge also looks to the future of the discipline, discussing how the rapid recovery of DNA and other genetic material from the fossil record promises to revolutionize our understanding of the origins and evolution of ancient life. This panoramic book brings together stunning illustrations ranging from early sketches and engravings to eye-popping paleoart and high-tech computer reconstructions.
Pathways to success : taking conservation to scale in complex systems
by Nick Salafsky and Richard Margoluis; illustrations by Anna Balla
2021
As environmental problems grow larger and more pressing, conservationists have had to adapt. With a shrinking window of time to act, they are turning to broad approaches to combat continental- and global-scale crises of biodiversity loss, invasive species, and climate change. Pathways to Success-the long-awaited successor to the classic volume Measures of Success-is a modern guide to building large-scale transformative programs capable of tackling the complex conservation crises we face today. In this strikingly illustrated volume, coauthors Nick Salafsky and Richard Margoluis walk readers through fundamental concepts of effective program-level design, helping them to think strategically about project coordination, funding, and stakeholder input. Chapters in the first part of the book look at all aspects of designing and implementing large-scale conservation programs while the second part focuses on how to use data and information to manage, adapt, and learn from program strategies. In addition, the authors offer practical advice for avoiding pitfalls, such as formulaic recipes and simplistic silver-bullet solutions that can trip up otherwise well-intentioned efforts. Abundant graphics help to explain and clarify concepts presented in the text, and a glossary in the back matter defines technical terms for the reader. Pathways to Success is the definitive guide for conservation program managers and funders who want to increase the scale and effectiveness of their work combating biodiversity loss, climate change, and other pressing environmental issues.
Wild by design : the rise of ecological restoration
by Laura J. Martin.
2022
Laura J. Martin examines ecological restoration's long history. Since the early 1900s, restorationists have confronted vexing philosophical questions: Which states of nature should be restored? Who should choose? Is human-designed wilderness really wild? Restoration work leads us to reimagine nature and the nature of environmental justice.
The World's Columbian Exposition : the Chicago World's Fair of 1893
by Norman Bolotin and Christine Laing
2002
This exceptional chronicle takes readers on a visual tour of the glittering "white city" that emerged along the swampy south shore of Lake Michigan as a symbol of Chicago's rebirth and pride twenty-two years after the Great Fire.
Can't get enough? For additional new books see our New Books page!
The AMNH Library is not currently open to the public. Resources are available to Museum staff and items may circulate to staff members with full borrowing privileges. Staff can submit an application for access here.
This entry was written by Iris Lee, Cataloging and Metadata Librarian.