Museum Sleepovers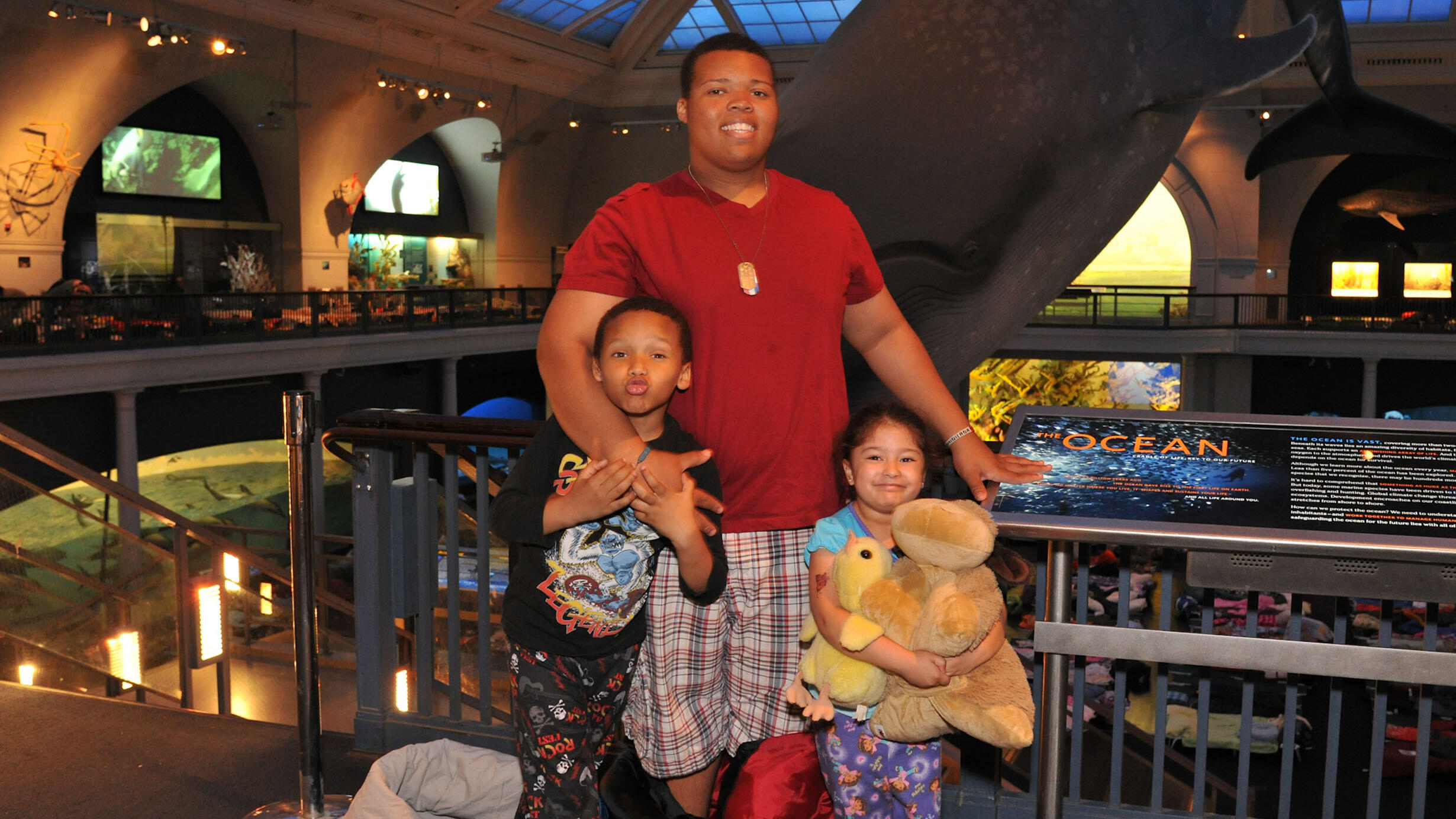 D. Finnin/© AMNH
All Sleepovers are canceled until further notice.
After the doors close and the lights dim, grab a flashlight and begin your journey—the nearly-empty halls of the Museum await.
Snap a selfie with the mighty titanosaur, roam amongst our ancestors, or see exquisite creatures up close in a special live animal demonstration. The T. rex special exhibition will be open, along with screenings of a nature film, and a Hayden Planetarium Space Show.
When your adventure is complete, drift off to sleep beneath the 94-foot-long blue whale, next to African elephants, or surrounded by striking models of our planet.
Ages
Children aged 6-13 are welcome, along with their parents or caregivers. On Scout nights, 6-16 year olds are welcome. At least one adult per three children is required for all groups.
Note: Scout groups are welcome at all Sleepovers, and all are welcome on Scout nights; we simply encourage Scout groups from different regions to come together on the same night, if their schedules permit.
Cost
All sales are final. Tickets are non-refundable.
$150 per person
$140 for Members
$130 per person for groups of 15 or more
Sleepovers for Adults
Just like our family sleepover, but with a few added perks for discerning adults. See Sleepovers for Grown Ups for details.
Registration
Absolutely no walk-in registrations are permitted.
All guests must pre-register by phone, and pay all applicable fees in advance. Call Central Reservations at 212-769-5200 Monday through Friday, 9 am-5 pm.
Each visitor must fill out a participant release form - one per guest:
Group Registration
Groups of 15 or more enjoy a discounted rate of $130 per person. Scout groups may pay a 10% deposit at the time of reservation, with a final payment due date included in an email confirmation. For all other groups, payment is due in full at the time of reservation.
In addition to the participant release form (one per guest), a group leader must also submit separate Group Agreement and Group Roster forms, below.
Please send your agreement and roster forms with full payment to the address below, or via e-mail to [email protected].
Central Reservations Department
American Museum of Natural History
200 Central Park West
New York, NY 10024-5102
Upon registration, you'll receive an email confirmation with a date for full payment, if any is due. Failure to make payment by this date will result in the cancellation of your reservation, forfeiting your non-refundable deposit.


Frequently Asked Questions
Contact our sleepovers department at [email protected] or 212-769-5570 with any further questions.

Evening snack and light breakfast
Cots for all participants
Fossil fact-finding mission by flashlight
Planetarium show in the Space Theater
3D nature movie in the LeFrak Theater
Live animal presentation
Access to entire permanent collection
Available special exhibitions
Everyone must bring a sleeping bag (or equivalent sleeping gear) and a pillow. Inflatable mattresses are not permitted. Sleeping cots will be provided. Other items to bring:
Sleeping Bag (required)
Pillow
Flashlight
Camera
Toothbrush and toothpaste
Washcloth
Warm, comfortable clothing to sleep in
Ear plugs (optional)
Night mask (optional)
To purchase tickets for A Night at the Museum, please call Central Reservations at 212-769-5200. Online ticketing is not available at this time.
You will receive an email confirmation immediately after you register for A Night at the Museum. Please print out your email and bring it to check-in on the date of your event along with your completed participant release forms. For group registrations please note that you will be told your payment deadline when you register.
Each group will be required to maintain a ratio of one adult supervisor per three child participants. All chaperones must be at least 21 years old.
Guests will sleep in the Hall of Ocean Life under our beloved blue whale, beneath famous dioramas in the Hall of African Mammals or Hall of North American Mammals, or among the geological formations in the Hall of Planet Earth. Sleeping locations are first come, first served.
E-mail [email protected] to request a specific hall, but please note that we cannot guarantee space in any hall. Management will do their best to accommodate all requests. Please include the date you are attending and your order number with your request.
A Night at the Museum begins at 6 pm and ends at 9 am the next morning.
Parking is available at our facility conveniently located within the Museum. The garage is located on 81st Street between Central Park West and Columbus Avenue. The parking garage will open at 4 pm for sleepover participants, who will be eligible for a discounted parking fee of $28 for the duration of the sleepover. Visitors taking advantage of this discount must exit the garage by 1 pm the following day.
Please enter at the Rose Center for Earth and Space entrance on 81st Street between Central Park West and Columbus Avenue to check in with your sleepover equipment. The entrance will be open until 8 pm. All entrances are handicapped-accessible.
The Rose Center entrance will remain open until 8 pm. Late arrivals will enter at the Theodore Roosevelt Memorial entrance, under the porte-cochère at 79th and Central Park West.
There are very few outlets available across the museum and we must give priority to those who have an immediate medical need for them. However, the museum has recently added MobileQubes, a national network of self-service kiosks that allow guests to rent and return portable batter pack Qubes to charge their mobile devices on-the-go, inside and outside of the museum. See MobileQubes for more information.
The Museum's food court will remain open until 7:30 pm. An evening snack will include various snack food, juice, coffee, and tea. Breakfast will include fresh fruit, muffins, yogurt, coffee, tea, and juice. In addition to the snacks, vending machines on the Museum's lower level will be accessible. Vending machines accept $1 bills, coins, and credit or debit cards. Please bring change for vending machines.
No outside food or beverages will be allowed into the Museum. Your breakfast, snack, and vending machine food must be consumed in the designated eating area. Please notify us in advance of any food allergies.
Space is very limited. If you want to increase your group size or make changes to your reservation, call 212-769-5200 from Monday to Friday, 9 am - 5 pm. Spots cannot be held; if any are available we recommend you pay immediately over the phone.
There are no refunds for sleepovers - all ticket sales are final. If your group leader informs the Sleepover Department of the change in advance of the event, we will try to reschedule you for a later sleepover, based on availability, within the following 180 days. If there is a price change between your original event date and a rescheduled event, the new price will apply. You may reschedule your reservation only once. In the unlikely event the Museum finds it necessary to cancel a sleepover, a full refund will be made.
The first, second, third and fourth floors, along with the lower level and the Rose for Earth and Space, will be open. The second and third floors of the main Museum are open from 6:45–9:45 pm for open exploration.
Notify a sleepover staff member if anyone in your group is sick or hurt.
Yes, participants may leave early if needed. If you are parked in the garage, you must notify a sleepover staff member. The garage is open from 7 am–11 pm. If you must leave before 7 am please make prior arrangements with the sleepover manager before your sleepover date. You may only pay for the garage at the time of your departure.
The Main Museum Shop will open at 7 am the morning after the sleepover.
Yes. All sleepover activities are fully wheelchair accessible.
No, younger and older siblings are not permitted to attend the sleepovers if they are not between the ages of 6 and 13 years old.
Yes, general admission for the museum is included the next day. The museum opens at 10 am. If you plan to visit us, you and your family must exit at 9 am and re-enter at 10 am. You may pick up your general admission pass at the Will Call desk at 10 am. Special exhibitions are not included.
If you choose to visit the Museum on the day of your sleepover, you may store your items in the coat check from 10 am–5:45 pm and regular coat check fees will apply. The last drop off time is 4:30 pm. All items must be picked up before 5:45 pm when the museum closes and before check in for the sleepover begins.
If you choose to stay to visit the day after your sleepover, you may store your items in the coat check which is open 10:00 a.m.-5:45 p.m. Regular fees apply. Please note that the coat check is closed from 9–10 am. Please make other accommodations for the storage of your sleepover items.