The Titanosaur main content.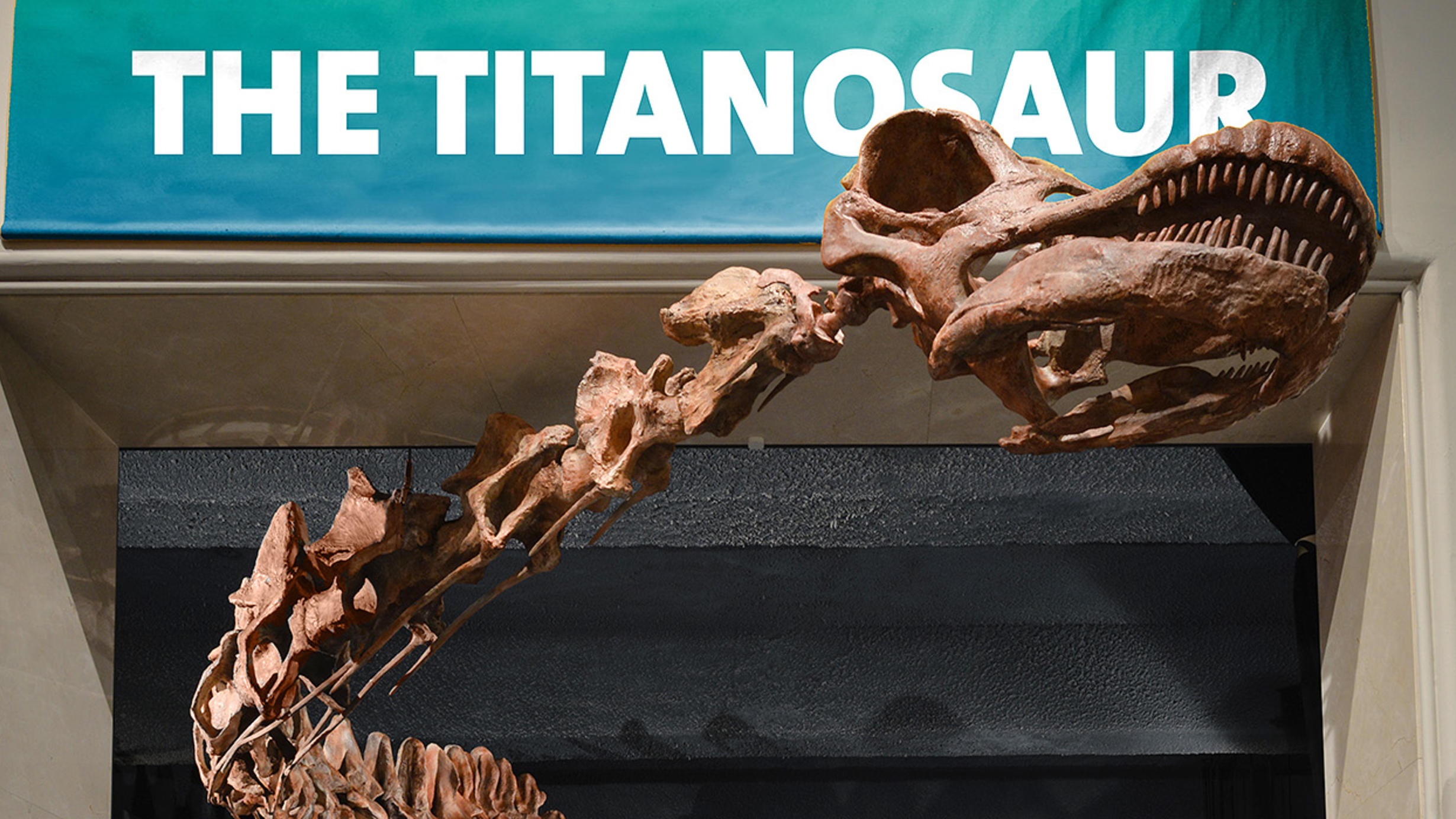 Titanosaur peers out of the entrance to the Miriam and Ira D. Wallach Orientation Center.
© AMNH/D. Finnin
In January 2016, the Museum added another must-see exhibit to its world-famous fossil halls: a cast of a 122-foot-long dinosaur.
At the time, the species was so new, that it had not yet been formally named by the paleontologists who discovered it.
[Title card reads: American Museum of Natural History]
[Shots of welders with masks on working on the toes, tail, and head of the skeletal cast, sparks flying. Shot pans from a red cherry-picker stand marked "Exhibition Department" to The Titanosaur's head, which peeks out of the Wallach Orientation Center with a toothy grin.]
Mark Norell: A new dinosaur is coming to the halls of the American Museum of Natural History.
[Mark Norell on screen. The lower third reads: Mark Norell, Macaulay Curator, Division of Paleontology]
This Titanosaur is a really huge animal.
[Shot begins under The Titanosaur's head and runs alongside its 122-foot-long skeletal cast in the darkened hall on hyperlapse. The stand for The Titanosaur is still under construction in this shot, and there are no exhibit panels around the cast.]
It's over 120 feet long.
[Wide shot of a dry, scrubland-type landscape with one tree and low-lying vegetation. Aerial shot of a person crouched over a large fossil femur, one arm stretched out along the bone and seemingly brushing it. The person's wingspan is not large enough to reach the other end of the fossil.]
It lived in what's now present-day Argentina about 100 million years ago.
[Slight zoom into a still of several figures on a hill against the blue sky. Figures are shadowed but appear to be wearing field clothes. Zoom into a still of a person working alongside the giant fossil femur, picking up other fossils from the ground. Other items scattered within view may be fossils.]
The last 20 years have really been the
[Person in a brimmed hat walks, holding a camera that captures the yellow-red dusty ground and shows the person's shadow. A point-of-view shot showing a paleontologist using a tool to draw a line yellow-red dirt around what may be a fossil in the field.]
new Golden Age of dinosaur discovery.
[Mark Norell appears on camera.]
New kinds of animals have been found all over the world—in Africa, in Asia, in Patagonia—
[A still of a person in the field lying down next to the fossil femur near site of excavation for scale reference, with the femur stretching beyond the person on both sides.]
—and this is just one of the latest ones.