Health and Safety During COVID-19
All visitors ages 2 and up must wear a facial covering.
The health and safety of visitors and staff is a top priority. A number of changes have been made to ticketing and operating procedures based on guidance from public health authorities such as the Centers for Disease Control and Prevention (CDC) and appropriate government agencies.
Advance Ticket Reservations
All tickets—including Member tickets, complimentary tickets, and pre-paid pass tickets—must be reserved online in advance of your visit.
Tickets are timed-entry. Time slots available from 10 am to 4 pm, now through Sept. 4, 2022.
See Plan Your Visit or the ticketing FAQ for more information about planning your trip.
What We're Doing to Help Keep You Safe
Upgraded ventilation systems
Providing hand sanitizer stations throughout the building
Wearing facial coverings at all times
Health and Safety Requirements for Visitors
Avoid visiting if you have symptoms of COVID-19, have been diagnosed with COVID-19 within the past 14 days, or have been in close contact (within 6 feet for 10 minutes or more) with someone infected with or experiencing symptoms of COVID-19 within the past 14 days.
Wear a facial covering throughout the visit (for all visitors ages 2 and up), and children under age 12 must remain with adults at all times. No neck gaiters, open-chin triangle bandannas, or face coverings with valves, mesh, or holes.
Use hand sanitizer, which will be available at stations throughout the building.
Follow directions from staff and signage for use of facilities.
Follow the Museum's Code of Conduct.
Visitors who require an accommodation for any of these items must contact

[email protected]

before your visit to discuss your needs.
Temporarily Unavailable
The following are temporarily unavailable:
Services and Amenities
Coat check service
Drinking fountains
Cafes*
The Planetarium Shop is closed but the main Museum Shop and special exhibition shops are open.
*Eating is prohibited in Museum galleries. Visitors may dine at the Museum Food Court, or they may leave the Museum and return using the same timed-entry ticket on the same day. When re-entering the Museum, visitors must enter at the 81st Street or Central Park West entrances and must go back through the security line to be readmitted.
Halls and Exhibits
Discovery Room
Public educational laboratories
COVID-19 Safety in Museum Classes
In addition to establishing health and safety protocols for visitors in exhibition galleries, the Museum has modified onsite classes to provide a safe learning environment for children, youth, and families.
Air quality in the classrooms: Each classroom has been analyzed to ensure optimal air quality and purification. Classrooms have also been outfitted with air purifiers.
Enhanced sanitation: All objects and surfaces used in class have been sanitized before use and can only be used by individuals or families.
Hand-washing: All class participants are required to wash or sanitize their hands prior to class commencing. Hand-washing or sanitizing is also available and encouraged during class.
Quarantine recommendations and class closures or postponements: The Museum frequently reviews CDC, New York State, and New York City guidelines to determine when quarantines should be recommended to participants or when classes should be postponed due to potential exposures. Participants must disclose to Museum staff when they test positive or if they have been exposed to COVID-19.
Exposure to COVID-19
An inherent risk of exposure to COVID-19 exists in any public place where people are present. According to the Centers for Disease Control and Prevention, COVID-19 is an extremely contagious disease that can lead to severe illness and death. Although the Museum has taken enhanced health and safety measures, it cannot guarantee that you or members of your group will not be exposed to COVID-19 while at the Museum.
The cooperation and participation of our visitors in following health and safety protocols and requirements is essential to better ensure that all within the Museum remain healthy and safe. Your adherence and the adherence of anyone in your group (including children) to the Museum's Code of Conduct is mandatory, and noncompliance may result in removal from the Museum.
By visiting the Museum, you voluntarily assume all risks for yourself and minors in your custody and understand that you may be exposed to or infected by COVID-19 by entering the Museum.
The Museum has taken the Stay Well NYC pledge.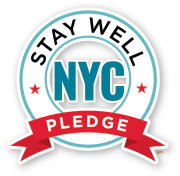 Translations
View this page translated by Google to your language.