Sleepovers for Grown-Ups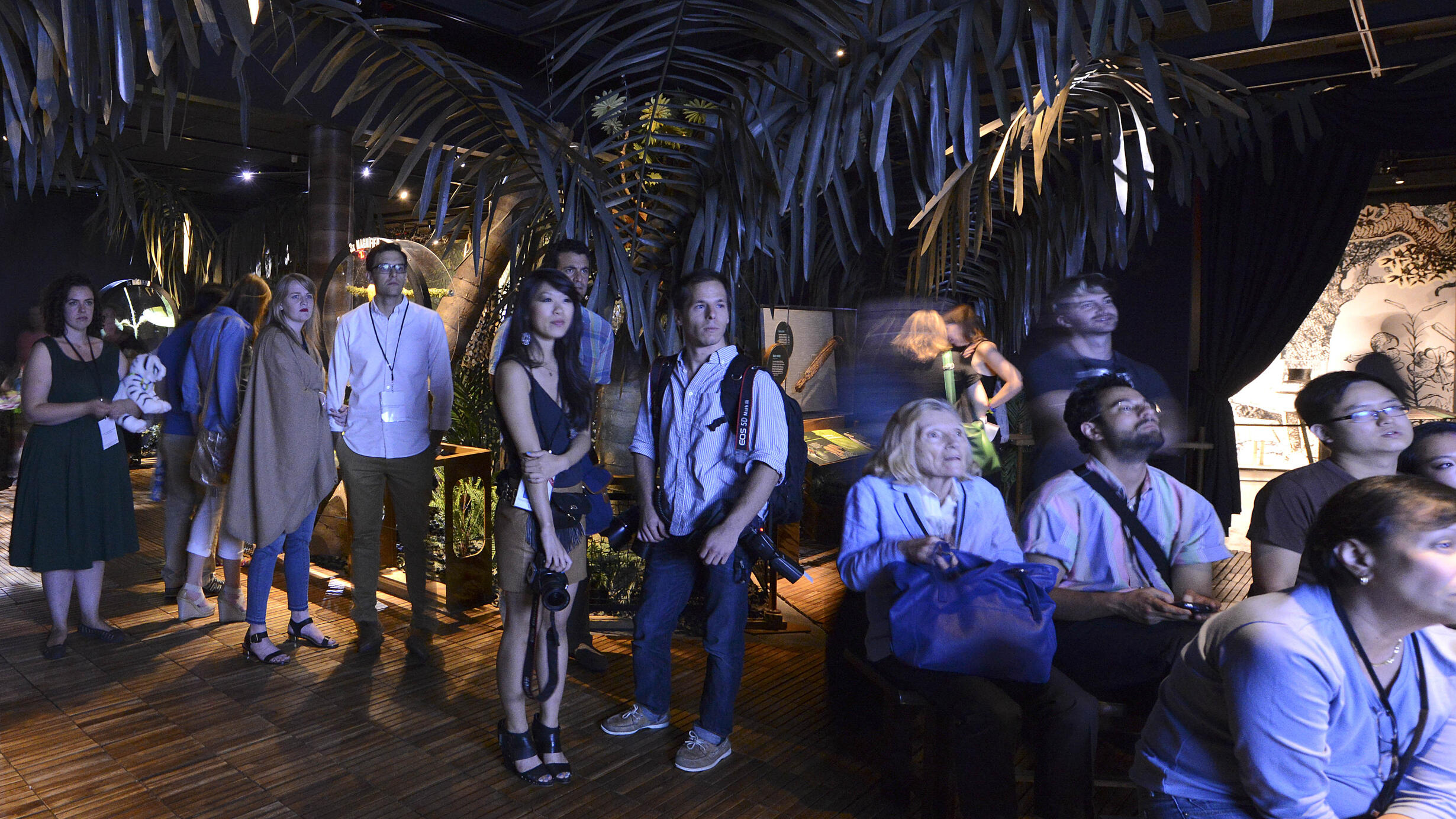 All Sleepovers are canceled until further notice.
Based on our wildly successful family sleepover, the grown ups-only version is a more sophisticated take on the overnight experience. You'll start the evening with a champagne reception and live music. After that you're invited to roam the nearly empty halls of the Museum, take in Worlds Beyond Earth at the Planetarium, see a nature film, and meet non-human guests in a live animal demonstration. Our special exhibition on the mighty T. rex will be open as well.As the evening winds down, unroll your sleeping bag and curl up under the iconic 94-foot-long blue whale in the Hall of Ocean Life.
Open to:
Ages 21 and up
When:
There are no events currently scheduled. See our family sleepovers, or join our mailing list for news about upcoming Sleepovers for Grown-Ups.Cost:$350 per person$300 for MembersAdmission includes
Champagne reception
Delicious buffet dinner with wine and beer
Evening snack and light breakfast snack
Live music
Cots for all participants
Planetarium show in the Space Theatre
3D nature film in the LeFrak Theatre
Live-animal presentation
Access to entire permanent collection
Access to special exhibitions
Registration Information
Absolutely no walk-in registrations are permitted.You may register online, or by calling Central Reservations at 212-769-5200, Monday through Friday between 9 am-5 pm. Each individual must fill out their own participant release form:
ezembed
Cancellation and Refund Policy
There are no refunds on sleepover reservations. We may be able to reschedule your reservation for a later date, depending on availability. If there is a price change between your original event date and a rescheduled event, the new price will apply. In the unlikely event the Museum finds it necessary to cancel a sleepover, a full refund will be made. A $4-per-order processing fee applies.If you have additional questions, email [email protected] or call the sleepover line at 212-769-5570.
Frequently Asked Questions
The adventure begins at 6:30 pm and ends at 9 am the next morning.
All participating guests must be at least 21 years old.
Everyone must bring a sleeping bag and a pillow. Inflatable mattresses and tents are not permitted - cots will be provided. Additional items to bring:
Sleeping bag (required)
Pillow
Camera
Toothbrush and toothpaste
Washcloth
Warm comfortable clothing to sleep in
Change for vending machines
Ear plugs (optional)
Sleep mask (optional)
The Museum's parking garage is located on 81st Street between Central Park West and Columbus Avenue. A discounted parking pass of $28 is available for sleepover participants beginning at 4 pm until 1 pm the following day. Please request your parking pass at check-in and and give it to the parking attendant when you leave.For travel alternatives, as well as directions to the Museum, please see Plan Your Visit.
Please enter at the Rose Center for Earth and Space entrance on 81st Street between Central Park West and Columbus Avenue, or the Theodore Roosevelt Memorial entrance, under the porte-cochère at 79th and Central Park West, to check in with your sleepover equipment.
The Rose Center entrance will remain open until 8 pm. The Theodore Roosevelt Memorial entrance, under the porte-cochère at 79th and Central Park West, will remain open throughout the evening.
Champagne, a delectable buffet dinner, and beverages will be provided, as well as an evening snack before bed and a light breakfast in the morning. Vending machines on the Museum's lower level will be accessible throughout the event.
There are no refunds for canceled sleepovers. We will do our best to reschedule for a later sleepover date, based on availability. All tickets are non-transferrable.
No outside food, beverages, or alcohol will be allowed into the Museum. Your dinner, breakfast, snack, and food from vending machines must be consumed in the area designated for dining. Except for bottled water, no food or drinks are permitted in the exhibition halls or sleeping locations. (Note: the Museum no longer sells bottled water at the vending machines for environmental reasons, but we have facilities available to refill your own bottle with New York City's high-quality tap water.)
The entire permanent collection will be available for viewing, along with most special exhibitions.
If anyone in your group gets sick or hurt, please notify a sleepover staff member or Museum security immediately.
Yes, participants may leave early if needed. If possible, please give us advance notice at check-in.
Yes. All sleepover activities are fully wheelchair accessible.
Restroom facilities will be available on the lower level of the Milstein Hall of Ocean Life, in the Rose Center for Earth and Space, and on the lower level of the subway entrance.