The Department of Vertebrate Paleontology Archives
by Maya Naunton on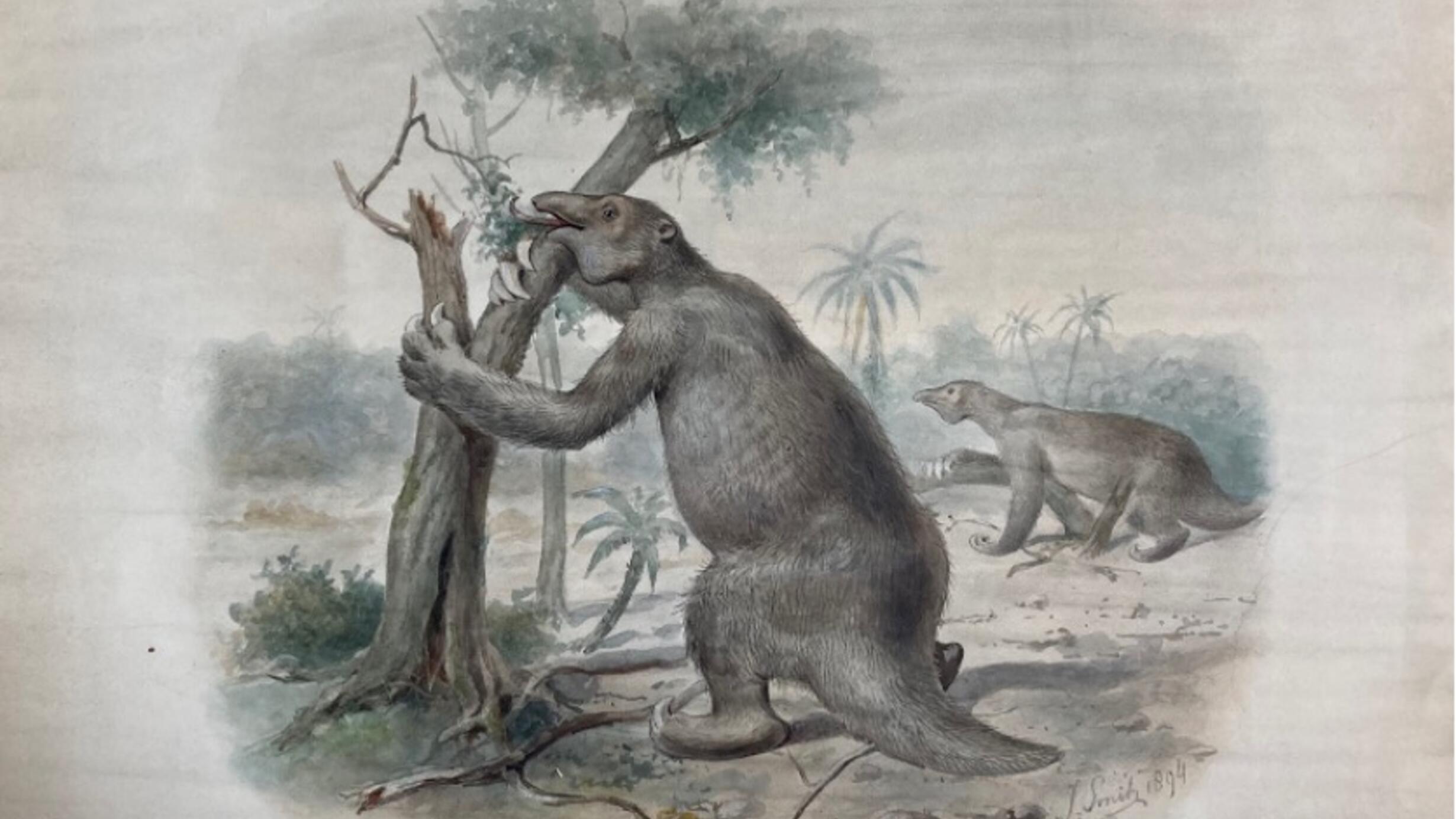 Giant Sloth, Joseph Smit 1894, Department of Vertebrate Paleontology Archive, Artwork Collection
M. Naunton/© AMNH
This is the first in a series of guest posts from the Vertebrate Paleontology Department Archive. It was written by Project Archivist, Maya Naunton.
The Department of Vertebrate Paleontology (DVP) houses an important archive collection containing irreplaceable historical documents. The documents include correspondence, field notebooks, taxonomic sketches, artwork, photographs, and maps encompassing the Department's rich curatorial and scientific history. In 2018 the Director of Collections, Archives and Preparation, Ruth O'Leary, applied for an IMLS Museums of America grant in order to make these documents available to the scholarly community.
The grant is part of a program that supports museums in their efforts to better serve their public and it will enable the Department of Vertebrate Paleontology to provide access to 820 linear feet of materials housed in its Archives.
The work on a three-year project began in April 2021.
History of the collection:
The accumulation of papers in the Department of Vertebrate Paleontology Archives occurred without design. As staff members worked on their projects and corresponded with other researchers, their records and letters collected in their desks and offices. When people retired, these papers were stored within the Department - a process that continued over the one hundred and fifty years of the museum's existence.
In 1981 the Department was fortunate to have a retired Rockefeller University Archivist, Ruth Sternfeld, dedicate her time to the accumulated papers. The first step of the work was collecting the documents that were stored throughout the Department and consolidating them into one location. Then, from 1981 to 2003, Ms. Sternfeld and a number of volunteers surveyed almost half of the archive, organized some of the papers into collections, and wrote their in-depth descriptions (Finding Aids). Their work is incredibly important as it essentially created the archive as an entity and made a portion of the papers discoverable.
In 2011, Rebecca Morgan, now a Special Collections Archivist at the Museum's central Library and Archive, re-surveyed the papers and completed the descriptions of the unfinished collections as part of a grant from the Andrew W. Mellon Foundation.
Building on the important work done to date, the IMLS-funded project will take the next crucial steps in a long-term program to maximize access to the Department of Vertebrate Paleontology Archive.
The work for this stage of the project includes a complete survey of the material. After that survey is finished, the papers will be organized into collections which will be described in Finding Aids. Upon the completion of that task, the Finding Aids will be accessible to researchers via ArchivesSpace, the digital platform that houses all the archival descriptions for the museum.
This will allow scholars to discover the material held in the Archive of the Vertebrate Paleontology Department and request access to the papers that are relevant to their research.