New Exhibits Bring Aquatic Worlds to Discovery Room
by AMNH on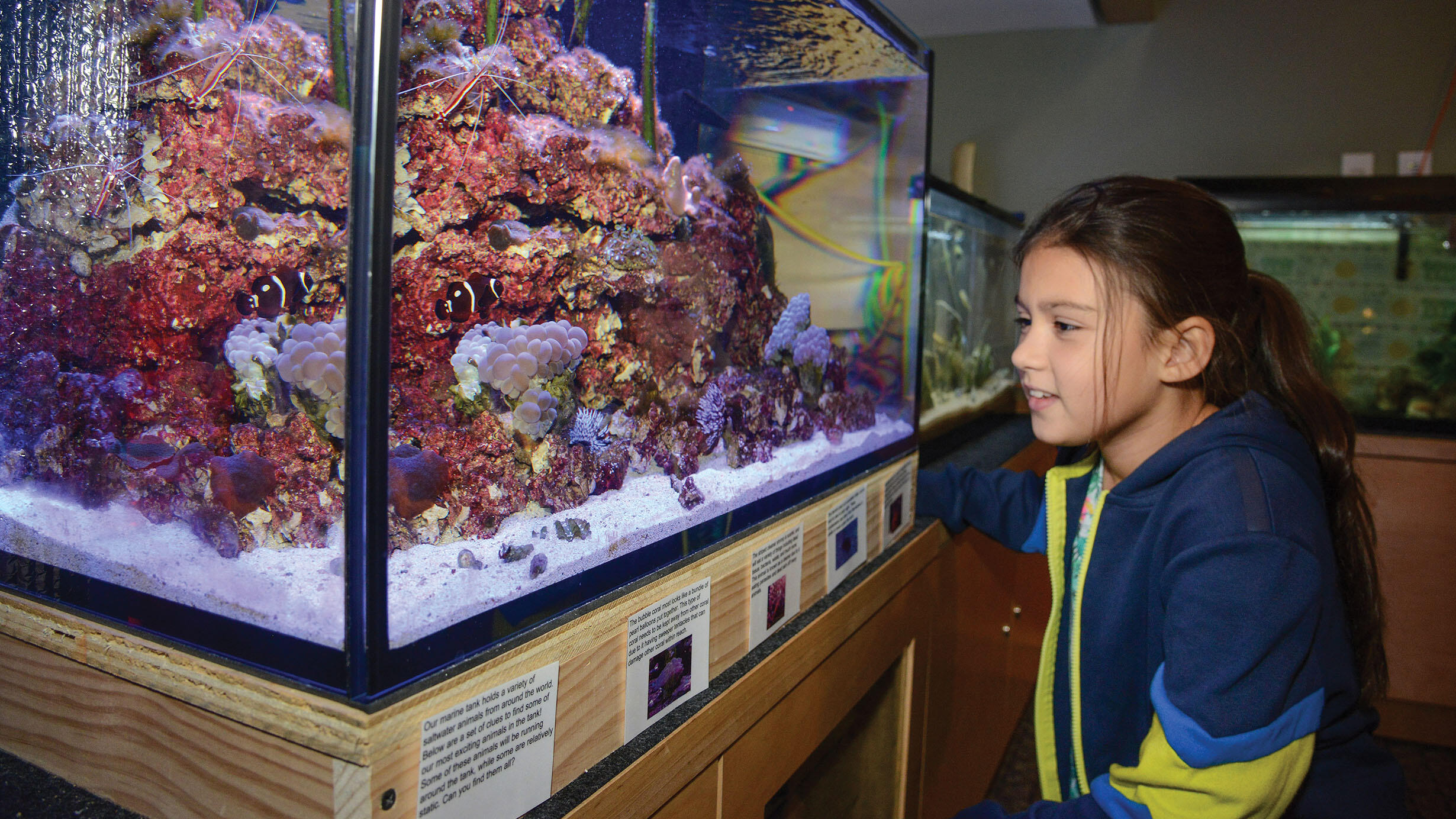 Visitors to the Discovery Room can observe two new marine life exhibits, including a tropical coral reef up close.
R. Mickens/©AMNH
The mezzanine level of the Museum's Discovery Room, a hands-on science space for children ages 8 and their families, recently got a striking new addition: a new marine life exhibit, anchored along the back wall. Designed by the Museum's Children and Family Learning team, the exhibit features two new fish tanks set within handsome wooden display cases.
One tank provides a peek inside a tropical coral reef, complete with miniature mangrove trees and mushroom corals, feather duster tube worms, and sea urchins, among a dozen or so species of plants and animals. A display screen operated by visitors with a touchpad includes information about coral bleaching, conservation, related videos, and an interactive map of the world that locates various species of corals and sea anemones relying on data from the Museum's dry coral collection.
The second tank contains a microcosm of New York City's brackish East River, with sand shrimp, eastern mud snails, hermit crabs, larval horseshoe crabs, northern puffer fish, and schooling Atlantic silversides, seined by Museum staff in collaboration with the Brooklyn Bridge Park Environmental Education Center. As the fishes grow larger, they will be returned to their natural habitat, likely in spring and in summer, and replaced by others newly seined.
Both tanks are intended to extend some of the themes about marine life and ecosystems most recently explored in the special exhibition Unseen Oceans, which closed in August. The exhibit is also a work in progress—by design. Suggestions from visitors are welcomed as the space evolves.
"A conversation with a visitor about how a certain fish looked like a unicorn helped us refine the language on the ID labels," says Daniel Zeiger, assistant director of Children and Family Learning.
So, the next time you visit the Discovery Room, climb the steps to the mezzanine and ask to see the marine life display. Then, be sure to let the staff know what you think!
The Discovery Room will operate on weekend hours during the mid-winter public school break, from February 17–20.
A version of this story appeared in the Winter 2020 issue of the Member magazine, Rotunda.
Unseen Oceans and related programs were made possible by OceanX, an initiative of the Dalio Foundation, as part of its generous support of the special exhibition Unseen Oceans and its related educational activities and public programs.
The Discovery Room was made possible by a grant from the Edward John Noble Foundation.
Additional support has been provided by the Ralph M. Cestone Foundation, the Louis and Virginia Clemente Foundation, the Ducommun and Gross Family Foundation, the Larkin Family, the V. and L. Marx Foundation, and the Jane and Frances Stein Foundation.