Unseen Oceans
March 12, 2018 — August 18, 2019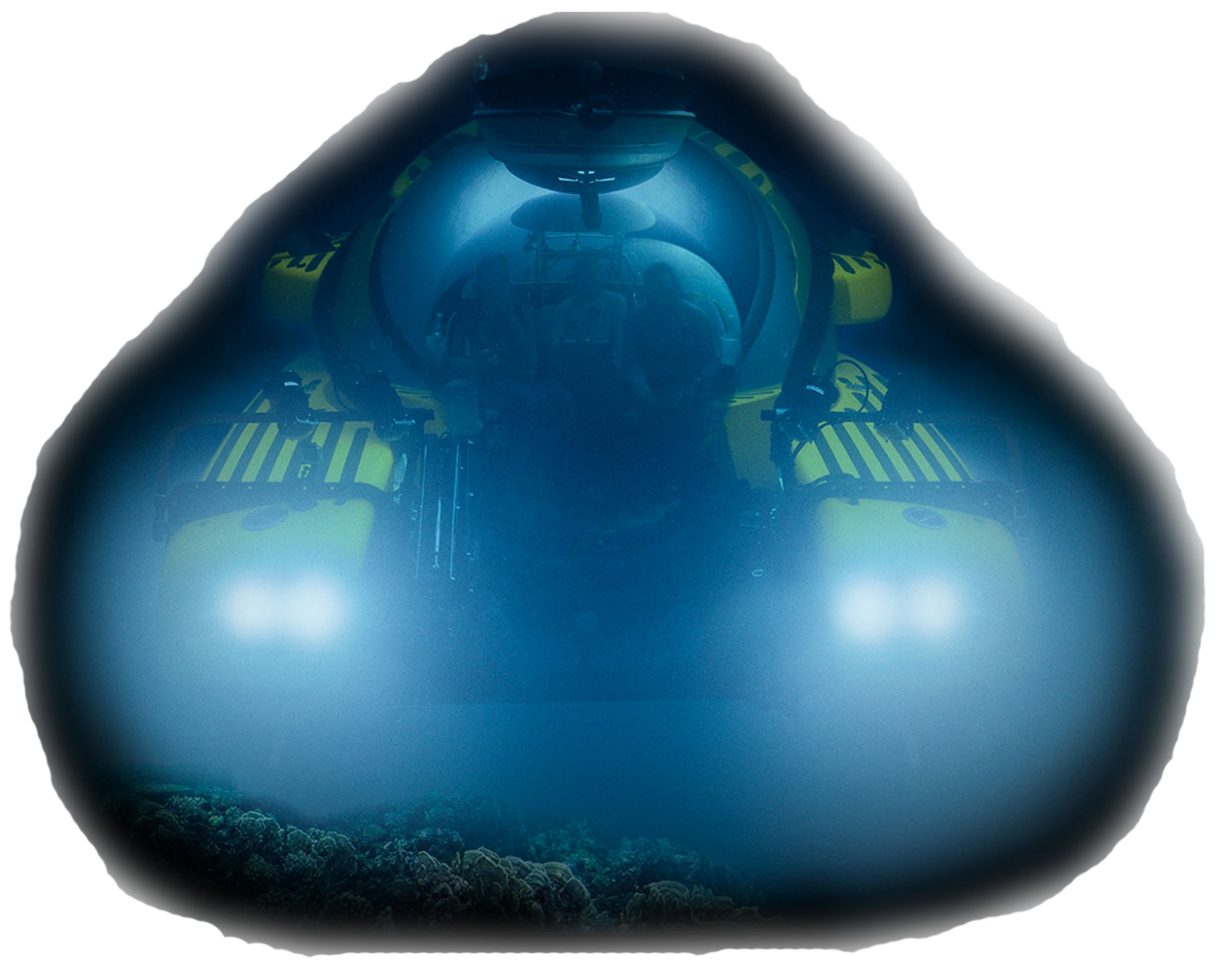 A marvelous, alien world lies hidden beneath the sunlit surface.
With the use of 21st-century technologies like robotics, satellite monitoring, and more, scientists are revealing the unseen habitats of the oceans' most mysterious animals and mapping remote, inhospitable areas in unprecedented detail.
Experience an ocean you never imagined in Unseen Oceans.
[DRAMATIC MUSIC]
[A birds eye view of waves cresting and crashing. The American Museum of Natural History's logo appears on top.]
JOHN SPARKS (Curator, Division of Vertebrate Zoology, American Museum of Natural History): Most people's feeling about the Earth is that we know everything.
[A manta ray glides past some coral in a deep blue ocean. Tiny jellyfish pulsate past. Cut to a shot of a humpback whale fin splashing the surface of the water.
John Sparks appears on screen. Lower third reads "John Sparks. Curator, Department of Ichthyology."]
SPARKS: We know more about the surface of Mars than we do about the ocean floor.
[A remotely-operated vehicle (ROV) scans the sea floor.]
SPARKS: Only about 10-15% of the ocean floor has been mapped with any accuracy.
[A ray of blue light pierces the blackness of the water to land on a single bright green coral. The camera pans over dimly lit underwater mountains. Fish swim between rocks in a canyon-like reef. A submarine descends into a deep gorge.]
SPARKS: Every time we put our ROV or sub in the water, we find something new still.
[A strange-looking long, skinny fish floats with its nose pointed downward. The camera pans over a brittle star weaved tightly into a sea fan. A transparent sea cucumber undulates on a black background.]
SPARKS: We see fish that we can't identify-
[A grumpy-looking frog fish with mottled red and green skin sits atop a pile of rocks. A sub descends onto sand and hundreds of small flat fish swim up suddenly.]
SPARKS: -or habitats that are just extremely bizarre.
[The camera flies over an underwater volcano with a smoke-like substance pouring out. White crabs and shrimp scuttle near a black smoking plume pouring out of a crevice.]
SPARKS: New technology is really advancing our understanding of the ocean.
[A blue light is shined on a wall of coral. A snorkeler places a grid of coral polyps on a sandy area near a reef. The screen splits into four panels showing a point-of-view video of a humpback whale diving in the ocean.]
SPARKS: From tagging whales to studying biofluorescent fishes and corals,
[The camera pans over a coral reef that is radiating neon reds, greens, and yellows.]
SPARKS: we can now collect much more data, and we can also use things like ROVs and submersibles-
[An ROV inspects a giant white sponge on a rock wall. A manned submersible traverses a murky ocean. A closeup of the submersible shows three scientists checking their controls.]
SPARKS: -to get to areas of the ocean that we haven't been able to access in the past.
[A shark swims past in the dark ocean and barren seafloor. A nautilus and large shrimp tug at a dead fish. Tropical fish swim among the folds of an anemone. A cuttlefish jets along a coral reef.]
SPARKS: It's important to study the oceans because they have such an impact on how we live and on the Earth,
[A surfer leaps over a wave. Two children run together along the sandy beach at the water's edge.]
SPARKS: in terms of climate, in terms of food sources, in terms of the oxygen we breathe.
[A satellite image shows hurricanes forming above the Atlantic Ocean. A man displays a lobster to a potential buyer. A tiny microorganism swims among plankton.
Quick flashes of jellyfish, a submarine, a snorkeler holding bleached coral, and the ocean waves at the surface. The image fades to black.
Fading up from black we see a submarine turning slowly to face the camera on a background of deep blue ocean, floating alone. Slowly, the words "Unseen Oceans" are revealed, and then, "Opens March 12."]
[MUSIC FADES]
[Credits appear.
Lead funding for Unseen Oceans and its educational resources is provided by
OceanX, an initiative of the Dalio Foundation.
The American Museum of Natural History gratefully acknowledges the
Richard and Karen LeFrak Exhibition and Education Fund.
Unseen Ocean is proudly supported by Chase Private Client.
Video
AMNH / L. Stevens
AMNH / A. Lenzo, H. Gentry, R. Miyamoto
AMNH / K. Corben
David Gruber
Denise King
Jeremy Goldbogen and John Calambokidis, NMFS Permit #16111
John Sparks
NASA's Goddard Space Flight Center
NOAA Office of Ocean Exploration and Research
Vincent Pieribone
Wildlife Conservation Society
Music
"Magic Evening" by Adam Mark Gubman (ASCAP) / Warner/Chappell Production Music
© American Museum of Natural History]
Members See it Free!
Not a current Member?
What You'll See in Unseen Oceans
Mysterious Drifters
Meet some of the most important organisms on the planet: plankton! They're tiny, unimaginably numerous, and absolutely vital to life on Earth—including yours. And find out how researchers are studying plankton using swarms of mini autonomous underwater explorers (mini-AUEs).
Secret Lives
Enter a sensory world very different from what you see on land. Diving at night, with specialized lights and cameras, researchers have revealed that many undersea animals are fluorescent—glowing in startling shades of red, orange, and green.
Encountering Giants
Earth's oceans are home to giant animals—but we know surprisingly little about their lives. Meet some of the ocean's biggest residents, past and present—and some of the experts who are getting to know them.
Going Deep
Dive in to discover dramatic undersea landscapes and the extraordinary organisms that inhabit them. Find out how scientists are developing unique "stealth" technologies to make sure humans can observe here without disrupting.
Taking a Dive: Journey to the Deep
The ocean may seem uniform to us land-dwellers, but it contains many distinct habitats. This immersive theater presentation takes viewers on a vertical journey through marine environments at different depths. See a scale model Triton submersible to find out what it's like inside!
Vital Abundance
We see an ocean that teems with life. But what does abundance mean when more and more humans rely on the ocean for sustenance? Discover today's greatest threats to the ocean's vital abundance, and some potential solutions.
Future of Ocean Research
The next generation of ocean scientists is already making amazing discoveries. Find out more about researchers who are on the frontlines of ocean exploration.
Lead funding for Unseen Oceans and its educational resources is provided by

AN INITIATIVE OF THE DALIO FOUNDATION
The American Museum of Natural History gratefully acknowledges the Richard and Karen LeFrak Exhibition and Education Fund.
Unseen Oceans is generously supported by