From the Cataloger's Desk: Summer reading – eBooks!
by Iris Lee on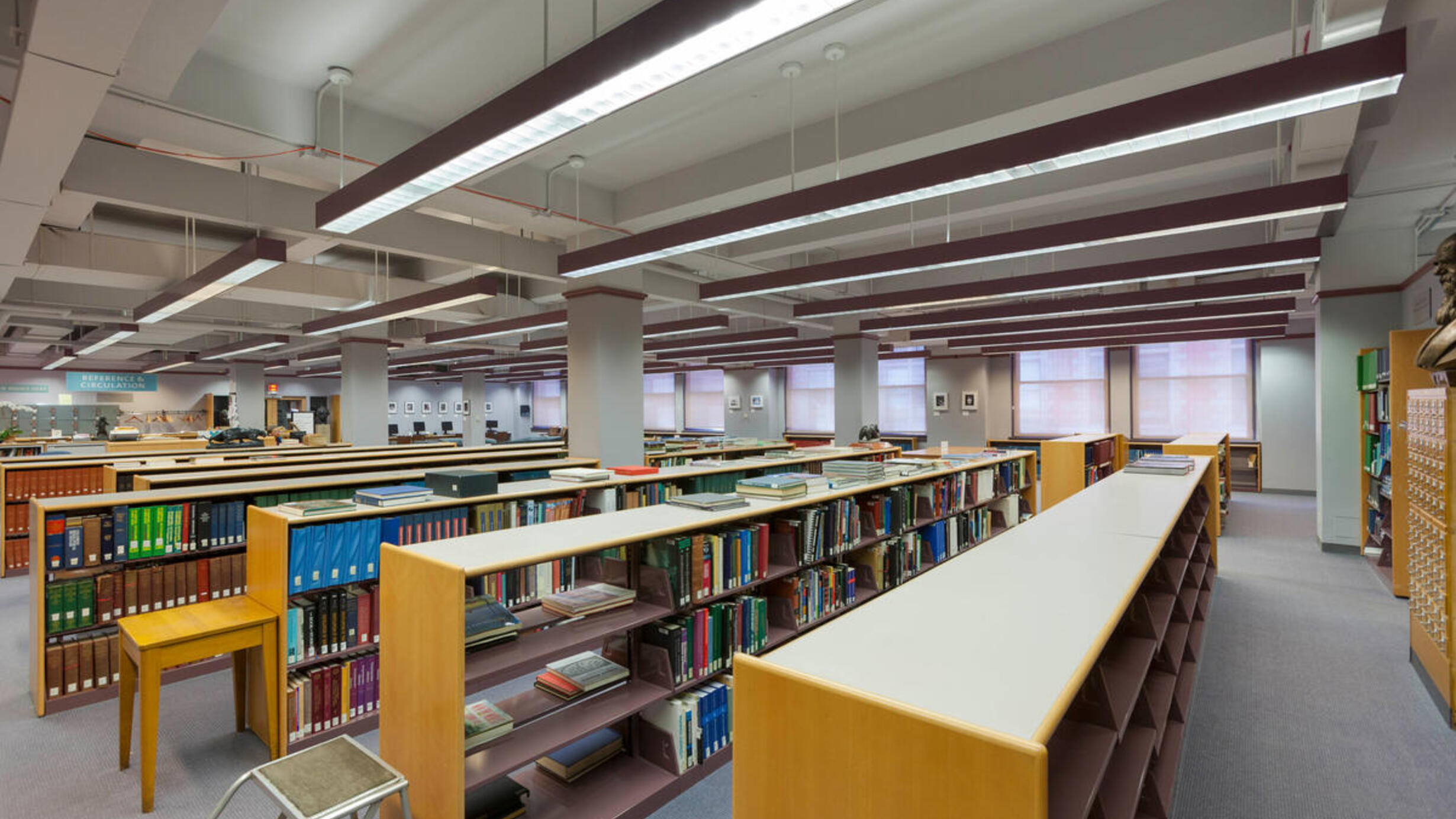 Reading Room, Museum Library, April 11, 2017
M. Shanley /© AMNH
We are in the thick of the summer season, and if you've been out of town (like myself), I hope you're in a temperate climate, plus, the Library has your virtual reading needs covered.
Check out the latest addition of eBooks. Are you new to eBooks? Here's a helpful resource to get you started.
A dictionary of zoology
edited by Michael Allaby
2020, 5th edition
Allaby covers all aspects of the study of animals in more than 5,250 clearly written entries--many new to this edition, including alarm pheromone, Fick's laws, manometer, and synanthrope. Illustrated with many line drawings, the book defines terms from animal behavior, evolution, earth history, zoogeography, genetics, and physiology, provides full taxonomic coverage of arthropods and other invertebrates, fish, reptiles, amphibians, birds, and mammals, and introduces new material on behavioral ecology and conservation biology. In many entries, he recommends web links, which are kept up to date through the Dictionary of Zoology's companion website. Finally, the book includes detailed appendices covering the universal genetic code, endangered animals, the geologic time scale, and SI units. A Dictionary of Zoology comprises over 6,000 entries, covering all aspects of zoology, including terms from the areas of ecology, animal behaviour, evolution, earth history, zoogeography, genetics, and physiology. The dictionary is supplemented by useful web links, accessible via the companion website, as well as diagrams and detailed appendices.
Biological systematics : history and theory
by Igor Ya. Pavlinov.
2021
This volume reviews the historical roots and theoretical foundations of biological systematics in an approachable text. The author outlines the structure and main tasks of systematics. Conceptual history is characterized as a succession of scientific revolutions. The philosophical foundations of systematic research are briefly reviewed as well as the structure and content of taxonomic theories. Most important research programs in systematics are outlined. The book includes analysis of the principal problematic issues as "scientific puzzles" in systematics. This volume is intended for professional taxonomists, biologists of various specialties, students, as well as all those interested in the history and theory of biology and natural sciences.
Branchiura : a compendium of the geographical distribution and a summary of their biology
by Lourelle A.M. Neethling and Annemarè Avenant-Oldewege
2017
This is a compendium of current knowledge about the crustacean subclass Branchiura Thorell, 1864. An overview of the group is presented, starting from the first species description, and reports of taxonomic changes. It also provides a condensed retrospect of each genus and includes the characteristics of each genus, the geographical distribution of each species arranged according to occurrence per continent; and aspects of the anatomy, physiology, host-parasite interactions and phylogeny are discussed. In order to condense the information available on members of the subclass, additional literature sources on each aspect are tabulated. This text will be useful for fish health practitioners, researchers and students of Parasitology and Fish Veterinary Medicine.
Britain's Mammals Updated Edition : A Field Guide to the Mammals of Great Britain and Ireland
by Dominic Couzens, Jon Dunn, Robert Still, Andy Swash
2021
A comprehensive photographic field guide to the mammals of Great Britain and Ireland. Britain's Mammals is a comprehensive and beautifully designed photographic field guide to all the mammals recorded in the wild in Great Britain and Ireland in recent times--including marine mammals, bats and introduced species that have bred. The book features 500 stunning photographs and incorporates invaluable tips and suggestions to help you track down and identify even the most difficult species. This easy-to-use book provides an introduction to the different types of mammal. Concise species accounts focus on identification, and include up-to-date information on sounds, habitat, food, habits, breeding behaviour, and population and status, as well as descriptions of key field signs--including tracks, droppings and nests--that give away the presence of mammals even when they are out of sight. Guidance is also provided on ways of studying and observing mammals--including small-mammal trapping, bat detecting and whale watching. In addition, the book contains sections on mammal conservation, legislation and further sources of useful information. Handy and informative, this guide is the ideal companion for anyone interested in watching mammals in Great Britain and Ireland.
Chimpanzees in context : a comparative perspective on chimpanzee behavior, cognition, conservation, and welfare
edited by Lydia M. Hopper and Stephen R. Ross ; with a foreword by Jane Goodall
2020
The study of the chimpanzee, the human's closest relative, has led scientists to exciting discoveries about evolution, behavior, and cognition over the past half century. In this book, both young and veteran scholars take a fascinating comparative approach to the culture, behavior, and cognition of both wild and captive chimpanzees. By seeking new perspectives in how the chimpanzee compares to other species, the scientists featured in this book offer a richer understanding of the ways in which chimpanzees' unique experiences shape their behavior. They also demonstrate how different methodologies provide different insights, how various cultural experiences influence our perspectives of chimpanzees, and how different ecologies in which chimpanzees live affect how they express themselves. After a foreword by Jane Goodall the book follows sections that examine chimp life histories and developmental milestones, behavior, methods of study, animal communication, cooperation and communication, tool use, chimpanzee care, and chimpanzee conservation. Collectively, these chapters remind us of the importance of considering the social, ecological, and cognitive context of chimpanzee behavior, and how these contexts shape our interpretation of our understanding of chimpanzees. Only by leveraging these powerful perspectives do we stand a chance at improving how we understand, care for, and protect this species.
Coastal ecosystems : environmental importance, current challenges and conservation measures
edited by Sughosh Madhav, Sadaf Nazneen, Pardeep Singh
2022
This volume incorporates theoretical and practical knowledge through case studies and reviews to serve as a baseline of information for coastal ecosystem research, and discusses the impacts of pollution, industrialization, agriculture and climate change on coastal ecosystem biogeochemistry and biodiversity. The case studies address the role of coastal ecosystems as a carbon sink which is getting impacted by anthropogenic disturbances. Through this analysis, the book covers various strategies for the conservation and management of coastal ecosystems, considering their unique ecological and biogeochemical attributes and region-specific threats and impacts. The book will be of interest to a wide range of readers including students, researchers and professionals in coastal ecosystem science, coastal pollution, climate change adaptation, biodiversity conservation and environmental management.
Coastal shrines and transnational maritime networks across India and Southeast Asia
by Himanshu Prabha Ray
2021
This book breaks new ground by examining trans-oceanic connectivity through the perspective of coastal shrines and maritime cultural landscapes across the Bay of Bengal and the South China Sea. It covers a period of expanding networks and cross-cultural encounters from the 3rd century BCE to the 13th century CE. The book examines the distinctiveness of these shrines, and highlights their interconnections, and their role in social integration in South and Southeast Asia. By drawing on data from shipwreck sites, the author elaborates on the material and religious intersections and transmissions between cultures across the seas. Many of these coastal shrines survived into the colonial period when they came to be admired for their aesthetic value as 'monuments'. As nation states of the region became independent, these shrines were often inscribed on UNESCO's World Heritage List on account of their Outstanding Universal Values. The book argues that in the 21st century there is a need to promote the cultural connectivity of the past as transnational heritage on UNESCO's global platform to preserve and protect our shared heritage. The volume will be essential reading for academics and researchers of archaeology, anthropology, museum and heritage studies, history of South and Southeast Asia, religious studies, cultural studies, and Asian studies.
Coenraad Jacob Temminck and the emergence of systematics (1800-1850)
by Maria Eulàlia Gassó Miracle
2022
Coenraad Jacob Temminck and the Emergence of Systematics (1800-1850) is the first study to examine in detail the life and work of Coenraad Jacob Temminck (1778-1858), the Dutch naturalist who was the first director of Rijks Museum van Natuurlijke Historie (National Museum of Natural History) in Leiden, The Netherlands. This study situates Temminck's activities in the context of European natural history during the early to the mid-nineteenth century. Three issues which defined the era are discussed in more detail: the growing European colonial territories, the rise of scientific meritocracy, and the emergence of systematics as a discipline. Temminck's biography elucidates how and why systematics developed, and why its status within the natural sciences has been a matter of discussion for more than a century.
Conservation practices in museums : for researchers and museum professionals
by Nobuyuki Kamba
2022
The author introduces conservation science and management of cultural heritages in museums. In particular, a comprehensive conservation study and practical techniques are described. Aspects such as examination and diagnosis of cultural heritage by scientific data recording of humidity, luminosity, intensity of vibration and shock, among others, are introduced. Preventive and remedial conservation with X-ray imaging and X-ray fluorescence and other risk-control methods are also explained. The author provides basic theories based on a scientific view for the methods introduced in this book. They can be compared with those used at other museums, and readers can employ them to adapt and improve their methods. Today, maintaining smooth internal communication is key for scientists and curators with different academic backgrounds and from different departments working together on conservation projects at the museum. The author addresses the current global trend of preserving rather than repairing cultural heritage at museums and emphasizes its importance.
Darwin's "Historical sketch" : an examination of the 'preface' to the Origin of species
by Curtis N. Johnson
2020
Charles Darwin's "Historical Sketch" has appeared as a preface to nearly every authorized edition of Darwin's Origin of Species since the second English edition was published in 1860. The "Historical Sketch" provides a brief history of opinion about the species question as a prelude to Darwin's own independent contribution to the subject, but its provenance is somewhat obscure. While some previous thinkers anticipated portions of Darwin's theory long before he did, none of them saw the complete picture as clearly as Darwin. As such, he was able to claim originality and priority for the idea that has transformed our understanding of nature. His "Historical Sketch" was written as an attempt to address these issues. Some things are known about its production, such as when it first appeared and what changes were made to it between its first appearance in 1860 and its final form in 1866. Other questions remain unanswered. How did it evolve in Darwin's mind? Why did he write it at all? What did he think he was accomplishing by prefacing it to Origin of Species? Curtis Johnson approaches these questions, offering some clarity on the originality of Darwin's work. Darwin's "Historical Sketch" is the first comprehensive study of Darwin's "Preface" to Origin of Species. Johnson conveys the pressure Darwin felt from friends and other correspondents to showcase the originality of his theory, and he tackles questions of originality by carefully examining the 35 authors Darwin referenced in this monumental text.
Elephant trails : a history of animals and cultures
by Nigel Rothfels
2021
Elephant Trails is a compelling portrait of what the author terms "our elephant." The author traces a group of ideas about elephants in the West-that they are wise, deeply emotional, have a special understanding of death, have great memories, and are afraid of mice-to paint a general picture of what he calls "our elephant," the idea of the elephant that has been part of our thinking for millennia. The book is an intellectual and cultural history of the elephant that uses a broad range of published sources along with traditional and less usual archives.
Fish diversity of Japan : evolution, zoogeography, and conservation
edited by Yoshiaki Kai, Hiroyuki Motomura, Keiichi Matsuura
2022
This book reviews and summarizes the studies on the fish diversity of Japan. It covers the present knowledge of ichthyofauna, habitat distribution, phylogeography, ecology, morphology, and conservation, as well as the history of ichthyology and fish collections in Japan. The book comprises five parts: I. Fish Diversity and Ichthyology of Japan, II. Habitat Distribution and Species Diversity, III. Diversity within Species: Phylogeographic Perspective on Japanese Fishes, IV. Morphological and Ecological Diversifications, and V. Conservation of Fish Diversity in Japan. The Japanese Archipelago is surrounded by two major warm and one cold currents. It is located in the western North Pacific and encompasses several climatic regimes from north to south. Although the land area of Japan is small, the Exclusive Economic Zone (EEZ) of Japan ranks as the sixth largest in the world, including several marginal seas (Sea of Okhotsk, Sea of Japan, and East China Sea), and deep trenches (Izu-Ogasawara, Japan, and Kurile Trenches). Owing to a variety of marine habitats and a complex geological history, Japan has a rich fish species diversity, representing over 4,500 species in 370 families. The richness of fish species diversity has attracted many scientists since the late 1700s, and continuous studies have led to the development of ichthyology in Japan. With chapters written by leading experts in the field, the book will provide a stimulating and reliable resource for future research and contribute to the progress of ichthyology of the world.
Game theory in biology : concepts and frontiers
by John M. McNamara, Olof Leimar
2021
The principles of game theory apply to a wide range of topics in biology. This book presents the central concepts in evolutionary game theory and provides an authoritative and up-to-date account. The focus is on concepts that are important for biologists in their attempts to explain observations. This strong connection between concepts and applications is a recurrent theme throughout the book which incorporates recent and traditional ideas from animal psychology, neuroscience, and machine learning that provide a mechanistic basis for behaviours shown by players of a game. The approaches taken to modelling games often rest on idealized and unrealistic assumptions whose limitations and consequences are not always appreciated. The authors provide a novel reassessment of the field, highlighting how to overcome limitations and identifying future directions. Game Theory in Biology is an advanced textbook suitable for graduate level students as well as professional researchers (both empiricists and theoreticians) in the fields of behavioural ecology and evolutionary biology. It will also be of relevance to a broader interdisciplinary audience including psychologists and neuroscientists.
Hawkmoths of Australia : identification, biology and distribution
by Maxwell S. Moulds, James P. Tuttle and David A. Lane
2020
Hawkmoths are large charismatic insects with highly variable and colourful larvae. Some species are specialised in their habitat preferences, but others are widespread and often encountered in gardens. However, little is known about most species, and associating the adults with their larvae has previously been difficult or impossible. Hawkmoths of Australia allows identification of all of the Australian hawkmoths for the first time and treats species found on mainland Australia, Tasmania and all offshore islands within Australian limits. It presents previously undescribed life histories of nearly all species and provides a comprehensive account of hawkmoth biology, including new parasitoids and their hawkmoth hosts. Detailed drawings and photographs show the external and internal morphology of adults and immatures, and eggs, larval instars and pupa. Keys are provided for last instar larvae and pupae of the 71 species that the authors have reared. The book is concluded by a glossary, appendices to parasitoids and larval foodplants, an extensive reference list with bibliographical notes and a comprehensive index. The wealth of new information in this book makes it an essential reference for anyone interested in these moths. Hawkmoths of Australia is Volume 13 of the Monographs on Australian Lepidoptera series.
Henry Fairfield Osborn : Race and the Search for the Origins of Man
by Brian Regal
2018, 1st edition
The discovery in the 1920s of a huge cache of fossils in the Gobi Desert fuelled a mania for dinosaurs that continues to the present. But the original goal of the expedition was to search for the origins of man. Henry Fairfield Osborn (1857-1935), director of the American Museum of Natural History, stood at the forefront of the debate over human evolution and the expedition aimed to prove his theory of human origins. Osborn rejected the idea of primate ancestry and constructed a non-Darwinian theory that the evolution of man was the long adventurous story of individuals and groups exerting personal will-power and inborn characteristics to achieve both biological and spiritual success. It is an idea that still echoes today. Study of Osborn's thinking, however, has been obscured by the perception that racism influenced his theories. Brian Regal paints a different and more textured picture in this book - he shows that Osborn's views on race, like his political ideas, were motivated by his science, itself grounded in religious doctrine. His belief in the Central Asian origins of man, his role as an activist for eugenic reform and immigration controls, his support for Nordicism, his place in the 'New' versus 'Old' biology debate, his role in the Christian Fundamentalist controversy, the Scopes Monkey trial, and finally his construction of the 'Dawn Man' hypothesis - all stemmed from his desire to support his human evolution theory, and point the way to salvation. This biography charts Osborn's intellectual development, from its roots in the eclectic Christianity of his mother, through his student days with Arnold Guyot, James McCosh, and T.H. Huxley, to his mature work at the American Museum. It examines his trials and tribulations, friendships and conflicts, and the world in which he lived: all contributed to the construction of his theory. It is the dramatic story of a man holding onto ideas that for him represented the very meaning of life itself.
Invertebrate histology
edited by Elise E.B. LaDouceur
2021
Invertebrate Histology offers the first comprehensive reference to histology in invertebrate species. Organized by taxonomic group, each chapter includes an overview of the group, gross anatomy with dissection tips, detailed histologic information, and a bibliography. Written by the leading experts in the field, the book is an essential reference for veterinary pathologists, biologists, and zoologists, as well as students in this field. Each chapter is well supported by color photographs and line drawings depicting gross anatomy and histology. Invertebrate Histology provides an authoritative reference to complete information on histology in invertebrate species.
Life through the ages II : twenty-first century visions of prehistory
written and illustrated by Mark P. Witton
2020
What was life like on our planet long before the early humans emerged? Paleontologist Dr. Mark P. Witton draws on the latest twenty-first century discoveries to re-create the appearances and lifestyles of extinct, fascinating species, the environments they inhabited, and the challenges they faced living on an ever-changing planet. A worthy successor to Charles Knight's beloved 1946 classic, Life through the Ages II takes us on an unforgettable journey through the evolution of life on Earth. Dozens of gorgeous color illustrations and meticulously researched, accompanying commentary showcase the succession of lost worlds, defining events, and ancient creatures that have appeared since the earth was formed, creating an indispensable guide to explore what came before us.
Mathematical models in the biosciences 2
by Michael Frame
2021
Volume Two of an award-winning professor's introduction to essential concepts of calculus and mathematical modeling for students in the biosciences. This is the second of a two-part series exploring essential concepts of calculus in the context of biological systems. Building on the essential ideas and theories of basic calculus taught in Mathematical Models in the Biosciences I, this book focuses on epidemiological models, mathematical foundations of virus and antiviral dynamics, ion channel models and cardiac arrhythmias, vector calculus and applications, and evolutionary models of disease. It also develops differential equations and stochastic models of many biomedical processes, as well as virus dynamics, the Clancy-Rudy model to determine the genetic basis of cardiac arrhythmias, and a sketch of some systems biology. Based on the author's calculus class at Yale, the book makes concepts of calculus less abstract and more relatable for science majors and premedical students.
Molecular genetics and genomics tools in biodiversity conservation
edited by Ashwani Kumar, Baharul Choudhury, Selvadurai Dayanandan, Mohammad Latif Khan
2022
This book provides insight into the use of molecular and genomic techniques to the study of populations of critically important species at various geographical scales. It delves into a wide range of issues relevant to biodiversity conservation, such as population differentiation, landscape genomics, ecological interactions, phylogenetics, phylogeography, metagenomics, molecular methods, and data processing. The current rate of biodiversity loss is unprecedented and valuable genetic resources are being lost at an alarmingly rate. Effective strategies to conserve these genetic resources are essential to maintain healthy ecosystems with inter-dependent species. The book is an invaluable resource for training undergraduate and graduate students, postdoctoral fellows, and for young researchers. This book is particularly useful for the policy makers and academics who want to learn about important concepts in population and conservation genetics and genomics.
Mosquitoes of the world
by Richard C. Wilkerson, Yvonne-Marie Linton and Daniel Strickman
2021
In this two-volume set, three of the world's leading experts on the topics of mosquito disease, ecology, and systematics have created the definitive reference work on the family Culicidae. This book provides an overview of the biology, evolution, and ecology of mosquitoes and then supplies genus-by-genus accounts with close-up images. This is a unique reference work for entomologists, public health professionals, and reference libraries.
Mutation, randomness, and evolution
by Arlin Stoltzfus
2021
Mutation, Randomness, and Evolution presents a new understanding of how the course of evolution may reflect biases in variation and unites key concerns of molecular and microbial evolution, evo-devo, evolvability, and self-organization by placing these concerns on a solid theoretical and empirical foundation. It situates them within a broader movement away from externalism and towards a focus on the internal details of living systems, including their evolutionary causes and their predictable evolutionary consequences. In the neo-Darwinian theory, by contrast, selection is the potter and variation is the clay: external selection does the important work of evolution, and gets all the credit, while variation merely supplies an abundance of random raw materials. Indeed, one of the meanings of the randomness doctrine is that any peculiarities or tendencies of mutation are ultimately irrelevant. The theory that the course of evolution is determined externally, without any dispositional role for internal factors, was particularly attractive before the molecular revolution, when biologists had little systematic knowledge of internal factors. Today, scientists are deeply immersed in the molecular, genetic, and developmental details of life. The potential for a new understanding of the role of these internal factors rests on the recognition that the introduction process is a distinctive kind of cause, not the same thing (conceptually, historically, or theoretically) as the classical "force" of mutation, but with different implications, including the ability to impose biases on adaptive evolution. This predicted influence is verified by recent evidence from episodes of adaptation traced to the molecular level.
Naturalists in the field : collecting, recording and preserving the natural world from the fifteenth to the twenty-first century
edited by Arthur MacGregor
2018
Interposed between the natural world in all its diversity and the edited form in which we encounter it in literature, imagery and the museum, lie the multiple practices of the naturalists in selecting, recording and preserving the specimens from which our world view is to be reconstituted. The factors that weigh at every stage are here dissected, analysed and set within a historical narrative that spans more than five centuries. During that era, every aspect evolved and changed, as engagement with nature moved from a speculative pursuit heavily influenced by classical scholarship to a systematic science, drawing on advanced theory and technology. Far from being neutrally objective, the process of representing nature is shown as fraught with constraint and compromise.
Photo atlas of mineral pseudomorphism
by J. Theo Kloprogge, Rob Lavinsky
2017
Photo Atlas of Mineral Pseudomorphism provides a comprehensive overview on the topic of pseudomorphism—in which one mineral is replaced by another but still maintains its original crystal form—a phenomenon that is far more common than currently thought and is extremely important in understanding the geologic history of rocks. There are many examples of pseudomorphs, but they have never been brought together in a single reference book that features high-resolution, full-color pseudomorph formations together with the original minerals that they have replaced. This book is the essential reference book for mineralogists, geologists or anyone who encounters mineral pseudomorphism in their work.
Pollination : the enduring relationship between plant and pollinator
by Timothy Walker
2020
An enticing illustrated look at pollination, one of the most astonishing marvels of the natural world. Pollination is essential to the survival of most plants on Earth. Some plants rely on the wind to transport pollen from one flower to another. Others employ an array of ingenious strategies to attract and exploit pollinators, whether they be insects, birds, or mammals. This beautifully illustrated book provides an unprecedented look at the wonders of pollination biology, drawing on the latest science to explain the extraordinarily complex relationship between plant and pollinator, and revealing why pollination is vital for healthy ecosystems and a healthy planet. Timothy Walker offers an engaging introduction to pollination biology and explores the many different tactics of plant reproduction. He shows how wind and water can be effective yet wildly unpredictable means of pollination, and describes the intimate interactions of pollinating plants with bees and butterflies, beetles and birds, and lizards and bats. Walker explores how plants entice pollinators using scents, colors, and shapes, and how plants rely on rewards as well as trickery to attract animals. He sheds light on the important role of pollination in ecology, evolution, and agriculture, and discusses why habitat management, species recovery programs, and other conservation efforts are more critical now than ever. Featuring hundreds of color photos and illustrations, Pollination is suitable for undergraduate study and is an essential resource for naturalists, horticulturalists, and backyard gardeners.
Snakes of the world : a supplement
by Jeff Boundy
2021
Snakes of the World: A Catalogue of Living and Extinct Species, published in 2014, was the first catalogue of its kind and covered all living and fossil snakes described between 1758 and 2012. This new volume will be a supplement to this important herpetological reference and will include new published data on snakes named and recognized since 2012.
Species problems and beyond : contemporary issues in philosophy and practice
edited by John S. Wilkins, Frank E. Zachos, Igor Ya. Pavlinov
2022
This book presents opposing views on the current philosophical and conceptual issues of the Species Problem in biology. Topics include ontology of species, definitions of species category and units, species rank, speciation issues, nomenclature, ecology, and species conservation.
Spider webs : behavior, function, and evolution
by William Eberhard
2020
In this lavishly illustrated, first-ever book on how spider webs are built, function, and evolved, William Eberhard provides a comprehensive overview of spider functional morphology and behavior related to web building, and of the surprising physical agility and mental abilities of orb weavers. For instance, one spider spins more than three precisely spaced, morphologically complex spiral attachments per second for up to fifteen minutes at a time. Spiders even adjust the mechanical properties of their famously strong silken lines to different parts of their webs and different environments, and make dramatic modifications in orb designs to adapt to available spaces. This extensive adaptive flexibility, involving decisions influenced by up to sixteen different cues, is unexpected in such small, supposedly simple animals. As Eberhard reveals, the extraordinary diversity of webs includes ingenious solutions to gain access to prey in esoteric habitats, from blazing hot and shifting sand dunes (to capture ants) to the surfaces of tropical lakes (to capture water striders). Some webs are nets that are cast onto prey, while others form baskets into which the spider flicks prey. Some aerial webs are tramways used by spiders searching for chemical cues from their prey below, while others feature landing sites for flying insects and spiders where the spider then stalks its prey. In some webs, long trip lines are delicately sustained just above the ground by tiny rigid silk poles. Stemming from the author's more than five decades observing spider webs, this book will be the definitive reference for years to come.
Splendid ghost moths and their allies in Australia : a revision of the Australian 'hepialine' Hepialidae (the genera Abantiades, Aenetus, Archaoaenetus, Oncopera, and Zelotypia)
by Thomas J Simonsen
2018
The Hepialidae (Ghost Moths) are a family of often spectacular micro-moths. The Australian region is one of the hot spots for hepialid diversity and the fauna is divided into three groups: primitive Hepialidae with small, often overlooked species; oxycanine Hepialidae, containing the large and poorly known genus Oxycanus and its allies; and finally the hepialine Hepialidae, which span from stunning, green Splendid Ghost Moths in the genus Aenetus, to the enormous moths in the genera Zelotypia and Abantiades (which include some of the most impressive insects in the world), to smaller, drab pest species in the genus Oncopera. Splendid Ghost Moths and Their Allies is the first work to provide comprehensive information about the taxonomy, biology, diversity and morphology of all 70 Australian hepialine Hepialidae species, including the descriptions of 15 species and one genus new to science. Each species is illustrated with colour photographs of males and females and drawings of the genitalia, and the book also contains identification keys to genera and species. Distribution maps and detailed information on where each species is found are included, as well as a species richness map for the group in Australia. This book is an invaluable reference for moth enthusiasts, professional entomologists and nature conservationists alike.
Studies on decapoda and copepoda in memory of Michael Türkay
edited by Celio Magalhaes, Carola Becker, Peter Davie, Sven Klimpel, Pedro Martinez-Arbizu and Moritz Sonnewald
2018
This volume is dedicated to the memory of the eminent carcinologist Michael Türkay, of the Research Institute and Natural History Museum Senckenberg, Frankfurt am Main, Germany. It is a tribute to his outstanding international contribution to the study of decapod crustaceans. An extensive account of Michael's life and achievements is presented, along with thirty-one scientific papers by 62 of his friends and colleagues from around the world. The book's focus is almost entirely on decapod crustaceans, and covers a variety of topics, including taxonomy, systematics, zoogeography, morphology, palaeontology, genetics, general biology and ecology. Numerous new taxa are described from a number of marine and freshwater groups, including one new genus and 13 new species named in honour of Michael himself.
Studies on Eurytemora : Proceedings of the Eurytemora Conference, St. Petersburg, 2019
edited by Natalia Sukhikh, Sami Souissi, Gesche Winkler, Victor R. Alekseev
2021
The monograph contains new information about biodiversity, morphology and ecology in the model group of estuarine crustaceans, Eurytemora, widely distributed in the Northern Hemisphere. Several chapters treat questions on ecology and phylogeny related to marine species and time and place of origin of these calanoid copepod species.
Studies on the taxonomy of crustaceans : prof. Ruiyu Liu memorial volume
edited by Xinzheng Li, Wenliang Liu, and Wei Jiang
2021
This volume is devoted to the memory of the eminent carcinologist Professor Ruiyu Liu (1922-2012) of the Institute of Oceanology of Chinese Academy of Sciences, Qingdao, China. Since 1949, Professor Liu had devoted his life to studying taxonomy, systematics, ecology, zoogeography and aquaculture and published a total of more than 210 papers and monographs. He described two new genera, 52 new species and one new subspecies, including not only crustaceans but also cnidarians, polychaetes and molluscs. In this volume forty of his friends and colleagues put together sixteen papers to honour Professor Liu, and named after him three new genera and eleven new species.
Texas snakes : a field guide
James R. Dixon, John E. Werler, and Michael R.J. Forstner with line drawings by Regina Levoy
2020, Revised edition
With species ranging from the legendary, fear-inspiring western diamond-backed rattlesnake to the tiny threadsnake, Texas has a greater diversity of snakes than any other state in the country. This fully illustrated field guide to Texas snakes, written by two of the state's most respected herpetologists and updated by their student and later colleague, gives you the most current and complete information to identify and understand all 111 species and subspecies. Texas Snakes: A Field Guide has all the resources you need to identify snakes in the wild and in your own backyard.
The Indigenous paleolithic of the western hemisphere
by Paulette F. C. Steeves
2021
The Indigenous Paleolithic of the Western Hemisphere is a reclaimed history of the deep past of Indigenous people in North and South America during the Paleolithic. Paulette F. C. Steeves mines evidence from archaeology sites and Paleolithic environments, landscapes, and mammalian and human migrations to make the case that people have been in the Western Hemisphere not only just prior to Clovis sites (10,200 years ago) but for more than 60,000 years, and likely more than 100,000 years. Steeves discusses the political history of American anthropology to focus on why pre-Clovis sites have been dismissed by the field for nearly a century. She explores supporting evidence from genetics and linguistic anthropology regarding First Peoples and time frames of early migrations. Additionally, she highlights the work and struggles faced by a small yet vibrant group of American and European archaeologists who have excavated and reported on numerous pre-Clovis archaeology sites. In this first book on Paleolithic archaeology of the Americas written from an Indigenous perspective, The Indigenous Paleolithic of the Western Hemisphere includes Indigenous oral traditions, archaeological evidence, and a critical and decolonizing discussion of the development of archaeology in the Americas.
The ocean sunfishes : evolution, biology and conservation
editors, Tierney M. Thys, California Academy of Sciences, San Francisco, CA, Graeme C. Hays, Centre for Integrative Ecology, Deakin University, Geelong, Australia, Jonathan D.R. Houghton, Queen's University Belfast, School of Biological Sciences, Belfast, UK.
2021
The Ocean Sunfishes: Evolution, Biology and Conservation is the first book to gather into one comprehensive volume our fundamental knowledge of the world-record holding, charismatic ocean behemoths in the family Molidae. From evolution and phylogeny to biotoxins, biomechanics, parasites, husbandry and popular culture, it outlines recent and future research from leading sunfish experts worldwide This synthesis includes diet, foraging behavior, migration and fisheries bycatch and overhauls long-standing and outdated perceptions. This book provides the essential go-to resource for both lay and academic audiences alike and anyone interested in exploring one of the ocean's most elusive and captivating group of fishes.
The sociality of indigenous dance in Alaska : happiness, tradition, and environment among Yupik on St. Lawrence Island and Iñupiat in Utqiaġvik
by Hiroko Ikuta
2022
This book explores indigenous dances and social relationships surrounding the dance activities among Yupik on St. Lawrence Island and Iñupiat in Utqiaġvik, Northern Alaska. Yupik and Iñupiat proudly distinguish their indigenous styles of dance, locally called 'Eskimo dance', from Western styles of dance, such as ballroom, disco or ballet. Based on two years of intensive fieldwork and 18 years of experience living in Alaska, Ikuta sets out to understand how Yupik and Iñupiaq dances are at the centre of social relationships with the environment, among humans, between humans and animals, and between Native and the Euro-American societies. It also examines how the nature and structure of dance are connected to cultural politics, wrought by political, economic and historical events.
Vital voids : cavities and holes in Mesoamerican material culture
by Andrew Finegold
2021
An innovative study argues that in Mesoamerica, holes were conceived and produced as conduits of vital forces and material abundance, prerequisites for the emergence of life.
Can't get enough? For additional new books see our New Books page!
The AMNH Library is not currently open to the public. Resources are available to Museum staff and items may circulate to staff members with full borrowing privileges. Staff can submit an application for access here: https://www.amnh.org/research/research-library/staff-access-and-registration
This entry was written by Iris Lee, Cataloging and Metadata Librarian.