The Spring Lunch: Science, Society, and Our Environment
Tuesday, April 18, 2023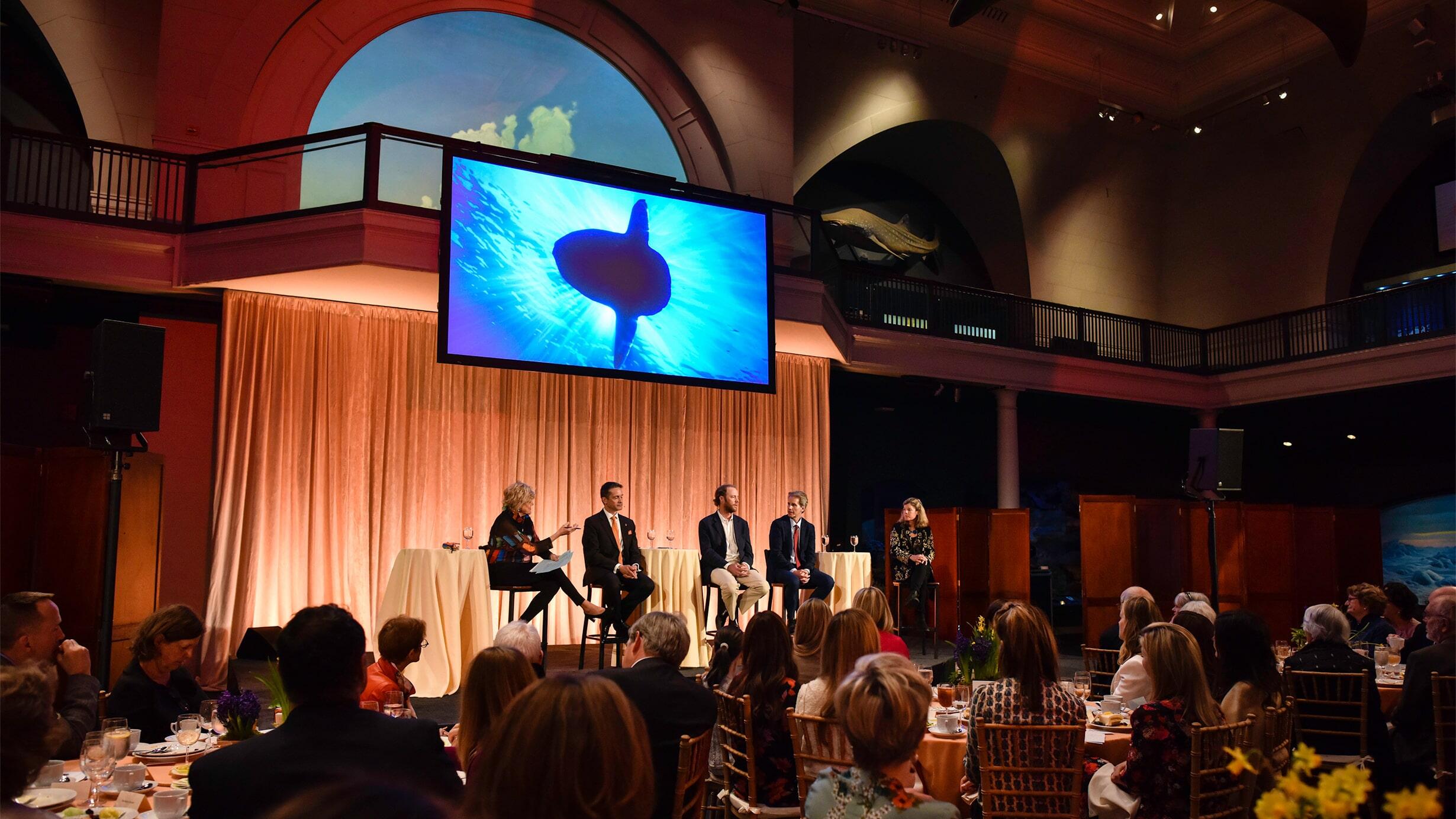 © AMNH/D. Finnin
The next Spring Lunch will be held in April, 2024.
What does the current decline in insect biodiversity mean for cities like New York?
There is substantial evidence that insects are declining in both abundance and diversity across many regions of the planet. These unsustainable rates of loss will have significant consequences for the functioning of the planet's ecosystems. Essential ecosystem services provided by insects—pollination, litter decomposition and soil formation, pest control, and nutrient cycling—are vital for the functioning of the biosphere, food production, and human health.
Moderated by New York City Department of Parks and Recreation Commissioner Sue Donoghue, the panel included Ana Luz Porzecanski, director of the Museum's Center for Biodiversity and Conservation, and Jessica Ware, curator in the Division of Invertebrate Zoology, and discussed the importance of understanding and reversing the unprecedented loss of insects and its implications for the planet's biodiversity, and, more specifically, what it means for communities with large concentrations of humans, including New York.
Meet the Speakers
Commissioner Sue Donoghue, Moderator
Susan M. Donoghue became Commissioner of the New York City Department of Parks and Recreation in February 2022. From 2014 until 2022, she served as president of Prospect Park Alliance, the non-profit organization that operates the park in partnership with the City of New York, and as Prospect Park Administrator.
Dr. Ana Luz Porzecanksi, Panelist
Dr. Porzecanski's work focuses on understanding biodiversity and how to sustain it effectively for the future through scientific research, evidence-based conservation management, and effective capacity development. As director of the Center for Biodiversity and Conservation at the American Museum of Natural History, she oversees strategic planning, project development, fundraising, and a multidisciplinary team leading conservation initiatives around the world.
Dr. Jessica Ware, Panelist
Dr. Ware's research focuses on the evolution of behavioral and physiological adaptations in insects, with an emphasis on how these occur in Odonata (dragonflies and damselflies) and Dictyoptera (termites, cockroaches, and mantises). Ware, who is a curator in the Museum's Division of Invertebrate Zoology, was recently awarded a Presidential Early Career Award for Scientists and Engineers (PECASE) medal from the U.S. government for her work on insect evolution.
Event Co-Chairs
Sarah M. Belz
Elena Ende
Katheryn P. Kempner
Alexandra Mondre
Catherine B. Sidamon-Eristoff
Contribute
If you are unable to attend The Spring Lunch, please consider making a tax-deductible donation in support of the event.
All contributions are tax-deductible to the extent allowed by law. The non-deductible portion of each table is $1,080 and of each ticket is $135; those values will be reflected on all tax acknowledgements issued for Spring Lunch tickets.
If you wish to purchase tickets through a gift vehicle that does not allow for the receipt of non-deductible benefits, please contact your tax adviser or your donor-advised fund's (DAF) supporting organization for more information, including the possibility of waiving return benefits or using an alternate funding source.