Donations from remarkable female scientists to the American Museum of Natural History
by Marisa Kurtz on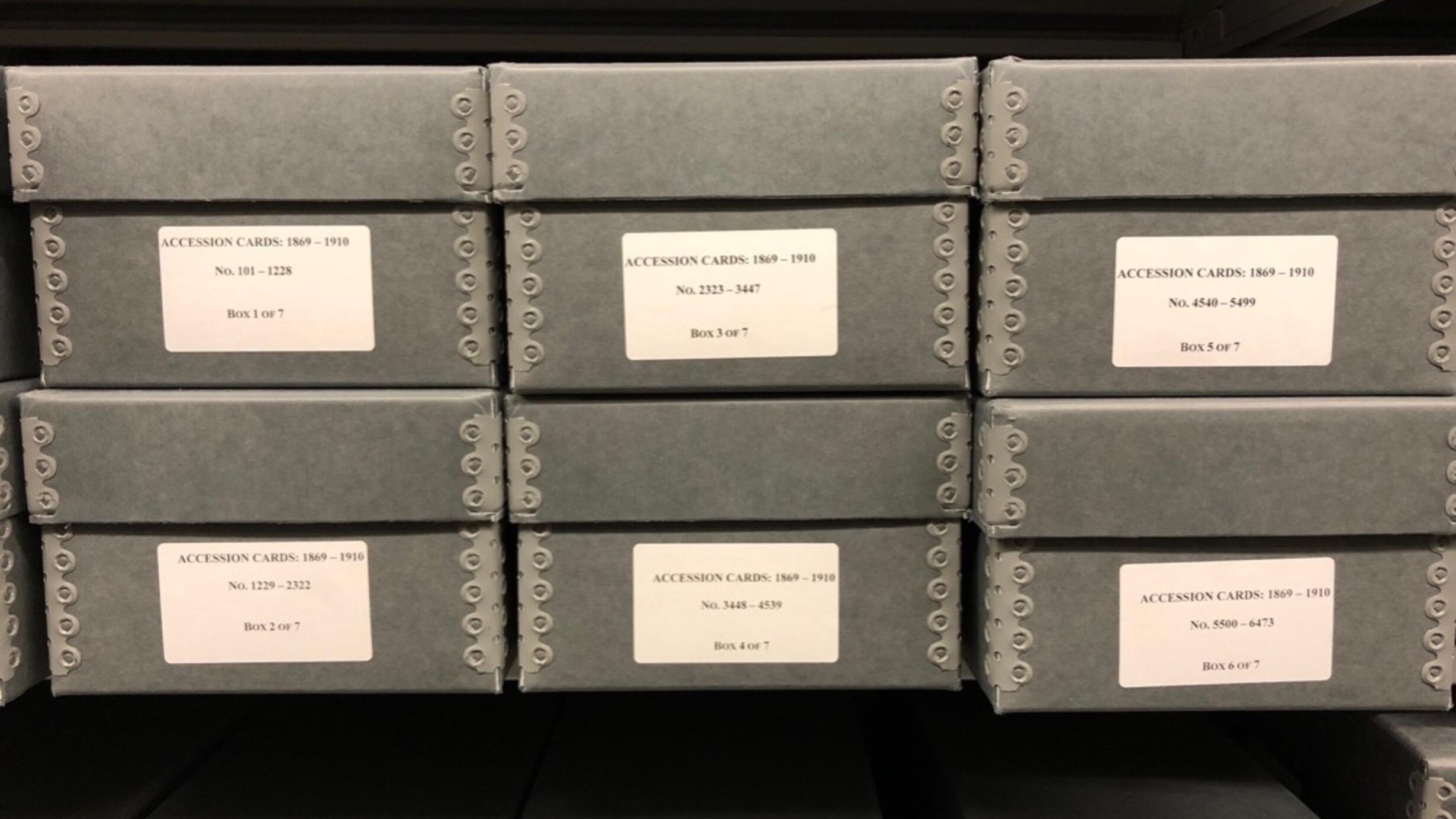 Boxes from the American Museum of Natural History Accession Card Archive
H. Knapp/© AMNH
As highlighted in our second blog entry, since the Museum's founding in 1869, women have contributed objects, specimens, and artwork to our ever-expanding research collections. While some female benefactors donated under their husbands' names, others chose to use their own names. A third category of women donors were distinguished scientists in their own right. Their contributions are the culmination of observation, study, research, and publication at a time when women's contributions to science were generally less recognized than that of their male counterparts. Here, we shine a spotlight on some of these women and their extraordinary accomplishments.
Mabel Osgood Wright (American, January 26, 1859 – July 16, 1934)
Although born in New York City, Wright spent much of her childhood in Fairfield, Connecticut, where she learned to appreciate the beauty of nature. She spent much of her time photographing and writing about her observations. At age 16, she published her first nature essay, "A New England May Day," in the New York Evening Post. In 1895, she published her second book, Birdcraft: A Field Book of Two Hundred Song, Game, and Water Birds, which is regarded as an early example of modern birdwatching guides intended for popular audiences. [1] Her life's passions were education, conservation, and preservation of nature and its inhabitants. She was deeply involved with the Audubon Movement founding the Connecticut Audubon Society and serving as a contributing editor to Bird-Lore, an illustrated bi-monthly magazine, organized by preeminent American ornithologist Frank Chapman. Today, her legacy lives on at the pioneering preserve she designed, The Birdcraft Museum and Sanctuary in Fairfield, CT, an officially designated National Historic Landmark on the Connecticut Women's Heritage Trail. [2]
Anna "Annie" Trumbull Slosson (American, May 18, 1838 – October 4, 1926)
Most of her life, Annie Slosson was a talented short fiction writer in the American Literary Regionalism movement. However, her enduring interest in the natural world developed into a unique passion for entomology later in life. Slosson was one of the founding members of the New York Entomological Society and had the honor of becoming its first female member. She lacked formal scientific education but her collecting, influence, and generous donations were so abundant that over 100 newly discovered species bear the epithet slossoni or slossonae in her honor. [3]
Zelia Nuttall (American, September 6, 1857 – April 12, 1933)
Nuttall traveled extensively as a young woman but found a deep-rooted interest in pre-Aztec Mexican culture and history. Unlike many archeologists and anthropologists of the time, she lived in Mexico for many years developing close ties with the community. She had a special talent for languages that enabled her to move deftly within international circles. She was also known for her unique ability to locate rare codices and manuscripts like the aptly named Codex Zouche-Nuttall for which she published its translation, historical context, and importance. [4] Above all, Nuttall hoped that her examinations of ancient civilizations could help shape a positive narrative of native cultures devastated by colonialism.
Maria Vasilievna Pavlova (Ukrainian, June 26, 1854 – December 23, 1938)
Born in Ukraine, Pavlova studied the natural sciences in Kiev and Paris before returning to Moscow where she would earn distinction as one of Russia's early accomplished geologists and vertebrate paleontologists. Upon her marriage to Alexei P. Pavlov, a notable geologist specializing in stratigraphy, she was granted access to study Moscow State University's paleontology and mineralogy collections which contained materials from Russia, Europe, and America. Pavlova's research focused on Tertiary mammalian evolution, specifically hoofed animals like horses. She endeavored to substantiate paleontology as an independent science and promoted the establishment of a paleontological museum at Moscow State University which was named in recognition of her and her husband's lifelong work. [5] In addition to her research and published works, Pavlova further cemented her legacy by teaching and mentoring budding female scientists, many of whom made significant contributions to the fields of geology and paleontology.
Elizabeth Gertrude Britton née Knight (American, January 9, 1858 – February 25, 1934)
Born in New York City, Britton spent her early childhood in Cuba before returning to New York to graduate college with a growing interest in botany. Among her early accomplishments were the discovery of a fertile moss, Eustichium norvegicum, and the detection of a rare curly grass fern, Schizaea pusilla. [6] Britton specialized in bryology, a branch of botany focused on bryophytes colloquially known as mosses, liverworts, and hornworts. A fervent fieldworker, collector, and author, she wrote 346 papers, 170 of which were on mosses. Later, she dedicated her time to the conservation and preservation of wildflowers. Throughout her career, she was a dedicated educator and advocate, even leading to the adoption of legislation in some states. She and her husband, Nathaniel Lord Britton, another considerable figure in American botany, are known for playing significant roles in the fundraising and creation of the New York Botanical Gardens. Today, the New York Botanical Garden Mertz Library proudly recognizes her tenure as Honorary Curator of Mosses by housing her personal archive.
The American Museum of Natural History Accessions Archive Digitization Project continues to uncover fascinating narratives within our storied collection. We appreciate the support of the IMLS and the Shelby White & Leon Levy Archive Initiative to better serve our collection, staff, and museum visitors.
This is the third post in a series about the Registrar's Accessions Archive Digitization Project. This entry was written by Project Digital Archivist Marisa Kurtz.
This project was made possible in part by the Institute of Museum and Library Services, IMLS Grant #MA-249747-OMS-21.
[1] Dunlap, T. R. (2011). In the Field, Among the Feathered. Oxford University Press.
[2] Mabel Osgood Wright. (n.d.). CT Women's Hall of Fame. Retrieved February 21, 2023, from https://www.cwhf.org/inductees/mabel-osgood-wright
[3] Davis, Wm. T. (1926). Annie Trumbull Slosson. Journal of the New York Entomological Society, 34(4), 361–365. http://www.jstor.org/stable/25004166
[4] McNeill, L. (2018, November 5). The Archaeologist Who Helped Mexico Find Glory in Its Indigenous Past. Smithsonian Magazine. https://www.smithsonianmag.com/science-nature/archaeologist-who-helped-mexico-find-glory-its-past-180970700/
[5] Ogilvie, M. B., Harvey, J. D. (2000). The Biographical Dictionary of Women in Science: L-Z. Spain: Routledge.
[6] Andrews, A. L. R., Best, G. N., Evans, A. W. (Alexander W., Holzinger, J. M. (John M., & Macoun, J. M. (n.d.). Elizabeth Gertrude Knight Britton Records (RG4). Www.nybg.org. Retrieved February 21, 2023, from https://www.nybg.org/library/finding_guide/archv/E_G_Brittonf.html