Astronomy Online: Pluto and New Horizons main content.
Astronomy Online: Pluto and New Horizons
Part of Astronomy Online
Friday, November 6, 2020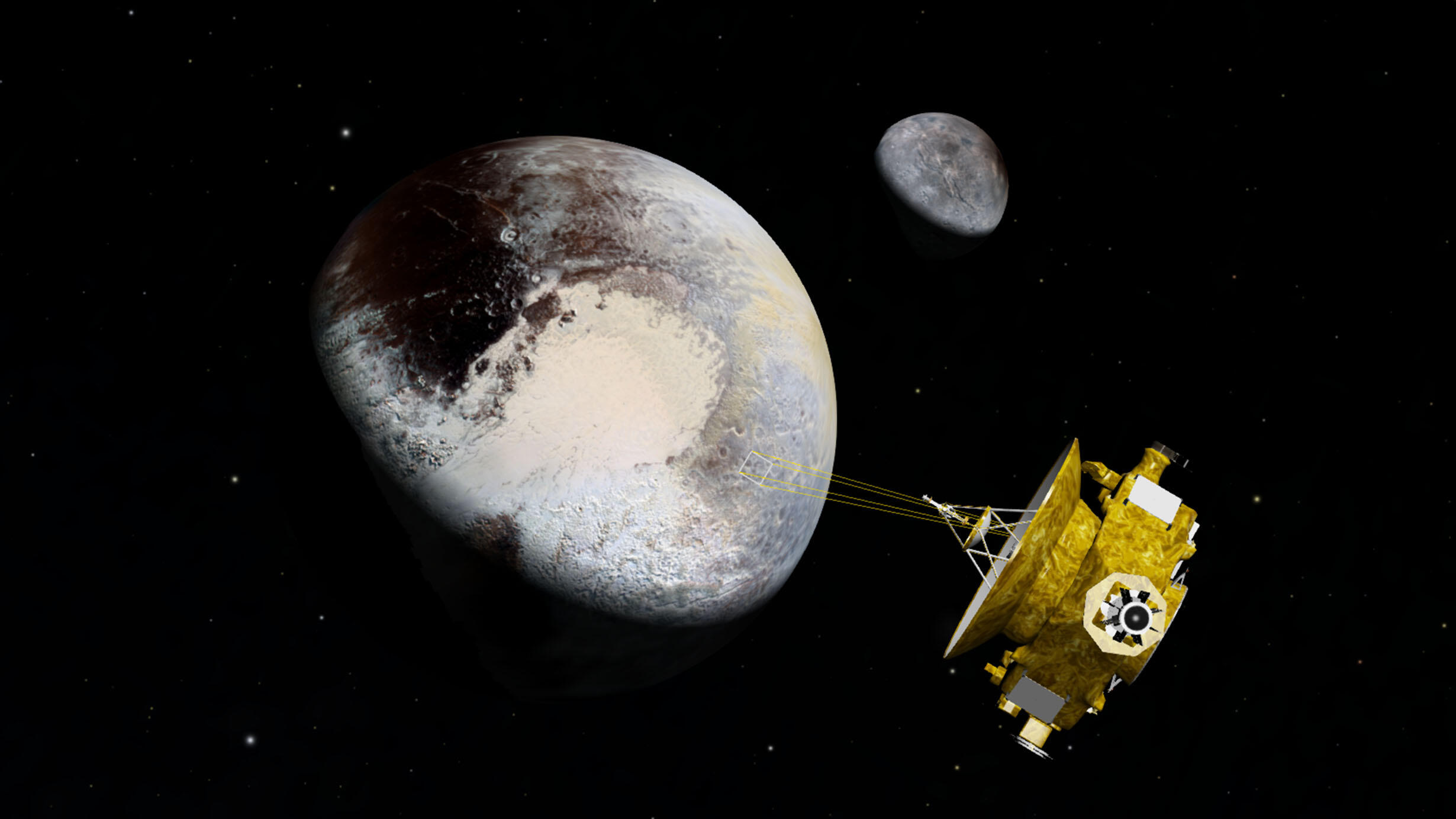 © AMNH
How do scientists map distant worlds? Visit Pluto and its five moons to find out.
On July 14, 2015, NASA's New Horizons spacecraft took the first close-up photos of Pluto and its moons—yielding a wealth of new insights about these distant worlds. Hop aboard a virtual expedition into the Kuiper Belt with the Museum's Director of Astrovisualization Carter Emmart to visit Pluto and its system of five moons to discover how scientists map mysterious worlds billions of miles from Earth. Museum astrophysicist Jackie Faherty and other scientists in the live chat will be ready to answer your cosmic queries!
Watch a recording of the livestream below, first aired on November 6, 2020. Or check out the complete playlist of Astronomy Online events.
JACKIE FAHERTY (Senior Scientist, Department of Astrophysics): So let's bring Carter in over here. Before I intro Carter-- hello, Carter--
CARTER EMMART (Director of Astrovisualization): Hey, Jackie.
FAHERTY: --I wanted to say one thing about the program that we're doing today. We're going to be talking about Pluto. And to set this up-- people are probably-- emotions are probably rising up right now because Pluto is a world that gets people emotionally invested. And Carter loves talking about this world and is going to take us through an amazing tour of it.
And one of the things that we're going to be setting up for you is we're going to go there. We're going to see what it looks like. We're going to look at the terrain. We're going to look in what's in the air. And we're going to talk about the kinds of detailed studies that have been going on in this object in recent years since we've had this mission that's flown right by it.
So Carter Emmart, who is a good friend of mine and also the head of-- the director of visualizations at the Hayden Planetarium, the American Museum of Natural History. Carter is here to be your guide. I am going to be taking questions, giving the questions to Carter, helping moderate the chat. Carter, I think we're just about ready to take this flight.
EMMART: Well, thanks, Jackie. We're going to be doing this today, as we've been doing with these astronomy online programs, using OpenSpace. I'll just quickly show my T-shirt here. That's our logo. And this is a NASA-supported-- in other words, your tax dollars at work-- project.
And we were funded in the same year that we flew past Pluto in 2015. And so Pluto is linked to the birth of this software. And so we, however, launched to Pluto in the year of 2006. It took nine and a half years to get to Pluto. So if you're interested in OpenSpace, you can download it for free from openspaceproject.com. And we also have some of our team on board in the chat so that-- if you're interested.
What I'm going to do is move out from the inner solar system. We see Mercury, Venus, Earth, and Mars. And we see the trajectory-- the very fast trajectory-- of the New Horizons' mission, which launched, as I said, January 19 of 2006. It arrived, famously, on July 14 of 2015.
But how do you get to Pluto fast? The Voyager missions that we launched in the late '70s used gravitational assist to actually speed up the spacecraft to go from planet to planet. So when they got to Jupiter, they got an assist to get on to Saturn. And then Voyager 2 went out to Uranus and Neptune. And so launched in the late '70s, Voyager 2 flew past Neptune in 1989.
But what we left off was, basically, what was then considered the ninth planet, or Pluto. And so we're going to look at this trajectory. And you can see, I'm showing you that it does a little, tiny, barely perceptible-- when it moved past Jupiter-- now, this is actually-- the planets are set for the encounter day, which we're about to go see, out to Pluto.
But you can see that the line has a little bend at Jupiter. Going past Jupiter, it picked up 9,000 miles per hour. This is the fastest thing ever launched. And so from the Cape, we used the large Delta [? IV ?] rocket. And the payload, which we'll see in a second, was small. Fastest thing we ever launched.
Pluto is of personal importance to me, in a certain way. On my first scientific meeting when I was 17, I ended up having dinner with Clyde Tombaugh, who discovered Pluto when he was 24. He was 74 at the time. And so it was wonderful.
What I'm going to do is now just target. I have to fly and drive at the same time here, which can be difficult. But let me just target our spacecraft, New Horizons. And so we're going to zoom now quickly out and look at that nine and a half year journey. And as we get out, we can also see the trails of the outer planet orbits.
And I just thought, let me move around to just show you why Pluto is different. It's inclined. Its orbit is inclined about 17 degrees so the rest of the planets line up in a nice plane. And Pluto takes 248 years to make one orbit. And it's also-- I thought some of you might appreciate, just today, to get our heads out of the news a little bit-- 3 billion miles away, on average, to get out to Pluto.
So as I get here and we close in just a little bit, what I'm going to do is just slow up as we get closer. So I just want to turn off this trail outward that we have. And I'll turn off Pluto's trail. And I'm going to turn-- oh, barycentric trail, and turn that off. And also, just as we get closer-- sorry. Let me just come up here. And I'm going to turn on another little trail.
So as we get closer, we're going to see-- actually, we're going to get close to the spacecraft. Let me turn-- and this is basically the encounter trail as the New Horizons spacecraft went past Pluto. And so as I come in, we're just going to see-- zooming in on where the spacecraft is. And we see the Pluto system.
But what I'd like to show is-- let we focus first on just Pluto. So in 1978, astronomers on Earth detected that Pluto had a moon. And so in blue, we see the orbits of, actually, five moons. But here, we see Charon. Some say "share-on." And the pronunciation varies.
But here, we can see Pluto and "care-on," I'll call it today-- and that they have this interesting gravitational dance around one another. And because Charon is half the size of Pluto, they actually orbit a balance point between them. So you might just barely see-- if I come close enough to Pluto, you'll see this little balance point. So we call that the barycenter.
And then also-- oh, I'll just say a word about this bright line that we see of the trajectory of fly-by New Horizons. To get to Pluto, it had to go very fast. It passed Pluto going about seven miles a second, which is very fast. You might think that's extremely fast, but we are going about twice that speed-- the Earth is-- you and I, everybody on the Earth going around the sun. But nevertheless, we came very close to Pluto.
But the Hubble Space Telescope targeted Pluto, and we found four other moons-- Nix, Styx, Hydra, and Kerberos. And because of that, we were worried-- the trajectory and the mission planning was such that we wanted a line that would go nearest this orbit of Charon. Charon goes around Pluto every about-- almost a week-- six and a half days. And so we wanted this line to go past that orbit in case there was a ring of debris around Pluto.
Now, Pluto is about 3/4 the size of our moon, so it is a tiny world. So that's why we call it a sort of dwarf planet. But we do give it a sort of-- it's dwarf planet-- it's a planetary system, because look at all these worlds that are orbiting it.
I'm going to do one more thing here. I want to turn on Pluto's shadow for us and also turn on Charon's shadow. And these are basically-- I'm just highlighting, in gray, the shadow of-- cast by both Pluto and Charon, because the trajectory was also designed to go right through the shadow. Why? Because we had also discovered an atmosphere on Pluto.
Now, we don't have an atmosphere on our moon, but this is very interesting that there's this shadow. And so I'm going to ask if we can have a slide here that was actually a picture taken by New Horizons, which is very beautiful, that shows the atmosphere and the layering to it. And so it's a blue rind. So this picture was taken by the New Horizons spacecraft.
So what I'm going to do now is I want to get close to the spacecraft just so I'll show that briefly. I'm going to target that, swing around. And now I'm going to move closer to it. And as I do, what I'm going to do is turn off its trajectory. So here we are. We're still moving close. I just want to come up. And so I'm going to turn that off.
Now, what is this we're looking at? There we have this line sticking up, as we'll see in just a second, is where the camera is aiming. And there were two main cameras on board, one that had a complicated method of taking colored pictures. But the high-resolution, monochromatic-- or black-and-white-- pictures were coming from this one instrument on board the spacecraft.
Now, the spacecraft is about the size of a grand piano. The dish, which is the communications antenna, is 6 feet in diameter. So think of a tall person. And then, also, it has this black end here, which is the battery. Plutonium is hot. Space is cold. So you run a thermocouple between that's basically like a battery that can run off a temperature difference.
But right here is the LORRI camera, the Long-Range Imaging System-- Reconnaissance Imager. And so that's going off. So it takes these pictures. See that tiny little square in the background? I'll just point to it-- is where it's looking. And so it sees an image about the size of the full moon. So think of a good telescope in your backyard. You're looking at the full moon.
And so now if-- I'm just going to run time here a little bit. We're sort of stuck in time. But if I start to advance time, that-- let me just bring this a little faster. We'll see the telescope is swinging into position. And it's going to take pictures of Pluto.
So what I'm going to do is come down now before the pictures are taken. Now, I've already given it away. We see this beautiful map of Pluto, which was the result of all the imaging on this mission. But what I'm going to do now is going to turn off the labels for Charon and Pluto. I'm going to turn off their shadows. We talked about that. And let me just come down. Pluto, Pluto's shadow-- off. Great.
And another thing that I want to do is show us the best image that we had of Pluto before we got there, taken by the Hubble Space Telescope. So what I'm going to do is just come up and select that. And I just thought, while I do this, I might ask Jackie if there are any questions coming in.
FAHERTY: Yeah, Carter. I was just about to say we've got a couple of cool questions coming in. One-- I wanted to give a shout-out to some people in the chat here. Davis Sparkie, it looks like you're writing us from Kenya. Welcome to the YouTube chat. A lot of kids writing in from various schools. Make sure you tell us what schools you're at, because I can give your school a shout-out in here, too.
Carter, something that's being asked that I think would be good for us to remind people is-- Maia Hure has been asking about how far off Pluto's orbit is. And you've said it, but I think we should just repeat it so people can be reminded, because we're also getting asked the question about--
EMMART: Yes.
FAHERTY: --why Pluto isn't a planet.
EMMART: It's 3 billion miles away, on average. We can think of this in a different way, too. How far away is the sun? The sun is 93 million miles. These numbers are huge. But Pluto is 40 times-- just under 40 times-- the distance of the sun from the Earth. So we really-- we're beyond the orbit of Neptune.
It was discovered by Clyde Tombaugh on a survey. He was actually looking for a tenth planet at the Lowell Observatory in 1930. And he saw a tiny little thing. It looked like a star. And what you do is you take a picture one night, take a picture the next night. And you see that that-- oh, one star has kind of moved. Well, it was tiny Pluto.
Now, looking at it with the Hubble Space Telescope, this is the best image that we have. And that's why I'm showing it to you. A friend of ours, Marc Buie, a scientist at Southwest Research Institute in Boulder, Colorado, which is the team Alan Stern led, the team on New Horizons that-- Marc Buie took 250 Hubble images. That's a lot of telescope time.
And what I'm going to do is-- yeah, I'll just do this. We're going to see what the images from New Horizons look like. I'll slow this down just a little bit. You see the pictures coming in. And changing that map from 250 pictures, put together, he had to build a special computer just to process those 250 images. But it was totally blown away by having a camera sent there, nine and a half years-- New Horizons spacecraft-- to get to Pluto.
I went to the launch. And I was amazed to hear, by Dr. Alan Stern, who launched the mission and organized the whole thing, that some of the ashes of Clyde Tombaugh, who discovered Pluto, were on board the spacecraft. And it was emotional. But here is the imaging campaign carefully planned out while the spacecraft was on its way to Pluto.
And so here, we can see these images revealing a very strange world that-- we knew that it had an atmosphere. And we had detected basically nitrogen-- just as 78% of Earth's atmosphere is nitrogen, so we're breathing it. Then there's oxygen, of course, that we need.
But this nitrogen-rich atmosphere on Pluto, also with methane-- traces of methane and carbon monoxide-- when the scientists started thinking about this-- and the temperatures out here are so cold that what would just be gases, of course, on Earth and in a warmer place in the solar system actually begin to create frost and ices. And otherwise, they'd be volatile and just become vapor. But what we began to see was this amazing world.
And of course, we had all heard about this heart on Pluto. And so here it is. If I turn it over here, we can see the heart shape, which has been given the name Tombaugh Regio, which means "the region of Clyde Tombaugh," in his honor, who discovered it. And so if I just use my pointer, I will point out-- but in the left side of the heart, is what we call, now, Sputnik Planitia, and named after the first human-made satellite launched by the Soviet Union in 1957, which really--
FAHERTY: Carter--
EMMART: --started the space program. Yes, Jackie.
FAHERTY: I just wanted to bring in, since you're talking about the heart-- and we've had-- even before you brought it up, a lot of people knew about the heart. And so John Bachansky, for instance, who's got two little ones at home-- homeschooling them-- was asking-- they were asking what's in the heart-- and I think you're about to get to that, too-- as well as--
EMMART: Yeah.
FAHERTY: --Thomas Shindler, I want to give you a shout-out, too. You're asking about the heart right now.
EMMART: Hello?
FAHERTY: Yeah. Carter, you can keep going. We can keep talking about the heart.
EMMART: OK. I was just making sure that I had a map I'm going to reveal-- the map I started off with. And we're just going to see that come back up in just a second. So I've got my projections here. I want to see--
FAHERTY: While you do that, I should give--
EMMART: Yeah.
FAHERTY: --a shout-out, too, to-- we've got several students from PS 92, from Edward R. Murrow, from Adrian Hegeman Elementary School with some great questions, including ones that are about the heart right now. It looks like you've got your map back up, but I want everybody to know--
EMMART: I do.
FAHERTY: --we're seeing you on the chat.
EMMART: And I just want to make sure that-- let's see-- that I had this set for-- OK, just a moment. Let's see. Oh, huh. Mm-hmm. OK, [INAUDIBLE]--
FAHERTY: So as you get it set, too, Carter, I could say, since you've just shown this--
EMMART: Very good.
FAHERTY: --transition from Hubble Space Telescope-- very--
EMMART: Really?
FAHERTY: --very nondetailed image all the way to this amazing--
EMMART: Yay!
FAHERTY: --thing--
EMMART: It's brighter now. That's what I wanted.
FAHERTY: There we go. OK, cool.
EMMART: OK. So yes, what's very interesting about this is-- with Pluto-- is that we could also tell, from its size and also its orbits and all this-- we could work out, basically, how heavy it was or its mass. And then we found Charon. And so we knew that, basically, somewhere-- the density, the bulk of all this world-- of these two worlds-- are similar in composition.
They're somewhere between rock-- like silicate rock like we have on Earth, and water-- so a thick layer of water. And out here, it must be ice. And water out here is so, so cold. It's about the tensile strength of steel. And so anything else that might flow on it and so forth, I already talked about the atmosphere.
So let's come in close. But I'm showing Charon in the back here so that we can see how the heart is in view on what is called the encounter hemisphere. In other words, this is the best view we got as we flew by. So if I just draw your attention to the shape of this, it's round. And of course, it has a trail off here. But we think that this might have been a very large crater.
Now, if we come closer to Pluto-- and I'm going to do this so that we can fly over it as we get close-- is that we notice that around it are lots of craters, and-- which looks like the moon. There are dark areas and light areas. And I'll talk all about that. But that Sputnik Planitia-- is what it's called-- is right here-- this smooth area-- is very smooth and has no craters that have been discovered. However, we see all these troughs and these sort of cellular pattern on it.
So what's going on here? Well, let me come down and approach it this way. And I'm going to show you that because we're able to take multiple pictures, and also the technology allows us to look at the shadows and so forth-- between taking multiple pictures, we can extract the elevation of these mountains, allowing us to make maps that are put together like a big puzzle.
So you saw all that mapping strategy before of New Horizons. They also had a complicated color imaging camera on board that gave us the colors. And all this could be merged into what we see here with the mountains sticking up.
And so what I'm going to do is just come down a little bit like this. And I'm going to ask you if we can show this other slide, which was basically the parting shot as New Horizons-- just before it went into the shadow. Look at this wonderful picture. This is the New Horizons lookback picture.
And in it, we see, closest to us, the Norgay Mountains, and in the back, the Hillary Mountains. And so I think if we go back to OpenSpace, I can explain what that means. Tenzing Norgay and Sir Edmund Hillary were the first to climb Mount Everest in 1953, and so they gave the title of these mountains to them.
And so now, that image allows us to calibrate how high the mountains are. I could exaggerate them and make them much bigger. But what I want to do in [INAUDIBLE] time is to fly along to give us this flyover on the edge of Sputnik Planum.
So what we see on the left are dark features. And they map along the equator of Pluto. We're flying northward here. And so Pluto is tipped over. We could see that as we approached, so we came up to it almost like a bull's eye. It's almost facing the sun right now. But along the equator, we have this dark material. We believe that that has been sort of-- that has rained down from the very thin atmosphere of Pluto.
Pluto has an orbit that's a little more elliptical than our very circular orbit around the sun-- with Earth. So Pluto goes through-- basically, it has seasons. And when it's farther from the sun, the atmosphere freezes out. And when it's closer, the atmosphere comes into play.
We're flying over some of this dark and light material. And that dark material, we believe, is a result of its atmosphere of nitrogen and, as I mentioned, carbon monoxide, and also bits of methane-- trace amounts-- and mostly nitrogen. But it gets hit by the ultraviolet light of the sun and can create complex organic chemistry that rains down. This is called tholins. This is one idea of what we're seeing in this dark and reddish material.
And now, also, this cellular structure that we see of the ices of Sputnik Planum. What we believe has happened is that-- and I'll just pull back out for a second to look at the overall view here-- is that Sputnik Planum seems to be this impact, this large crater, and that it's the lowest part of Pluto. And so it creates this basin.
And so this atmosphere that comes and goes with the seasonality essentially concentrates. And when it sort of condenses out and falls into the surface, it condenses into this low area, creating, basically, a sink for a slushy nitrogen ice sea, in a way. Now, it's not liquid. It's not liquid at all. But it's sort of the consistency of Silly Putty.
Notice, also, that what we see here is-- around the ridge-- is we have this edge of the basin. And then we see these blocks. These blocks each are, on average, about 25 miles across. Pluto is about 1,500 miles across. It was about 3/4 the size of our moon. But the width of Sputnik Planitia is about twice the width of Pennsylvania.
And so I'll just come on down again. And we're going to see that these blocks seem to-- they're water ice. They have a spectral reflectance of water ice. And they seem to be moving away from the edge of the basin and rotating that-- they're sort of a jumble.
And I'll just tip over so that we can fly along this a little as we see the cellular structure, that the properties of nitrogen ice and the temperature regimes out of Pluto are such that, if it's warmed from beneath-- and I'll talk about that in a second-- and then it's cold up top, is it would flow like a lava lamp.
And so you see, basically, convective cells, if you've ever boiled water. And advection is another term used. In science, it just means the sideways flow of the material. So it creates these cells of a mushy, nitrogen, icy consistency of Silly Putty or toothpaste. And so because it has this soft character and is flowing, we can see the hard icy ridges of craters. And where there are craters, we can see that those are retained from an earlier time.
And craters have been built up, we believe, in some of the oldest parts of Pluto, perhaps as far as 4 billion years ago, and sort of basically looking at remnants of its formation. We believe that Pluto and other members of-- Pluto is the largest member of the Kuiper Belt, an icy asteroid belt at the edge of the solar system-- is that we believe these worlds formed closer in to the sun. And then the dynamics of Jupiter, Saturn, Uranus, and Neptune were such that it cast these planets further out.
I'm coming up to an area where we can clearly see almost flow features on the right from this action of this slushy environment and low area. And if I come farther down along Sputnik Planitia, we should be able to see areas that are quite interesting in the sense that we get away-- we still see the cellular structure over there. And as we get closer to the shadow area, we can see how they have a little bit of shading. They show these shallow-- they create sort of shallow domes. But--
FAHERTY: Carter--
EMMART: And yes, Jackie. I'm going to come right around to where the glaciers are here. Yes.
FAHERTY: As you do, we've got some great questions in here--
EMMART: Good.
FAHERTY: --one coming from Austin Lin from PS 205. And seeing all these sizes, what is the tallest hill/mountain/bump that we can see on Pluto?
EMMART: So what we saw with those blocks that I flew over-- and also, the Tenzing Norgay and Sir Edmund Hillary mountains are essentially about 16,000 feet tall. So think of, like, if you've ever been out to Colorado and the Continental Divide. Those mountains tend to be about 15,000 feet. But they start from the mile-high city of Denver. So we're only seeing about 10,000 feet of height. So clearly, we're getting into mountains that are very tall-- once again, on a world that is 1/5 the size of Earth or so. Or actually-- yeah, about 1/5 the size of our planet.
Here below us, can you see these swirly patterns? I'll just show you in Sputnik Planitia again-- is that we see what look like-- I'll just navigate down a little bit and rotate like this-- is that we can see this area at the bottom, which is really the left side of the heart-- are these ices that seem to be melting away into this nitrogen, which is then flowing downhill into these glacial flows, creating these flow patterns out into the Planitia.
There are also pits. And we believe that they have to do with the warming underneath and, perhaps, the release of the volatiles, that nitrogen is the main substance, but also the highly-volatile carbon monoxide and methane gas. So we'll see more pits over here.
I'm going to fly us over to-- not only do we see this area where the ices seem to accumulate, but I want to fly us over to a very interesting large feature that's, perhaps, almost as much as about 100 miles across. It kind of looks like elephant skin, I think. And this is this domed feature right here, which, I believe, because of the texture of this-- looks like elephant skin-- looks like it's been built up. And so this could be an icy volcano on Pluto.
And we think we see one crater over here. So where you see craters, it means things are generally older. But what we see in Sputnik Planitia-- because there are no craters, we think that that's very active and young, compared to the rest of Pluto. Also, as I pull out, we can see, over here, craters that are somewhat buried in the ices. So Jackie, I don't know if there are any other questions as I cue this up to fly to another location.
FAHERTY: Yeah, as we're going out, people are noticing a lot of the different features. And we just had one from-- I want to make sure I get your name so we can see your chat up here-- Englander. And it's about how much Pluto might have been hit by meteors and if there's signs of that. With so many craters, you can see that there's clearly something going on. I'm not sure if you know the answer to this, Carter. I know there's been a lot on this since New Horizons.
EMMART: Yeah. So basically, you're seeing craters here. And so this represents an older part of the surface of Pluto. Where you see more craters-- we found, in our studies of the moon, where there tends to be lots of craters, it's older. If you see something smooth, that means that something overrode the craters. And so I talked a bit about how Sputnik Planitia is round, and they think there was this large impact.
There's one other point I want to make about this before we go off to Charon. But that's a really good question. How many craters and so forth? It's interesting. There's not much material out here. There's a lot of stuff in the Kuiper Belt, but it's farther away from the sun. Material is more spread out. And so we think that this number of craters, perhaps, is an indication of forming a little bit closer to the sun and then getting cast out by the dynamics of the gravitational interactions with the larger planets.
There's a big crater up here, and I must show it. It's right here. And it's subtle. It has other craters inside it. And this is named Venetia Burney after-- she was 11 years old when she named Pluto. So when Clyde discovered Pluto, there was a name contest that went out. And Venetia Burney in England named it. So she was 11 years old at the time. And so she named it Pluto after, of course, the gods of the underworld.
And so we also see fractures. You can see those cracks. That crack right here-- this is a crack. And it seems to be in line with, perhaps, this impact. Now, I want to point out something that's really, really interesting. And it's interesting not only for Pluto but for other Kuiper Belt worlds that we haven't been to yet.
The fact that there is this very interesting part of Pluto that is low and seems to be where the ice is accumulated, and also is where the atmosphere gets rejuvenated from, is that it's this-- oh, but it faces right-- it faces in the opposite direction from Charon, or "care-on." And they basically-- these worlds are so close to one another.
You know how we have tides on Earth, and the water goes up and down depending on where the moon is and how it-- we rotate under the moon every 24 hours. And the moon rises and sets. There are tides. And that's going to be even greater of an effect out here where you have such a large moon that's so close. So to have this impact basin with all the ices diametrically just right across-- directly across-- from Charon indicates that we believe, now, that the icy crust of Pluto may be decoupled from a warm, rocky interior.
And that rocky interior is warm, just like the interior of Earth is warm, because of radioactive decay. And so that slightly warms what could be the covering above it. But because this is directly opposed-- is that this seems to be evidence that, underneath the icy crust, that water is actually liquid and that there's a liquid ocean underneath the icy crust of Pluto.
This is very interesting, because where there's water, or liquid water-- and we know that there's liquid water underneath the ices of Europa, the smallest moon of the major four Galilean satellites around Jupiter-- is that, could there be life? What we see are organic compounds that make up the basis of life in the atmosphere, in the ices of Pluto. But it's very cold. But it has this large moon.
I'd like to take us out to Charon. But before I do, I want to show the effects of, possibly, the weather and climate on Pluto. And the last thing I want to show here is this bladed terrain, Tartarus Dorsa. This is a region where you have basically 15,000-foot mountains. So that question about the height-- these are actually very high.
But they seem to have, at least the spectral signature-- of methane ice that's deposited on the top. And we believe that that's-- because it's so high up that it allows, basically, the methane to freeze out. And so we're looking at these bladed terrains that are possibly built up over a great deal of time.
And there's a beautiful shot right here in the lower part-- is that we can see the shadow of these bladed terrains, long shadows across an embayment, or how it almost looks like a part of Sputnik Planitia just cast aside. And then also this large fracture. The large fracture could be the effects, once again, of these dynamics of both the impact as well as tidal interaction.
So we're going to go off tidal interaction with Charon. So let's go out to Charon. I'll target it, and we'll fly off there. What did we find at this world half the size of Pluto? We found that it's darker. We also see that it has a spectral signature of ice. So it's not covered. It doesn't have an atmosphere. So it doesn't have this nitrogen covering. It seems to just be mainly water ice.
But it has this strange eye on the top of it. This is a north pole. And it's called Mordor Macula. Macula means spot. And what could this be? It seems to be reddish and seems to be, perhaps, some of this material perhaps caught in a stream of material that has escaped Pluto and has made it over to and frozen out the North Pole of Charon. Very interesting.
And then we have this huge canyon here, and also this strange set of other craters, and some more craters in a-- not more craters than Pluto. But we don't see any smooth area-- as smooth as we see of Sputnik Planitia. But we do see an area that's lower than these mountains here in this giant fracture.
For those of you who are science fiction fans, and depending on your age, they'll sort of test your science fiction knowledge. But maybe if some of the parents out there were Star Trek fans, I'll just point out that this is Spock Crater from, of course, Star Trek. And over here is Captain Kirk Crater. But also-- let's see. A couple other characters over here is Uhura Crater and Sulu Crater right here.
And so also, if you're old enough to know the movie 2001-- A Space Odyssey, in honor of the creator-- the director of the movie is Kubrick. This is Kubrick Mons. And over here is Clarke Mons. So Arthur C. Clarke wrote the story 2001-- A Space Odyssey. Stanley Kubrick made the film.
And so what we see is, in this lower area-- so this, through here, is this low plane that we think is part of this fracturing process that Charon had-- this resurfacing through here-- and perhaps was a flow inundating mountains that already existed. Well, why would this happen? Is it tidal frictions with Pluto? Perhaps not. Perhaps it's just that water freezing out-- of course, when it freezes, it expands. And so it could have created the fraction that we see.
We see a large canyon in here. This is called the Serenity Chasma. So this is right here. And then also, the naming of some of these features, kind of bowing to [INAUDIBLE] science fiction. So if you're a Star Wars fan, I'll just point out this-- a couple-- there's a dark and a light crater up here. So this is Darth Crater, and this is Skywalker Crater. And then if you were a fan of the movie Alien, this is Ripley Crater in here. And this canyon right here is Nostromo, named after the spaceship that they were in in Alien.
Also of note is something interesting, that we see a signature of ammonia in these bright craters that have come in. And so ammonia is that terrible-smelling cleaning agent your mom or dad might be using out there. But it's interesting. When you have ammonia with water, it lowers the freezing temperature. And so there is a thought that that elephant skin-- Wright Mons volcano that we saw on Pluto may actually have ammonia as a part of it to lower the temperature of the water ocean on Pluto, and allowing it to remain liquid. So very interesting set of conditions.
Jackie, how are we doing for time? I could go on and on, but I'm sure there are tons of questions.
FAHERTY: Yeah, we do have lots of questions. We have a very engaged audience.
EMMART: Great.
FAHERTY: I'm so glad to see this. And we probably only get a couple of minutes left here. And with that, we might want to grab some of these questions. We've had a lot of chat in here about moons in general. And I wanted to highlight a question that was just asked by Matt--
EMMART: OK.
FAHERTY: --Matthew Tagoe. And it's [INAUDIBLE] philosophical. And it's about, can you get another moon? It appears that-- is it possible to get another moon? I think he's referring to Earth here. Since Pluto's got Charon and all these other moons--
EMMART: Yeah, you know, that's a--
FAHERTY: --we've just got one.
EMMART: --really good question. And there's a question, like with Mars, it has Deimos and Phobos that seem to be like asteroids. So could they have been captured? That's a question. We see that Nix, Styx, Hydra, and Kerberos have reflectance similar to Charon, the water ice. Pluto is the exception in that we have nitrogen, and carbon monoxide, and methane. So those smaller bodies are icy.
We actually have a slide of that, if we could bring up the slide that shows the relative size in the smaller amounts as imaged by New Horizons. So here, the images have all been placed in proper size to one another. So you can see that Styx and Kerberos are really small. But Nix and Hydra are about 30 miles across. And then you see Charon underneath, which is half the size of the 1,500-mile or so diameter-- 1,477 or so-- of Pluto, and just about half that for Charon.
So the idea of capturing is an idea that-- could they have been captured? But most likely, the notion is that the Pluto system may have been formed by a collision. And we now think that the Earth and moon system was formed by a collision, as well, during the planetary building process.
I wanted to say one last thing in closing-- is that Pluto, of course-- if it was demoted to minor planetary status, it's certainly a planetary system. I'll just tip-- I'll show you how it's tipped over in the solar system just by coming around like so, that we can see that it's almost-- as it parades around the sun, that it has seasons just like the Earth being tilted. Pluto is tilted. But it really is this largest member, as far as we can tell, of a group of icy worlds at the edge of the solar system called the Kuiper Belt.
So what I'm going to do is pull out a little farther. And as I do, what I'm going to do is probably bring back, in a moment-- let's see if I've still got my labels up for-- OK, I think I have them on-- because I want to demonstrate the Kuiper Belt in just the last minute or so. I might take another question as I do this, Jackie.
FAHERTY: Yeah, one more, and I think we have reached the end. And I just want to note that the moon did have-- it was in the news a bit, maybe six months ago-- pre-COVID, so more than six months ago. It was discovered the moon had captured a new rock around it for a little while. We were calling it a new moon for the Earth. So that helps answer one of--
EMMART: Bring it on.
FAHERTY: --these questions. And this goes to another question, maybe as our last question, which is, what is the smallest moon possible that one might have?
EMMART: Well, basically, when Sputnik was launched-- it was just about 18 inches in diameter or so-- by the Soviet Union-- was that it was called Earth's second moon. And arguably, it was. So a satellite can be tiny. A fleck of paint off a satellite orbiting the Earth is technically another moon.
So right here, what I'm showing you is the trajectory of the New Horizons spacecraft out to Pluto. And what we see here are trans-Neptunian Kuiper Belt objects. Now, those of you may know that New Horizons went on. And January 1, 2019, we encountered Arrokoth, formerly named Ultima Thule, otherwise known as MU69. It was-- you can see right here. A campaign was launched to look for possible worlds to fly on to.
And the last thing I want to do here is just run-- let's see-- days per second. And so let's see if my time is running, and that we may see New Horizons fly on out to-- let's see if we-- as time evolves here. Jackie, I might take another question just as I do this. I want to get this going even faster.
FAHERTY: I think this will have to be the last thing we do because I'm getting the cue that we should wrap up.
EMMART: OK.
FAHERTY: And this is a good moment, too, Carter, as you're turning it on, to remind people that if this is really interesting for you and you want to take a deeper dive on some of these things, especially this object Carter is pointing out, that you should tune in on Wednesday, November 18 at 7:00 PM. We're having a Frontiers in Astrophysics lecture, Pluto-- Glaciers, Mountains, and Dunes, Oh My! I think, Carter, you're going to be hosting that program, correct?
EMMART: Yes, thank you, with Cathy Olkin, one of the fine scientists on the New Horizons mission, along with John Spencer. And they're both from the Southwest Research Institute in Boulder, Colorado. They're both close friends. And so we'll be discussing, at length, a lot of the science that they can present much better than I.
Here, we also see things that look like comets, but they're part of icy worlds that come in close. And then you can see the parade of the Kuiper Belt, the first one being found in 1992, which was really not that long ago. And so the number of these grow-- and that we can see that the largest of them, like Pluto, having an ocean. It's possible these icy worlds also possibly have liquid water.
Could there be life out there? We don't know. That's why we have to go out and find out. And for the younger members out there, this is your future insofar as what we can look for and look forward to in the future. So thanks so much for joining us. This has been a lot of fun.
FAHERTY: And I think we're going to wrap it up there. So thank you so much, Carter. Thank you, everybody, for being so active in the chat. So many schools that I didn't necessarily give you all shout outs, though. But PS 160, I know you're there. PS 225. Please join us again, first Fridays of the month. If you want the deeper dive-- November 18, 7:00 PM. That might be past or around bedtime for some people-- or, hopefully not bedtime, but close to sleep time.
We'll have a survey that we're putting in the chat now. You can find it right here. We've got it up here. And please fill that out. Let us know how we're doing because we'd like to improve these programs for you if we can. And we hope to see you on the 18th. There'll be a link, also, posted in the chat for you if you want to see about that. And come back here on the first Friday of the month, where you can join us yet again-- 1:00 PM. Thanks, everybody.
EMMART: And get OpenSpace while you can.
FAHERTY: OpenSpace. Download it.
EMMART: Cool. Thank you.
In 2020, the Museum is celebrating the legacy of Charles Hayden, whose vision made the Hayden Planetarium possible and brought the universe to New York City.
Stay in the loop for more upcoming events—sign up for our newsletter.
Support for Hayden Planetarium Programs is provided by the Horace W. Goldsmith Endowment Fund.