Science Research Mentoring Program main content.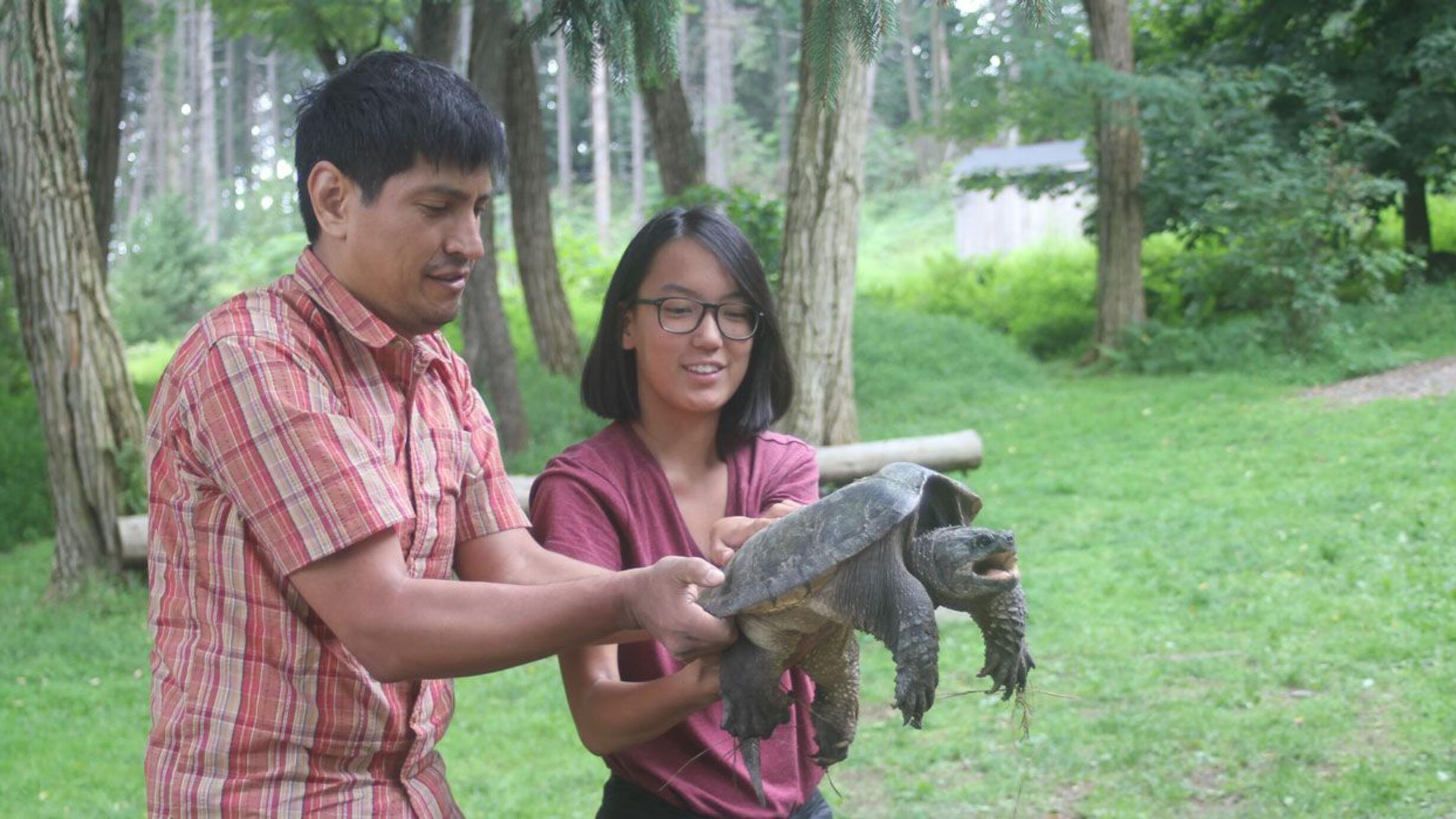 The Science Research Mentoring Program (SRMP) at the American Museum of Natural History (AMNH) is an opportunity for NYC high school students to conduct one year of scientific research with AMNH scientists.
SRMP aims to increase access to science fields and careers for NYC high school students by providing authentic science research opportunities and meaningful mentorship. We believe that conducting high-quality scientific research while in high school improves scholars' personal growth and increases opportunities for success long term. We strive to create a supportive community that values each individual scholar's unique strengths, challenges, and motivations.
Research projects span the fields of Cultural and Biological Anthropology, Conservation Science, Evolutionary Biology, Genetics and Genomics, Taxonomy, Systematics, Earth and Planetary Science, and Astrophysics. See descriptions of past research projects.
Join the Science Research Mentoring Program
SRMP welcomes applications from NYC high school students who are driven by their curiosity and passion and want to explore research at the American Museum of Natural History. SRMP Scholars are committed to learning, excited to dedicate 4 hours/week to working on a high-quality research project, and value teamwork and collaboration.
Benefits of SRMP
Conduct a year-long authentic research project with an AMNH-affiliated scientist
Gain mentorship and support from AMNH scientists and staff
Participate in college and career readiness activities, including one free Kaplan SAT or ACT prep course
Earn a monetary stipend upon completion of research and program requirements ($1000)
Attend special events at the AMNH
Become part of the Museum professional community
Requirements
Applicants must be on track to complete 4 AMNH Credits by June of the year they apply. Students earn credits by successfully completing other AMNH teen programs such as Saltz, After School Program Courses, Daytime School Partnerships, and Lang Research. At least one credit must be from the After School Program.
Applicants must attend school and/or live in New York City.
Applicants must be willing and able to commit to the Summer Institute and to attending SRMP twice/week throughout the school year.
SRMP Expectations and Schedule
SRMP Summer Institute: late August, Monday-Friday 10 am–4 pm

Students must participate in a 3-week summer session. During this session, all students attend a 5-day sleepover experience of fieldwork at Black Rock Forest.

One-year mentored research experience: September – June

Students work in small groups of 2-3 students led by a research scientist. Students work on their projects twice every week, for a minimum of two hours per session, with their mentors and partners at the Museum. The exact schedule will be set by the research scientist.
We expect our students to make SRMP their primary extracurricular activity. To facilitate scheduling with their mentors and fellow team members we ask that other activities (e.g. volunteering, clubs, sports) be scheduled around SRMP activities.
SRMP students participate in mandatory monthly advisory sessions, usually held on Fridays, where they learn about science professions, practice presentation skills, and attend lectures from invited speakers

SRMP Colloquium: Early June

SRMP students present a scientific poster and oral presentation about their research in an annual SRMP Symposium. Parents, teachers, friends, mentors, and Museum staff are invited to attend this event
How to apply
The application package consists of the following: student, parent, and school information; two-character references; and one 2-page essay explaining your interest in the program. We do not ask for report cards or transcripts. Applications for each cohort open the previous February and are due early Spring.
If you have further questions please contact Dr. Maria Strangas, SRMP Manager ([email protected]). Because we see SRMP as a professional internship for our students, we encourage interested students to reach out to us directly rather than through their parents or teachers.
Credits
Support for the Science Research Mentoring Program at the American Museum of Natural History is provided by Christopher C. Davis; The Shelby Cullom Davis Charitable Fund; The Pinkerton Foundation; the Bezos Family Foundation; the Doris Duke Charitable Foundation; the Solon E. Summerfield Foundation, Inc.; and the Adolph and Ruth Schnurmacher Foundation.
Complimentary test preparation and college admissions support for program participants is generously provided by