Science Research Mentoring Program
Part of Teens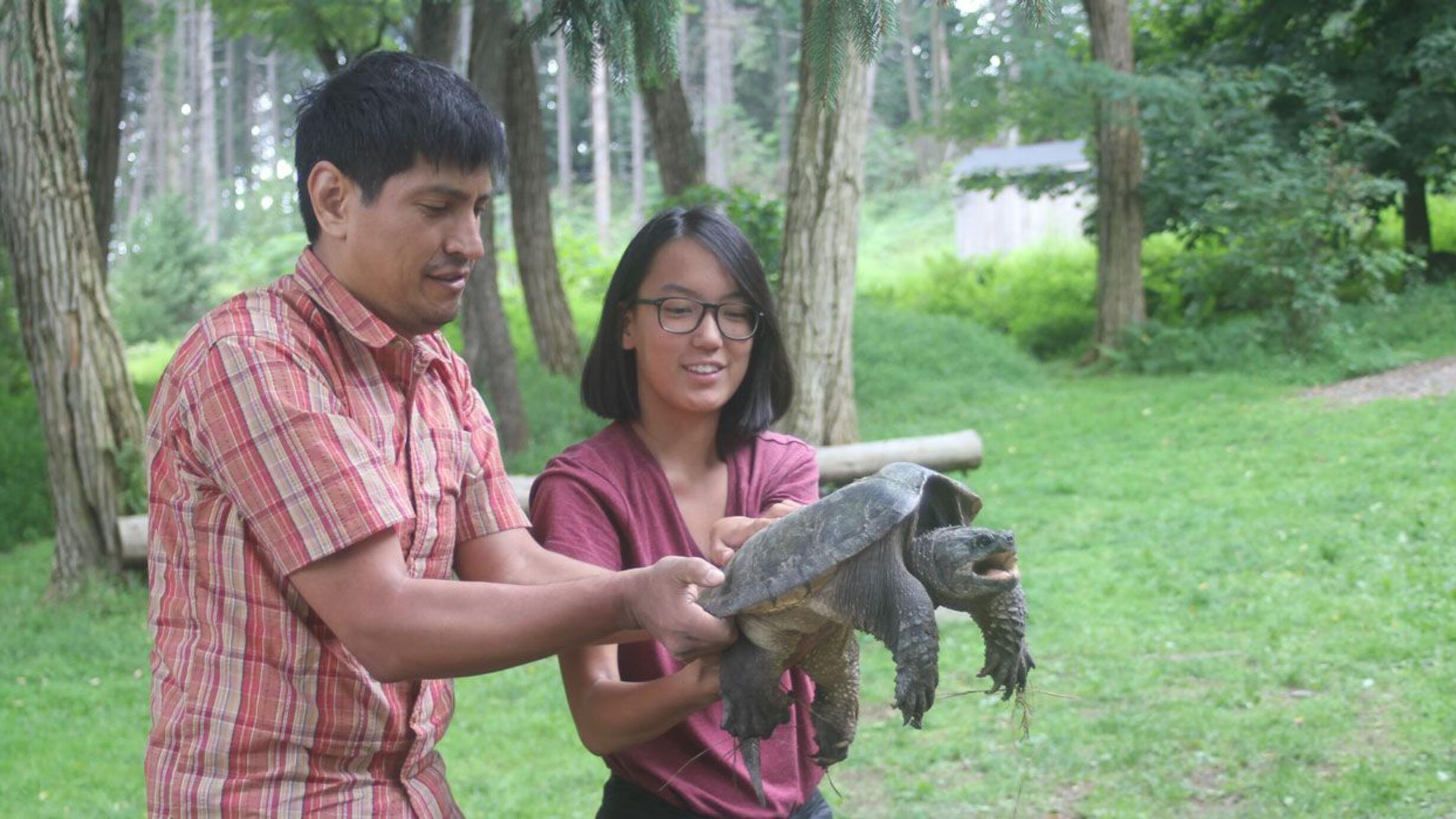 What is SRMP?
The Science Research Mentoring Program (SRMP) at the American Museum of Natural History is an opportunity for New York City high school students to conduct one year (August–June) of scientific research with Museum scientists.
In SRMP, high school students get paid to learn how to conduct research. Students work with peers and scientist mentors twice a week throughout the school year for a total of four hours a week on a project that has never been done before. Every research project is different, covering topics from Are NYC Coyotes Interbreeding with Domestic Dogs? to The Search for Brown Dwarf Binary Systems to Cultural and Marketing Issues in Tanzanian Pharmacies. View a list of past projects.
SRMP students learn a wide range of new skills, like working with DNA in the lab, analyzing data from space based telescopes, reading scientific articles, and learning to code and analyze data in Python, R, and other programming languages. At the same time, students become part of a community and strengthen their teamwork skills along with their communication, presentation and writing abilities.
Students in SRMP are not expected to have previous experience with these activities—we build the skills together in the program.
We love working with students who…
have a passion for learning and discovery
are new to science research and want to build their skills
can commit to meeting during August and four hours a week throughout the school year
value teamwork and collaboration
look forward to working with a mentor who can help them find their path
If you would like to join our mailing list to learn about our other high school programs or college internships, please click here.
Join the Science Research Mentoring Program
SRMP aims to increase access to science fields and careers for NYC high school students by providing authentic science research opportunities and meaningful mentorship. We believe that conducting high-quality scientific research while in high school improves scholars' personal growth and increases opportunities for success long term. We strive to create a supportive community that values each scholar's unique strengths, challenges, and motivations.
Who is eligible to apply? In the current 2021-2022 academic year, you must be in the 10th or 11th Grade and passing your classes for the last three or more semesters.
You must also meet at least one criteria from the list below:
Attend one of the following high schools or partner programs:

Big Brothers Big Sisters
Bronx Center for Science and Mathematics
Harlem Educational Activities Fund (HEAF)
Henry Street Settlement
High School for Health Professions
Manhattan Center for Science and Math
St. Jean Baptiste High School
Sunset Park High School
The Young Women's Leadership School (Harlem)
Uncommon Schools Network
Washington Heights Expeditionary Learning School
Woodside Community Center

Participated in and completed:
We particularly encourage students who self-identify as Black, Latinx, Indigenous, and/or first-generation college-bound to apply.
Why should I apply? What are the benefits to me?
Learn how to do science research by working on a year-long authentic research project with an Museum-affiliated scientist
Earn a monetary stipend ($1,000) upon completion of research and program requirements
Build a community of peers and mentors who want to help you succeed in your academic goals
Participate in college and career readiness activities, including one free Kaplan SAT or ACT prep course
Attend special events at the Museum and become part of the Museum professional community
SRMP Expectations and Schedule
In most years, students meet in-person at the American Museum of Natural History. During the 2020-2021 school year, SRMP is a fully virtual program. For the 2021-2022 year, SRMP will follow guidelines from the CDC and local public health protocols. Decisions on the balance of in-person and virtual activities will be made in the summer of 2021 before the program begins.
SRMP Summer Institute: late August, Monday–Friday

Students must participate in a 3-week summer session. During this session, all students attend a 5-day sleepover experience of fieldwork at Black Rock Forest (public health precautions permitting).

One-year mentored research experience: September–June

Students work in small groups of 2–3 students led by a research scientist. Students work on their projects two afternoons during the week after school, for a minimum of two hours per session, with their mentors and partners at the Museum. The research scientist will set the exact schedule.
We expect our students to make SRMP their primary extracurricular activity. To facilitate scheduling with their mentors and fellow team members, we ask that other activities (e.g., volunteering, clubs, sports) be scheduled around SRMP activities.
SRMP students participate in mandatory monthly advisory sessions, usually held on Fridays, where they learn about science professions, practice presentation skills, and attend lectures from invited speakers

SRMP Colloquium: Early June

SRMP students present a scientific poster and oral presentation about their research in an annual SRMP Symposium. We invite parents, teachers, friends, mentors, and Museum staff to attend this event.
Applications for the 2022-2023 academic year are now open! Please apply at: https://bit.ly/SRMPApp2022
Support for the Science Research Mentoring Program at the American Museum of Natural History is provided by Christopher C. Davis; The Shelby Cullom Davis Charitable Fund; The Pinkerton Foundation; and the Adolph and Ruth Schnurmacher Foundation.
Complimentary test preparation and college admissions support for program participants is generously provided by Kaplan Test Prep.
The Museum's Education Collection is generously supported by the Anna-Maria and Stephen Kellen Foundation.