Resources for Educators: Hall of Ocean Life main content.
Plan your class field trip to the hall with these free resources.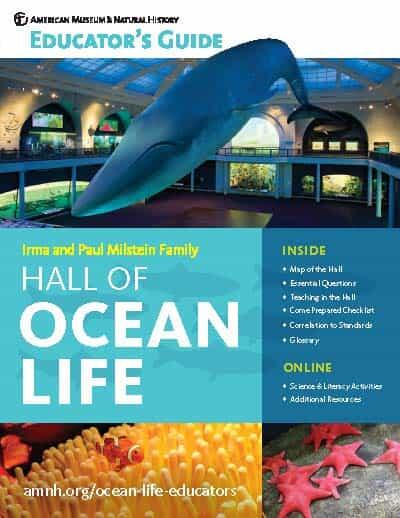 Milstein Hall of Ocean Life Educator's Guide
Get an advance look at the exhibition's major themes and what your class will encounter. This eight-page guide for K-12 educators includes a Map of the Exhibition, Essential Questions (important background content), Teaching in the Exhibition (self-guided explorations), Come Prepared Checklist, Correlation to Standards, and Glossary.
References
For Teachers
General
Byatt, Andrew, et al. The Blue Planet: Seas of Life. New York: DK Publishing, 2001.
This photo-rich book reveals the diverse wildlife in six distinct marine habitats.
Kurlansky, Mark. Cod: A Biography of the Fish that Changed the World. New York: Penguin Books, 2003.
A book about a fish that probably has mattered more in human history than any other. The cod helped inspire the discovery and exploration of North America. It had a profound impact upon the economic development of New England and eastern Canada from the earliest times.
MacQuitty, Miranda. Eyewitness Ocean. New York: Alfred A. Knopf, 1995.
Gaze at amazing photographs as you dive into the ocean. Take a trip through ocean habitats and explore the diversity of marine life. This book also examines the ways we use, explore, and affect the ocean.
Nybakken, James W. Marine Biology: An Ecological Approach. New York: Harper & Row, 1988.
This books emphasizes the ecological principles that govern marine life throughout all environments in the world's oceans. Its unique ecological approach adds real-world relevance by exploring how organisms interact within their individual ecosystems. The book is organized by habitat, and each habitat receives detailed, in-depth coverage, giving readers the flexibility to focus on their particular areas of interest.
Weinberg, Samantha. A Fish Caught in Time: The Search for the Coelacanth. New York: Perennial, 2001.
An account of the discovery of the coelacanth, a five-foot-long fish that existed on Earth for approximately 330 million years. It was thought to have become extinct about 70 million years ago. That is, until one was discovered off the coast of South Africa in 1938.
Curriculum
Beales, Kevin, Catherine Halversen, and Craig Strang. Ocean Currents: Teacher's Guide. Berkeley: Lawrence Hall of Science, 2001