Collections in Context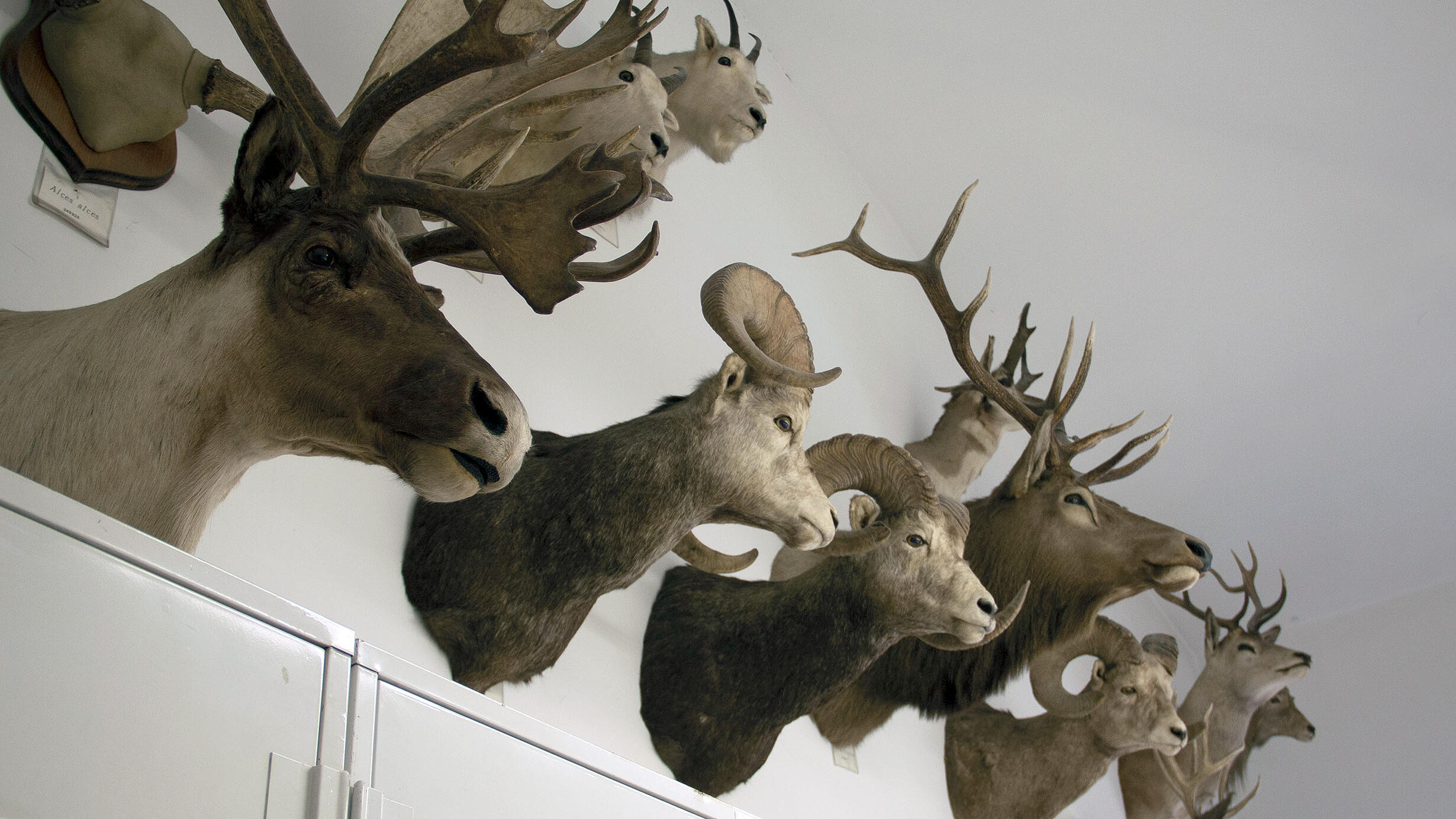 Feather and fur materials can be found in a wide variety of collections and objects. Different approaches to their preservation are guided by their history and use.
Natural History Collections 
Feathers and furs are an integral part of natural history collections used in exhibition, research, and education. Taxidermy mounts in dioramas and vitrines are used to tell key stories about topics ranging from local biodiversity to international climate change. Because they must accurately represent their species, a natural science conservator might include more restoration in their treatment, such as recoloring faded feathers or fur. Bird and mammal study skins and wet-preserved specimens held in research collections are used by curators, collection managers, graduate students in the AMNH Gilder School, and visiting researchers to collect physical data and investigate the mysteries of the natural world.
Approaches to the conservation of research specimens generally limit treatment interventions, prioritizing physical and chemical stability and avoiding cosmetic restoration. Feathers, fur pelts, taxidermy and study skins used during educational programming for school children, families, and adults enriches science instruction through direct experience. Conservation efforts may focus on treatments and guidelines that reduce the risks of frequent handling. As there are millions of specimens in a natural history museum, a great focus throughout is preventive conservation, such as a robust pest management program, and maintenance of environments appropriate for organic objects.
Interview with George Dante, taxidermist and wildlife artist
0:20
JULIA SYBALSKY: My name is Julia Sybalsky, I'm a conservator at the American Museum of Natural History specializing in natural science collections,
0:29
and today I'm very pleased to be introducing taxidermist George Dante.
0:51
George is an award-winning taxidermist with over 30 years of experience, he's the owner of Wildlife Preservations, which is a state-of-the-art studio that's located in West Paterson, New Jersey
1:01
and it specializes in natural history exhibit design and fabrication services. George's studio works with private individuals, organizations, and increasingly with museums in
1:10
both the preparation of original taxidermy and the restoration of older specimens, and in that regard
1:16
we've had the pleasure of working with George here at AMNH on various projects in the past.
1:22
So George to get started I'd like to give people an opportunity to learn a little bit more about you and your approach to your work so I wanted to ask you to talk a little bit about
1:31
some of the most significant influences on your practice as a wildlife artist and taxidermist and
1:36
talk maybe about how you see yourself and your work in relation to those traditions. GEORGE DANTE: Well you know I started my company when I was in high school Julia and I've been
1:47
doing taxidermy since I was seven years old so a lot of my influence actually comes from
1:53
natural history museums, environmental centers, and from a very young age I've tried to follow in
2:00
the footsteps of people like Carl Akeley and James L. Clark and Gardell Christensen, you know these
2:07
great museum men I've always looked up to, looked at their processes, how they viewed their work,
2:14
how they produced their work, and basically their entire life in general, you know, these men were
2:19
were naturalists, they were sculptors, they were taxidermist, you know it was a very rounded out
2:26
lifestyle, so those are my biggest influences. JS: When we spoke earlier today you mentioned
2:33
that you're working more and more with museums these days. Can you talk about the different audiences that you work with, and for whom you make and restore taxidermy,
2:42
and how the needs of those different audiences influences how you make decisions and how you approach the taxidermy that you're working with. GD: Yes most of our work is very diverse,
2:53
so we work with, like you stated, anyone from private museums, private collectors,
3:00
to public institutions, public museums, right down to small environmental centers so it's a
3:06
very very diverse group of clients and what we try to do is really listen to the needs of the client.
3:13
We really try to understand what their goals are, what they need, and of course budgets
3:19
always play a big role in this, so that really tells us how we need to tailor our approach,
3:25
our techniques, our processes, even our materials sometimes on how we look at their projects.
3:31
JS: I think you know though most people are probably familiar with taxidermy in general, there
3:37
are a lot of people who would be interested in how taxidermy is actually made so you know in kind of
3:42
thinking about what you just said, maybe you could walk us through the general steps that you follow in the preparation of a bird mount for example, from start to finish, we can think about how
3:52
decision making factors into those steps. GD: Sure, so, bird taxidermy is similar and
4:00
different from mammal taxidermy and fish and things like that. So with bird taxidermy one of the most important things is beginning with a good specimen and that is more critical it seems
4:11
to be in bird taxidermy than in other forms of taxidermy. Birds are less forgiving than
4:17
sometimes mammals can be, so it is absolutely critical to work with a good specimen,
4:22
it's critical to have very good care of the specimen immediately after death,
4:29
so how the specimen was in life will play a critical role, how the specimen is cared
4:35
for after death plays a critical role, meaning was it handled properly, was it frozen quickly,
4:41
and how does it come to us. Remember we deal with specimens that may die of natural causes,
4:49
we deal with specimens that may have been collected, and we deal with specimens that
4:54
have come to us from environmental centers that may be window strikes or road kills and if you
5:00
actually go and look back at the care of that specimen, it's quite different from one to another
5:07
so that really plays a critical role in the beginning of the taxidermy process. So then of course the specimen is prepared, meaning the specimen is usually skinned out,
5:19
we remove the body from the skin, removing all the muscle tissue, we invert the legs,
5:27
invert the wings, invert the neck and the head, and on ninety percent of bird specimens we do
5:34
use the leg bones, we use the natural wing bones, and we will sometimes use the natural skull. Today
5:42
in modern taxidermy we are increasingly using artificial parts, especially the heads,
5:50
the feet, because of insect infestations and just getting a better product at the end.
5:56
You know those areas with soft tissue usually have a tremendous amount of shrinkage and we're
6:03
constantly looking for ways to eliminate that and finding ways to create a more realistic piece.
6:09
So the next step would be preserving the skin. So the skin needs to be preserved in ways that are
6:19
very different from mammal taxidermy. Larger bird specimens such as in the family of ratites things
6:25
like that, we can actually tan the skin very similar to the way we would tan a mammal skin
6:32
which I don't know if you want to get into that, we can discuss that separately later, but most birds, most small birds, what we need to do is clean the skin very well, and what that
6:42
entails is a mechanical cleaning of the fat, the tissue, and the oil. We would basically take small
6:49
tools and try and remove as much of the tissue from between the feather quills as possible.
6:56
Sometimes we even use devices to do this, such as a wire wheel which mechanically removes the the
7:03
fat and tissue from between the feather quills. Once the skin is free of all this material,
7:10
we then clean the bones. We will clean the bones that are in this, in the wings, in the legs,
7:16
clean the skull, this is all done mechanically by use of a scalpel, small modeling tools, sometimes
7:23
a small wire wheel, and we actually go as far as trying to remove any of the marrow from the bones.
7:32
This is increasingly important today, and that this is is not done by all taxidermists,
7:39
so I don't want to jump off track but it should be known that just because this is our process,
7:46
it may not be the process of all taxidermists. I always felt that this is what separates good bird
7:52
taxidermy from bad bird taxidermy. It's not just the appearance of the specimen when it's complete,
7:58
it's how that specimen is cleaned, because these are the things that creep up and cause
8:03
a problem later. So once all that is mechanically cleaned, then we begin a washing of the skin and a
8:13
preservation method. That usually entails washing the skin and the feathers in a mild detergent,
8:20
we usually use a product like Dawn where it's nice and mild, we wash the skin in it, sometimes we'll
8:26
let the skin soak for several minutes, once that's complete we usually wring it out, we flush out as
8:34
much of the soap as we possibly can, and this is a big variation in taxidermy now the next step.
8:44
Some people feel the Dawn is enough to pull all the grease, any fluids out of the skin,
8:50
get it clean enough. Some of us feel the next step is critical where we actually take the skin
8:56
and then do a solvent bath. Now the solvent bath could be anything from lacquer thinner, mineral
9:04
spirits, alcohol, that varies from taxidermist to taxidermist, this is just like someone's
9:10
home recipe, it basically entails whatever this gentleman has been doing for his entire life and
9:16
what he feels works best for him, so and we've used all of the methods, so we still like to
9:23
employ some sort of solvent bath to pull any of the remaining oils and grease out of the specimen.
9:31
Once that's complete the skin gets taken out, we usually roll it in a towel, blot it dry, get it
9:37
as dry as we possibly can, and then the feathers and everything gets fluffed up with one of either
9:45
method of either doing compressed air that you're gently blowing across the feathers to fluff them
9:51
back up, fluff the down back up. Larger specimens we will put into a tumbler, which is essentially
9:58
a drum that is filled with either sawdust or corn cob grit and the bird is tumbled until
10:04
the feathers become dry. Smaller birds we will take and put in wood flour and just a small bag
10:10
and kind of vigorously shake them take, them out, take a hair dryer, fluff the feathers back up,
10:16
and then once you have that skin prepared nice and clean, the feathers are dry, then we actually
10:22
start the mounting process. Before we start the mounting process, we will take the skin and apply
10:31
some sort of treatment to it. Now this is where the older taxidermist would apply arsenic, arsenic
10:39
soap, something like that. Of course we don't have that today so we would use something like borax,
10:46
dried borax, applied into the skin. There are several other formulas that taxidermists use today
10:55
that they paint the bones with, these formulations that are supposed to help retard any kind of
11:02
insect infestation, but I would say the majority of people still use borax as a preservative for
11:08
bird skins, that gets dusted inside the skin of the specimen and then the mounting process begins,
11:15
which is creating a body that replaces the bulk of the tissue, a wrapped neck which is usually a thin
11:23
piece of wire that has either wrapped sisal or cotton around it. We wire the leg bones, we wire
11:29
the wing bones, we would usually wrap cotton or some fine sisal around that to replace the meat,
11:37
the wires get inserted into the body, clay will go inside the skull so the eyes can be set,
11:44
and then this all gets put together and you know six to seven days later you have a specimen.
11:52
But no, it's a very laborious process, and there's an enormous amount of work in with birds, with
12:00
preening them, getting the bones and everything set back into position, because remember you're
12:06
basically mounting this animal from the outside in, so you're working on positioning leg bones,
12:13
and then after this specimen has the correct body posture and position,
12:19
it's literally sometimes days of preening the feathers to get them back into position. JS: It's amazing, it's just a tremendous amount of work, you know, it's really interesting to
12:30
kind of have all the steps broken out like that. I think, you know, good taxidermy doesn't just
12:38
present an anatomically accurate representation of an animal, I think you know it's really
12:43
important to present that animal in a specific lived moment, and that's really what makes
12:51
successful taxidermy, you know, feel alive. So, you know, to that end do you ever choose to,
12:59
do you ever find that you need to color or coat feathers or, you know, make modifications to some of the natural materials that you're working with in order to capture
13:08
a particular scene or a particular moment? GD: So as a standard procedure in all avian
13:15
taxidermy, the last step would be the finishing. So as we finish the piece, usually the legs are
13:23
recolored, the beak is recolored, so the soft tissue basically fades in color. As far as the
13:29
feathers go, usually the feathers are great at retaining their natural color so none of
13:34
the processes we use really fade the feathers and the specimens that we normally receive to do a new
13:40
piece are usually in great shape and don't require any kind of recoloring to the feathers themselves.
13:47
JS: Is there ever any reason why you might use a feather that's not in pristine condition if you were adding feathers in maybe to a skin that didn't
13:58
come in in perfect condition, or on a mount that you were restoring, would you ever use, you know, deliberately use faded feathers in order to match something that was already there, and maybe in,
14:09
you know, in a slightly faded condition, or are there other situations where you might do that? GD: Well we could answer that basically in two parts. If we're doing a new piece of taxidermy and
14:20
the bird let's say is missing a primary feather, and needs to be an open wing, then we would,
14:27
you know, acknowledge this as unacceptable damage to the specimen, and we would be able
14:32
to hopefully obtain another feather hopefully from that same specimen or from a similar
14:38
specimen and alter the feather so it matches and then add that into the new piece of taxidermy.
14:44
If we're talking about restorations, then we would have to look at it more closely. We would have to
14:51
be careful and more conscious of you know how do we alter this specimen, how far do we go,
14:57
so again, we would then go back to the client and discuss it with them and see what their hopes were. Are we allowed to add any additional feathers to this, did they not want us to,
15:08
we would like to then hopefully find a feather from the same type of bird and replace it or
15:17
fabricate a feather using a natural feather by cutting, altering, recoloring, or fabricate an
15:23
artificial feather, we've done that as well. JS: Yeah you know this kind of naturally brings up the issue of, you know, the legal aspects of possessing and acquiring feathers. Bird
15:35
materials are some of the most heavily regulated natural specimens with limitations on you know
15:41
who can own them, who can buy and sell them, and I wonder how that, you know, affects your work,
15:47
and your choices when you're kind of confronting some of these problems, you know, if you aren't
15:54
able to legally acquire a matching feather from the same specimen, you know, is your go-to to
16:00
find something and then modify it to match, or you know are there times when it's really
16:07
important that it does come from the same species? GD: That's a great question and what happens is
16:14
the laws play a tremendous role in what we do, and what a lot of people don't understand is
16:20
federal migratory bird laws because they can be very complicated and very gray in certain areas. So let's take an example if we have a Green-winged Teal which is a waterfowl
16:31
and it has a foot that's destroyed, or the wing is destroyed, or any part of it is,
16:40
you would essentially want to replace that with another piece from a Green-winged Teal. The federal migratory bird law prevents us from using another Green-winged Teal to replace those
16:51
feathers for a private client unless the client provided the specimen or the museum provided the
16:58
specimen. So if we are going to use the feather from that same species and it's a protected
17:04
species, you have to have the permits and the paperwork and the protocols that go along with it,
17:10
because it's basically, what they do is Fish and Wildlife looks as it as you're selling bird
17:15
parts. If I take the wing from another specimen I'm selling that wing and you cannot do that,
17:22
so it gives us a lot of challenges, so hopefully the client will have backup specimens,
17:30
you know we tell private clients and museums that all the time, if you want one specimen mounted, bring us three or four, bring us one so we can choose the best specimen
17:39
and we would have parts if necessary. We have to maintain the legalities on something like that,
17:45
it's very important. If the specimen is very rare or it's an endangered species and we know we're
17:51
only going to get one of these, then we have to look towards using a captive reared specimen or
17:59
a specimen from domestic stock or further yet then you need to look at fabrication.
18:12
JS: All right so I wanted to move on from here to preservation, preservation related questions.
18:22
You mentioned earlier that many of the historic remedies for mitigating
18:30
pest activity aren't available anymore, and that taxidermists are now using things like borax and
18:39
you know pest infestation is such a very very important problem for taxidermy,
18:44
and I just wondered if you could talk a little bit about about infestation and, you know,
18:50
are you largely confronting specimen in your restoration work where they there has been a
18:56
history of pest infestation or is it, I'm sure there's quite a variety of issues that that you
19:04
are presented with but, I'm curious kind of what your approaches are to dealing with specimens
19:12
that have been heavily infested in the past. GD: So the infestation problem is probably our
19:20
number one problem today, it is growing rapidly and it's absolutely out of
19:25
control. So it's interesting, the older taxidermy that we see for restoration,
19:31
a lot of it we see little damage because of the arsenic treatment. We see situations where you
19:39
would have a a colony come in and try to eat a little bit and then wound up dying, so you have
19:45
minimal damage where these insects would try to do a little bit of eating and then of course,
19:51
you know, just cannot tolerate it any further, so the older pieces we restore we do see less of it.
19:57
Now there's there was a period of time when taxidermy switched over from arsenic to borax,
20:02
and that was quite a long time ago, so most people don't realize this is not a new thing. I think
20:08
it was Leon Pray who actually started people to getting away from arsenic and getting into borax,
20:16
and once people started switching over to that you start to see birds come in from those days
20:22
that were actually treated with borax and you see the infestation damage much more prevalent
20:27
in those. So for the new taxidermy they're always trying to find something, our industry
20:34
is constantly looking at ways to do this and you know nothing that I have seen so far has helped,
20:42
none of the treatments we have ever used seem to seem to help, and it's a increasing problem,
20:48
we really don't know what to do and it's huge. So for us, we're very careful when a specimen comes
20:54
in the door, we try to take all the precautions when something comes in for restoration, but like I said most of the times we don't see the older pieces have a lot of issues with that,
21:04
it's mainly the newer ones. We get more new birds come in for restoration because
21:10
of insect infestation than the older ones. JS: How do you feel about freeze-dried specimens?
21:16
GD: You know I freeze-dry myself, I've used it through the years, I think it's a time bomb
21:25
waiting to go off honestly. Unless we can find a way to truly inject those specimens or find a good
21:35
bug proofing method, it's it's not going to last. And unfortunately it is used quite extensively
21:43
today by companies that understand it's the more economical way to go, and unfortunately
21:54
for the museum community they may not even know that they are getting a freeze-dried specimen,
21:59
because it's not specified, a lot of times whoever is ordering the taxidermy from the museum
22:05
would not even consider asking is this conventionally mounted or freeze-dried. Conventionally mounted taxidermy is much more expensive than a freeze-dried piece,
22:14
so they look at the bottom line, this is the best way to go and you have
22:19
essentially these buffets waiting to happen. JS: Do you have special techniques in your own
22:28
studio for storing feathers and other materials to try to mitigate or eliminate the risks from
22:36
pests and other types of damage? GD: Yes so we primarily use a
22:42
lockable storage container from, very small ones all the way up to large ones,
22:48
that are basically a plastic container with a gasket around it, something like Sterilite would
22:56
would supply us with, and inside that container we still use mothballs and we still sometimes
23:04
use a piece of a novon strip in there, you know we do not have specimen cabinets in our studio,
23:11
and I don't know if it's really necessary for our type of work because we have so many bits
23:18
and pieces of feathers and bird skins and things like that, that we really need to
23:23
just keep up on every little tiny box and and try to catch it before it ever happens.
23:31
JS: I wanted to ask you a little bit about, you know, the caretaking of the objects that you
23:39
create and their life after they leave the studio, you know, as conservators we think a lot about
23:44
the context in which objects were made and we think a lot about the intent of the maker,
23:51
so I wondered if you have any clearly defined preferences about how conservators and other caretakers should approach the preservation of the taxidermy that you create and
24:00
whether you have any special mechanisms for communicating those ideas and preferences to
24:05
those caretakers over the longer term? GD: We feel very strongly about this,
24:10
and it's something that weighs heavy on my mind constantly because I've been so fortunate to work with great conservators, you know, I know what the road ahead has and
24:21
it concerns us to the point where what I try to do is sit down and actually have a conversation
24:27
with the client. I feel it's better to have a face-to-face conversation to where we can say,
24:33
listen this is really important to take care of these specimens, watch out for infestations,
24:40
we want to make sure even the private clients today, we talked to them about ipm
24:47
and of course most of them have never heard those initials before, but we we explained to them this is extremely important. We need to be up on cleaning, we need to be up on inspecting the
24:57
taxidermy pieces, if you see any sources of frass or live insects we need to take good care of that,
25:05
cleaning the taxidermy, things like that. We offer them the cleaning services, we'll do it, museums
25:12
should hopefully have ipm in place and maybe a staff of people that can clean the specimens but
25:20
it's it's a little bit more organized in a museum setting than it is for private clients so I honestly worry more about the private clients more than I do about the museums,
25:30
but honestly with the new taxidermy being produced whether it be for natural history exhibits or an artwork, I think we need to be very concerned, and I try to explain to clients also
25:42
about the quality of the taxidermy. Sometimes with certain infestations it doesn't matter how good
25:47
the piece is. As you know when you're dealing with cloth moths it could be the best piece in the world and it doesn't matter, they're going to infest it. If you're looking at infestations
25:57
from domestics and things like that, then you want to make sure whoever is doing the taxidermy
26:03
takes the proper steps for cleaning the specimen well, preserving the skin, tanning the skin.
26:10
JS: Do you consider all changes that happen to a finished mount after it leaves the studio to be
26:15
damaged that needs to be repaired, or do you feel like there are some forms of change and natural
26:21
degradation that might be tolerable, and I'm sure that that varies with different types of objects,
26:27
but you know it's interesting to think about what level of visible change may be acceptable in a particular object. GD: I feel if in a bird specimen for example, if
26:39
there's any kind of change to that specimen, I'm concerned. Because when it leaves the studio
26:44
the bird is preened completely, the colors are restored in the the soft tissue, the feathers are
26:50
looking a certain way, it should remain like that. If, and this is something we tell our clients too,
26:56
if you see a physical change in that specimen, if you see feathers start to move, things like that,
27:02
that's usually a first indication of some kind of infestation or something's going wrong.
27:07
Of course there's going to be fading, we're going to have fading in the specimens. I don't find that acceptable, I'm I'm sure there's a small window of time where if you look at the
27:18
specimen against a study skin you'll say all right this is this is hard to tell from the layman's
27:23
point of view how much this has faded, but if it starts to become noticeable then we feel it
27:30
it's unacceptable and it should be addressed. JS: Do you, I mean do you hold the, you know,
27:35
the species itself and true trueness to the live animals appearance to be, you know, really the,
27:44
you know, the most valuable criteria for assessing those types of changes? GD: Absolutely. If you if you're going to reference the specimen, you want to always
27:54
look at a live reference photo or a study skin if you can. If you're talking about color I think you're probably better off with a study skin because as you know if you're looking at a
28:04
google image or something like that you don't know if the photo's been enhanced or filters, so I would always reference a study skin. As far as anatomical issues,
28:12
then I would look at a live photograph of a bird you know that's that's always your best bet. JS: Have you ever encountered damages in specimens that you've been asked to restore that you
28:22
really feel cannot be successfully mitigated through restoration, and how do you feel that
28:29
kind of unrectifiable damage should be approached? GD: So with our museum clients, we do have some
28:37
that are unfortunately working on very small budgets and have very old collections that may
28:43
not be in great shape, so they are forced to try and use these pieces in their new exhibit work,
28:49
and the specimens are just really, birds we call it they kind of get ratty and tattered looking and
28:57
very dry and tired, and once a specimen starts to get to a point where it doesn't represent
29:04
the species well, then we feel it should be then addressed, and by addressed I mean
29:10
what's the next step, can we restore this piece, how intensive would the restoration be,
29:18
what kind of methods, materials, and how costly it's going to be, so then we talk about if it's
29:25
decided upon replacing the specimen, and that's a really tricky question for a lot of museums. So
29:33
if the specimen no longer represents the species accurately and there's no way to restore the
29:40
specimen convincingly, or if the cost of the restoration outweighs the cost of a new specimen,
29:49
then we need to look further into replacing the specimen. Now once that's been decided upon,
29:56
then comes the question of where do we obtain another specimen, do we get something from a
30:01
rehabilitator, do they need to acquire certain permits, or is this something that we can legally
30:08
provide them with, so then there's always a series of questions along the way so, I
30:13
think if it's unrestorable it should be replaced. JS: I imagine this gets really sticky though with specimens that have special historical importance, you know, if they were,
30:23
you know, created around a particular event or if they were created by an important taxidermist, you
30:29
know, those questions could get very complicated. GD: Correct, when we approach a restoration that's usually the first question we ask our clients: What's what's the provenance of the piece,
30:39
what's the history of it, does it have any historical value, if if those all come into play
30:45
then it's not even a question, we do everything we can to save that piece, then it's not an
30:52
issue. If we're dealing with a piece that has no scientific data, nothing behind it,
30:57
we deal with specimens that have absolutely zero data with them, then we say it's gonna cost three
31:05
thousand dollars to restore this piece, it will cost you 300 to replace it.
31:10
To smaller institutions, it's not even, it's not even a question, but you're absolutely right it has a lot to do with the provenance of the piece.
31:21
JS: You've talked a lot about your work focused on restoration and, you know, both in museums and
31:30
working with private individuals and, you know, I know that you often work with conservators in some of those projects. I wondered, you know, how do you view the role of conservators who are caring
31:39
for taxidermy over the long term as opposed to a taxidermist or a restorer, you know, how do
31:46
you see conservators fitting into this process? GD: I think it's, I think it's fantastic, because
31:54
I think a lot of times the museums would normally go to the taxidermist and I think that's important
31:59
to for them to understand that that is a great way but I do believe that they need to understand that
32:06
you cannot replace a good trained conservator. I think the best situation is when you have a
32:14
working relationship between the taxidermist and the conservator. I think the two of them
32:19
working together will give you results that you cannot get working with one or the other.
32:25
I think it's a great situation, now of course you have to have the right taxidermist and of course the right conservator, but I do think as we move forward in the future this is going to be
32:37
the best scenario that institutions are going to be looking at because it just gives them a much
32:44
better approach to restoring the piece. JS: Do you have any guidance for a
32:50
conservator who's considering partnering with a taxidermist to work on a natural history specimen,
32:58
feathered or otherwise, you know, in selecting or finding a taxidermist to work with, or do you have any kind of recommendations or guidelines? GD: That's a great question and it's so difficult
33:09
today because the taxidermy community really does not embrace conservation, they really
33:18
may not, most of them I don't think even know about conservators, and not for lack of not wanting to, the worlds just never met, they never collided, it's just
33:28
very few taxidermists ever had the experience of working with a conservator because most are not doing museum work anymore. You know, most museums do not create a lot of new taxidermy so
33:40
most of the taxidermists out there are doing work for private citizens so, it's not needed in their
33:47
eyes. Anyway so for the conservator, I would say if they're going to look to a taxidermist they
33:53
really need to do their research on the background of this person because they're not gonna
34:00
have the experience they might be hoping for, and or the willingness to work with something
34:06
like this. Remember most private taxidermy studios are concerned with doing quality work
34:12
but they also need to push a number of pieces out the door at a certain price point, so when you're
34:18
dealing with a lot of volume you may not get the personal attention that you would hope to
34:24
look for in dealing with museum specimens, so it's very difficult today. I don't think I could help
34:31
with that at the moment, we hope to change that. JS: My last question is really just, you know,
34:39
how do you document your own work and why do you document your own work if you do, and what do you do with that documentation? GD: I've always kept my own journals and notebooks
34:48
on the processes I do just for my own sake so I can go back and reference this at some time.
34:54
When we're dealing with particular projects that is another one of the main questions that we ask the client, do you want us to fully document this where we do photo documentation,
35:04
written documentation, and we can provide them with that package, and it's usually the cost
35:10
that dictates whether they do that or not. If that's the case and they want us to we do the
35:15
full documentation, we do photo documentation, we do written documentation, and provide that at the
35:21
end to the client. If they do not want to do that, then of course we have to look at what it cost to
35:28
do something like that, and we may sometimes do it on our own for our own sake, or we may just
35:35
do the project and we just keep minor notes on what we've done. If I, in my studio, if I feel
35:41
it's an important piece and the client doesn't want to pay for the documentation, we will most
35:47
likely do it anyway just for our own sake. JS: That's interesting so,
35:55
I'm gonna pause there and let people bring up questions if they have any. Go ahead Ellen.
36:37
ELLEN PEARLSTEIN: Okay thank you George this was so interesting and incredibly informative, really.
36:45
I have two questions- one is what are the typical tanning methods that you would use, you mentioned
36:53
that you might be tanning a bird's skin if it was potentially a larger or more robust bird skin,
37:01
so I'm curious what the tanning process would be, and then my second question has to do with,
37:08
you also talked about replicating a feather in the instance where the feather from the same species
37:16
would not be available to you, and I was curious what that would look like, what that process might be like? GD: Sure, so the tanning process
37:27
for mammals, that would be for mammals or large bird specimens, can vary greatly but it's still
37:33
a basic process, so there's a a step where the skin would be salted and dried, that pulls all
37:40
the moisture out of the skin. Once the skin is hard and stable, it then gets rehydrated
37:46
and then it goes into an acid pickle. Once it's in the acid pickle, the skin will be cleaned further,
37:53
that's usually the point in a mammal skin where they would shave the skin down, pare the skin down, and then put it back into the pickle. Of course you're not doing that with a bird skin
38:02
so we would basically just clean it a little further, put it back into the pickle for a few
38:07
days, then and this is more scientifically written out I'm just giving you the abbreviated version,
38:14
so once the skin comes out of the pickle it becomes neutralized in the solution,
38:20
and then it's oiled. So the oil used could be numerous different oils that are on the market
38:27
today and used in mammal skins, but it's basically the same process. Once the skin is oiled and that
38:33
oil has a chance to absorb into the skin, that's when we would normally tumble a large bird skin,
38:39
it goes into the tumbler with sawdust or corn cob grit and then gets tumbled until it's dry,
38:44
and at that point the bird then gets mounted. There would be no addition of borax or anything
38:50
like that, we would consider that skin stable. Large specimens like ostriches for example
38:56
you can still send to a commercial tannery, so the commercial tanneries doing mammal skins
39:02
will still do ostriches. So we have used the tanneries for situations like that where
39:09
we don't want to bother with it in the studio, or we just can't because of scheduling, and it basically comes back like leather with the feathers attached to it. I personally like to use
39:21
it in-house because we have a little bit more control over it, but it's a very interesting
39:27
process. That skin is so thick on those larger birds it needs a better treatment than just
39:34
a dry preservative, something like that, so we feel it's absolutely necessary. For replicating
39:40
feathers, I'm continually experimenting with new processes and techniques and have done just about
39:47
everything you could imagine. I've molded in cast feathers and cast them out of polyester,
39:53
urethane, wax. I've made feathers out of japanese tissue, where we'll we'll make a vane out of wood
40:02
or roll japanese tissue and then create japanese tissue feather the vaning, we've done them out
40:08
of different papers where we'll score all the little lines in them and create the textures and
40:15
made some really beautiful feathers, and it depends, it really depends on whether the client
40:20
wants a true conservation treatment and is worried about archivability, or if the client tells us
40:26
you know we don't want to deal with the extra costs of a conservation treatment, we we need something, for lack of a better term quick and simple and cost effective, so unfortunately being
40:37
in a private studio we have to listen to the clients and let them dictate what they want.
40:44
EP: Thank you, thank you.
41:07
LISA ELKIN: Hi George, this is Lisa Elkin from the American Museum of Natural History,
41:14
thank you so much George. It's always so great listening to you, I learn something, many things,
41:21
you know every time I get to have the opportunity to hear you talk about your profession, thank you,
41:27
always such a treat, so thank you so much. George are there treatments or approaches that you see
41:34
contemporary conservators using today that are concerning you, are there things that we're doing,
41:40
materials we're using, or even just the way we're approaching, you know, a taxidermy scientific
41:46
specimen that you think could use improvement? GD: Well I think what I've seen from
41:54
conservators today, I think their methods and materials are great, I mean we're using
42:00
more and more of them on a daily basis. What I think there needs to be is more collaboration
42:06
with a good taxidermist, but even more so than that, I think more conservators need to
42:14
dive into the world of taxidermy a little bit more, I think they need to know the process more intimately. I think they need to understand how the piece was done,
42:26
and even maybe get into this a little bit more themselves so they know exactly what's happening,
42:33
you know, it's just a piece of the puzzle so I think conservators need to get more involved with doing the taxidermy themselves, understanding the process, even if it's just once or even if it's
42:44
sitting in a lecture, but there's there's no substitute for good hands-on experience
42:50
and doing that piece. The other thing is I think it would be great if conservators
42:56
had a little bit more training in just being a naturalist, being a birder, understanding the way these birds move, or what it looks like, the feathers look like, because I can tell right
43:07
away if a taxidermist is not a good naturalist, you could tell immediately that they don't know
43:12
their subject by the way it's posed, by the way it looks, and just capturing the essence of that
43:18
specimen. So if a conservator is is approaching a restoration, you would want them to have all of
43:24
that, the best conservator would have all of that under their belt, knowing the specimen, knowing
43:30
feathers, and just experience, and unfortunately you know this is a new world for a lot of us, so
43:38
it's going to take time for everyone to get the experience to get to that point, but that's what I see because I've seen a lot of repairs that just don't look very natural,
43:48
you know, they don't they don't blend very well or you can pick them out right away so I think
43:54
that's my only criticism and it's not really a criticism it's just more of an education thing. LE: Thank you, and just following up on the first part of the question and the importance of the
44:08
conservator understanding the process of taxidermy and the steps and materials that are used,
44:15
are there are there particular steps or materials that leave their mark on the specimen,
44:21
the feathers in particular, that conservators should be aware of, and maybe it might that might
44:28
be more the case of a sort of lesser taxidermy specimen, something that might not have been
44:34
prepared as well as another, there, you know, what sort of damages might a conservator see
44:40
in a feather that's evidence of that process? GD: That's evidence of the taxidermy process?
44:47
Julia, this, I mean Lisa, this is such an interesting thing that I spoke to Julia about earlier. We were talking that the taxidermy process is so varied from taxidermist
45:01
to taxidermist, and it varies so much in materials that it's overwhelming. We really
45:10
don't know what one person can be putting on the specimen to another. I mean we,
45:16
I mean I've judged taxidermy conventions for many years and I remember seeing a piece that stuck out
45:23
in my mind that a gentleman did of an underwater scene and and he sprayed the bird with gloss,
45:30
and you know for the life of me I'm like why would you ever do something like this, but,
45:37
you know, it could be, we don't know, you know, we don't know what could be happening, you know,
45:43
we've we've heard of guys using you know different glues and things like that on these specimens,
45:50
different methods for cleaning them, they're soaking them in different solutions, the taxidermy
45:55
industry is selling different bug proofing methods today that no one has tested, no one has looked
46:01
at to how they're gonna affect these pieces down the road, so there is a huge question mark hanging
46:08
over all of that, so I think when conservators are dealing with with taxidermy it could be anything.
46:17
It really is open to anything, that's why we're trying to research this more and try to find out,
46:23
but remember there's no set process for taxidermy. It's like someone cooking in their kitchen,
46:30
you know, they have what works for them and they're not using a recipe, it may taste great, it may taste terrible, but they may never be able to repeat that recipe
46:39
and they do it different every time. The same thing goes for taxidermy, a guy might have his
46:45
process down, but you know it may change, it may vary, and you know they try different things so
46:53
there's no standard in our industry on what what's actually being done or used. I'm sorry I couldn't
46:59
answer that better for you but I think it's important conservators know that, that there's, you know, there really is very little known. JS: Makes it challenging for the conservator
47:10
GD: That it does. JS:
47:18
All right, well, thank you George for being our first interview subject,
47:23
and thank you everybody for joining into this and for participating with your questions.
George Dante is a renowned taxidermist and wildlife artist based in New Jersey. Guided by the traditional techniques of 19th- and 20th-century master taxidermists, he and his staff at Wildlife Preservation Services create and restore taxidermy mounts, models, and simulated environments. They have worked closely with the Museum on many different projects.
In this interview conducted by AMNH conservator Julia Sybalsky, George gives an overview of the laborious process of creating an avian taxidermy mount and how the methods and materials have changed over time. He emphasizes the highly individualized process of a taxidermist, how the exact materials and techniques used to create a mount are akin to a family recipe, and the way this could affect a conservator's approach to a treatment. Having partnered with conservators from different institutions, George emphasizes the importance of a working relationship between conservators and taxidermists for successful outcomes in taxidermy restoration.
The Value of Scientific Collections
The Man Who Made Habitat Dioaramas: a Brief Biography of Carl Akeley
---
Indigenous Cultural Material
Indigenous communities throughout the world have utilized animal materials, including fur and feathers, to produce an astonishing array of functional and ceremonial objects, employing technological knowledge and skills developed over millennia. Fur and feathers were used and continue to be used to create beautiful and powerful objects of personal adornment, high-status regalia, ceremonial, and spiritual items by numerous cultures. In caring for these collections, conservators must consider their intangible as well as tangible aspects. They should acknowledge the culture bearers as the experts, relying on outreach and partnership with originating communities to better understand the raw materials, technologies, and nonmaterial aspects of objects, ensuring respectful and appropriate storage, handling, treatment, and display.
Some examples of these efforts undertaken by conservators in the Anthropology Division at the museum include extensive work carried out during the renovation of the museum's historic Northwest Coast Hall in partnership with representatives from indigenous nations whose treasures are exhibited in the hall, and the conservators' outreach to community members during their two-year project to treat and rehouse portions of its Siberian collections.
Interview with Dr. Maria Olvido Moreno Guzman, researcher and conservator at the Instituto Nacional de Antropología e Historia, and a professor of Art History in the graduate program at the Universidad Nacional Autónoma de México.
0:09
RENEE RIEDLER: Welcome to the feather conservation series, feather conservation interview series.
0:16
My name is Renee Riedler and I'm an objects conservator currently based in Vienna.
0:23
I work at the Welt Museum where I met Maria Olvido Guzman, my interview partner today
0:30
when she was researching a very iconic feather piece from Mexico. Maria is a researcher
0:40
in feather art and I want to welcome her. MARIA OLVIDO MORENO GUZMAN: Hi good morning,
0:46
or good afternoon. I'm actually located at the National Institute of Anthropology and History
0:54
where I'm doing research for temporary exhibitions, and at the same time I also work
1:02
for the National University where I do research on featherwork represented on mural paintings,
1:11
prehispanic mural painting. At the same time, I really do a lot of things, I teach contemporary
1:22
feather art that we call mosaics. RR: I was wondering why
1:27
you think it's so important for the people in Mexico
1:30
to keep this tradition alive? MG: I think it is because,
1:35
like our history our pre-hispanic history is so tied to featherwork, you know, it is really tied
1:45
to our memory, and to the collective idea of the proud, and in Mexico we are quite
1:56
proud of our prehispanic history, aztecs and mayas and toltecs and etc. were almost like the
2:06
perfect idea of an ideal society, so it's like a kind of illusion, false of course, it is false,
2:16
a false illusion of the past, and also because it itself represents one of the best things
2:25
in my country, and especially because it is at risk of getting lost.So like all this combination
2:35
made people to be interested not only in featherwork but also in other artistic prehispanic
2:45
expressions, so I think it is because it's quite tied to the ideal
2:53
illusion of a great society from the past. RR: Being afraid that this tradition gets
3:01
forgotten, it also reminds me of the birds, and the feathers, the choice of the feathers
3:07
because the birds also disappear, right, like the Quetzal, where they are in danger to disappear,
3:14
so I was also wondering how important is the feather choice of today's feather artists, and
3:22
the feather choice of the past feather artists? MG: Yes, yes it is like this,
3:29
the choice of feathers by contemporary workers actually is determined by two factors.
3:36
The first one is that, let's say that making copies from the past, because they try to copy
3:45
feather models and designs from the past, they try to use the same colors or similar feathers to
3:55
achieve a high quality or fidelity because we do not have enough birds from the original species,
4:04
and the second is like they do their work by personal taste and at the same time
4:12
it's, no way to avoid that they print an individual creation,
4:19
they like appreciate the design but at the same time they know it is not possible to make a copy
4:28
that can be like really the same, and the main factor is that we do not have enough feathers.
4:37
But let's say like the historical workers, these artisans also had a difference.
4:49
They knot and glue the feathers, and today those knotting techniques are lost
4:59
because no one follows the tradition like they followed during the three centuries of colony
5:06
and 19th century, the mosaic, the glue feathers, they didn't conserve the tradition of knotting,
5:18
and at the same time, telling the truth, we really don't know, we really don't know yet exactly
5:26
if the historical workers like really dominated the deep meanings or motifs or iconography
5:34
of the objects they manufactured. In the making of garments or clothing or ritual
5:41
objects or devotional mosaics or several articles for festivities paraphernalia etc.,
5:49
the boundaries between connoisseurs or those that possess the knowledge,
5:56
and from those that dominate the techniques, those limits are not well defined.
6:04
RR: To understand well, it if for example a Cotinga, a blue Cotinga feather cannot be used
6:13
today, it might be okay if it's replaced by another bird because we don't know if
6:20
the deeper meaning is ingrained in the birds MG: Yeah we don't, I think contemporary amantecas
6:32
don't know the deep meaning of, they don't know the deep meaning of this special blue, you know,
6:42
from the (unknown), from the Cotinga amabilis. They would like to have this beautiful blue,
6:50
it is impossible, so they replace them with other birds. They know is not the same bird,
6:59
but at the same time they don't know, they do not know the deep meaning of the
7:05
(unknown). And today really, so so difficult, the the making of featherwork today,
7:13
since last century you know alterations and loss of ecosystems are affecting bird populations
7:22
in a massive way, you know, and in general contemporary artists,
7:27
they can buy birds, and at the same time they can buy feathers, and they also are doing now
7:36
via internet, but these feathers that we buy via internet, most of them come from Asia and of
7:45
course they do not represent the American species. RR: Do you know of any artist, contemporary
7:53
artists, who works with feathers which have been dyed or trimmed?
7:57
MG: It is a common practice, of course it is a common practice. Contemporary artists use dyed
8:04
and trimmed feathers for this purpose in order to imitate those feathers that they do not have
8:11
access. You can see right away, you can notice right away when they use dyed feathers, like we
8:12
have in the corner of the mosaic, in La Pinata. RR: Do you know if they know about the light
8:14
sensitivity of such feathers? Do they know, they buy or they dye themselves the feathers,
8:20
like in oaxaca, where they do the- MG: Yes we have like, we have both,
8:25
we have both. Some amantecas dye their own feathers, and
8:31
some of them buy colored feathers in in markets, and this part of lighting alterations, of light
8:41
alterations, they are worried more about physical contact, like if they can break, or
8:51
if during transportation, or they can lost to fall down from the piece,
8:56
etc., because at some point, at some point those pieces that are like decoration pieces,
9:05
they are framed, usually framed, and when they frame them they are like, already protected,
9:12
but it's different from those amantecas that do penachos, or headdresses, because these are
9:20
to be used on dances like Guelaguetza, in Oaxaca, and they have certain periods of life,
9:28
and they usually like to, to have like a new one every year, so they know
9:35
it is for a festivity or for festival, and maybe for next year, because it's part of the idea
9:43
of next year, they will make another piece. RR: Do you know more about how they prepare
9:50
the feathers, I mean in terms of how they clean them, use soap, what kind of cleaning has been
9:58
or is used, and do they use pesticides in the museum, and also the featherworkers themselves?
10:04
MG: As far as I know the feather workers don't use pesticides. In general, first the artisans
10:14
make a selection process, which is a problem because when you buy feathers at least half of
10:21
them are not useful. You take like the little plastic bag and you can see through, you know,
10:28
through the window, through the sun, that half of them will not be good enough because they do
10:35
not have a good shape, or because they are dirty, etc. so the first process they do is a selection.
10:46
Of course in order to try to work only with those feathers that at first glance are well preserved,
10:53
especially their tips, you know tips are very important for them. If feathers look really
11:01
dirty but they have a good shape, then they wash them with water and liquid hand soap,
11:11
that's what they use, and then afterwards they dry with a hair dryer.
11:17
RR: Do they also trim them so they have this perfect shape of the edge?
11:23
MG: Yes, sometimes yes they do, the perfect shape of the tip, or the shape they need for the design,
11:36
and also sometimes they take just like the barbs, you know, like one two or three barbs,
11:43
to do the design, to define the designs. RR: Do you know if the feather
11:51
artists document their work via photography, or in written documents?
11:55
MG: They, I don't think they document the process. Usually they document the final product,
12:04
once the object is done, so they like take the memory picture, or if the
12:11
if it will be for a festivity, so they take pictures in the festivity, during the festivity,
12:18
but not really like a documentation process. They are some documentors
12:27
that take a little part of this process, and just like three years ago, we started, those
12:38
that are like interested in the topic and that we think is important to preserve the information,
12:45
we started documenting this important work, and I am participating in a multi-disciplinary team
12:53
and we are trying like to follow them, and to make them understand that it's important to document,
13:03
because we cannot be there full time, you know. RR: I read that your teacher, Olay Olay
13:10
MG: Gabriel, Gabriel Olay Olay RR: He comes from a dynasty of
13:14
feather workers so, and the amantecas, they also handed down the tradition from
13:23
father to son and that's why documentation is not such an important part because it's like,
13:30
the father was doing, is doing featherwork, and the son is doing featherwork, and his grandson is
13:35
doing feather work, or is this not necessarily a tradition which is practiced in the family?
13:42
MG: It is not like, that's not necessary. For example, for Gabriel, for Gabriel Olay Olay,
13:49
my teacher, he learned from the father, and the father learned from the grandfather,
13:56
and the grandfather from the grand grand grand that's what the way we went to 19th century,
14:00
okay, but it is a very special case, maybe unique, maybe unique, the Olay
14:07
dynasty, maybe it's a unique case, and for example, my teacher, don Gabriel,
14:16
he had five sons and from those five just one wanted to learn-Guillermo Olay. And
14:26
Guillermo, he must be a little bit younger than me, he must be in his 50s, and
14:34
he also he has three kids, and they are not
14:41
learning feather work. So it's not necessary, and nowadays, people learn featherwork at school,
14:57
at school, at official workshops, in convents, in casas de las artesanias, promoted by the
15:07
governors, but it's not, the teaching now is not like old days.
15:14
It doesn't go from one generation to another one RR: You talked a little bit about that the
15:21
museums, the government supports featherworkers, they purchase or they contract feather workers
15:27
to make replicas because so many featherwork, sometimes very singular pieces, are spread all
15:35
over the world, and what do you think about having replicas instead of the original?
15:42
MG: Well I love this kind of replicas, Of course I think it's very very important to have
15:50
replicas of historical objects, of course with the quality required to be considered,
15:57
like to be considered worthy representatives of ancient traditions and I see many advantage.
16:05
Of course starting by the conservation of the originals made with organic,
16:11
mostly with organic materials, that they should not travel, as we used to say should feathers fly,
16:19
of course should feathers fly, the answer is ancient feathers should not fly, because they can
16:27
get damaged in a very, in just in a few hours ,you know. A few years ago I did a public
16:34
study on reproductions that are exhibited in the National Museum of Anthropology,
16:40
and during the interviews the visitors responses reveal their appreciation for these kinds of
16:48
objects, and the reasons they exposed were really clear. People think that copies are good because
16:57
you can know the objects without traveling, and of course to preserve them if they don't travel,
17:06
to preserve beautiful and important things, they appreciate the aesthetic
17:12
part, of course copies are also good to teach to the kids,
17:20
and give to them tons of information, and of course it's a way to leave testimony of these
17:26
objects, uh example for the case of the Penacho copy our copy is 500 years younger
17:35
than the one that is in Vienna, so at some point originals, in time, will disappear and
17:44
what we will have will be copies so I, of course, I see making replicas of historical objects and I
17:53
insist with the quality required to be considered worthy representatives of ancient traditions,
18:01
it is very important and it's a practice we we should promote.
18:10
And here we have this fantastic copy of the Penacho de de Moctezuma, that Francisco Moctezuma
18:18
made between 1938 and 1940 for the National Museum of Anthropology.
18:24
He worked through photography and through print, through prints, and
18:32
he tried to copy in the best possible way el Penacho. But look at the difference, for example,
18:43
at the end, red feathers come from another bird. They are not from Rosette Spoonbill,
18:51
and blue ones are from cotinga, from the same bird as well as the green from Quetzal, and as well as
19:01
the brown from Piaya Cayana. So, this makes us think on how important is to have the same
19:14
bird species represented on the copy. From some of amantecas contemporaneos,
19:22
notice, for example, in the Young Christ, that is in the Kunsthistorisches Museum in Vienna,
19:29
the use of hummingbird feathers to produce visual effects,
19:37
and they tried to get the same feathers and sometimes they do, but
19:43
not always, and in this case for example in the back, they use peacock trimmed feathers.
19:45
RR: When you teach students, and when you have a really good replica of a very important object
19:50
in the national museum, then would it be important to have the feathers identical
19:56
to the original object, the same feathers? MG: Ah, of course, of course would be great.
20:08
For example, let's think on the red spoonbill, roseate spoonbill of the la Platalea, let's see
20:18
on those red curved feathers, you know, not other bird have this kind of red, and the red that goes
20:31
a little bit lighter, turns to pink, and then the white at the end, and it has this special shape
20:39
etc. If we want to do the chimalli, the canid, the blue canid chimalli copy, we will need 1,800
20:53
roseate spoonbill wing feathers, with the precise size, with the good health, with a good shape,
21:05
you know, clean, etc. and it's the only way to have like the, the shape of the border
21:16
of this, of this shield. So in terms of, of formal, because we cannot say in terms of deep
21:26
meaning, we are living 21st century and we will be impossible to like to do the, with the same
21:36
symbolic meaning of the object, but at least with the same formal characteristics,
21:47
and of course it would be very important to have the same feathers. Maybe one day if we preserve
21:58
our natural systems our ecosystems, you know, and we get to the point to recover
22:09
species populations levels, that agreed to collect the feathers, would be great, the problem
22:19
now is more serious if we think on the destruction of our earth, on our systems, that is the deep
22:29
problem, and that goes farther than the amantecas. LISA ELKIN: One thing I wondered, in many areas
22:41
of conservation, students are required to learn by copying the art. How important do you think it is-
22:49
MG: extremely LE: in this situation?
22:51
MG: Extremely important, extremely important. At the National University
22:57
in the graduate program of art history, I teach a seminar, every each student must make
23:09
a small shield, so they can live and experience what feather work means in all these terms.
23:15
LE: Maria thank you so much MG: You're welcome, thanks
Maria Olvido Moreno Guzman is a researcher and conservator at the Instituto Nacional de Antropología e Historia and a professor of art history in the graduate program at the Universidad Nacional Autónoma de México, both located in Mexico City. Trained as an amanteca, or featherworker, she learned feather mosaic techniques from artist Gabriel Olay Olay, a master descended from a family of amantecas. In this interview, she discusses the history and legacy of Mexican featherwork with Renée Riedler. Their conversation explores the multifaceted manner in which the tradition of featherworking influences and is influenced by contemporary Mexican culture. Maria explains nuances and challenges in the translation of featherwork from pre-Hispanic times into modern culture, and the uncertainty surrounding the deeper meanings behind historical examples. She also touches on wildlife conservation and the impact of dwindling bird populations on this ancient artistic tradition.
Interview with Meyo Marrufo, Eastern Pomo artist from the Clear Lake Basin.
0:09
ELLEN PEARLSTEIN: So we are delighted to have with us today Meyo Marufo, who is Eastern Pomo from the Clear Lake Basin and Meyo is an artist who works in many different materials. She works with feathers but she also works with abalone shell and beadwork and she's also a wonderful painter or doodler as she described herself.
0:34
I'm going to turn it over to you now and ask her a little bit about herself as an artist and regalia maker.
0:42
So once again it's Meyo Marufo. I come from the Clear Lake Basin People.
0:50
i actually grew up in Sacramento.
0:54
i grew up with the Maidu and the Miwok and started dancing with them as well as coming back and forth to Pomo country.
1:02
From where I am, Sacramento is only about two hours away so I got to see a lot of Pomo Country.
1:11
When i was about 16 years old i was interested in everything Pomo. i started out with the foods and then from those plants. I started with basketry, but what i also did during that time period is i started dancing and when i started dancing i wanted to make my own regalia.
1:31
At the time i was dancing with the Miwoks and there was a an older gentleman there that i used to help take care of.
1:42
Bill franklin who was actually one of the first native american heritage advisors in California and so he taught me how to make my regalia, him and his daughter.
1:54
My specialty is men's regalia, which is kind of an oddity. I married a sashaya uh Pomo man, so he's cospo and so we started making regalia more and more for the young men that lived around my reservation and some of his cousins.
2:22
And so we started working with a lot more feather work.
2:27
i don't hunt so i will stop and pick up a bird on the side of the road at the drop of a hat.
2:34
I have been known to ask men to hunt for me and i'll use those feathers. But mostly it's just picking them up where i can find them.
2:47
Okay, and then Meyo what about like the larger feathers for the skirts or the aprons? Your feather skirts can be made out of anything from turkey to eagles.
2:58
you'd be amazed that
3:00
when when you want feathers
3:03
it's amazing where you can find them um
3:07
but i also make abalone jewelry and so i
3:10
trade for a lot of feathers
3:12
and so what about if the feathers are
3:14
not pristine
3:15
you hide it in the middle i guess
3:19
that sounds really bad but no um so say
3:23
a a typical tail top knot for
3:26
turkey tails for a woman takes about a
3:30
really good sized one a real pretty
3:32
nice and full one takes about 125 to 150
3:36
feathers
3:37
you know you can put in not quite so
3:40
wonderful feathers
3:41
as fillers um we're also obviously we're
3:44
very
3:45
interested in preservation um so we're
3:47
very interested
3:48
in whether you take any steps to keep
3:52
your feathers in a particular way
3:54
when i when i pull feathers um
3:58
i automatically sort them
4:01
i freeze them for about a week and then
4:04
once i take them out
4:05
i have a trunk that i keep them in and
4:08
it's a cedar line trunk
4:10
and then i also put um pepperwood in
4:13
there
4:14
we're also curious to hear how you clean
4:16
feathers
4:17
when you pull the feathers sometimes
4:20
you'll find the little pieces of blood
4:21
and little pieces of meat
4:23
on there um you're gonna
4:26
you know scrape the quills and then
4:28
you're going to gently wash them
4:31
um i don't usually use soap on them i
4:33
usually just use water and wash them
4:35
because i don't want to take any of the
4:37
oils off of there
4:39
because i don't want the feathers to
4:40
split unless i want the
4:43
the the feathers to actually split down
4:46
and be more fluffy then i'll use soap
4:49
but
4:50
usually i don't want to use soap so i'll
4:52
just wash them off with hot water
4:55
on the quills and i'll wash them off
4:57
with cooler water towards the top
4:59
and so it just it's just a kind of
5:02
you're not soaking the feather because
5:04
you really don't want to soak
5:05
your feather once i get them washed i
5:08
lay them out
5:09
dry them on a towel once i'm ready to
5:11
use them i go
5:12
over and i'll lay every single one of
5:14
them out um
5:16
and i'll go through and i'll look and
5:18
see what kind of condition they are
5:20
if it's a piece that's already done and
5:23
it gets dirty then it depends on what it
5:27
is
5:28
if it's a feather skirt um
5:31
really dirt is kind of part of what
5:34
makes it
5:36
because that dirt is usually the
5:37
roundhouse floor
5:39
or the dance area in so which cases i'm
5:42
not going to be
5:43
set to uh wash those what i'll do is
5:46
dust them and i'll just take them in my
5:49
hand and just take a
5:50
damp cloth and just wipe them off really
5:53
quick
5:54
um you know i i also wanted to ask you
5:56
whether
5:57
um you've never had the experience of
5:59
any of your regalia fading
6:02
i can't imagine anything fading a little
6:04
bit that i would have a problem
6:06
with it um quite honestly when
6:09
with the uh flicker bands they do tend
6:11
to fade that orange
6:13
is subject to light all the time and so
6:15
it does tend to fade
6:17
and it's still really beautiful and it's
6:20
almost like a rite of passage that you
6:21
have a flicker band that old
6:24
you know um as far as like red tail hawk
6:26
skirts
6:27
they will fade a little bit the
6:29
transition between that black stripe and
6:31
the bottom white stripe and the orange
6:34
will start you'll start to see it's not
6:37
so much of a high contrast
6:39
um part of it is because of the wear and
6:41
tear on the feather from
6:43
hitting the dirt and being dusty and you
6:46
know
6:46
the sweat but um it still looks really
6:49
good it's still a very vibrant
6:51
um so yeah i can't imagine not
6:56
keeping something just because it faded
6:58
a little bit
6:59
mayor you've no you never work with dyes
7:02
right i mean are you have you ever
7:04
i shouldn't i have you have worked with
7:06
guys
7:07
tell us about that my son needed a
7:10
flicker band
7:11
and they were dancing the next week
7:14
so i was like well maybe we can
7:17
fake one you know there's a lot of
7:20
there's a lot of
7:21
uh young people out there children that
7:24
have dyed headdresses or
7:27
even bamboo once they dye the bamboo the
7:30
one i did for my son
7:32
um you use it's the right dye i don't
7:35
know see here's the thing you get a
7:37
plant-based dye or you get an
7:38
uh animal-based dye and for your
7:41
feathers a plant-based diet will run
7:43
when they sweat
7:45
so the dancers will end up with streaks
7:49
of
7:49
orange coming down their face and it's
7:52
not a good look
7:54
um if they're too much dye in it uh the
7:58
the right dies r-i-t-e
8:01
um they work to a certain point but if
8:05
you
8:05
immerse it too much that color comes off
8:08
with sweat
8:10
lindy yamane turned me on to uh
8:13
some animal-based dyes that work with
8:15
feathers really well
8:17
for me it it's easier to
8:20
make stuff to trade than to go through
8:23
all that dying process i didn't like it
8:25
i'm nothing against them
8:27
you know there are some people that just
8:29
don't have access
8:31
um so they need that
8:34
you know they don't there's there's a
8:37
lot more dancers
8:38
than there are makers now have you had
8:41
to repair
8:42
any of your regalia in
8:46
2014 we went to russia
8:49
my youngest who was eight at the time
8:52
decided
8:53
he was going to take apart his skirt and
8:55
give people feathers from it wherever he
8:58
danced
8:59
um so i ended up repairing that skirt
9:02
and that was a matter of turning the
9:04
skirt you turn
9:06
the skirt net up and
9:09
you look at where the spots are missing
9:12
you hold
9:12
that that a net piece and then you turn
9:15
the skirt back over and you know where
9:17
to put your feather
9:18
so your top knot that goes up here
9:22
is a long string and you fold one
9:24
feather at a time and tie it over that
9:27
string
9:28
so that you have a whole row of feathers
9:32
you have feathers facing one way and
9:35
then about
9:36
halfway through you face them the other
9:38
way and that's how it makes a more full
9:40
looking headdress
9:41
so the middle of it as you roll it the
9:44
ones go up go like
9:46
this so that their feathers are facing
9:49
inwards
9:50
and then the ones that are on the end
9:52
that are facing the other direction
9:54
actually go downwards if you're using
9:57
wings
9:58
if you mis if you're missing that many
10:00
feathers that you have to do a repair
10:02
first of all bad you made it wrong um
10:05
but the other thing is that if you have
10:08
to um
10:08
you'd have to unsnip it from the hoop
10:11
unroll it and then repair it if you're
10:14
gonna do that
10:16
um make it nice and full so that if
10:18
feathers break or go missing you're not
10:20
going to notice
10:22
so um the thing the other topic that we
10:25
really want to make sure to cover
10:27
is you know you're surrounded right now
10:29
by museum conservators
10:31
right we're all we're all people the
10:33
deal
10:34
in museums with collections
10:37
and often they're pomo or maidu
10:40
or miwok or you know um and we're
10:43
we're trying to take care of them
10:46
and we're curious if you have any
10:49
thoughts
10:49
about kind of first of all conservators
10:53
in general
10:54
and the approach that we're trying to
10:56
take to preserve
10:58
things and also we are predominantly
11:00
non-native
11:02
um and you know any any and all kind of
11:05
issues
11:06
or points of view that you might have i
11:09
think
11:09
the whole idea of what a conservator is
11:12
has changed over the years
11:14
because i'm looking at women first of
11:18
all
11:19
and that's not that's not old old-time
11:22
museum
11:23
but the other thing is that i've
11:26
i've been in the role of a nagpra
11:29
director for a tribe
11:30
where i've gone through and and looked
11:34
at ethnographic material
11:36
and i've had the the um
11:39
pleasure of going to the milwaukee
11:41
museum to the brooklyn to the peabody
11:44
to different different museums and
11:46
seeing what their collections
11:48
are and i think
11:52
conservators now have learned lessons
11:53
from the past first of all you're not
11:56
using the same conservation techniques
11:58
because you guys like
11:59
life um you know we it's not the days of
12:04
cyanide and arsenic
12:06
you know unfortunately you're still
12:07
dealing with the fallout from that
12:11
but i think that the techniques that
12:13
people are using
12:15
are a lot more sustainable as far as
12:18
you know taking care that we're able to
12:20
still use them and touch them
12:22
as much as we can um
12:25
the things that were preserved in the
12:27
past
12:28
arsenic's got a heck of a half-life
12:31
so they're they're never going to be
12:34
fully
12:34
safe um i will
12:38
say that i talked with one tribe when
12:41
when we were gonna get back some flicker
12:43
bands
12:45
uh big head streamers and they're really
12:48
long flicker bands basically
12:50
and we were trying to decide
12:54
because in our way we have to dance them
12:56
before we put them down and make new
12:58
ones
12:58
so we're trying to figure out what do we
13:01
do with them
13:02
if we get them back how do we deal with
13:04
them um because they have to be danced
13:09
so of course many of the young men were
13:10
like well you know
13:13
i'm i'm young and i'm strong and i'll
13:16
dance them and i was like you know it's
13:18
it's not a matter of
13:20
how good you are to dance them it's more
13:23
of
13:24
you know the fact is is that when
13:26
arsenic heats up it becomes vapor
13:29
you know when it hits water if we drown
13:31
it it becomes toxic
13:33
you know it's more of how do we deal
13:36
with it you know and if you sweat while
13:38
you're wearing it it's just going to go
13:39
into your eyes
13:41
you know and i'm trying to tell them all
13:42
these things
13:44
and i think that might have been kind of
13:47
some of the stopping of people trying to
13:50
get
13:50
tribes trying to get some of the
13:52
ethnographic material back
13:54
because we didn't quite know how to deal
13:56
with it on a tribal level
13:58
if we take it out of museums how do we
14:01
honor that
14:03
you know they're i know the iroquois
14:05
have danced theirs
14:07
and some of the navajos have danced
14:09
their items
14:10
our items go directly over our eyes
14:13
i'm one of them the few indians that
14:16
you're going to meet that
14:17
you know what i almost you know my
14:19
background was museum studies
14:21
before i went into environmentalism i
14:23
feel that
14:24
you know museums are are important
14:28
they are holding spaces
14:32
until we're ready for them back
14:35
and there are some tribes that are
14:36
creating their own museums
14:38
and developing their own types of ways
14:41
to conserve
14:42
and to bring those items home but until
14:45
we have those type of museums in place
14:49
we need to keep the ones we have for
14:51
public viewing
14:52
but the you know the other thing that we
14:54
have a tendency to do
14:56
is we sometimes as conservators make
15:00
decisions
15:01
to replace a missing feather
15:04
let's say i mean it's interesting
15:06
because we we don't do that in a
15:08
it's not done lightly one of my graduate
15:11
students
15:12
was working on a war bonnet where all
15:14
the eagle feathers were had been
15:16
absolutely destroyed by moth and she
15:18
developed
15:19
techniques to make kind of replacement
15:22
feathers that weren't weren't going to
15:24
replace the eagle feathers but
15:25
visually would make it look like a more
15:28
complete
15:29
item you know for display so i i guess
15:33
we're curious to hear if you have
15:34
opinions
15:35
about those these kinds of things that
15:38
we
15:38
are sometimes called to do or
15:42
decide to do yeah
15:45
well you know i actually answered i
15:47
don't know if everybody knows malcolm
15:49
martin
15:50
um but uh he's a publisher and and
15:53
he's he actually has sent out a thing uh
15:56
survey to all of the regalia people that
16:00
he knows
16:01
in california and he asked us what we
16:04
think
16:05
should happen for um conservation
16:09
and this happened because um duke and
16:11
aguilar
16:12
and frank lapina passed away yeah uh
16:15
two very big names in our artist country
16:19
but also uh frank had a lot of regalia
16:23
stuff
16:24
and yeah and so we were kind of trying
16:27
to figure out
16:28
where do we put this stuff bev ortiz has
16:31
been looking at her collection with
16:33
kathleen smith
16:35
we're trying to figure out where do we
16:38
trust people
16:39
to put our items now because
16:42
you know even for those who aren't gone
16:44
yet
16:45
who who can house them with enough
16:50
good practices in place but
16:53
we need to start looking at at museums
16:57
and universities that can actually
16:58
document them
17:00
and do that documentation that that
17:03
makes
17:04
sense so his survey came out after those
17:07
two passed away
17:09
and you know one of my replies to him
17:12
was first of all we need to document
17:14
everything as
17:16
is right now we need to redocument it
17:19
all
17:20
and we can start doing more
17:23
documentation of the entire basket
17:26
what it was made of you know what
17:28
designs are used
17:30
if you look at like some of the basket
17:32
uh documentation
17:34
it doesn't say what design it is it
17:37
you know there's there's always the you
17:39
know who made it
17:40
but there's never the design there's
17:42
never the how many stitches per
17:44
inch and those things are the more
17:46
important things now
17:47
because as we have this new uh
17:50
generation of contemporary artists that
17:52
are coming out
17:53
and contemporary weavers um they're not
17:57
seeing the they're looking at the cards
18:00
but they're not saying oh this was
18:01
so-and-so's design
18:03
this was you know this pattern this many
18:06
stitches
18:07
you know this is how it used to look
18:09
like but this is how it looks now
18:11
and that's part of time you know as far
18:14
as replacing
18:16
um feathers i have mixed feelings about
18:19
it quite honestly probably as much as
18:21
all of you do
18:22
you know there's the integrity of the
18:24
art piece
18:26
versus the integrity of the visual would
18:28
i want somebody to take
18:31
one of my skirts and modify it
18:34
because even though you're replacing it
18:37
to make it look like it was you're still
18:39
modifying it
18:40
you know and if it's if it's in a museum
18:46
from like the 40s chances are it's been
18:48
danced
18:50
you know chances are it's it's been used
18:54
and so are are you
18:58
then the right person to modify it it
19:01
becomes a question of
19:03
how much how important is the visual to
19:06
you
19:08
is the visual that important that we
19:11
need to replace that one feather
19:13
in order for it to look full and robust
19:16
or do we let it be shown with
19:20
the wear and tear of the moths and go
19:22
this is how we don't want
19:24
it to look but guess what we have people
19:27
now that make these
19:28
and here is a new one right beside it
19:31
you know do we show that comparison of
19:35
what time does and i think that
19:38
in itself is more of the visual but when
19:41
we're talking about
19:42
baskets you know those haven't been
19:45
danced
19:46
those haven't been um you know
19:49
used for mostly ceremonies um unless
19:52
it's a certain type of feather basket
19:54
then yes it was
19:56
but do we replace those feathers
20:00
you know um if we're talking about polo
20:02
country
20:03
those feathers are stitched in in such a
20:06
way
20:07
that if you replace them if
20:10
a new person that weaves would come
20:14
into the room and look at this basket
20:18
they would have a misrepresentation of
20:20
what that stitch is
20:22
when i went to siberia and
20:26
i we got to go to the hermitage and we
20:29
went to the anthropological museum over
20:31
there
20:32
and we got to see the kashaya pomo
20:34
collection
20:36
and one of the pieces that i saw
20:39
was a hairpin a men's dance hairpin
20:42
and it had little tiny baskets on it
20:46
and there was no feathers left on those
20:48
baskets
20:49
but i could see where the quills were in
20:52
and i could see the time and technique
20:55
that it took to make that
20:57
and the wear and tear that i saw on it
21:01
actually taught me more than if i saw it
21:04
in full feather
21:06
because i was able to see she did
21:10
three stitches and then added a feather
21:13
three stitches
21:14
and then added a feather and that taught
21:16
me more
21:17
as a basket weaver than it did if i had
21:20
seen it in full feather
21:22
so i guess it just comes down to how
21:25
important is the visual
21:28
yeah thank you for that that was so yeah
21:30
that was
21:31
really great um just on the topic of
21:35
fixing your own regalia
21:38
um if you had let's say
21:41
sat on your skirt and the feather
21:45
quills had simply bent
21:48
would you do insert something or do
21:52
something to try to straighten them or
21:54
is that also
21:54
perfectly acceptable within the life
21:58
within its life so when i say skirt
22:02
it's actually men that wear the skirt
22:05
there's a wrapping technique that you
22:07
can use
22:08
that makes the feathers more pretty it's
22:11
wrapped with red thread
22:13
or white thread and you can unbend it
22:16
but you'd have to go through and wrap
22:18
every single one of them
22:19
and that's only at the top of the quill
22:22
if it's a
22:22
if it's serious bends in the middle
22:25
sometimes you can ease those by warming
22:27
the feather up
22:29
you can steam them and you can try and
22:31
bend them but if it's an
22:33
outright crack you're going to want to
22:34
replace those
22:37
thank you i just kind of had one more
22:40
go for it back in your nag per days
22:44
um when you're visiting other museums
22:47
um and thinking about wanting and
22:51
needing to dance these
22:53
now poisoned objects did
22:56
did you have conversations with the
22:58
conservators to see if they had any
23:00
suggestions of how you could protect
23:02
yourself
23:04
it depends on who the conservator was
23:07
if the conservator at the time
23:10
is part of the old boys club that
23:14
does not want to watch you there you're
23:16
not going to ask
23:18
but a lot of the conservators when i was
23:20
doing it in the early
23:22
no late 90s they didn't want to talk to
23:25
me
23:25
they wanted me out of their museum and i
23:28
saved their museum
23:30
you know a lot of them a lot of them
23:32
were like you know you just want to take
23:34
all my stuff and i'll never see it again
23:36
and that's not the truth so it was hard
23:38
to ask those questions
23:40
i'm in vienna currently and i talked to
23:43
a friend
23:44
she is in mexico city and she's studying
23:47
um
23:48
mexican featherwork and although of
23:51
course these are
23:52
totally different traditions are you
23:55
inspired or kind of
23:56
interested in the techniques of other
23:58
cultures working with featherberg
24:00
i i like feathers i don't
24:03
work with all feathers but i think
24:06
the um looking at what
24:09
the different tribes across the world
24:12
use feathers for
24:14
it's you can always find that similarity
24:17
um
24:18
the featherwork in mexico reminds me of
24:21
the mindview
24:22
feather uh boas and oh yeah i
24:25
i love looking at different types of
24:27
featherwork i think
24:29
that as we lose because because i work
24:32
in the environmental field
24:33
as we lose our birds
24:36
that those different types of
24:38
featherworks are going to become
24:40
very different in the future as we start
24:43
to use domesticated animals
24:45
as we start to use things that are
24:47
accessible
24:48
and so now we're in the heyday
24:51
of how beautiful those things are
24:55
i saw the uh the the hawaiian feather
24:58
tape when it came to the
25:00
young museum and i was i was
25:03
dumbfounded as to how beautiful those
25:05
were
25:06
and the technique that they used are
25:08
very similar to
25:10
our um feather skirts but on a micro
25:14
scale
25:15
their their weave is so much
25:18
more yeah our squares are like this
25:21
theirs are like this
25:23
i also watch the trends of what people
25:25
are using for feathers
25:27
um because we don't have as many
25:30
wild birds that are as accessible
25:33
anymore
25:34
so there are different types of uh
25:37
feathers that come on the market uh
25:40
there's
25:40
a uh turkey right now that's bread
25:43
speckled
25:44
so that it matches uh eagle feathers
25:48
and so um we're actually looking at
25:51
those and saying
25:52
is this something that maybe one of the
25:54
tribes actually want to invest in the
25:56
birds
25:57
and start making them for ours to have
25:59
those feathers on hand
26:00
because right now they're about five
26:02
dollars each you know
26:04
so it's you know even if you're doing
26:07
domesticated
26:08
you're still there's a there's still a
26:10
cost
26:11
so if you do want to know about pomo
26:13
basketry
26:14
um take a look at my instagram take a
26:16
look at you know
26:18
their finger doodles because i draw them
26:20
with my finger on my phone
26:22
and so but i try and talk a lot about
26:25
the
26:26
the design of it because i want people
26:28
to remember
26:29
where those designs come from the
26:32
opportunity
26:33
it was really wonderful to see um
26:36
you know faces but it's also really nice
26:40
to see
26:42
just a whole different look of
26:44
conservators it's so nice to see female
26:46
faces it really is
26:48
um just just because you know
26:52
it shows the changing of the guard and
26:54
it shows that
26:55
there's a new expectation in museums
26:59
there's a new expectation and hopefully
27:02
we can all work together to meet those
27:04
expectations because we're in a new era
27:07
not the whole coven thing but we're in
27:09
an era where
27:10
there's going to be a whole new
27:11
generation of artists that are coming to
27:14
light
27:14
there's a whole new generation of basket
27:16
weavers that are going to
27:18
look at the baskets of old
27:22
and start making those new baskets for
27:24
the next museums
27:26
so thank you guys for the opportunity i
27:28
appreciate it
27:29
it's our pleasure thank you thank you
27:32
meyo
27:33
very much
Meyo Marrufo is an Eastern Pomo artist from the Clear Lake Basin. Her focus on cultural arts includes regalia, abalone jewelry, basket weaving, cooking, and digital art. In this interview, she considers the collection, preparation, and preservation of feathers used in regalia with Ellen Pearlstein. Meyo discusses the complex relationships between museums and native communities, repatriation, and the ramifications of historic pesticide use in collections. She reminds the audience that traditional arts like basket weaving and regalia-making not only existed in the past, but also thrive in the present. She also emphasizes the role that museums play in using their collections to educate future generations of Native artists that continue to teach and learn these skills.
Interview with Bradley Marshall, Hupa regalia maker from northern California.
0:14
ELLEN PEARLSTEIN: So hello everybody my name is Ellen Pearlstein and I'm a conservator
0:20
and a professor of conservation at the UCLA Getty Graduate Program. Today I'm really pleased to be
0:28
interviewing Bradley Marshall, who is a member of the Hupa tribe located in very fiery northern
0:37
California I'm afraid, and for those of you who are unaware the Hupa are located north of Eureka,
0:45
California, and as I have already mentioned earlier to those present, Bradley has been a real
0:55
cultural caretaker in his tribe. He comes from an extraordinary lineage within the Hupa tribe.
1:06
BRADLEY MARSHALL: So it's nice to meet everyone, as Ellen said I'm a member of the Hupa tribe,
1:12
I'm also Karuk and Tohono O'odham from southern Arizona, so my family has gotten around a bit.
1:22
I think it's important for people to have a deeper understanding especially within the museum culture
1:28
and museum collections of the importance of what they're the caretakers of or the holders of.
1:36
The reason I refer to as holders is that within the tribal genre or the tribal people, we're just
1:45
caretakers of these items as they move through time. Stuff that I've created, stuff I have,
1:52
will outlive me by generations and so we're the caretakers. Very seldom do you hear people refer
2:00
to us being owners, and that's because everything that we interact with has a living spirit, and as
2:10
such you can't own another spirit, and so we're the caretakers making sure it gets out to where it
2:16
needs to go, making sure it's taken care of. BM:
2:26
For me a lot of times, the feathers and birds just come in one way or another because I am a regalia
2:34
maker, people tend to just bring stuff or it kind of shows up on my desk. I told Ellen a story a
2:40
long time ago about dreaming of creating something out of Flicker feathers and not having any flicker
2:46
feathers at the time, just kind of put it off on the side and somehow within about two days,
2:54
a whole batch of Flicker feathers showed up in the middle of my my work table at home
2:59
with no idea where they came from, so apparently somebody dropped them off, I don't know how
3:03
they got there, but I was able to create the project that I was working on at that point.
3:10
Other times people will come with birds that they have either found or that they've taken and
3:21
I think that some people may frown on on the sale of animals in the sense, but like the other day I
3:29
bought a couple birds from someone and it was a nominal price I think I paid 40 for two birds,
3:38
however that individual turned around and took the money and went right over and bought meat and food
3:44
for his family for their dinner that night, and so it's part of the circle of life for sustaining
3:50
ourselves and helping out our community. BM:
3:57
For me it was not so much being formally taught um, I've always been told as memories of the
4:04
blood some of us are born with the knowledge of what we're doing, and I've been one of
4:10
those blessed being born knowing how to put stuff together, and so all of my stuff has been through
4:18
either dream or looking at something and then just understanding how it went together, what was used,
4:23
and a lot of cases what it was made for. BM: Can you see this piece?
4:39
So these are all Flicker feathers, and not all of them were pristine when I came came
4:44
in contact with them, matter of fact I'm looking at one right now that
4:49
is damaged, it has a break in it, but it was still usable so I continued to use it. When
4:57
something comes in that's not pristine, either I can flip it back to make it to where it's usable,
5:06
in some cases I'll do a composite feather out of it which means that you're putting more than
5:10
one feather together to create something out of it, so in some cases there may be
5:16
an eagle feather that is broken and so I have half of one, half of another, I will
5:24
put them together and make one unit out of that. BM:
5:33
So this is an eagle feather with woodpecker but the fluff is actually chicken feathers that I
5:42
bought at one of the local stores, you know it passes for eagle, it's a fluff, it looks good and
5:50
we use it, this one's been out for probably a good 10 years or better, using, this particular feather
5:57
is a hinge feather and so you see how it will move. I don't know if you can see that very well
6:06
EP: Yes very well BM: It's built on a hinge inside, a
6:09
little hinge in here on the stick that allows the feathers to move independently. This is a condor
6:16
feather here, and on this one I use a little bit of eagle fluff on it. However I have another
6:24
condor feather here that I used chicken feathers. EP: Interesting. That's great, that's amazing
6:33
BM: I think it's eagle on top, and so, you know, and this one's on a hinged too but it's
6:40
attached at the top so it has a different type of movement, it moves back and forth like this
6:46
versus opening up. BM:
6:51
It has a definite effect on anyone that's making stuff. The condor feathers I was able to
6:59
obtain through the repository for condors. When I brought them back into this area it was the
7:04
first time condors came back to the dances here in probably a good 100 years or better.
7:10
In some cases the condor was out of the memory of some families, in other cases families remembered
7:17
and they had stories of the condor bringing the dances. And then other people told stories of
7:23
condors versus eagles, and a condor would carry your purse higher than the eagle does when flying,
7:30
and so condors were of more importance to the ceremonies. Condors flew here I think up until
7:38
the late or early 1900s before they were killed out, and so I do have an example
7:47
of condor wing tips that was used by a medicine person.
7:55
So this is a condor wingtips that was used by a doctor probably around early, mid 1800s
8:03
and this one was gathered in this area. BM: I've actually never dyed feathers, however I
8:14
have purchased feathers that were already colored so I have red yellows, you know different things,
8:20
it's interesting when you're looking at the colors, though, in purchased feathers because
8:25
in the research I've done on older regalia you can see the time frames of American history in some
8:33
of it. So around the 1960s when you've seen the greens the oranges all those bright colors that
8:40
came out, you start seeing some of that mixed into the regalia from that time period which I thought
8:45
was pretty fascinating. One thing about culture, at least my perspective of native culture, is
8:54
that we are living culture and that means that we progress through time, we're not stagnant in
8:59
pre-contact, and that's part of us surviving today is that we've been able to continue moving forward
9:05
with the changing of time. BM:
9:14
I don't see myself as being restricted in the use of anything,
9:19
as someone that's creating this, I'm going to use what I have available to me and not necessarily
9:26
restrain myself from the use of whatever that may
9:28
be. BM:
9:34
One of the things that I've also looked at was how the collections were gathered
9:39
and that's been both fascinating and kind of like a sad portion of our history.
9:47
For Hupa we have stories of when the soldiers came through and gathered up all the regalia
9:53
and it was leaving here by the wagon loads destined for the larger museums around the world
9:59
not just in America and then the wealthy private collectors who were also obtaining at that time,
10:05
and during that time period it was a part of taking the culture from the
10:09
native and ingratiating us into the American way, christianizing us. The other thing about museum
10:15
collections that was interesting and frustrating is that at the time the gathering was taking
10:21
place, the vast majority of gathering within museum collections, because the native people were
10:26
being seen as a vanishing species, technically we weren't supposed to be here to today, the idea was
10:34
gather all the cultural arts that you could from that people before they were gone, so the emphasis
10:40
was placed on the cultural arts, but not on the artist or the person or the people themselves,
10:45
so it was gathering the cultural artifacts so they can go into display over the years
10:51
that would proceed when the people were gone. BM: Oh gosh, I think the time you've seen I had
11:04
a trunk or suitcase with feathers laid out and so I maintained mine and plastic bags
11:12
which are probably not the best because it holds moisture. so I make sure everything's
11:16
dry but once it goes into that I know it's pretty much safe from insects. My,
11:24
I want to call it past life, my past working experiences was with US EPA, and so
11:32
you know I've gone through the whole realm of dealing with pesticide contamination within
11:37
collections, and contamination within population, and so I stay away from
11:44
pesticides or anything of that nature within it and so I try to keep it as clean as I can.
11:51
I will monitor it so fortunately I've never had an insect infestation where it's eaten feathers
11:59
or anything along that line. BM:
12:05
I do, I wash, clean them, and get them ready for storage. I have a,
12:13
probably get edited out, but I have a story of one of my old friends Josephine Peters,
12:19
who passed away a number of years ago she was in her late 80s early 90s when she passed away, so
12:25
I had gotten some eagle fenders in and they were pretty dirty, pretty rough,
12:29
and so I stopped by her house and asked her how should I clean this, and she said use
12:35
some clorox and water and, you know, it'll be fine. a]And so I used clorox and water,
12:41
bad move. What happened is where the feathers have that little piece that links each feather
12:49
particle together, I can't remember what that's called it's like little hooks
12:52
EP: Oh yeah, the hooks, yeah the barbules, yeah. BM: Yeah, and so what happened was the
12:58
clorox actually burned all those off, and so the feathers were just stuck out like this,
13:04
there was nothing cohesive in any of them. Took it back, I was like Jo what the heck, and she's like
13:11
I didn't tell you to use that much. BM:
13:18
Just plain old soap and water, dawn dish soap works really well because you're just cleaning it,
13:23
and that's a gentle gentle detergent so it works pretty well but you have to make sure it's
13:28
completely dry before you store it. BM:
13:39
That's actually um (unintelligible) from Hupa, of early to mid 1800's.
13:46
So there's I think a little bit of condor left in that as well,
13:51
but the story I told Ellen about that a while back was that when these came to me,
14:01
they were completely discolored, the feathers looked grey, it looked like it was dying,
14:06
and I started taking care of it and the color came back into it, which I thought was really
14:12
interesting, I had never seen that before. And so I think if we take care of stuff properly
14:20
the the colors will revive. And then this is a close-up of the condor,
14:31
it's mallard, deer belly, woodpecker, and then they went down into the strip of mallard, and then
14:40
the fluff on the bottom is a chicken fluff. And then at one point we talked about using
14:50
something else in place of feathers, or in place of if you didn't have it so this is a headdress I
14:57
did, because for this headdress it would take approximately 150 woodpecker scalps to make,
15:07
and so I chose to [make it] out of beadwork, and it has a really good sparkle now.
15:14
And then this was another piece I thought would be fun for you guys it's a small quiver with Flickers
15:25
And then these are woodpecker scalps, so these would be what would be used to make the headdress,
15:32
and you can see I usedcsalt to to cure them out with.
15:39
EP: Is that just table salt Brad? BM: It is
15:44
EP: So Bradley you had mentioned that you had one piece I'm not sure if it's with you now,
15:51
but the piece that has the dollar, silver dollar attached to it, the dated silver dollar and
15:58
how that's used to date the regalia BM: So I'm not sure if you're able
16:04
to pick up the dates on the silver dollars , 1923, 1926, 23, 22, 25,
16:16
oh gosh I can't see that one, and then the woodpecker was, a Pileated woodpecker,
16:23
sliced in half because I only had one at the time, and because that one was dated by the coins
16:30
I went ahead and did this to it. BM:
16:38
It does, it comes back damaged periodically, and at that point you're just fixing it back
16:43
up to get ready to go the next time, you know, either you're replacing pieces or
16:50
putting stuff back together. BM:
16:57
The thing I think is fascinating about this whole process is we still don't know what the chemical
17:01
makeup is with all the different chemicals that were used, and in museum collections
17:06
there was never a a really good log kept of what chemicals were used at what time, and within
17:13
feather collections, leather, anything that could absorb the chemicals, the chemicals bonded with
17:20
that item, and as far as I know we still haven't figured out a way to remove the chemicals from
17:25
those items, and then through repatriation in some cases people are now using those items, and so
17:32
what is the effect, long term, short term, who knows. I know that there are neighboring tribes
17:40
that are using collections that came back from Smithsonian through repatriation, and they've done
17:45
different steps to try to make it safe for their people to use and I've maintained where my stuff
17:51
stays away from those items when they come out. BM:
17:58
I think that as you're adding to the collections,
18:03
documenting the artists themselves, talking to the artists, finding out what their belief system is,
18:10
put a little bit more emphasis on the native people that are here versus the
18:16
item itself. I think I think that if you have an opportunity to film somebody making regalia,
18:23
making some feather work, I think it's valuable for future generations.
18:27
EP: Brad so that's a really a potent, really potent message and I'm, you know,
18:34
really understanding that, you know, as somebody who trains conservators, you know,
18:41
and future museum workers, I am so hearing this idea about, you know, reaching out, and and also
18:51
examining always examining items with the goal to understand who made it, and that there's a person
18:59
and there are people attached to it, you know nothing is anonymous, everything has a creator,
19:06
and it's really on all of us to really really mine those questions, and then once one works
19:15
in a museum to remember to be, emphasizing, reaching out, and sharing our collection,
19:24
you know, sharing those holdings as absolutely as much as possible, so yeah thank you for that.
19:34
All right well I think then we are probably coming to a close here, and I really want to thank you
19:42
Bradley so so much I'm going to use my response to give you applause, my reactions here big applause
19:49
coming up, but seriously as always I've learned so much, we've all learned so much from you Brad and
20:00
I know it's a difficult time right now, you know, with the fires and everything else going on,
20:07
and the pandemic and its influence on the tribe
20:11
and all of that so, I really, all of us we can't thank you enough.
Bradley Marshall is a Hupa regalia maker, artist, and cultural caretaker based in northern California. In this conversation with Ellen Pearlstein, he describes his approach to acquiring materials for his regalia, and his role as a caretaker of older pieces. Bradley shows some of his own regalia, and how he combines traditional and modern materials and methods. He emphasizes the importance of recognizing Native culture as a living culture, and acknowledgment of living artists by the museums and cultural institutions in which their work is held and exhibited.
The Guts and Glory of Object Conservation - Shelf Life #15
AMNH Begins Major Project to Restore and Update History Northwest Coast Hall
---
Modern & Contemporary Art 
Since the end of the 20th century, modern and contemporary art has increasingly incorporated taxidermy and preserved animal components in addressing topics from human consumption to our place within the biodiversity of the planet. "Rogue taxidermy", "bio art", and "ethical taxidermy" genres all exemplify this approach to artistic production. Feather and fur on display in museums, public spaces, and homes can evoke powerful meaning and associations. Modern art conservators may unexpectedly find themselves working on these materials and rely on guidance from artists and natural science conservators to develop an understanding of the appropriate extent of treatment.
Interview with Petah Coyne, sculptor and photographer.
0:08
JUDITH LEVINSON: My name is Judith Levinson, and I'm a conservator of anthropology collections
0:14
at the American Museum of Natural History. Today I'm pleased to be having this discussion
0:19
with contemporary artist Petah Coyne. For those who are not familiar with her work,
0:24
Petah Coyne is a contemporary sculptor and photographer best known for her large-scale
0:29
hanging sculptures and floor installations. Petah works with a wide variety of different materials
0:36
from incorporating hair, mud, and dead fish, to specially formulated and patented wax, sumptuous
0:44
velvet, and taxidermy. So Petah perhaps to start we're really curious to learn briefly about some
0:51
of the sources and inspiration for your work. PETAH COYNE: That's always hard I think for an
0:57
artist to say exactly. You know as a child I was an army brat and we traveled all over the world
1:04
and we moved every couple months, I moved 15 times before I was even 12 and so I was
1:13
always being introduced to new cultures, to new things, and so my work is based on so many
1:22
different visual things but I read a tremendous amount, I try to read two or three books a week
1:30
and it's the characters within these books that really live in my mind,
1:37
and it's their lives that intermingle within my memory that kind of come out I think within
1:48
my pieces. JL: And so can
1:50
you discuss what the significance of the type of birds you choose is, and how important that choice
1:57
is for the artistic concept of the piece? PC: Um it's it's less conceptual than it is
2:05
intuitive. My work is very very intuitive. It's like when I see see things like the peacocks,
2:14
because I love Flannery O'Connor, and when I read all about these peacocks and how she had them on
2:20
her roof and her uncle who was quite mean to her and her mother, so she kept these peacocks, and
2:26
the peacocks would squeal at him when he came and they would eat all the fruit off his fruit trees
2:34
and she took secret pleasure in this, you know, and so I built this huge tree and I
2:41
had 20 peacocks in it and it's an ode to Flannery O'Connor. So those are the kind of choices that I
2:49
make. I have a big big collection of birds and when it's right for the piece it's kind of like
2:56
my hands just reach out and grab the birds. JL: Will you tell us a little bit about how
3:00
you find your mounts? PC: Most of the time I get them brand new commissioned from people
3:07
that make taxidermy and they're beautiful, they're posed, and I don't even know sometimes
3:15
what piece they're going in you know I just tell the taxidermist what pose I would like.
3:21
JL: Let's skip to preservation before use. PC: I asked around you know who knows all this
3:30
stuff and they put me in contact with David and Bruce Schwendeman, and these two guys
3:39
are just a riot father and son, but I spoke to them and they both were so giving in their
3:49
information and so they told me everything about how to make sure that I wouldn't get pests,
3:55
how to make sure that when I brought a new bird in what to do, keep it separate, do the
4:04
PDB treatment, and then we would put them separate in our studio. Once a year we put this treatment
4:15
in all the crates we have all the birds and the crates and then we have a separate room for just
4:19
our taxidermy, and we would do the same in there. And then every time a piece goes to a museum, when
4:26
it's en route we do this treatment, and then when it comes back to the studio we do the treatment we
4:33
pack it up at the museum and we do the treatment before it comes back in. They told us the size,
4:40
this is the quantity for the size of the crates, and so that's what we do we measure the crates and
4:47
we put it inside the crates and and it's really worked. We also do, once in a blue moon, pheromone
4:55
traps. And we do that once every four or five years just to make sure there's nothing going on
5:03
and we haven't so far had any issues. But we don't have a lot of people coming into the studio,
5:09
we never let them go into the rooms where the taxidermy is or the crate room,
5:14
those are very isolated places. JL: Do you ever trim or modify the feathers or birds
5:20
from the poses that you've asked them to make? PC: No, I never have, the only thing we do is when
5:26
we put them in the sculpture, we really brace them. We brace them, you know, we incorporate
5:33
them into the sculpture in such a way that they're structurally much stronger. You couldn't get these
5:42
things loose if you wanted to. And then when they're crated later they're even more braced.
5:51
JL: Do you ever use parts of birds, like just the wings or individual feathers,
5:57
or is it always the whole bird? PC: It's always the whole bird, the only time we
6:03
use feathers is when we use artificial feathers. Just when they're like, made up feathers,
6:11
no we never ever dismantle a bird that would be, I would never do that. That'd be like ripping
6:17
somebody's body apart, I could never do that. JL: We're really interested to learn about
6:23
whether you add colorants such as paints and dyes to the birds, or even some kind
6:30
of protective hardening layer like a lacquer? PC: No we've never done the lacquer but we have
6:37
added color, and I've done this recently. I've been thinking about
6:43
just the shape of birds lately, like it'd be so beautiful just to have the shape of them,
6:49
and so we we took acrylic and we painted it, and we took their feathers and their wings,
6:56
and we laid it on paper and we brushed it in the direction of the wings, and we brushed it with
7:02
the acrylic very very thin. It worked really well, we've done a number of these this way.
7:10
JL: So what's the significance of the color that you choose, is it enhancing
7:16
the color that the bird already had, are you making it a completely different color?
7:21
PC: Different, yeah I'm doing it almost like it's shadow.
7:26
JL: As conservators, we assess materials and anticipate their degradation over time.
7:33
So when thinking about the life of your work, would you discuss how you consider the visual
7:38
changes that will occur over time due to the effects of light and insects and accumulated dust,
7:46
and is there a point at which the level of change or damage is no longer acceptable to you,
7:53
and you have to decide whether to address the change through treatment or to let it continue?
8:01
PC: I remember when I was, I was young when my first piece was accepted at MoMA,
8:07
and I remember the conservator there had said to me that she was changing another artist's piece
8:15
out and she couldn't find the correct materials for it and she said it's a nightmare I can't get
8:23
this thing to match it's never going to look as good, and I remember at that point I thought, I'm
8:29
never going to have that problem with my pieces, and at that point I started saving materials for
8:37
all of my pieces, I saved the mud from that time of all my mud sculptures because I knew it would
8:46
change, I started saving the chicken wire and chicken wire has changed drastically you should
8:52
see the chicken wire from the 80s to the chicken wire now, it's so much thinner. And so, I think,
9:01
definitely, if my taxidermy changes radically I would want it changed out, but good luck to
9:11
the person who has to do it. You will probably have to rip apart the whole piece because the
9:18
taxidermy is so embedded in the sculpture. But I have really told the people that collect it,
9:29
I've given them so many things, brushes to keep it clean, you know, when it's not on on view we want
9:38
them crated, we want them covered up you know. I hope that we made enough provisions that they
9:48
don't disintegrate, or if they disintegrate these disintegrate at a very slow rate, you know, we've
9:56
tried to slow it down as slow as possible, but some of the taxidermy is really buried in there.
10:05
Maybe they could change the feathers that show, I don't know or lay feathers on top,
10:11
I don't know but if it looks absolutely horrible, I'm not sure I would want, I'm not sure I would
10:19
want that shown, yeah, so um, I don't know. JL: I know that you Petah, like many artists,
10:29
work with a number of assistants when you make your sculptures, and I wonder if you
10:34
and your assistants consult with conservators, or maybe material scientists? What role do you
10:40
think that conservators should play in the care and maintenance of your taxidermied
10:45
elements as well as the whole assemblage? PC: Yes in fact there there's a conservator
10:53
that I actually consult, sometimes before I even begin, and I ask her like, can I mix this
11:01
material with this material or will they have a bad effect against each other when I'm messing
11:08
with new materials, because I don't want this one to crack and this one not to crack, you know,
11:14
next to each other, things of that nature absolutely. One time I had an issue with a feather
11:22
that got broken, and it was a key feather and I had to call a conservator in the area in a museum,
11:30
and she showed me how to fix it, it was absolutely incredible how she did it and she went into the
11:37
inside of the feather and she did this little tiny thing she came in with this, oh my gosh,
11:43
and went inside I'm sure you've done it, and put something inside and straightened that little
11:50
feather right out right away, and I was highly impressed. But yes I mean absolutely I consult
11:59
them on all different kinds of things I mean, they've been terrific on my hair works, I mean
12:05
because I work with so many materials absolutely I'd be lost without all the consulting yes.
12:13
JL: Well it sounds like you're really taking care of all the bases there.
12:19
So when your sculptures become a museum's property, do you use your assistants for
12:25
ongoing repair or do you work directly with that museum or contracted conservators?
12:31
It sounds like you give them plans for regular maintenance of your installations,
12:38
but do you provide specific instructions for future care or leave it to the conservators
12:44
if there are conservators at that institution? PC: Yeah I mean what we do is, as soon as we begin
12:52
a piece we start photographing, doing drawings, and we have books on every single piece,
12:59
and some of them have two books, they're binders, and they're huge, and they're all
13:04
in our computer but they're also printed out. We have images taken throughout the whole process,
13:14
so we have the history of the piece that shows all the under structures, and then we have the
13:20
piece on every installation it's ever been on, so it shows all the different heights of
13:26
the pieces in the square footage, so we do the drawings of the square footage because the height
13:31
makes a big difference to me, and where it was in the installation what it was with, and then the
13:39
crate is extremely important. The crate goes with the piece always. These crates are custom-made,
13:47
they're very expensive, they protect the piece. A lot of these pieces travel around the world, and
13:55
they can arrive without a just a drop, you know, going wrong with them, the wax pieces you wouldn't
14:03
even know they traveled. And the taxidermy there's no rattle with it, you know, it's just beautiful,
14:12
and they have special space feet, they travel on air ride temperature controlled trucks,
14:21
and they're butterfly crates you know so they all open up like this, so the pieces come out, and
14:30
they just hang from the ceiling, and the crates fall apart so that they can just stack, you know,
14:38
nicely so they don't take up much room because i know museums don't have that much room, and
14:45
we beg them, beg them not to throw these crates away because they're all they have the braces all
14:52
done so that they hold the piece exactly in position, and then I send my assistants with them,
15:00
with the pieces, show their team how to install them, they often videotape them installing the
15:06
pieces, show them how to care for them with all the special brushes, how to clean them, and then
15:15
we usually call them, check on them, you know if they lose the book we have a duplicate book, you
15:21
know, so we try to maintain those open doors but usually the conservatives there want to take over,
15:30
which is fine with us because we don't have enough time, we're already up into like 1,700 pieces so
15:36
we don't have the time, but you know if they need our help we're right there, and anytime they bring
15:42
it out if they have a new crew they sometimes like us to come the first time or something like that,
15:48
so that's kind of how we manage it. JL: That level of documentation is
15:53
just incredible, it's a conservator's dream. PC: Yeah, it really costs me a tremendous amount.
16:01
JL: And so when the pieces are in storage if they're not on view at a particular
16:07
institution or gallery, they're stored in these crates, they live in the crates
16:12
for their life? PC: Yes, yes.
16:16
JL: So when you're sending these large floor assemblages or hanging assemblages to a gallery
16:28
or a museum from your studio, are they made in individual parts that you then put together,
16:34
because some of them are really complex? PC: Most of them live in one crate,
16:39
the exception is the Flannery O'Connor tree, and that came apart,
16:47
and all the birds came off and they all live separate, but most of the time they they we
16:54
do engineered parts, I have an engineer on my team, and so before we start the really big parts
17:01
we engineer it because I love thinking of engineering. 70 inches is my one nemesis.
17:09
70 inches is usually the museum door size and it's usually my size, I can't go bigger than 70 inches
17:16
and 100 inches high, and that's usually the size of the truck. So I have to stick by that. Other
17:24
than that, the world is mine. And if we want to do a double crate, sometimes I'm running into the
17:31
issue where it's 70 inches and then we double crate it outside or we can't put the hood on,
17:37
we do that outside, you know, but it's better if we can do the whole crate in here because you know
17:43
sometimes it's winter outside and the temperature. But usually that's what we do, because it's not
17:50
good to put these things together but there are exceptions, there are times when I say I just have
17:56
to make this bigger, and then we cut it apart and put it in sections but it's not ideal to do that.
18:03
JL: Okay so we're getting a little tight on time so let's go to our questions.
18:09
ELLEN PEARLSTEIN: My question for you now Petah is, I was curious what kinds of brushes
18:15
you provide the private owners of your sculptures so that they can maintain them.
18:21
PC: It's a Michael Graves anti-static brush, and we wave it just above the birds, it never touches
18:32
the birds, and it seems to really work and grab the dirt off the birds, and if it's really dirty
18:43
I take makeup brushes that are very very soft, and then I use that if I have to touch the birds,
18:55
but I don't really like to touch them too much because I just think of them as being very very
19:01
fragile. And then when they're not in service I just put a big plastic tent over them, but I put
19:11
it so the plastic never touches them, so it's like a plastic bubble, and I don't know if that's good
19:18
or bad because I know plastic off gases, but it just kind of makes a bubble so that they aren't
19:25
being touched and it keeps them clean. EP: Thank you.
19:29
PC: Yeah thank you. Any other questions? JULIA SYBALSKY: Well you were describing um,
19:36
you were talking about you know the effort and the attention that you put into
19:42
keeping the mud and keeping chicken wire and these materials from
19:47
the time of the making of the artwork and I'm just so impressed by the foresight and the, you know,
19:55
the effort to doing that and I had two questions about it, one was whether those materials go
20:02
with the artwork to the owner, and stay with the artwork, or whether you're keeping them as sort of
20:08
a library in your studio, and then also, whether that kind of insurance policy has ever paid out,
20:17
have you drawn on those materials that you so painstakingly kept to to use in the preservation
20:24
of a damaged piece? PC: Well I wish
20:28
it could go with the pieces, because I'm just stacking up, I have another building,
20:34
I have two buildings here and I have another building upstate where I keep my collection
20:40
and then all this storage stuff. I used to give it to the collector but they all lost it, the
20:46
museums lost it, so then i started just keeping it and yes it did it paid off big time because I had
20:57
a piece from the 80s, I don't know if they were changing out the floors and my piece
21:01
was the floor below and they were hitting the floor and my piece crashed down to the floor,
21:08
and it totally ruined the whole side of it, and they were so upset
21:14
and they were such good collectors and they said can you fix it, I looked and I was like,
21:20
that was when I called the conservator that I always deal with, and I said I have the whole box
21:28
that you can have, and you can just replace the whole side. I said I can't do it because I'll make
21:35
a new piece, and so I gave it to them it took them a year and a half to take off that whole
21:40
side and put it back on but now there's nothing left, if it happens again that's it, you know,
21:47
but we used everything we had and that was it, so yes that was, that was a lucky break that we
21:57
had it, you know, but those are the kinds of things that I always am or a flood, you know,
22:04
or something of that nature, so I keep a certain amount of flowers from every piece, I can't keep
22:10
the birds because that would be way too much stuff, but we do have a lot of the pieces. Thank
22:17
you for asking all those good questions. JL: Petah thank you so much you've been
22:24
so generous with your time and your information and your thoughts about
22:28
your pieces. We really really appreciate it. PC: Well thank you guys because without you guys
22:34
what would we do, what would we do, thank all of you for all your study, and all the things
22:41
that you do, we appreciate as artists, I'm not kidding I appreciate so much what you guys do,
22:48
thank you thank you thank you. I'm honored that you guys went into your profession so thank you,
22:54
and stay safe please okay. JL: And you too, best of everything
23:00
and come visit us soon please. Thank you so much. PC: Bye you guys thank you have a fun evening.
Petah Coyne is an award-winning contemporary sculptor and photographer. Her work can be found in the collections of The Metropolitan Museum of Art, the Museum of Modern Art in New York, and the Philadelphia Museum of Art, among many others. Her large-scale floor and hanging installations often incorporate a variety of unconventional media, including avian taxidermy, specially formulated wax, hair, mud, and velvet. In this interview, Petah and Museum conservator Judith Levinson cover topics ranging from specialized crating of artwork to the late writer Flannery O'Connor. They delve into Petah's extensively researched and catalogued approach to making and preserving her sculptures, as well as her approach to sourcing her taxidermy. Petah describes the importance of her preparation techniques to her work's long-term preservation, her methods of packing for transport and storage, and her detailed documentation of the creation and installation process of her sculptures from beginning to end. She also recalls a revelation that she had as a young artist that led her to create a repository and archive of her materials, unconventional and otherwise, to aid conservators in preserving her sculptures.
---
Couture Fashion & Costume
Fur and feathers have a long history of use in costume and fashion, creating luxurious textures and dramatic silhouettes in runway shows, and exaggerating movement during stage performances. Feathers were used so extensively in high-end women's hats during the late 19th century that renowned AMNH ornithologist Frank Chapman noted 40 different species of birds while surveying hats in Central Park!
Wildlife conservation legislation was enacted in the early 20th century to protect dwindling bird populations, and today the fashion and costume industries must source from vendors that abide by these regulations. Conservators treating these collections must also be aware of relevant statues, and avoid the use of restricted feathers when filling losses.
---
Social History/Utilitarian Objects
Collections that present social history and utilitarian objects reveal a diversity of uses for feathers and fur, from horsehair violin bows, animal hair brushes, hair fishing line and feather fishing flies, to hair wigs, fur coats and rugs. Given the versatility and beauty of feathers and furs, they often appear in historic collections. Original use is often reflected in the condition issues that these objects present, such as missing or broken feathers and hairs from handling.
Object conservators determine how to treat damage that derives from original use, which might be stabilized as-is, versus damage caused by other agents, such as pest infestation, and might be restored.
---
Furniture Collections
Prior to the invention of synthetic foam in the mid-20th century, upholstered furniture was padded with horsehair from the tail and mane. Down feathers were also used in pillows and couch cushions. Though commercial furniture made today is padded with polyurethane, some contemporary traditional furniture-makers still incorporate horsehair or down feathers. When replacing horsehair, upholstery conservators generally use inert materials such as polyester batting or ethafoam blocks to preserve the original appearance while avoiding materials that attract pests or react strongly to environmental changes.
---
Architecture
Interior walls of historic colonial buildings in the United States were finished with multiple layers of lime- or gypsum-based plasters containing aggregate (sand), water, and hair from horses, cows, or pigs. The addition of hairs provided structural stability, and is understood not to contribute to the plaster's deterioration. Architecture conservators may recreate interiors using the same materials to preserve not only the original appearance, but also the traditional craft techniques.