Susan and Peter J. Solomon Family Insectarium
Discover how beautiful, surprising, and essential insects are—and why they're critical to our planet.
Insects are ancient and resilient. They are more diverse than any other animal group alive today–and maybe also the most important. Remove reptiles, birds or mammals from an ecosystem and it would likely survive. But it wouldn't without insects.
Instead of brushing off or crushing the next insect you find, take a moment to really look, to wonder, to appreciate.
This hall is included with any admission.
[Sweeping aerial footage of lush rainforest. Extreme close-ups of bizarre insects.]
BRITISH NARRATOR: Deep in the rainforest, tiny dramas are unfolding in the fascinating world of insects...
[Curator Jessica Ware speaks to camera, standing in the Solomon Family Insectarium.]
JESSICA WARE, Invertebrate Zoology Curator: Yeah, that's true…but next time save your production budget.
[An ant carries a crumb across a picnic blanket. A ladybug crawls on a person.]
WARE: There's an amazing miniature world all around us…
[A firefly takes off from a chain-link fence and lights up.]
WARE: right here outside your door.
[A woman holds a jar with cookies and a roach that's somehow gotten inside. She looks skeptical but curious.]
[A bee rummages through a flower's petals. Text reads, "American Museum of Natural History - Insectarium".
WARE: In Insectarium, we're going to introduce you, or re-introduce you, to insects you think you know…
[A woman holds a dragonfly and the camera zooms in close to its eyes.]
WARE: …and the many people who love them.
[A man carries a net in a marsh. A woman and a teenager look at an ant.]
[Jessica Ware stands in the Insectarium. Text reads, "Jessica Ware, insect lover Ph.D."]
WARE: Like me!
[A teenager chases a firefly. Honeybees fly into the entrance of a hive.]
WARE: We'll explore how humans and insects live together…
[Monarch butterflies in the hundreds flitter through the sky in a forest.]
WARE: …and how the planet just wouldn't be the same without them.
[A dragonfly takes off from a stick to hunt and lands. Text reads, "American Museum of Natural History - Insectarium. Hosted by Jessica Ware. Coming soon to PBS Terra.]
They may be small, but insects dominate Earth in more ways than we realize. Scientists have named about 1.2 million insect species, but there may be as many as 3.5 million, most waiting to be discovered. That's compared to about 60,000 vertebrate species.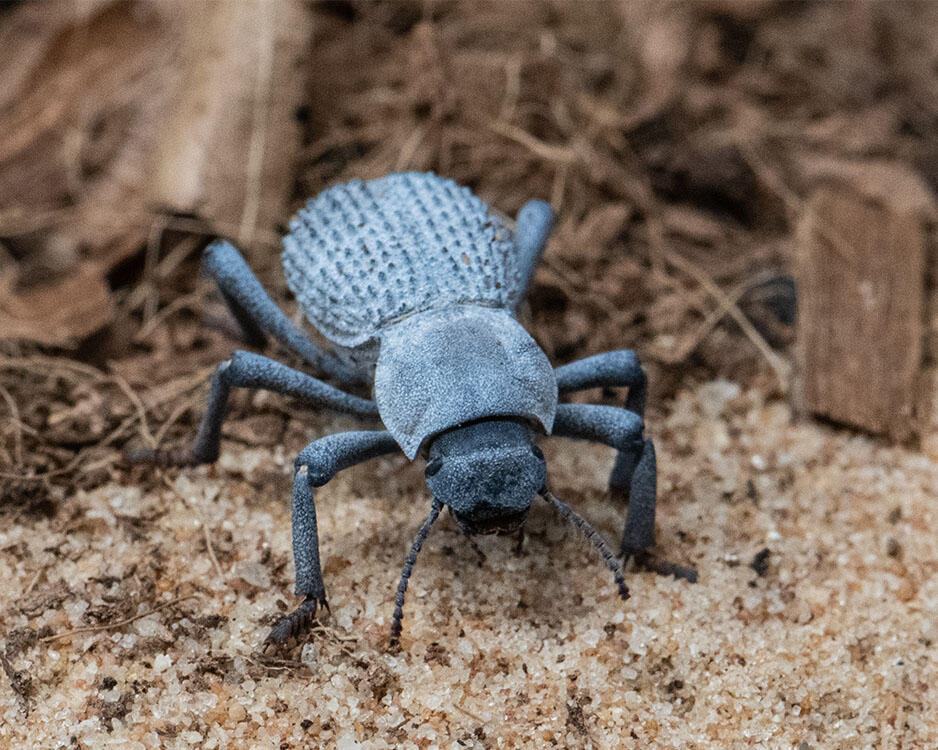 When threatened, the blue death-feigning beetle (
Asbolus verrucosus
) rolls over to play dead.
Denis Finnin/© AMNH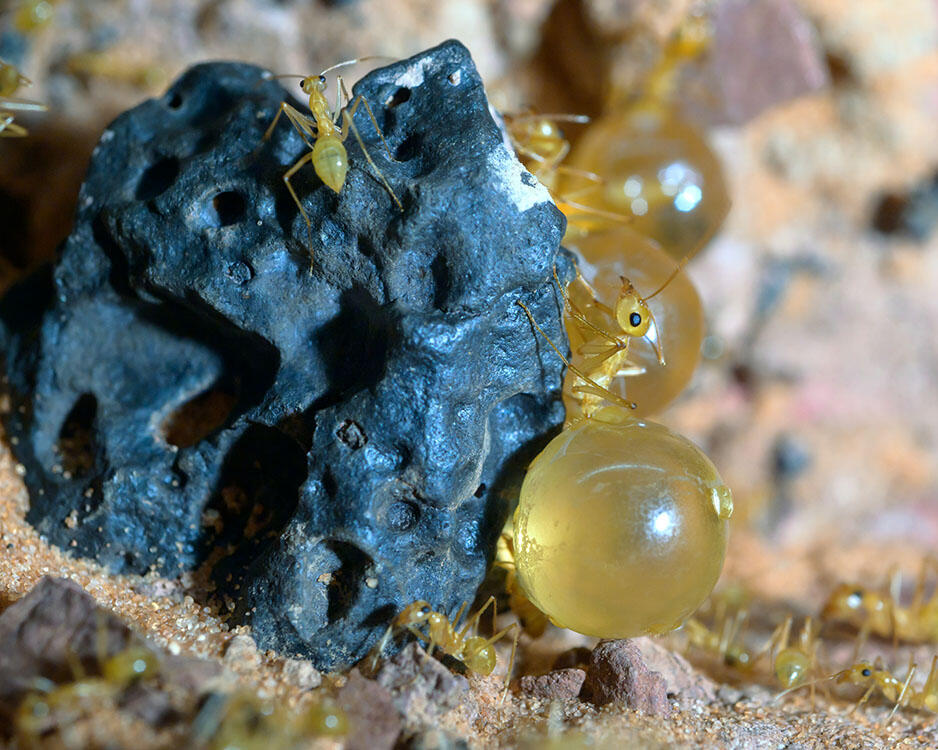 The honeypot ant (
Myrmecocystus mexicanus
) gets its name from the ability of some workers to store sugary nutrients in expandable abdomens.
Alvaro Keding/© AMNH
In this new permanent gallery, you'll encounter many species of insects and find out about the critically important roles they play in ecosystems, human agriculture, and even human health as pollinators, seed dispersers, decomposers, builders, soil aerators, and more.
What You'll See
One of the world's largest displays of live leafcutter ants (Atta cephalotes), featuring a foraging area, transparent skybridge under which visitors can pass, and a fungus garden that offer opportunities to observe how these ants work together as a "superorganism"
The Pollination Portal, an interactive exhibit that features large-scale models of flowers and showcases how pollination works and why insects are essential pollinators
A monumental model of a beehive with multiple lobes of combs, which allows visitors to "enter" the hive's interior and see honeybees at work on integrated video displays
A digital interactive called "Be a Bee" that demonstrates the roles different groups of honeybees play in the collaborative life of the hive and challenges visitors to keep the hive healthy by fulfilling various tasks
Exhibits celebrating the many insects of New York City, including a sound gallery featuring Central Park's insects with corresponding vibrations amd a digital interactive that lets visitors explore the insects in five different New York City ecosystems, one in each of the boroughs
A microscope station where visitors can observe pinned specimens of cockroaches and crickets, ancient species that help illustrate insects' endurance over their 400-million-long existence on our planet
Exhibits about biomimicry—nature-inspired innovation—including the ways in which insects have inspired architects, scientists, and technologists
A large-scale digital exhibit that highlights the role insects play in human health as disease vectors through interactive interfaces that let visitors explore by insect species, disease, or geography
Join as a Museum Member
Enjoy free tickets for General Admission, special exhibitions, giant-screen movies, planetarium shows, and more!
Learn More
»