Louis V. Gerstner, Jr. Collections Core
Collections are the evidence that scientists can study now and long into the future.
Only a small fraction of the Museum's specimens and objects are on view in exhibit halls. Millions more, from dinosaur fossils to fish skeletons, DNA specimens, and digital maps of the Milky Way, are stored and studied by researchers behind the scenes.
Now, you can see more of these collections: more than 3,000 specimens and artifacts, displayed across three levels of 35 engaging exhibits in the Gerstner Collections Core, including the Macaulay Family Foundation Collection Galleries on the first and second floors.
Find out how they are studied and what they can reveal about the universe and life on our planet–including ourselves. Behind the displays, visitors can glimpse some of the Museum's working collections.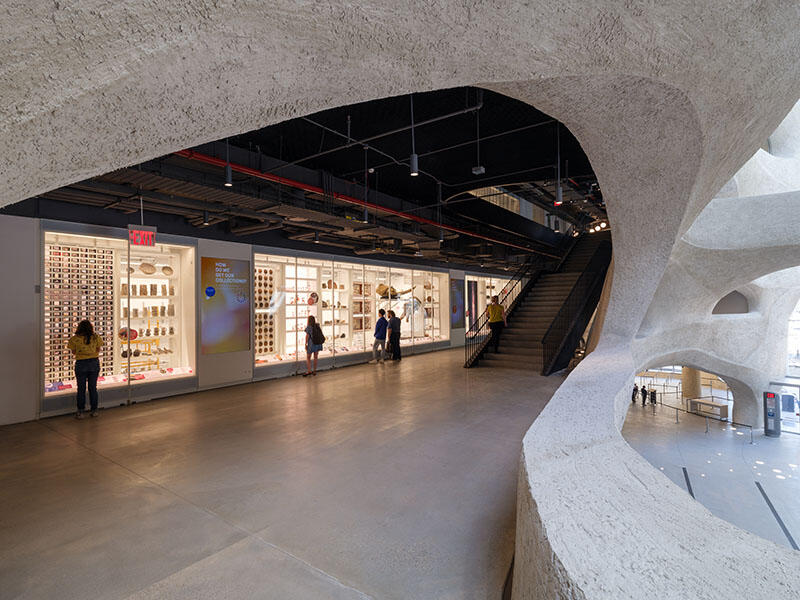 Three levels of engaging exhibits, including the Macaulay Family Foundation Collection Galleries on the first and second floors, display 3,000 artifacts and specimens.
Alvaro Keding/© AMNH
Visitors can glimpse behind the displays into the Museum's extensive working research collections, which are used by researchers, students, and others.
Alvaro Keding/© AMNH
This exhibition is included with any admission.
What You'll See
Explore spectacular displays, and the stories behind the specimens in digital interactive exhibits, across three levels.
Ammonite fossils
Camarasaurus vertebrae
Collecting Fossils
Drill core samples
Extinct mammal
Mammals with headgear
Maya bricks
Pueblo pottery
Sea snail shells
Trilobite fossils
Chaco Canyon pottery
Easter box turtles
Chinese housewares from the Mao era
Korean Pottery
Lantern slides
Maasai beadwork
New York rocks
Wasp nest and galls
Astronomical instruments
Bats
Crinoid fossils
Field documentation
Giant grouper
Hadrosaur footprint
Handmade toys
Insects and spiders
Invasive toads
Parrots
Spiders
Join as a Museum Member
Enjoy free tickets for General Admission, special exhibitions, giant-screen movies, planetarium shows, and more!
Learn More
»