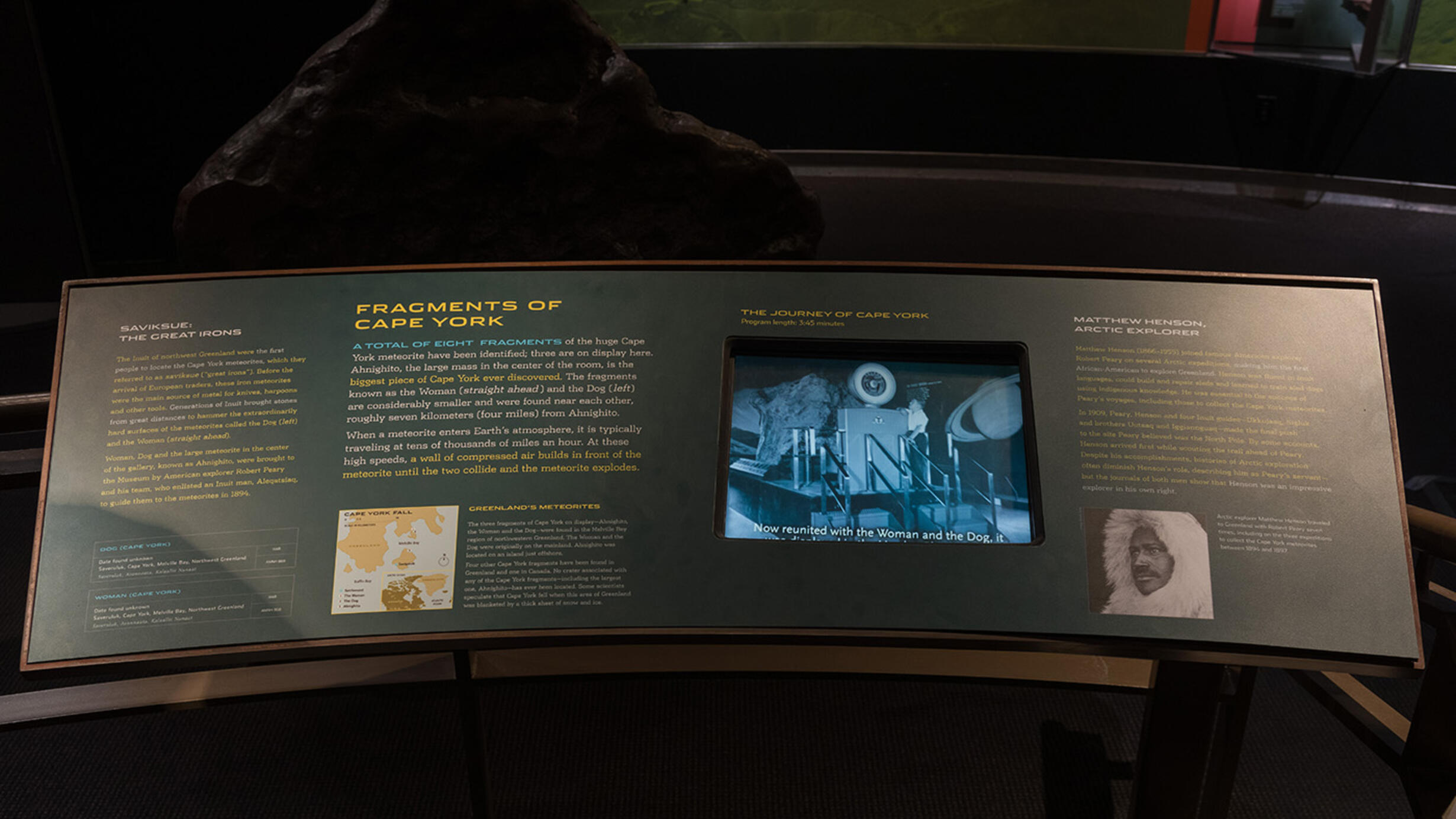 Craig Chesek/© AMNH
Fragments of Cape York
A total of eight fragments of the huge Cape York meteorite have been identified; three are on display here. Ahnighito, the large mass in the center of the room, is the biggest piece of Cape York ever discovered. The fragments known as the Woman (straight ahead) and the Dog (left) are considerably smaller and were found near each other, roughly seven kilometers (four miles) from Ahnighito.
When a meteorite enters Earth's atmosphere, it is typically traveling at tens of thousands of miles an hour. At these high speeds, a wall of compressed air builds in front of the meteorite until the two collide and the meteorite explodes.
Greenland's Meteorites
The three fragments of Cape York on display—Ahnighito, the Woman and the Dog—were found in the Melville Bay region of northwestern Greenland. The Woman and the Dog were originally on the mainland. Ahnighito was located on an island just offshore.
Four other Cape York fragments have been found in Greenland and one in Canada. No crater associated with any of the Cape York fragments—including the largest one, Ahnighito—has ever been located. Some scientists speculate that Cape York fell when this area of Greenland was blanketed by a thick sheet of snow and ice.
Saviksue: The Great Irons
The Inuit of northwest Greenland were the first people to locate the Cape York meteorites, which they referred to as saviksue ("great irons"). Before the arrival of European traders, these iron meteorites were the main source of metal for knives, harpoons and other tools. Generations of Inuit brought stones from great distances to hammer the extraordinarily hard surfaces of the meteorites called the Dog (left) and the Woman (straight ahead).
Woman, Dog and the large meteorite in the center of the gallery, known as Ahnighito, were brought to the Museum by American explorer Robert Peary and his team, who enlisted an Inuit man, Aleqatsiaq, to guide them to the meteorites in 1894.
Matthew Henson, Arctic Explorer
Matthew Henson (1866-1955) joined American explorer Robert Peary on several Arctic expeditions, making him the first African-American to explore Greenland. Henson was fluent in Inuit languages, could build and repair sleds and learned to train sled dogs using indigenous knowledge. He was essential to the success of Peary's voyages, including those to collect the Cape York meteorites.
In 1909, Peary, Henson and four Inuit guides—Ukkujaaq, Sigluk and brothers Uutaaq and Iggiannguaq—made the final push to the site Peary believed was the North Pole. By some accounts, Henson arrived first while scouting the trail ahead of Peary. Despite his accomplishments, histories of Arctic exploration often diminish Henson's role, describing him as Peary's servant—but the journals of both men show that Henson was an impressive explorer in his own right.
In This Section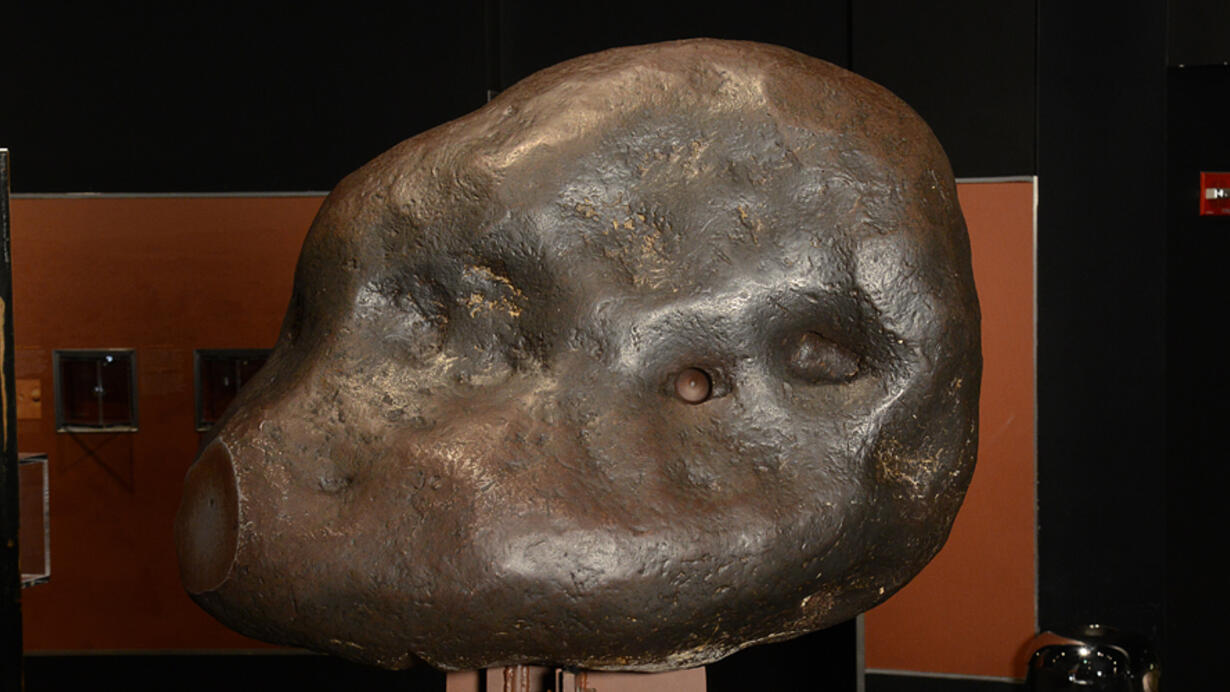 Dog (Cape York) (IIIAB)
DOG (CAPE YORK) (IIIAB)
Located in 1894 by American explorer Robert Peary with the help of an Inuit guide. The Inuit of northwest Greenland were the first people to locate the Cape York meteorites, which they referred to as saviksue ("great irons").
Saveruluk, Cape York, Melville Bay, Northwest Greenland
Saveruluk, Avannaata, Kalaallit Nunaat
AMNH 869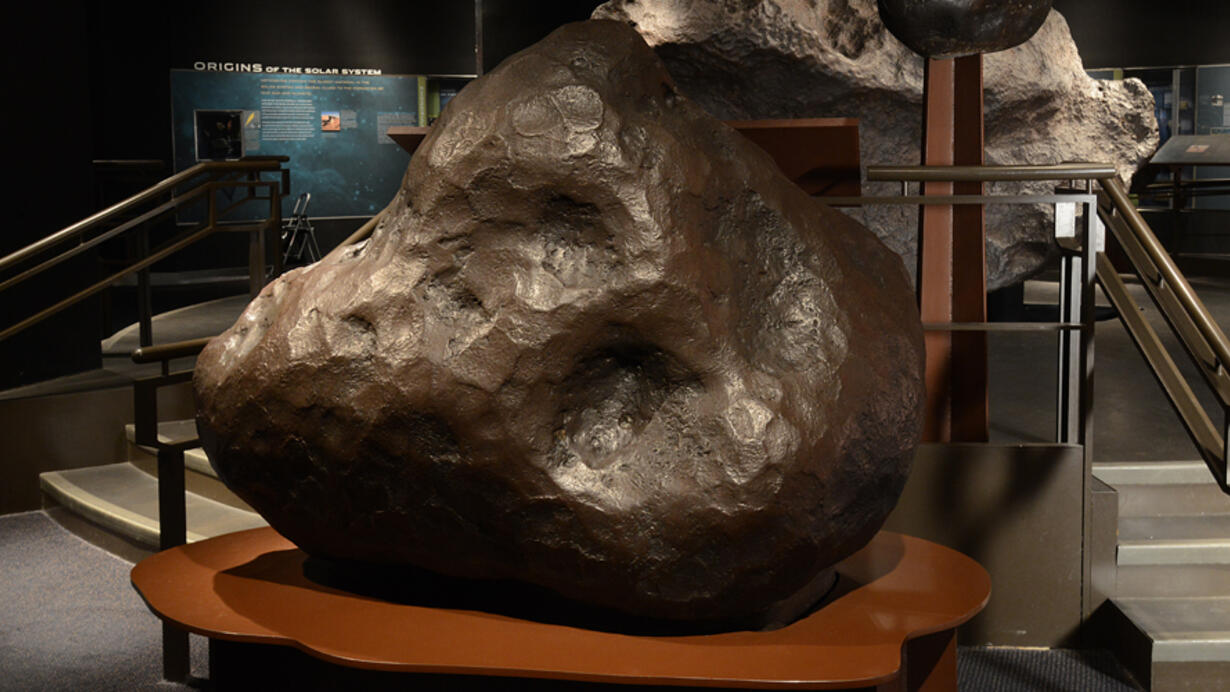 Woman (Cape York) (IIIAB)
WOMAN (CAPE YORK) (IIIAB)
Located in 1894 by American explorer Robert Peary with the help of an Inuit guide. The Inuit of northwest Greenland were the first people to locate the Cape York meteorites, which they referred to as saviksue ("great irons").
Saveruluk, Cape York, Melville Bay, Northwest Greenland
Saveruluk, Avannaata, Kalaallit Nunaat
AMNH 868