"Noo-CHAA-nulth"
The Nuu-chah-nulth are from the western side of Vancouver Island, comprised of 14 communities with language, family, and cultural affinities, including a traditional practice of whaling. Historical signs in this hall refer to them as "Nootka," a misnomer used by Captain James Cook after his 1778 visit to the area.
Population: Approximately 9,500 (as of 2014) Language: Nuu-chah-nulth, three dialects
Nuu-Chah-Nulth Language
Ehattesaht_what is your name
Wild Side Trail, Flores Island, B.C.
For centuries the Nuu-chah-nulth community on Flores Island, the Ahousaht, have walked a seven-mile (11km) forested trail from their village to the resource-rich beaches on the west side of the Island.
T. Penney
Wild Side Trail, Flores Island, B.C.
In the 1990s the Ahousaht expanded the use of the trail as an ecotourism venture.
T. Penney
From the Collections: Nuu-chah-nulth headdress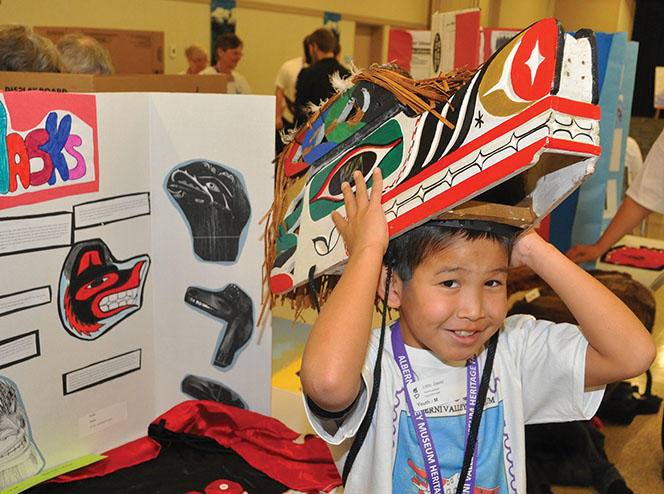 Fifth grader David Little shows a hinkiitsim-style headdress he made for his winning project at the Alberni Valley Museum Regional Heritage Fair on Vancouver Island in 2015.
Image credit: S. Morrow/Ha-Shilth-Sa
Several dancers wear hinkiitsim on a decorated truck around 1929. At the back, Chief Dan Watts carries a sign saying "We are the Real Native Sons of Canada."
Image credit: Alberni Valley Museum
Nuu-Chah-Nulth-Territory
Ongoing Traditions
From the Collections: Nuu-chah-nulth fish rattle
From the Collections: Nuu-chah-nulth Shell Rattle