2019 Ph.D. Graduate Profile: Anna Ragni
by AMNH on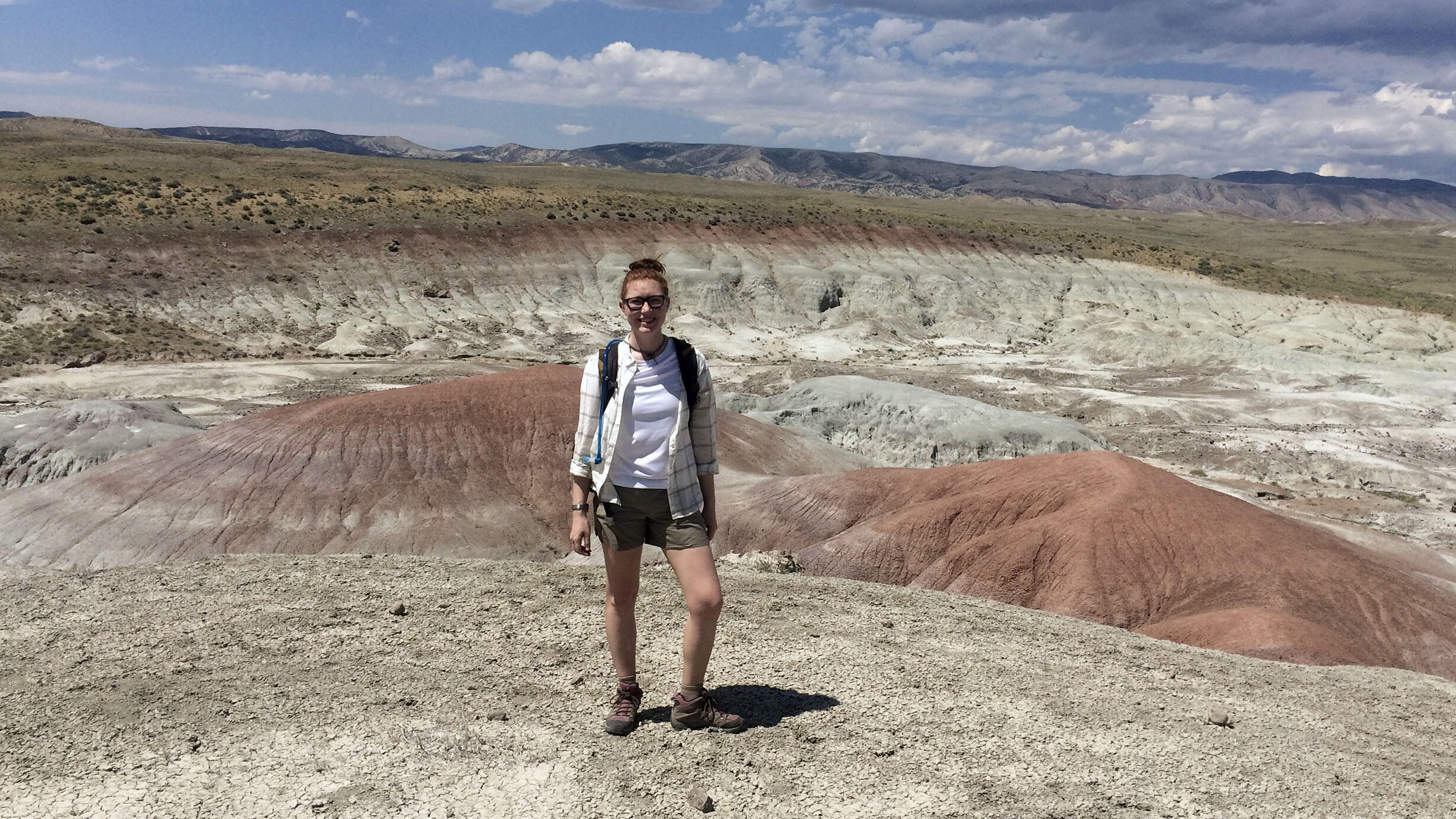 Anna Ragni in the field excavating Eocene primates at Wind River Basin in Wyoming.
Courtesy of Anna Ragni
On September 25, the eighth cohort of graduates from the Museum's Richard Gilder Graduate School—the first Ph.D.-degree-granting program for any museum in the Western Hemisphere—will receive Doctor of Philosophy degrees in Comparative Biology at a commencement ceremony in the Milstein Hall of Ocean Life. We're profiling the soon-to-be Ph.D.s.
As a college student, Anna Ragni circled every course that interested her to settle on a major, with subjects like "Buried Cities and Lost Tribes" tilting her toward anthropology. But after taking a biology course in her junior year, she discovered she had a passion for figuring out how humans came to move the way we do.
So Ragni changed her focus to human origins—and never looked back. She earned a master's degree in anthropology from the University of Arkansas in Fayetteville, where she researched teeth and the paleodiet of early hominins, spent a year as an assistant to the education and outreach coordinator in the Human Origins Program at the Smithsonian Institution's National Museum of Natural History in Washington, D.C., and then began her doctoral studies in the comparative biology program at the Museum's Richard Gilder Graduate School.
Over the last four years, she has studied with John Flynn, dean of the Richard Gilder Graduate School and Frick Curator in the Museum's Division of Paleontology, and William E.H. Harcourt-Smith, Museum research associate, Richard Gilder Graduate School adjunct professor, and associate professor of anthropology at Lehman College (CUNY), to study fossil hominin paleobiology. Her focus: understanding how primate bones change through life, particularly in light of locomotor differences, using high-resolution micro CT scans to examine the honeycombed internal bone structure of many individuals from several modern primate species and exploring what they might tell us about the evolution of bipedalism in fossil and modern humans.
"Anna's Ph.D. research developed a fascinating new approach for determining how changes in locomotion, as primates grow from young to old or between different species, affect the detailed structures inside their hand and foot bones. From this work, she's already begun revealing exciting new insights into how our fossil relatives moved and how our own species evolved such a distinctive style of locomotion—walking upright," says Flynn.
Ragni also honed her skills as an educator, engaging students in the Museum's Youth Initiatives and Adventures in Science programs with her research results, as well as presenting her science to undergraduate biology students, the New York Lady Science Forum, and high school students for whom she co-created and co-taught a course about how scientists use state of the art visualization methods to understand the evolution of human bipedalism by studying living and fossil primates. At the same time, Anna mentored women studying at Columbia and Tufts, and a high school student headed for Stanford.
Ragni found the Richard Gilder Graduate School much more multidisciplinary than programs in institutions where various disciplines function in separate enclaves. "I didn't come from a biology background, and I've learned so much here from faculty and fellow students," she says.