2019 Ph.D. Graduate Profile: Jeremy Frank
by AMNH on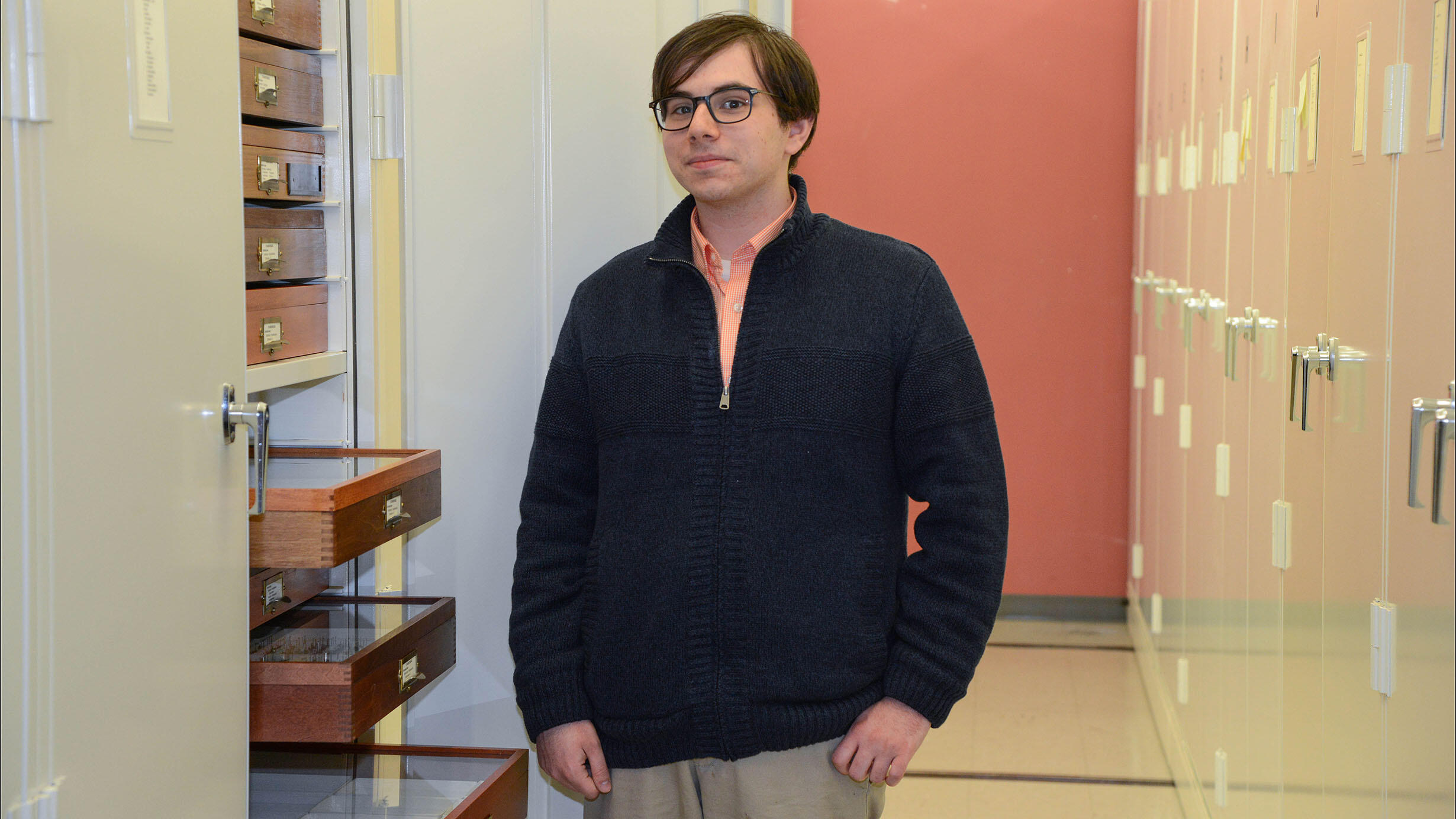 Jeremy Frank exploring the sand wasp cabinets in the Museum's invertebrate zoology collection.
R. Mickens/© AMNH
On September 25, the eighth cohort of graduates from the Museum's Richard Gilder Graduate School—the first Ph.D.-degree-granting program for any museum in the Western Hemisphere—will receive Doctor of Philosophy degrees in Comparative Biology at a commencement ceremony in the Milstein Hall of Ocean Life. We're profiling the soon-to-be Ph.D.s
You could say Jeremy Frank was born to study at the American Museum of Natural History. It was the very first public place he ever visited, with his twin brother, at one month old.
"It was a favorite place of my mother's," says Frank. "Guess she thought we would absorb it by osmosis—clearly, it worked!"
Fast forward to high school in Scarsdale, New York, where Frank took part in a school science research program through which he contacted and worked with Gilder Graduate School professor and Peter J. Solomon Family Curator James M. Carpenter, chair of the Museum's Division of Invertebrate Zoology, on the taxonomy of vespine wasp (hornets and yellowjackets) species from China. A random assignment to study "bugs" in middle school during the local Science Olympiad competition had kicked off a consuming interest in insects, says Frank.
After earning a bachelor's degree in biology at Case Western Reserve University, where Frank studied the flight of tobacco hornworm moths, he was back at the Museum working toward a doctorate in comparative biology, with Carpenter as his principal advisor. His research focused on the morphological, behavioral, and molecular phylogenetics of the solitary sand wasp genus Bembix, and developing the first preliminary evolutionary tree of life for these wasps that, like solitary bees, nest individually rather than in colonies.
"It's been said they are one of the best-known stinging wasps but no one had ever studied their evolution," says Frank. "There's lots of basic information but a research synthesis gap." In fact, Frank is proposing that this group now provides one of the best "model systems" in biology for studying the evolution of animal behavior.
"When Jeremy came back to the Museum for graduate work, he chose for his research a group that like the hornets we worked together on 10 years ago is large, charismatic, and well-known, the sand wasps," says Carpenter. "But for such an obvious denizen of sandy areas around the world, there was a lack of phylogenetic investigation. Jeremy has certainly filled that gap."
Confessing to a fondness for explaining things, Frank hopes to teach as well as continue his scientific research. While in college, he was co-designer and co-supervisor of the entomology test for the Northeast Ohio Regional Science Olympiad competition. Over the past four years, he served as a teaching assistant for the systematics course of the Museum's long-standing and influential Research Experiences for Undergraduates program and an evolution class at the Richard Gilder Graduate School.
Frank also undertook fieldwork at the Archbold Biological Research Station in Venus, Florida, and at Museum's Southwestern Research Station in Portal, Arizona, where he learned how to excavate ground nests with solitary bee expert Jerome G. Rozen, Gilder Graduate School professor emeritus and curator emeritus in the Division of Invertebrate Zoology.
During his time at the Gilder Graduate School, Frank says, he especially appreciated the scale of the Museum's Research Library and access to the Museum's vast collections, which he credits with actually helping him narrow his choice of research subject. A book had aroused his curiosity about Bembix and since the insect collections held nearly one-quarter of all the species in the world, he went to see what they looked like—and was hooked.
"My single favorite day as a scientist was getting to do that," he says. "It was incredible!"