2019 Ph.D. Graduate Profile: Kelly Speer
by AMNH on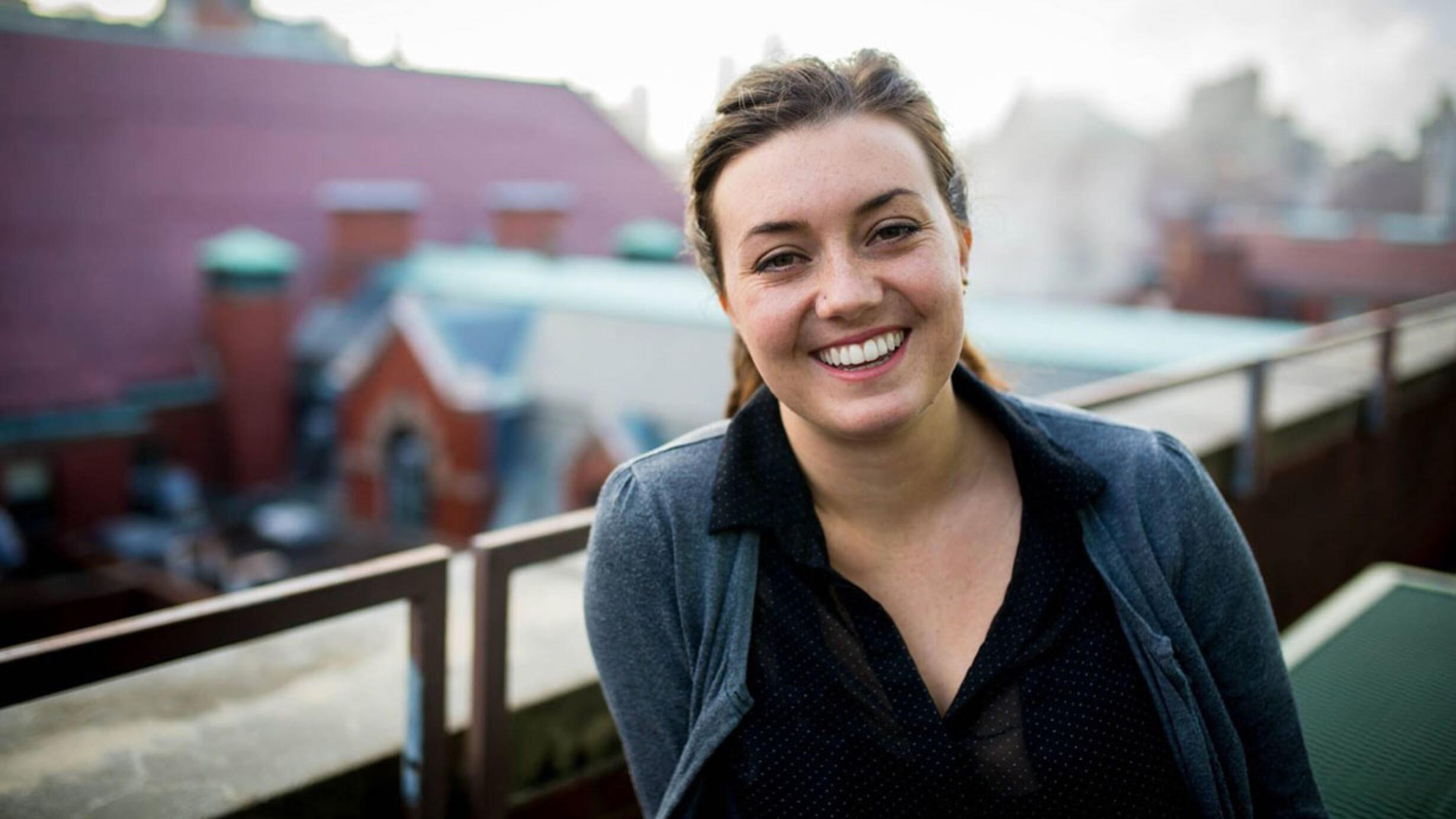 Kelly Speer outside of the Institute of Comparative Genomics, where she conducted her lab work.
Camille Walker
On September 25, the eighth cohort of graduates from the Museum's Richard Gilder Graduate School—the first Ph.D.-degree-granting program for any museum in the Western Hemisphere—will receive Doctor of Philosophy degrees in Comparative Biology at a commencement ceremony in the Milstein Hall of Ocean Life. We're profiling the soon-to-be Ph.D.s.
A strange thing happened to Kelly Speer on her way to a career as a high school English teacher. She was recruited to prepare a specimen for a natural history collection.
"I loved it!" she says, of that unexpected gig in the mammalogy collection at the Museum of Southwestern Biology, where scientists study a diversity of mammals, including the endangered Mexican gray wolf, with a view to understanding biodiversity and evolution. She was captivated by seeing this top predator up close. "You get to experience wildlife and biodiversity in a way you never would otherwise," she says of working in museum collections.
It all started when, as a first-year undergraduate at the University of New Mexico, Joe Cook, a curator of mammalogy at the Museum of Southwestern Biology, asked her if she might be interested in volunteering in the collection. Speer, who had planned to major in English literature, signed on for a year, then she began working with two graduate students, gaining deeper experience with molecular genetics research and parasitology.
That work led to a master's program in biology at the University of Florida, where Speer began studying bats and bat flies, the subject of a paper for which she was lead author, published last month, assessing buffy flower bat populations across the Bahamas through genetic material derived not from the bats themselves but instead from their blood-feeding parasitic bat flies!
Her research as a doctoral student at the Richard Gilder Graduate School built on her prior analyses to focus on the bacterial microbiome found in bat flies; this ecosystem of bacteria living in the flies impacts the ability of the fly to feed on blood and transmit disease to its host bat. Taking advantage of the grad school's fostering of interdisciplinary research, she was advised by Gilder Graduate School Professors and Museum Curators Nancy Simmons in the Department of Mammalogy, Division of Vertebrate Zoology, and Susan Perkins in the Division of Invertebrate Zoology. Using samples that she collected herself in the field in Mexico and Belize, along with other previously collected samples from Brazil, Speer investigated patterns of variation in bat fly microbiomes and how this variation may affect the ability of parasites to transmit disease-causing pathogens among bats.
"Kelly's work is highly innovative," says Simmons, "and fills an important gap in our understanding of microbial diversity in parasites, like bat flies, that can move across different host individuals and species, and how this diversity may affect disease transmission among bats in complex tropical communities."
Speer says she especially appreciated having advisors who could offer insight into professional advancement for women in science, giving her confidence to forge her own path ahead. She also found herself awed by scientists and explorers from the Museum's past.
"I hadn't expected the incredible gravity I would feel by seeing a bat collection that had been curated by [longtime Museum Curator] Karl Koopman or seeing dioramas prepared by Carl Akeley," she says, naming an internationally recognized expert on bats and the legendary explorer who developed habitat dioramas.
Speer will begin postdoctoral research at the Smithsonian in January, with support from two prestigious and competitive fellowships.