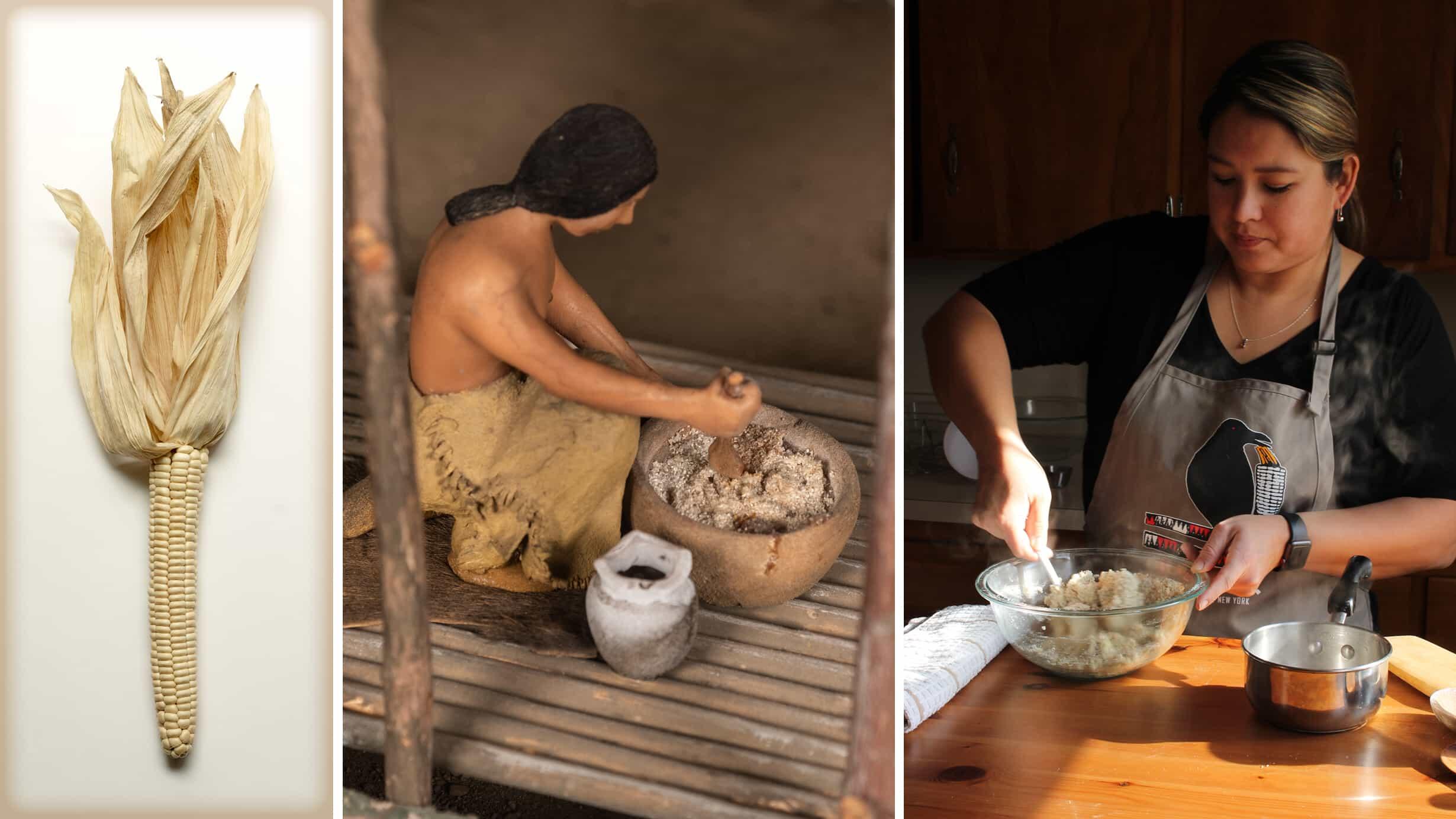 Dried Haudenosaunee White Corn, photo by Tahila Mintz (Yaqui) / © AMNH; model of woman in a longhouse mixing cornbread, © AMNH / D. Finnin; Belinda Patterson (Tuscarora) mixing cornbread in 2019, photo by Laticia McNaughton (Mohawk) / © AMNH
Explore the making of cornbread in a step-by-step comparison of images from the Museum's Hall of Eastern Woodland Indians to the work of Mohawk photographer Laticia McNaughton.
These two miniature dioramas illustrate the steps of harvesting, processing, and preparing Haudenosaunee White Corn in the 15th century, prior to contact with Europeans.
Click on the numbers to explore each step.
Processing Haudenosaunee White Corn into Flour
Making Corn Flour into Cornbread
Step 9: Mix the Corn Flour With Hot Water and Add Beans or Other Additions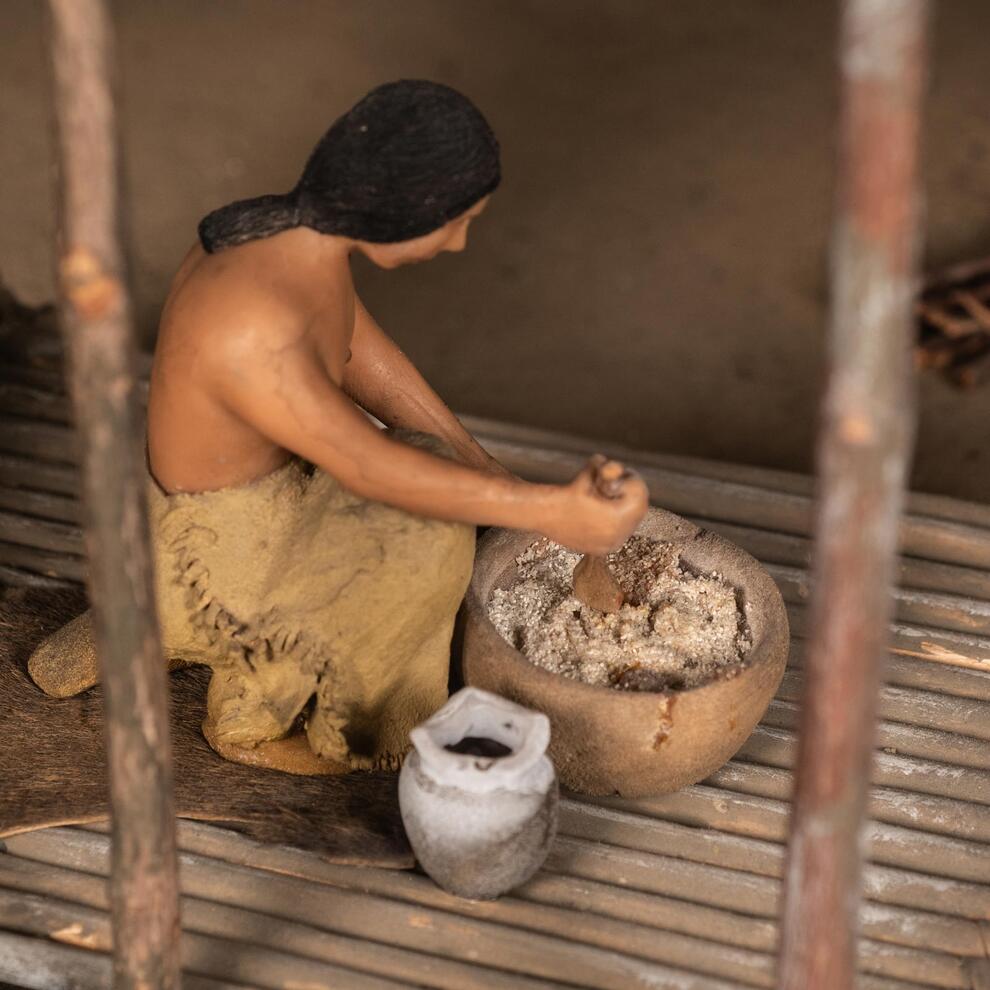 Model of woman mixing corn flour and water
© AMNH / D. Finnin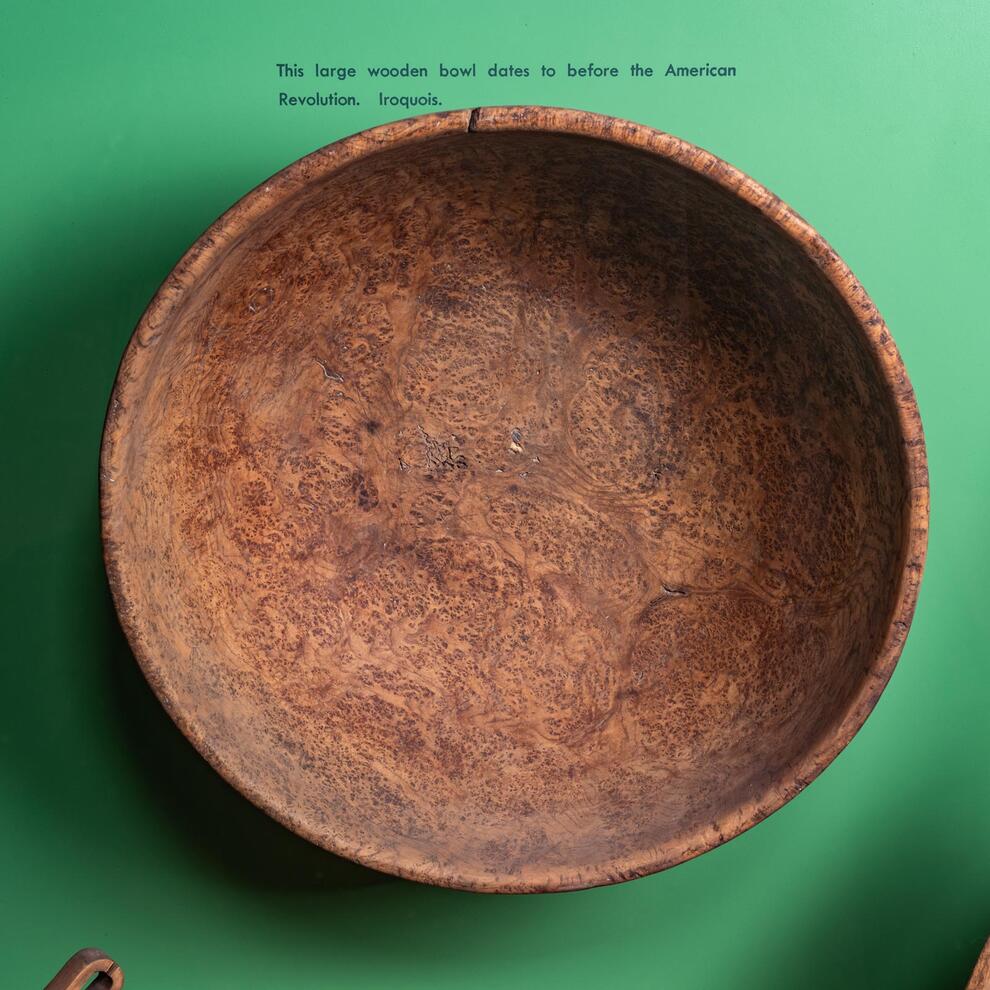 Wooden bowl on display in the hall
© AMNH / D. Finnin
To make this Haudenosaunee style of boiled cornbread, the corn flour must first be mixed with hot water. The mini diorama shows a woman in a 15th century longhouse using a wooden bowl and spoon, with water from a clay pot that would have been transported from a spring or freshwater stream and then boiled over an open fire.
Today, Haudenosaunee cornbread makers still pour boiling water into ground corn flour, but the tools as well as the sources of the water and heat are often different. In these images, cornbread maker Belinda Patterson (Tuscarora) uses a glass bowl and a metal spoon. Modern cooking tools vary from home to home.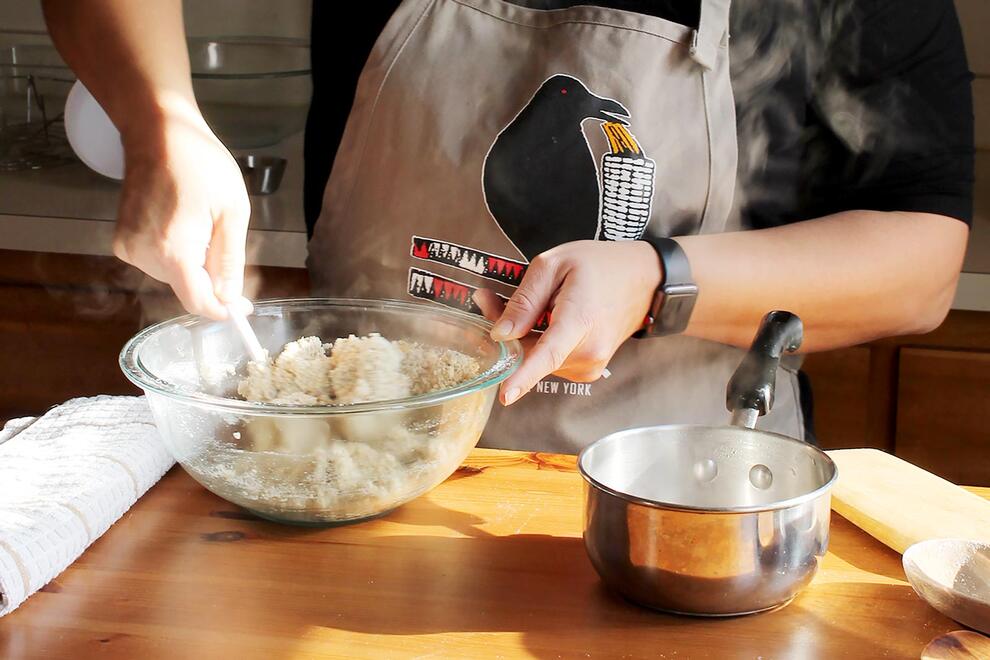 Belinda Patterson (Tuscarora) mixing cornflour and water, 2019
Photo by Laticia McNaughton (Mohawk) / © AMNH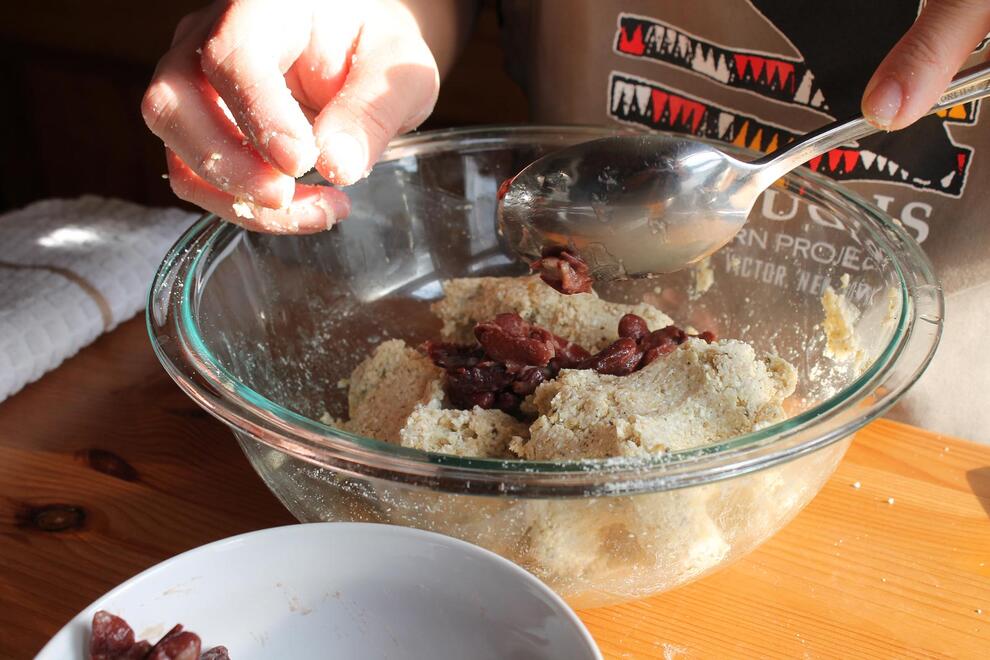 Belinda Patterson (Tuscarora) adding beans, 2019
Photo by Laticia McNaughton (Mohawk) / © AMNH
The natural starches in the corn that were released when it was cooked in wood ash make it stick together so that she can start to form the moistened corn into round loaves. An experienced bread maker can do this by eye, without measuring the water or flour. When the dough is a good consistency, Belinda adds cooked beans or other additions like nuts and berries.
Step 10: Form the Dough into Loaves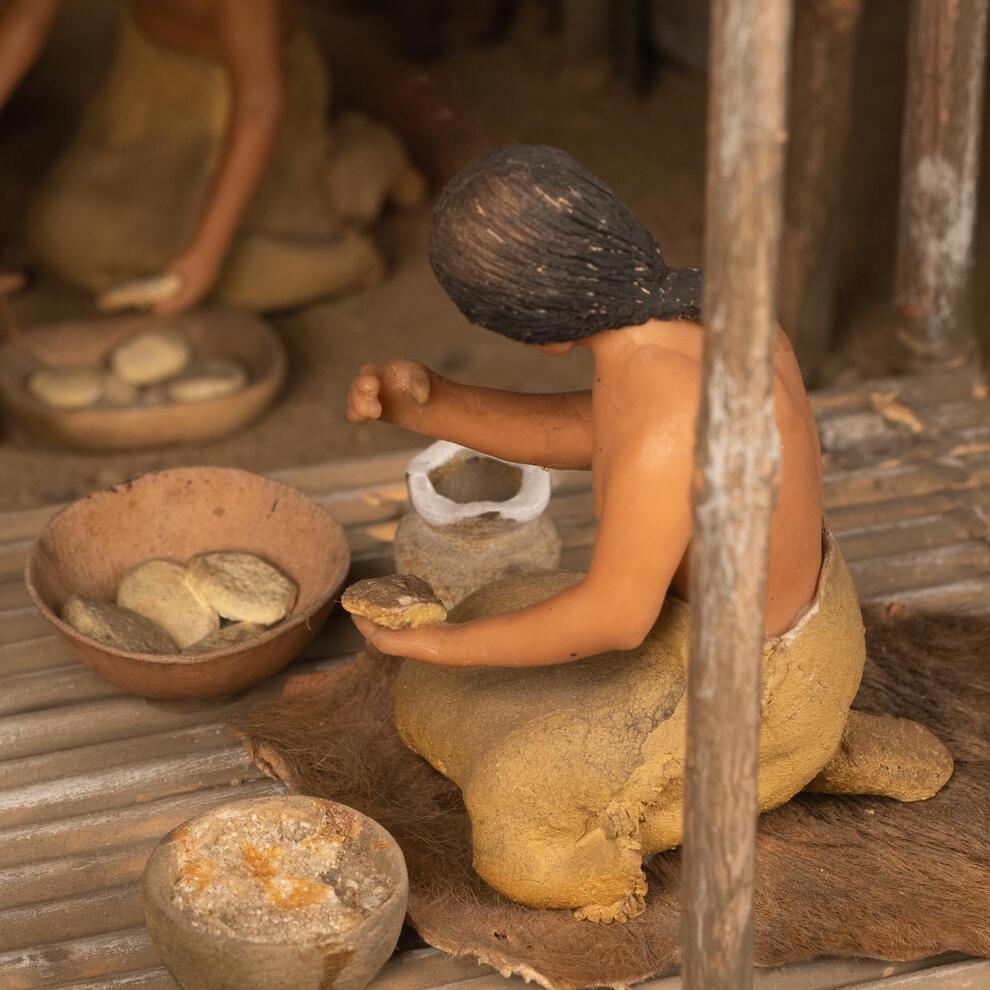 Model of a woman forming the loaves
© AMNH / D. Finnin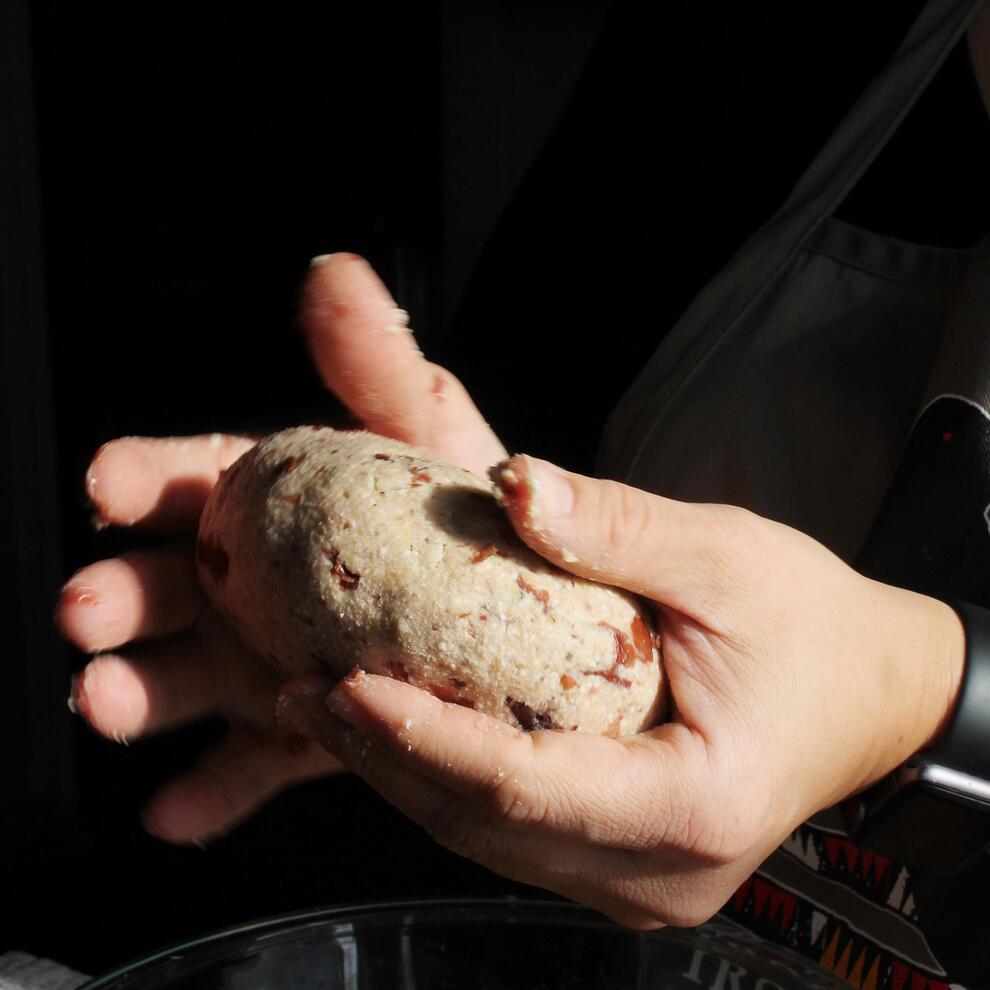 Belinda Patterson (Tuscarora) forming the loaves, 2019
Photo by Laticia McNaughton (Mohawk) / © AMNH
Haudenosaunee cooks compact the dough into round "wheels" and smooth them by hand. The woman in the mini longhouse model is shown doing this the same way that Belinda Patterson (Tuscarora) does in her kitchen today.
Step 11: Boil the loaves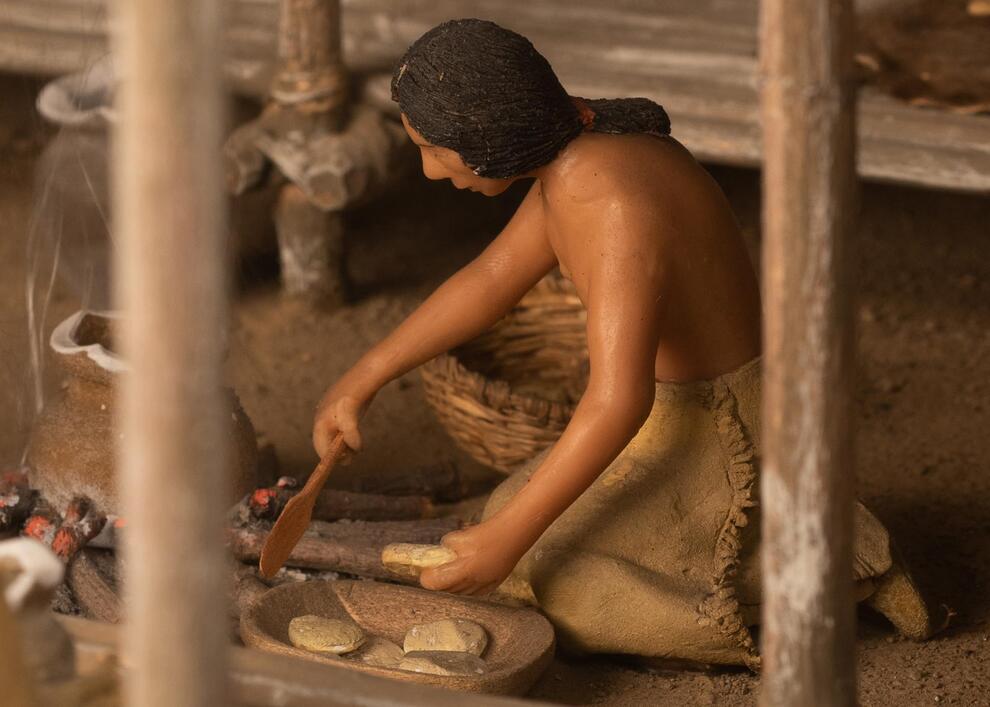 Model of a woman boiling the loaves
© AMNH / D. Finnin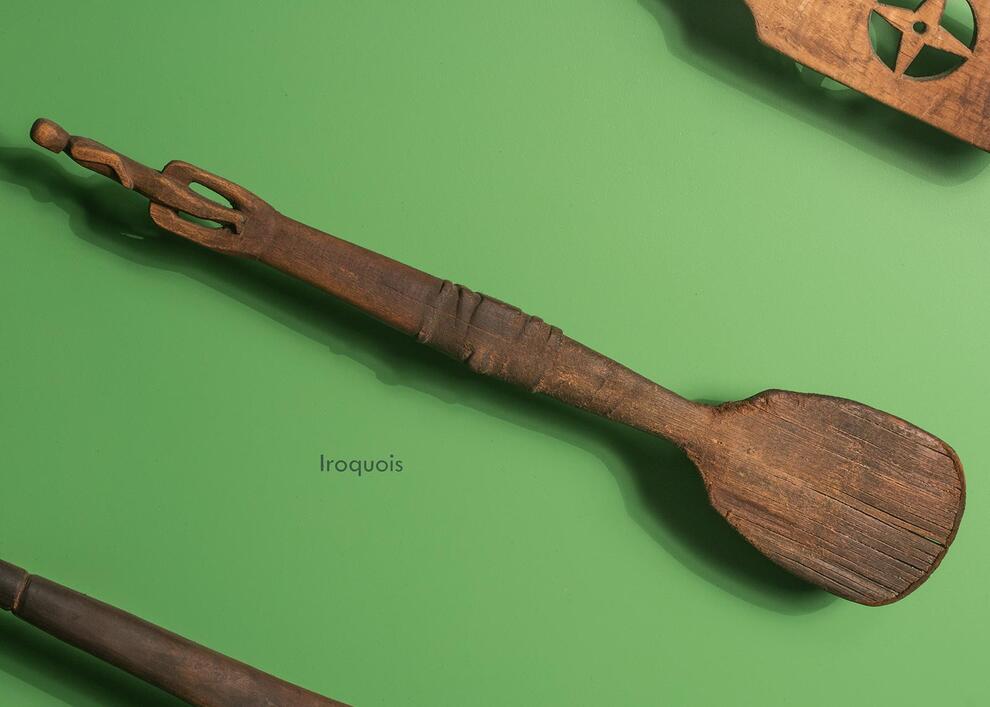 Corn paddle on display in the hall
© AMNH / D. Finnin
The loaves are simmered in boiling water for about 45 minutes. The mini diorama depicts a woman from the 15th century using a wooden paddle to lower the loaves into water boiling in a clay pot over a fire.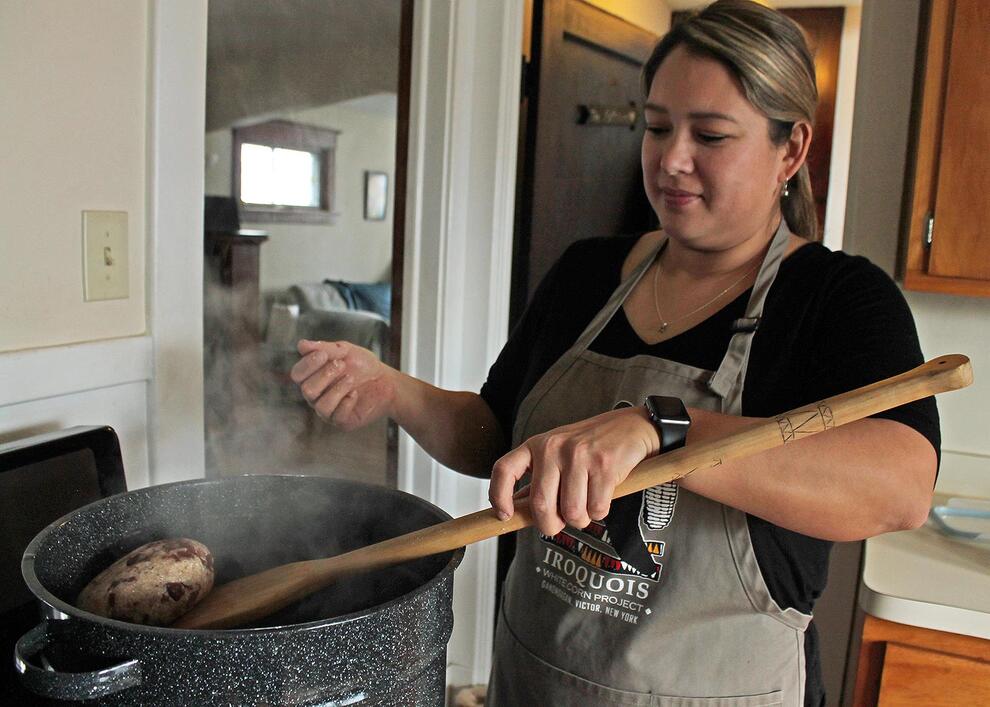 Belinda Patterson (Tuscarora) boiling the loaves, 2019
Photo by Laticia McNaughton (Mohawk) / © AMNH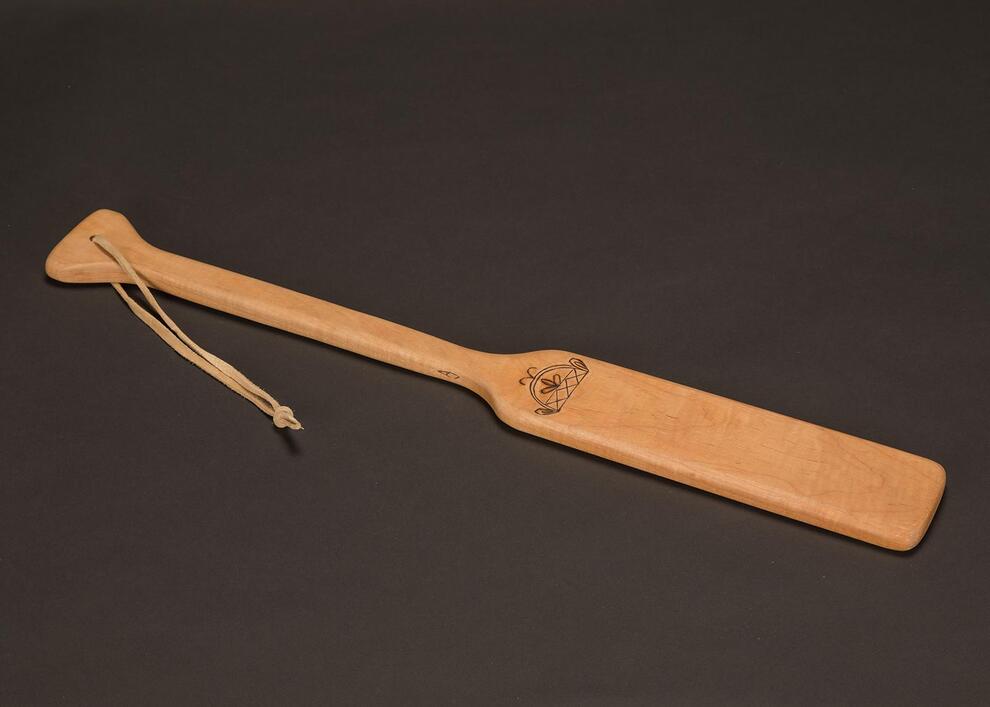 Contemporary corn paddle made by Adrian John, 2018 (Seneca)
© AMNH / M. Shanley
Belinda Patterson (Tuscarora) uses a similar wooden paddle to lower her loaves into water boiling in a metal pot on her stove. When the cornbread floats to the top, she will know it is done.
Belinda removes the loaves from the pot with her corn paddle, then slices up the steaming cornbread for serving. This bread can be served with butter and maple syrup or made savory by serving it with meat and gravy.
While it takes years of experience, access to this unique corn, and a couple days of work to make the cornbread this way, people can get a sense of the flavor by making a baked bread from this ground corn flour. Seneca scholar and Haudenosaunee White Corn advocate John Mohawk developed a more accessible recipe with the flour that can be found on this page along with many other recipes.
Haudenosaunee White Corn is a type of corn that has been grown for hundreds of years by Native people from the six nations that make up the Haudenosaunee Confederacy, and which they continue to grow today. Some original names for the corn are still used within their respective communities. For example, it is known as onëögë:n in Seneca and onnenhstakén:ra in Mohawk. Haudenosaunee White Corn has also been known for several decades as Iroquois White Corn. As people shift away from using the word Iroquois towards Haudenosaunee, the name that the people from this confederacy call themselves, it seemed fitting to also update what we call the corn that bears their name.
There is debate about whether a similar corn, Tuscarora White Corn, is a more robust version of Haudenosaunee White Corn or an altogether different variety. Tuscarora farmers brought these seeds from their Carolina homelands and have kept this corn flourishing in their current territory through at least 12 generations. Today there is a resurgence across the Haudenosaunee Confederacy in growing traditional varieties of corn in both large-scale food sovereignty initiatives and personal home gardens.
Haudenosaunee White Corn is known as a flour corn. Each kernel is filled with a powdery corn flour that is protected by a hard outer shell. Through a variety of processing techniques, from cooking in wood ash to pounding or grinding the kernels, this corn variety can be turned into a myriad of dishes, from corn soup to corn porridge. In a process known as nixtamlization, wood ash's natural alkalinity breaks down the outer hull of the corn when boiled with water, greatly reducing the corn's cooking time and improving its nutritional value.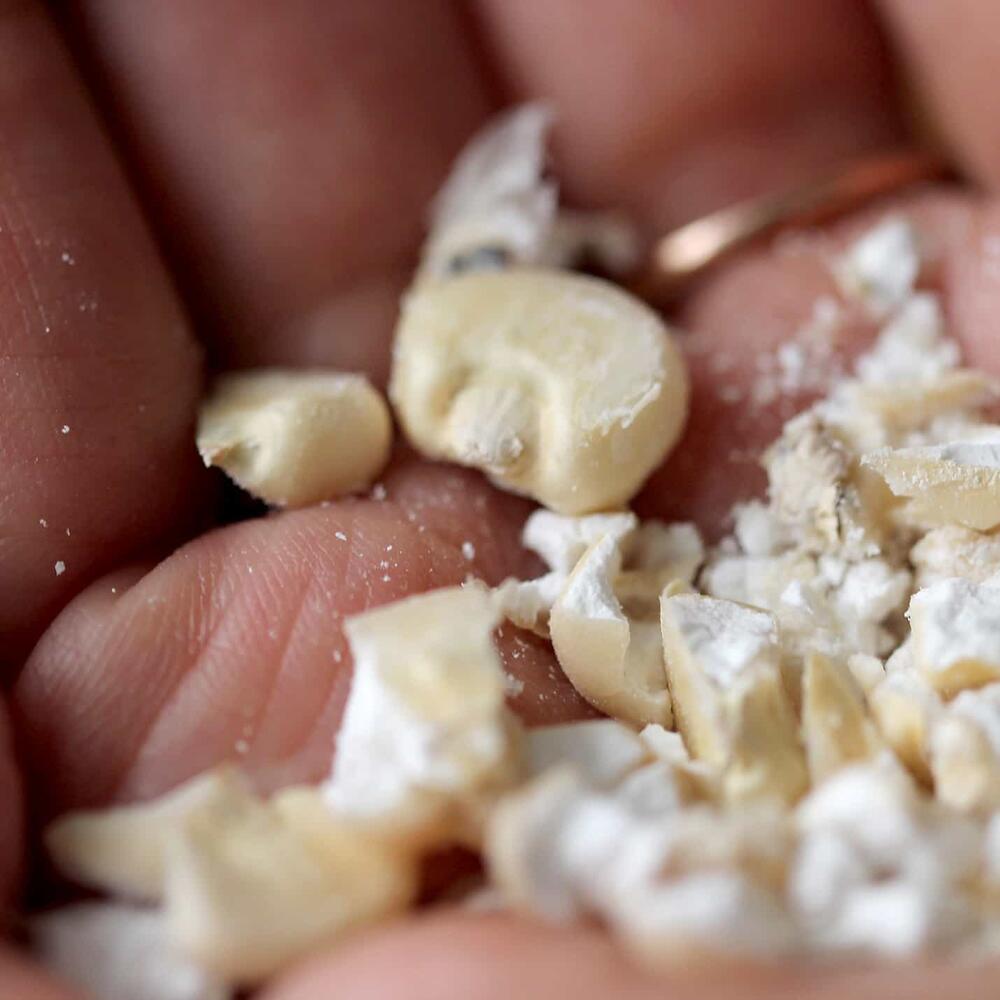 Crushed Haudenosaunee White Corn kernels
Photo by Laticia McNaughton (Mohawk) / © AMNH
Instead of rotting when left out, Haudenosaunee White Corn naturally dries at the end of the growing season. Traditionally, until the 18th century, Haudenosaunee White Corn was braided and hung from the rafters of a longhouse. Today, it is hung in a barn or garage. This variety of corn can last up to a decade if stored properly. It has sustained Haudenosaunee communities for thousands of years and remains a central part of the culture today.
This is a Haudenosaunee style of cornbread, also known in some communities as a corn wheel. This bread bears little resemblance to the baked cornbread non-Native people may be familiar with. It is a round, boiled bread that is dense and moist, and which emits a distinct white-corn smell. There is no wheat flour or leavener used in this recipe, only corn, water, and beans as ingredients, plus the wood ash that is used for processing the corn. This cornbread is considered a delicacy because of the many hours of preparation needed to create it.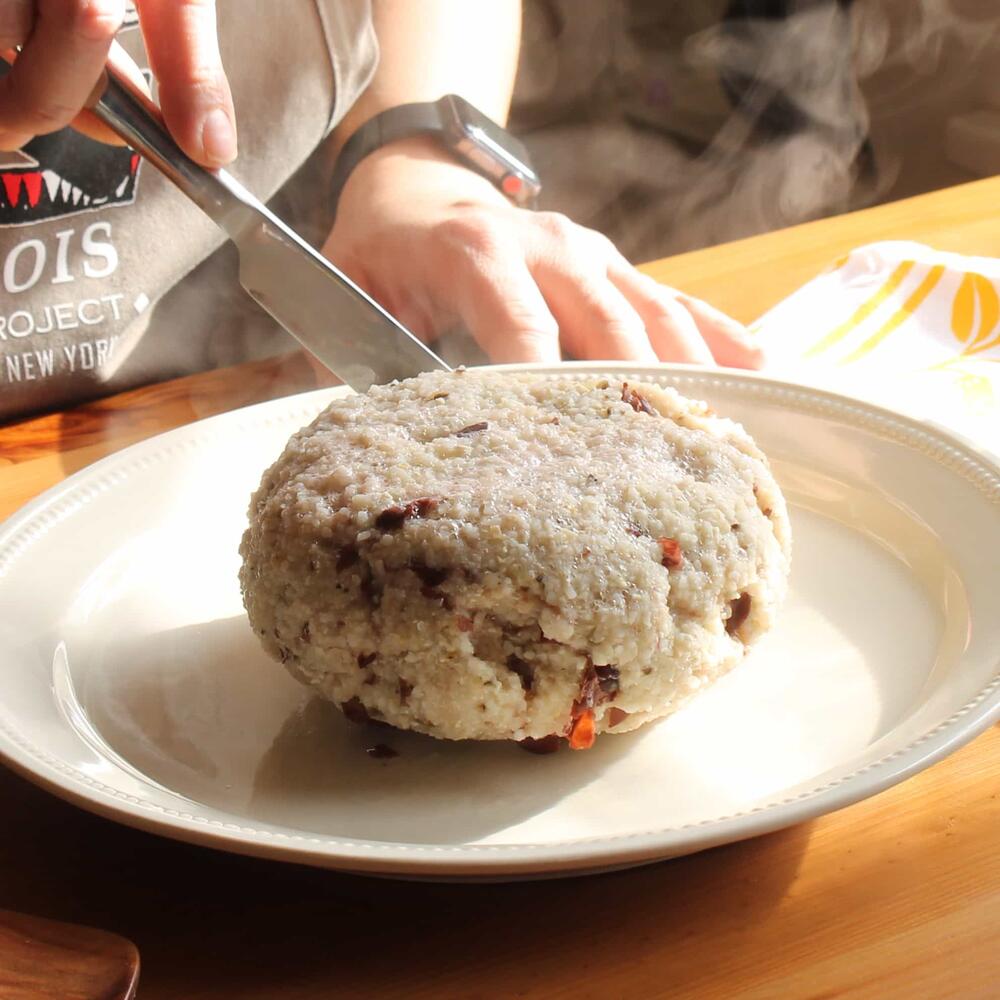 Haudenosaunee corn bread
Photo by Laticia McNaughton (Mohawk) / © AMNH