After Dinosaurs, Mammals Put Brawn Over Brains
by AMNH on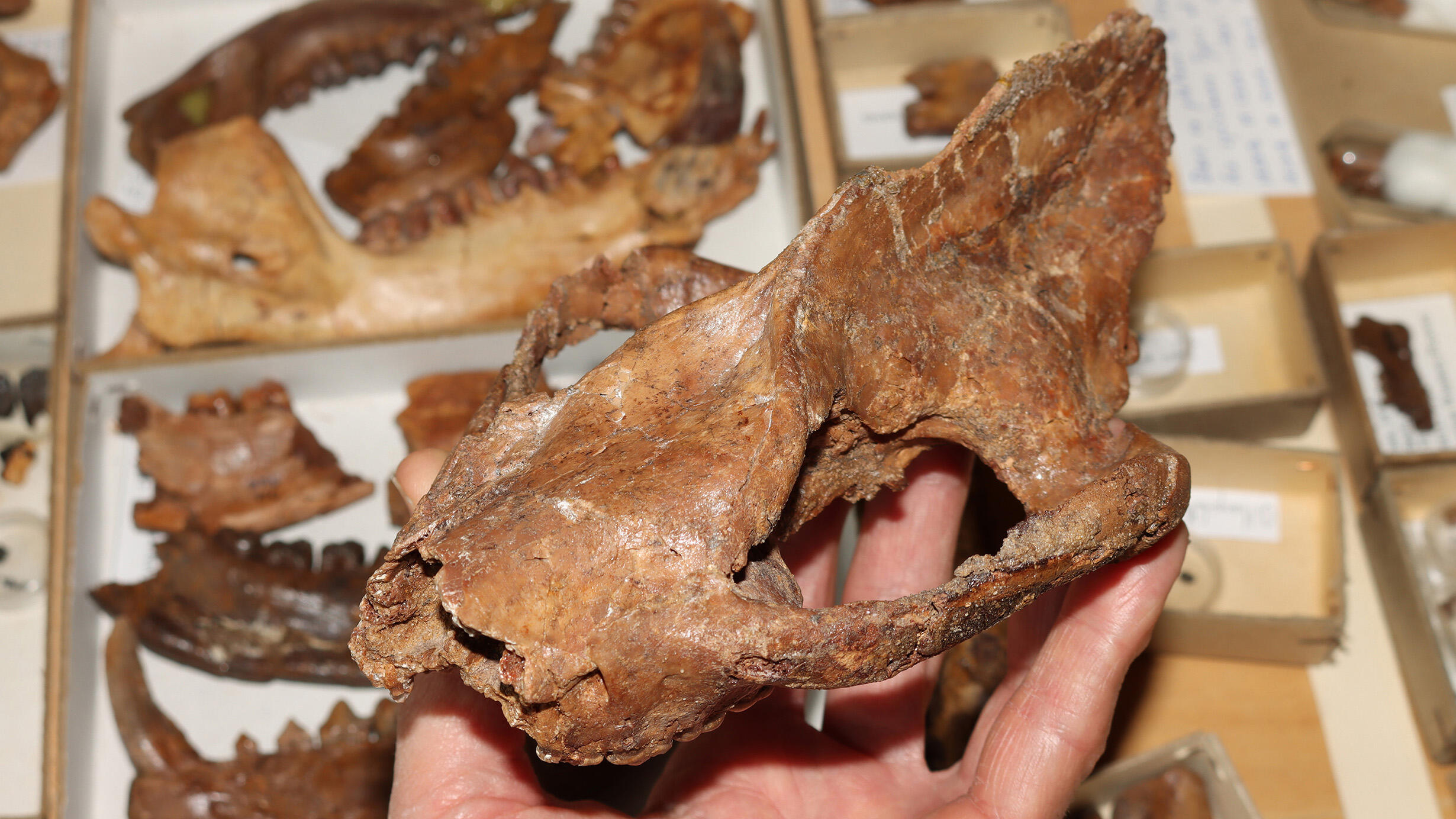 Cranium of the Paleocene mammal
Arctocyon primaevus
, a carnivorous predator most closely related to the group including living pigs, sheep and other even-toed ungulates.
© Thierry Smith, Royal Belgian institute of Natural Sciences
When non-avian dinosaurs died out 66 million years ago, mammals persisted. But a new study shows that this group didn't go unchanged: in the first 10 million years following the mass extinction event, mammals bulked up, rather than evolving bigger brains, to adapt to the dramatic changes in the world around them.
"Body sizes increasing so much faster than their brains completely changes our understanding of mammal evolution after the mass extinction," said John Flynn, the Museum's Frick Curator of Fossil Mammals and a co-author on the new study, which is published in the journal Science today and is led by researchers at the University of Edinburgh. "This novel and surprising insight is only possible through a combination of new fossil discoveries, studying specimens in museum collections, and a large collaborative research team applying advanced CT imaging and statistical analysis methods."
Mammals first appeared at least 170 million years ago and lived among dinosaurs until a mass extinction event following a catastrophic asteroid impact killed off all dinosaurs except birds.
AKI WATANABE (Research Associate, Division of Paleontology, American Museum of Natural History): Did an asteroid kill the dinosaurs?
[Text reads: "Did an asteroid kill the dinosaurs?" Title image shows the American Museum of Natural History logo and the text "Space Vs. Dinos" over an illustration of an asteroid and a dinosaur skull.]
[MUSIC] [BOOM]
[Paleontologist AKI WATANABE appears on screen, with illustrations of asteroids zooming behind him. Text reads "Aki Watanabe, Paleontologist"]
WATANABE: Paleontologists agree that an asteroid did strike Earth at the end of the Cretaceous period, at around 66 million years ago.
[Text reads: 66 million years ago]
WATANBE: And we know this because there is an impact crater in the Yucatan Peninsula of what's now Mexico.
[A circle appears with a [DING] around the Yucatan Peninsula (southeastern peninsula) of Mexico.]
WATANABE: And the rock layers from that age include an element called iridium which is rare on Earth but relatively abundant on asteroids.
[Striated rock pattern [RUMBLES] across the screen to cover it. A circle pops up in the middle and shows the periodic element icon for iridium.]
WATANABE: And you can learn more about the asteroid itself by clicking the link here.
[An illustration of an asteroid surrounded by two arrows bobs up and down in the top right corner of the screen. From the bottom of the screen, a hilly landscape pops up with illustrated sauropods, crested duckbilled dinosaurs, tyrannosaurs, and triceratops. An asteroid looms overhead with a [LOW RUMBLE].]
WATANABE: It obviously had a drastic impact on life forms on Earth, including dinosaurs like T. rex and Triceratops. So because the asteroid was really big,
[A closeup of the asteroid shows that it is 10km or 6 miles in diameter. Text reads: "*estimated size." WATANABE appears back on screen.]
WATANABE: the impact would have had global consequences, both immediate and then also long-term.
[Back in the landscape of dinosaurs from the prior image, the asteroid collides with a [BOOM] and sends an orange flash through the screen, which washes out the screen with white.]
WATANABE: There would have been initial effects like forest fires and giant tsunamis,
[Text appears: Forest fires. Tsunamis.]
WATANABE: but the projectiles that came off of the impact would have led to impact winters,
[Small particles begin to fall behind the text, eventually filling the screen. Text reads: Impact winter.]
WATANABE: which would have cooled down the Earth and also blocked sunlight from hitting the ground.
[Lines connect new text to "impact winter", reading: Colder. Less sunlight. Behind the text, the screen fades to dark grey. Small icons of plants pop up, only to turn brown with a [CRINKLE] and disappear.]
WATANABE: And the vegetation would have suffered, which would have led to the collapse of a lot of ecosystems.
[Two triceratops and a duck-billed dinosaur standing among the plants say "oh no" simultaneously. They disappear down and are replaced with gravestones that read: RIP.]
[BELL TOLL]
[WATANABE appears on screen.]
WATANABE: So its very clear that the asteroid impact had a major effect on life on Earth.
[An illustrated asteroid zooms in from the top left.]
WATANABE: But what we're trying to figure out is whether the asteroid was the only factor, or the major factor that led to the extinction of dinosaurs.
[An arrow connects the asteroid with the skull and bones of a dinosaur. Returning to the landscape filled with dinosaur illustrations, we hear a [REWIND SQUEAK] as a rewind icon appears in the top left. The asteroid goes backwards from the crash to where it started, the stops. A pause icon appears in the top left.]
WATANABE: Some palentologists have proposed that the dinosaurs were already on a decline before the impact of the asteroid.
[A few dinosaurs dissolve away from the scene. A play icon appears in the top left, and the asteroid resumes its course toward the ground. WATANABE appears on screen.]
WATANABE: But this hypothesis is difficult to prove just because we don't have a clean complete record of dinosaurs right before, during, and after the extinction event. So it's hard to tell whether all the dinosaurs were already on a path to extinction,
[A line is drawn from the left side of the screen, and a tyrannosaur, sauropod, duck-billed dinosaur, and triceratops pop up on top of it. The line starts to incline down, and dinosaur skulls appear below the line.]
WATANABE: even without help from the asteroid impact.
[A triceratops tumbles down the slope with a series of [THUMPS] and into a ditch, followed by the asteroid.]
WATANABE: There's also evidence of an increase in volcanic activity at that time.
[The line begins to redraw from the bottom, forming the shape of a volcano which begins to spew lava with a [BOOM]. WATANABE appears on screen.]
WATANABE: There was a lot of lava and volcanic particles spewing out from under ground. This would have led to similar effects as the impact winters.
[Returning to the scene of dinosaurs on a hilly landscape, there is now a TV menu on screen. It scrolls past "Channels" and "Volume" to "Volcanoes", selects "Volcanoes" and then selects "ON"]
WATANABE: So the increase in volcanism might have contributed additional forces that led to the extinction of dinosaurs.
[Volcanoes and smoke pop up in the landscape behind the hills. The asteroid appears and continues towards the ground. The screen fades to white.]
WATANABE: It's not all doom and gloom though.
[The screen fades down from white and the smoke clears to show an illustrated sauropod skeleton.]
WATANABE: One dinosaur group we know as birds did survive through the extinction event.
[Two birds fly in from offscreen and stand on the skeleton [CHIRPING]. Each says in text "'sup" to the other. One says "how ya holdin' up".]
WATANABE: And also us mammals did as well.
[A mouse pops up from a hole in the ground with a [SQUEAK] and says "HI GUYS!... guys?" as both birds fly offscreen again. Icons of a bird, mouse, ant, fish, shark, and squid appear in circles on screen.]
WATANABE: What the fossil record tells us is that certain animals, usually smaller-bodied
[The bird, mouse, and ant scale down and text reads: small.]
WATANABE: and also those that lived in the oceans tended to fare better at this extinction event.
[The fish, shark, and squid scale down and text reads: lived in oceans. WATANABE appears on screen.]
WATANABE: So all the animals that are alive today represent descendants from a group that actually did survive this asteroid impact.
[Circles[POP] onscreen with video of living animals: frogs, sea lions, tortoises, birds, big cats, alligators. A circle is drawn around an image of a dinosaur skull and bones. A line is drawn between it and a post-it note with an asteroid on it.]
WATANABE: So to answer the original question, the asteroid impact did have a devastating effect on the dinosaurs. But paleontologists are still working out the finer details.
[More post its are connected to the image of the dinosaur skull, many with big red X's over them. The camera pulls back and the icon of a human stands looking at the images and rubbing its chin with a [HMMM]. Camera zooms back in on the dinosaur skull and bones. Beneath, text reads: 66 million years ago.]
WATANABE: And learning more about this extinction event, could help us to learn about other extinction events, including the one we're facing right now.
[More icons appear with different animals and text beneath them. Respectively: a crocodile ancestor, 200 million years ago. A trilobite, 250 million years ago. A giant extinct fish, 359 million years ago. The camera whips back and we see a new image of a polar bear, with the text: today.]
[Credits roll. WATANABE appears in the bottom right of the screen.]
WATANABE: Thanks for watching the video. To learn more about the asteroid, make sure to click the link above for this weeks' space video. And if you have any questions about dinosaurs, leave them in the comments section below. Don't forget to subscribe to the AMNH channel for more videos like this!
Producer
Lee Stevens
Executive Producers
Erin Chapman
Eugenia Levenson
Motion / Design
AMNH / L. Stevens
AMNH / M. Fearon
AMNH / S. Gambardella
Camera
AMNH / L. Stevens
Lucy Gardner
Host
Aki Watanabe
Images / Archive
Dmitry Bogdanov
Noun Project / Andres Magnusson, Angela Chen, Bakunetsu Kaito, Hayashi Fumihiro, James Keuning, James Marriott, Paulo Volkova, Sina & Marie, Timothy Dilich
Nobu Tamura
Music
"Clarity" by Matthew S. Orr (BMI) /
Warner/Chappell Production Music
Sound Effects
AMNH / L. Stevens
FreeSound / Barrigan, Bmaczero, Breviceps, Dobroide, Elmasmalo1, Halion, Mattix,
Tobiasz 'unfa' Karoń, UATaudio, Volivieri
Special Thanks
AMNH Audio Visual Department
Carl Mehling
Craig Chesek
Danny Barta
Denis Finin
Matt Shanley
Rod Mickens
Scott Schaefer
© American Museum of Natural History
Previously, it had been widely thought that mammals' relative brain sizes increased over time in the wake of the wipeout. But the new findings show that compared with their body weight, the size of mammals' brains initially decreased after the extinction.
The researchers came to this conclusion by performing detailed CT scans in the Museum's Microscopy and Imaging Facility and elsewhere on a combination of newly discovered fossils and previously known specimens in museum collections from the 10-million-year period immediately after the extinction, called the Paleocene.
Their findings reveal that the relative brain sizes of mammals at first decreased as their body size unexpectedly increased at a much faster rate.
Results of scans also suggest the animals relied heavily on their sense of smell, and that their vision and other senses were less well developed. This suggests it was more important to be big than highly intelligent in order to survive in the post-dinosaur era at first, the team says.
Around 10 million years later, early members of modern mammal groups such as primates and carnivores began to develop larger brains and a more complex range of senses and motor skills. These adaptations would have improved their survival chances at a time when competition for resources was far greater, according to the team.
"Large brains are expensive to maintain and, if not necessary to acquire resources, would have probably been detrimental for the survival of early placental mammals in the chaos and upheaval after the asteroid impact," said lead author Ornella Bertrand of the University of Edinburgh's School of GeoSciences. Bertrand was an exchange student in 2009 through the Museum's Richard Gilder Graduate School Annette Kate Fellowship Program.
Because today's mammals are so intelligent, it is easy to assume that big brains helped our ancestors outlast the dinosaurs and survive the mass extinction–but that was not so, according to the new study.
"The mammals that usurped the dinosaurs were fairly dim-witted, and only millions of years later did many types of mammals develop bigger brains as they were competing with each other to form new ecosystems," said senior author Steve Brusatte, a professor at the University of Edinburgh and a 2012 graduate of the Museum's collaborative Ph.D. program with Columbia University.
Jin Meng, curator-in-charge for fossil mammals in the Museum's Division of Paleontology, also is an author on the study.