New Class of Scientists and Teachers Graduates from Museum
by AMNH on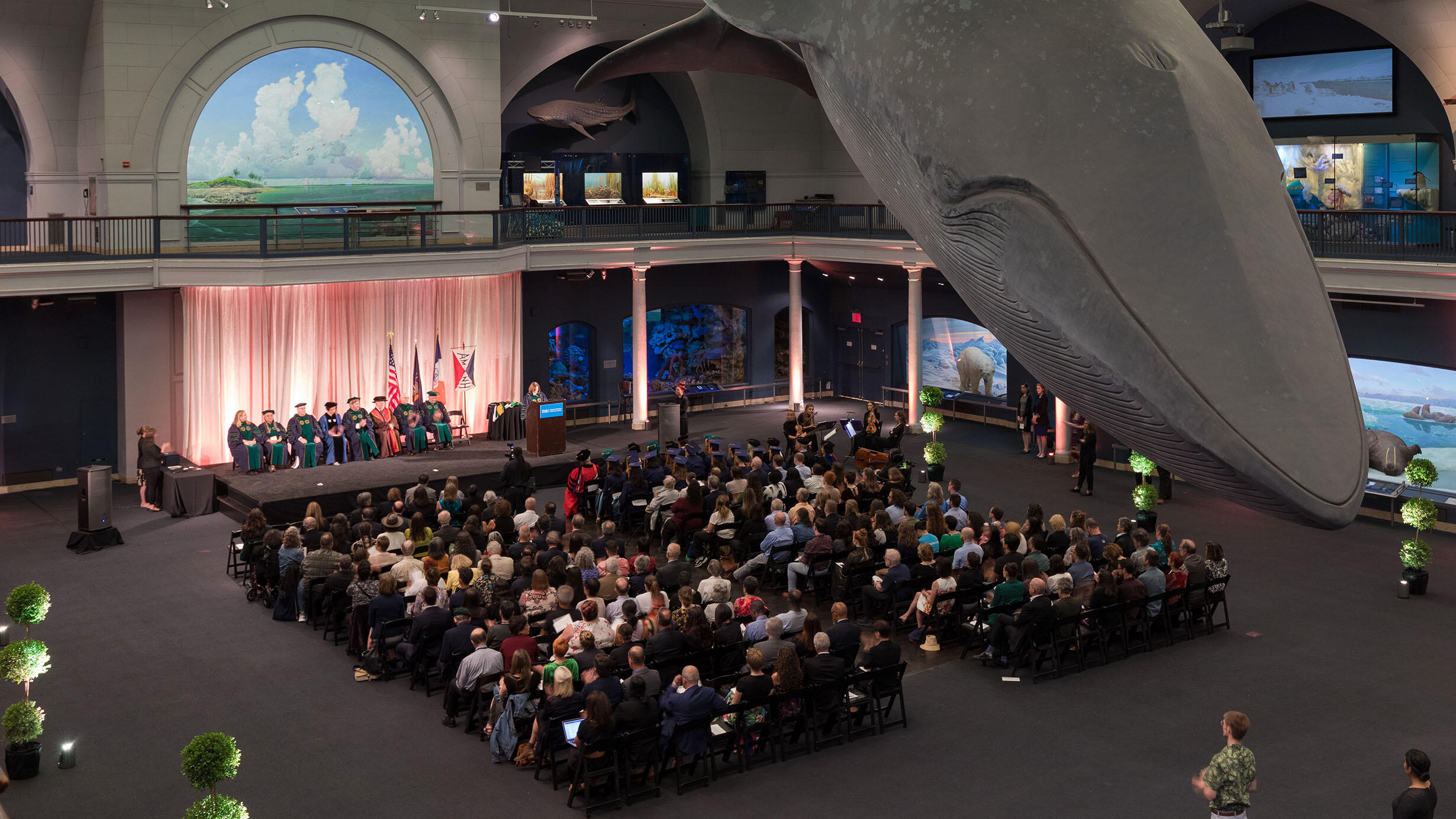 The Museum's Richard Gilder Graduate School commencement under the blue whale in the Milstein Hall of Ocean Life.
M. Shanley/© AMNH
On Wednesday, September 25, the American Museum of Natural History held its seventh commencement under the iconic blue whale in the Milstein Hall of Ocean Life, conferring Ph.D. degrees to three graduates in the comparative biology program and the Master of Arts in Teaching (MAT) degree with a specialization in Earth Science to 15 graduates who started teaching in New York State schools this month.
President Ellen V. Futter delivered the evening's opening remarks, calling on graduates to serve as lifelong ambassadors for science and education.
"This commencement takes place in the context of the Museum's 150th anniversary, affording us the opportunity to reflect on the past and the Museum's history of leadership, and to reaffirm our commitment to science and education for our modern times," said President Futter. "The past holds important lessons for us, including the urgency for redoubled investment in scientific research and science education, the opportunity to rekindle public enthusiasm for science, and the need for a new generation of scientists and science teachers, such as our graduates, who have the skills, ingenuity, creativity, and passion to lead the way."
Honorary degree recipients Chairman of the Carnegie Corporation Thomas Kean and President of the Carnegie Corporation Vartan Gregorian, who were recognized for their work to advance education, democracy, and philanthropy, reflected on the role of museums in society.
"Your mission today is more vibrant and more important than it's ever been before," said Kean, who previously served as the governor of New Jersey and president of Drew University. "To educate about science and the connection to the natural world is so important. Keep on educating—keep on making people understand—there's nothing more important and more vital than science."
As keepers of knowledge, "libraries and museums are the DNA of our civilization," Gregorian told the graduates.
Claire Kremen, an accomplished ecologist whose work involves reconciling agricultural land use with biodiversity conservation, and Maritza Macdonald, former co-director of the Museum's MAT program who continues to serve as a researcher and teaching faculty member, also received honorary degrees. In her remarks, Kremen encouraged graduates to apply their knowledge and passion to helping document biodiversity and translate science to the public to help raise awareness and galvanize action.
"Do not rest on your laurels. There's so much work to be done, and we really need you," Kremen told the graduates. "We need you graduates to use your knowledge to fight for biodiversity."
This year's three Ph.D. graduates, Jeremy Frank, Anna Ragni, and Kelly Speer, carried out a range of research, including on solitary sand wasps, on human locomotion, and on bats and their insect parasites, respectively. Ragni and Speer will each begin postdoctoral research at the Smithsonian Institution, while Frank is continuing his research at the Museum.
The 2019 MAT graduates—Adele Antalek, Ian Breslow, Emily diPadova, Rae-Ellen Donofrio, Rachael Gray, Noah Jaffe, Tiffany Leone, Audrey Lew, Stivaly Paulino, Lisa Smith, Riley Smith, Franklyn Telles, Jessica Wolk-Stanley, Namshik Yoon, and Victoria Yuan—have begun the school year as teachers in 15 middle and high schools in Brooklyn, Bronx, Hudson, Manhattan, Margaretville, and Queens. They join more than 90 MAT alumni who are currently teaching in New York State.
"Congratulations to everybody," said Macdonald in her remarks. "We're bringing into the world scientists, and we're bringing the teachers who are going to educate the next generation of scientists."