Accommodations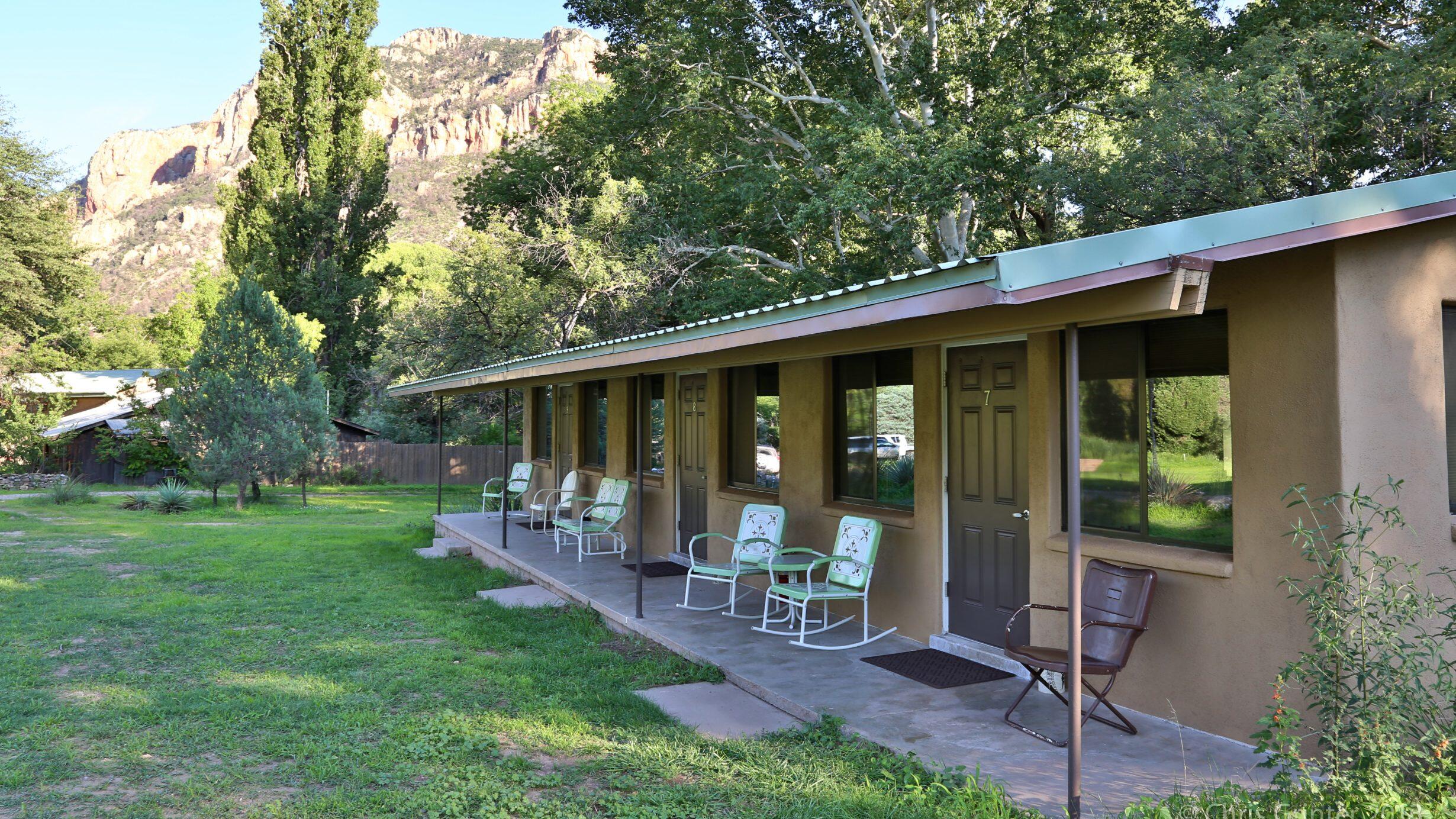 Courtesy of Chris Grinter
Whether visiting as a researcher or a student, birdwatcher, hiker or naturalist, you will be comfortable and well-fed at the Station!
Our triplex units contain three hotel-style rentals (rooms 1-9), each with two single beds or one king size bed, a comfortable sitting area that includes a sofa which can convert to a bed, a private bathroom, a microwave, coffee maker, and small refrigerator. Accessible rooms are available. Linens are included.
Maximum occupancy for each triplex room is either:
3 adults
2 adults and 2 children
The triplex nightly rate per person rate is $100.00 for multi-occupancy, 140.00 for private occupancy. The nightly rate for children between the ages of 4 years and 15 years is $45 per child (children younger than 4 years are free) when accompanied by an adult. There is a two night minimum stay for visiting birders and naturalists.
Each Duplex unit (rooms 15 and 16) includes a private room with a double bed, a common area with two twin beds, private bathroom and full kitchen including an oven with a gas stove top, microwave, full-size fridge, toaster, and coffee maker. We provide the coffee filters, sugar/sugar substitute, and powdered creamer, but you will need to bring your own coffee or tea to enjoy in the room. Plates, mugs and silverware are also provided. With only two units, these rooms are prioritized for researchers but when space permits, they are excellent for families. Linens are included.
Maximum occupancy for each room is either:
4 adults
2 adults and 2 children
The nightly rate per person rate is $100.00 for multi-occupancy. A private single rate is not offered in the duplexes. The nightly rate for children between the ages of 4 years and 15 years is $45 per child (children younger than 4 years are free) when accompanied by an adult.
Dormitory rooms are available for courses and workshops, and registered researcher use only, as approved by the Director. Naturalists will be housed in the Duplex and Triplex units, not the dormitory.
Dorm accommodations are rooms with 2–3 single beds, closet space, and common use bathrooms with showers located on the first floor. When space is available, instructors or students may request private dorm accommodations for an additional fee.
Linens are included.
All rates for overnight lodging include three full meals each day. Food options include vegetarian, vegan, no red meat, or omnivore. Advance notice of diet preference and food allergies is needed and can be provided at the time of reservation.
Meals are served promptly at 7:30 am, 12 noon, and 6 pm. Guests eat family style in the dining room or at outside picnic tables, and with a 24-hour notice sack lunches can be provided. For hardy early-birds, a self-serve cold breakfast can be arranged the night before with the cook. The kitchen is closed between meals.
For those not staying at the Station, meals can be purchased in the dining hall with 24 hours advance notice. Prices for meals are: Breakfast $10, Lunch $12, and Dinner $16. No meal charge for children under six. Payment is due at the time of reservation. If the Station is full, it may not be possible to accommodate this request. Please call to inquire.
Reservation inquiries may be made by calling (520-558-2396) or emailing

[email protected]

. Office hours vary seasonally and email is recommended, particularly during the winter months.
Non-researcher reservations can be made after November 1 for the following spring (March 1–June 14) and fall (September 1–October 31) seasons. As the summer is our busiest research time, general reservations are taken only two weeks in advance from June 15 to Aug. 31.
Please check in at the office when you arrive, and before you leave. Arrangements can be made in advance if you will be coming in when the office is closed.
Check-In
11 am for lunch arrival
before 4 pm for dinner arrival
Check-Out
10 am, after breakfast
1 pm, after lunch
Common use washers and dryers are token-operated and only available after 3 pm for guest use, unless otherwise arranged with the housekeeping staff. Tokens may be purchased in the Nature Shop or Main Office for $1.50 each (one to wash and one to dry; unscented laundry detergent is provided).
Wireless is available in most outdoor station locations, and a guest computer is available for those that do not bring their own laptops.
Our rooms are not equipped with televisions or telephones.
You might want to bring the following items as they are not included or available:
Hair dryer
Iron and Ironing board
Shampoo and other personal toiletries
From November 1 through February 28 limited lodging is available only to researchers and meals are not included in the stay. However, accommodations with full kitchens are available (Duplexes), and a restaurant is located within five miles of the Station.
Personal and traveler's checks are accepted, as well as Visa, MasterCard and Discover credit cards. American Express is not accepted.
Pets are not permitted. Please do not bring pets and leave them in your car.
Arizona does not observe daylight savings time. During the summer we are the same as the Pacific Time Zone. During the winter we are the same as the Mountain Time Zone.
The Station has no cell phone service although wifi calling may work on your cell phone over our wifi network. Guests cannot be reached through the Station office except in emergencies. You are welcome to bring your laptop or use our visitor computer.
Driving time from Tucson is three hours. Get directions and climate information.